Save money on a new Kia today
Introduction
Kia has one of the largest electrified car line-ups of any manufacturers with its Soul EV, Niro and now the Optima plug-in hybrid.
The only other powertrain available in the Optima is a 1.7-litre diesel, so a plug-in hybrid provides further flexibility to the Optima's talents. It's also available as a Sportwagon estate, as well the saloon which we got behind the wheel of here.
Here, the Optima is powered by a 2.0-litre petrol engine that is paired to an an electric motor. Kia claims an electric-only range of 33 miles is possible, although it also works as a standard hybrid, too. 
Subtle differences distinguish the Optima PHEV from its diesel counterpart. It's fitted with a streamlined grille and subtle blue detailing around the front bumper. You also get the typical "Eco" badging, while our test car also came with the streamlined 17-inch alloy wheels helping with efficiency. It's certainly not a car that shouts about how eco it is, though, which will no doubt appeal to many buyers.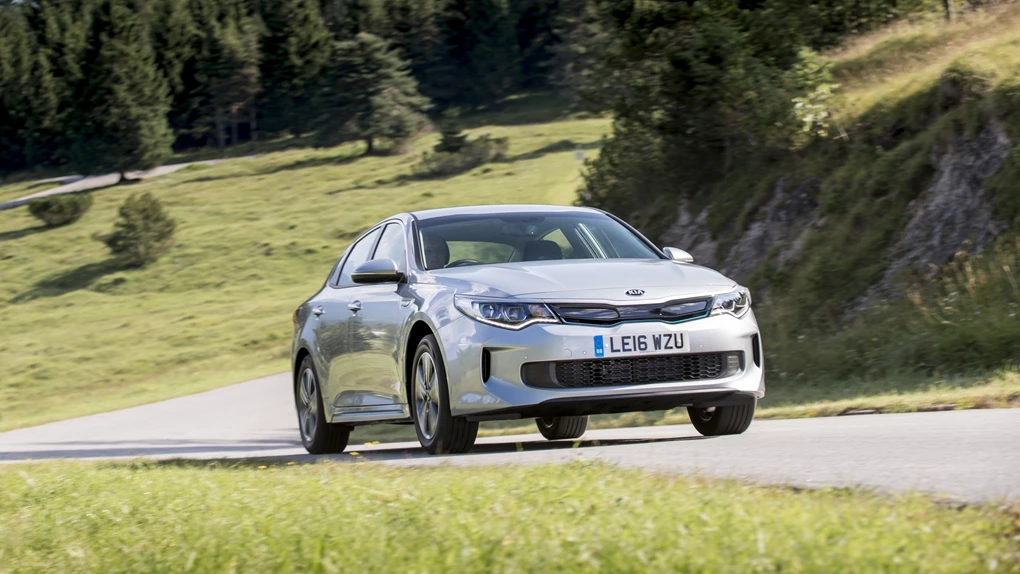 Performance 
As we've briefly touched on, the Optima PHEV is powered by a 2.0-litre petrol coupled to an electric motor. Unlike many other hybrid cars, though, the gearbox is a dual-clutch transmission, as opposed to a CVT. 
It produces an impressive 202bhp, although its heavy 1,800kg weight lessens the performance. It's rapid off the line, though, thanks to the torque produced from the electric motor. Although the transition between electric power and petrol power isn't always as smooth at times but it is to be expected taking into account the weight of the Optima PHEV.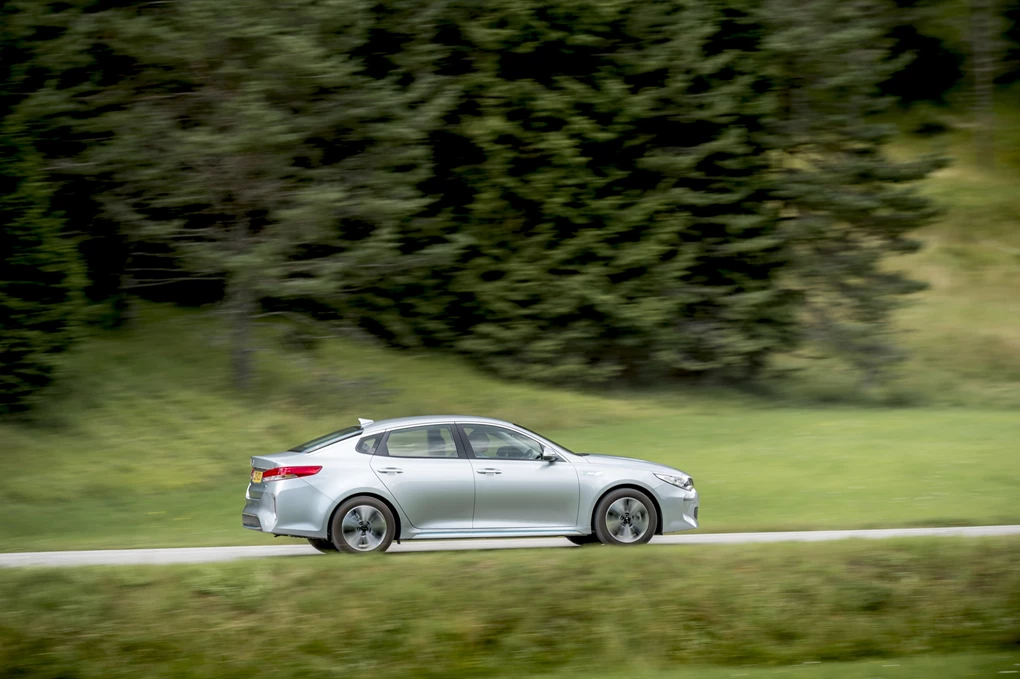 Ride and handling
It's certainly a strange experience the first time you get behind the wheel of an electrified car. With the lack of noise from an engine, it's eerily quiet, although easy to adjust to.
The Optima PHEV is 200kg heavier than the diesel version, which does have an effect on performance at times - you can feel this extra weight in the corners.
To drive the Optima feels much smaller than its huge size would suggest, and is easy to manoeuvre thanks to its direct, if lightweight, steering. And while it's a good long-distance cruiser, the hybrid drivetrain does feel out of its comfort zone on the motorway. The diesel can easily eclipse the hybrid's economy figures, thus making the diesel the best option if you spend most of your time on motorways.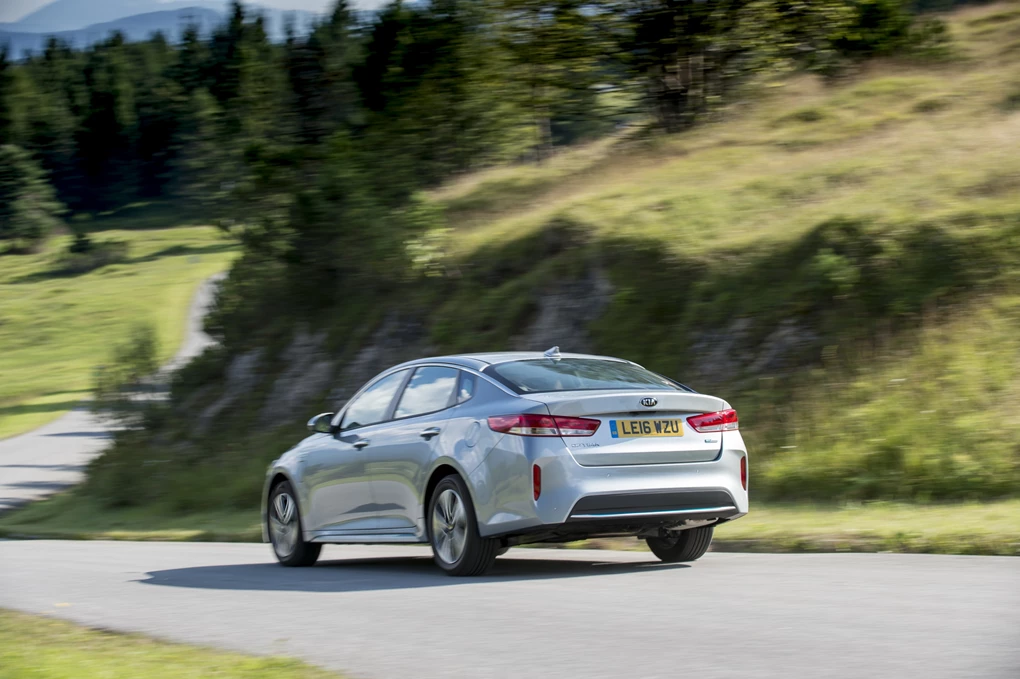 Interior and equipment
If you were hoping for a light and airy cabin in the Optima, you will be disappointed. A black-on-black interior colour scheme doesn't exactly light the senses. 
But ignore this for a second and you'll soon realise that the Optima's interior is actually very well-made and simple to use. However, the price of the PHEV does make you feel like the cabin is lacking. Similarly-priced BMW and Audi interiors really do make the Optima PHEV feel out of its comfort zone at this price point.
The Optima's rear-seat practicality is astonishing, though. Even tall passengers in the rear would have no issues sitting behind a six-foot driver. Unfortunately, though, the mass of batteries eats into the Optima's otherwise practical package. They reduce the boot capacity to a mere 307 litres, a Seat Ibiza supermini has 40 litres more as a comparison. It makes it pretty impractical for families, and you can't fold down the rear seats either. If you do urgently need more room, though, you always have the option of the Sportwagon estate. 
Standard equipment on the Optima PHEV is very impressive, and includes LED lights all around, heated front seats and steering wheel, climate control and the eight-inch touchscreen also includes the usual sat-nav, DAB radio, Apple CarPlay and Android Auto.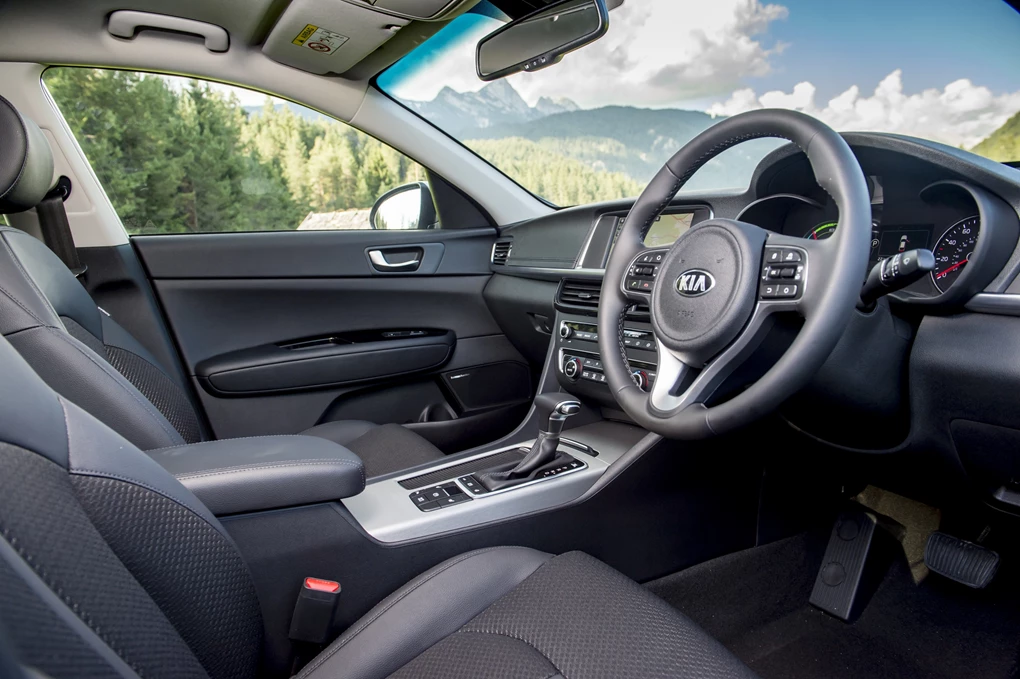 Cost 
The Optima PHEV costs £33,995 – including the government's plug-in car grant.
While the model does come very well-equipped, this is still over £10,000 more than a similarly-specced diesel would cost, which does make it hard to justify.
However, for business users it makes a lot of economic sense to buy the Optima, with large company car tax savings for those willing to switch from diesel into electrified motoring.
While Kia claim the Optima PHEV will manage 176.6mpg on the combined cycle, in the real-world, it is unlikely that you'll ever be able to get anywhere near those figures. It definitely makes sense for urban motorists, though, with an electric-only range of 33 miles.
Verdict
The Optima is a handsome, comfortable and refined car that is easily worth considering over the typical German alternatives. 
However, as a plug-in hybrid, the Optima is let down by limited rear-boot space, a choppy powertrain and lifeless handling. However, if your lifestyle suits an electric, or plug-in hybrid car, and you can cope with the Optima's limited boot space, it makes a great alternative to diesel.
The stats
Model as tested: Kia Optima 2.0 GDi PHEV Auto
Price: £33,995
Engine: 2.0-litre petrol with electric motor
Power: 202bhp
Torque: 375Nm
Max speed: 119mph
0-60mph: 9.1 seconds
MPG: 176.6mpg
Emissions: 37g/km