Save money on a new Mazda today
The fourth generation 'ND' Mazda MX-5 has been around for a few years now, but that hasn't stopped the Japanese manufacturer from bringing out new editions and this is the latest — the Z-Sport.
A UK exclusive, the Z-Sport revives a name last used on the third-generation MX-5 and will see a limited production run — 300 units to be exact. This isn't a revolution of the car — think more a layer of make-up — but as the first UK-only special edition, it's not to be ignored. 
The Z-Sport is the first MX-5 to offer an alternatively-coloured roof with its cherry red option, which itself is an exclusive to the limited-edition model. There's also the addition of trim-exclusive 17-inch BBS alloy wheels, a tan interior, Z-Sport floor mats and a badge denoting which number of the limited production run each car is.
For the 2018 model year, Mazda has also fettled the MX-5's suspension to offer a more refined drive, with the Z-Sport the first version to benefit from this.
Performance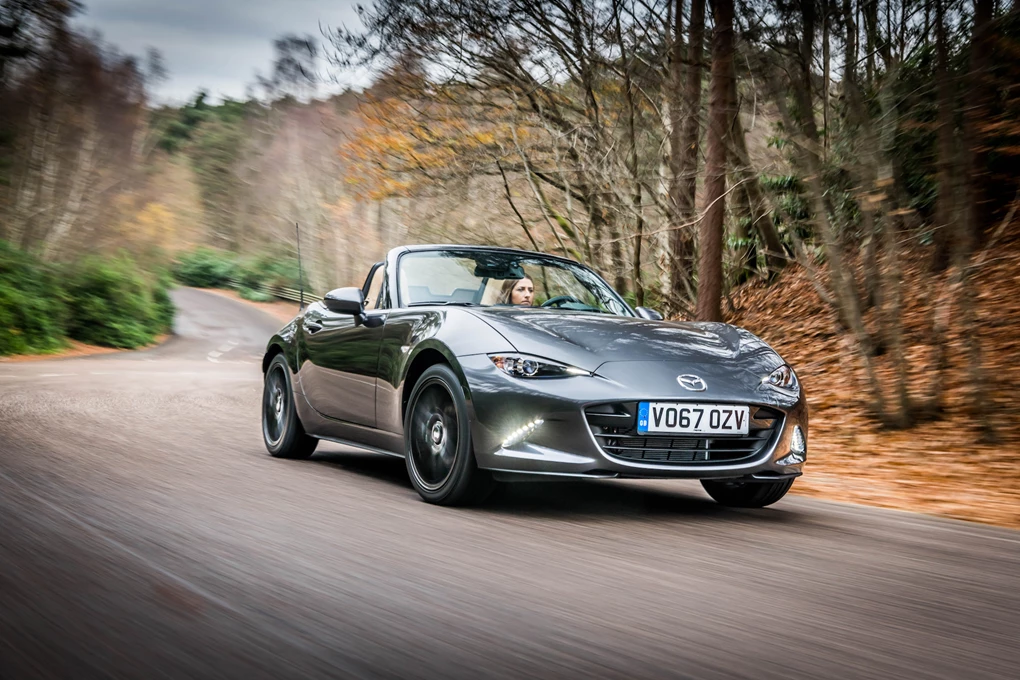 Powering the Z-Sport is the 2.0-litre, naturally-aspirated four-cylinder engine that has been available in the ND MX-5's line-up since the car launched. It hasn't been changed here, meaning it still produces 158bhp and 200Nm of torque, capable of taking the roadster from 0-60mph in 7.1 seconds and up to a top speed of 133mph while paired to a six-speed manual gearbox. 
The unit remains as smooth as it always has, and for most drivers is just as much power you'd ever need in a car this size — although enthusiasts could be forgiven for wanting a little more grunt at higher revs. 
Ride & Handling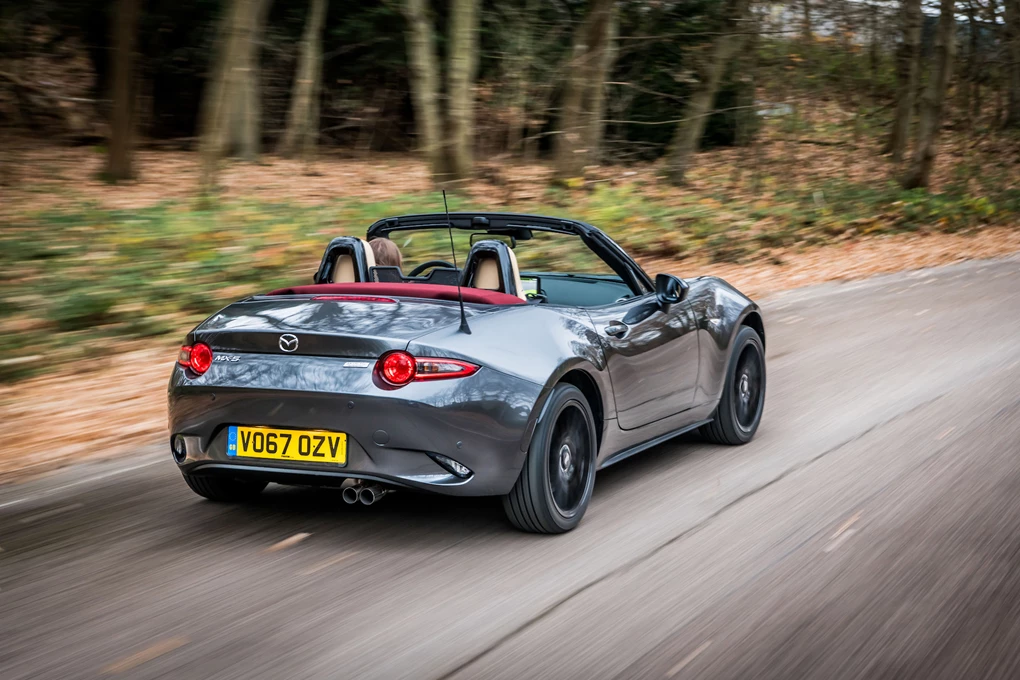 The MX-5 has always been a pure drivers' car, and this still remains true to this day. Handling is precise and the engaging feel through the wheel is still present. The Z-Sport package does little to change the experience, but this is no bad thing. 
Mazda has made some tweaks to the suspension for the limited-run model, which will also apply to all 2018 model year cars, but the difference isn't noticeably huge. In spirited driving, it feels a touch more refined but you'd only really notice if you drove a pre-fettled machine back-to-back with the current car. 
It's fine around town, too. A light clutch makes stop-start traffic a breeze to deal with, and there's tons of visibility regardless of the roof being up or down. 
Interior & Equipment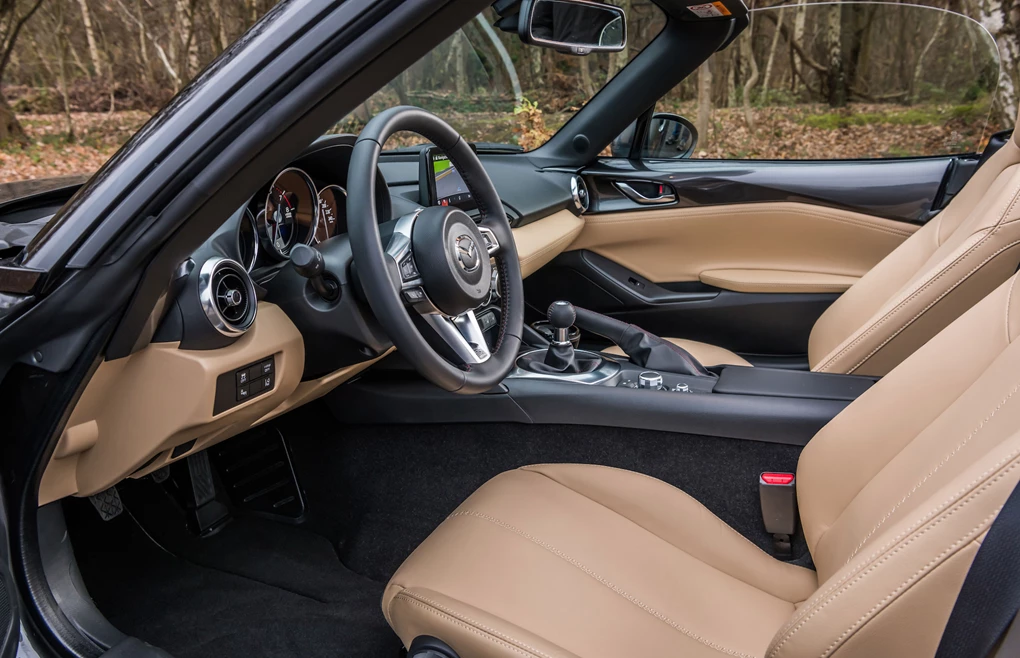 Inside the Z-Sport, the standout addition is the half-tan, half-black upholstered nappa leather interior with matching tan seats. Look to the passenger side of the dashboard, and you'll also see a Z-Sport badge that denotes the chassis number of the 300 limited-run vehicles – which is complemented by model-specific scuff plates and floor mats.
It's a nice place to be sat — everything has a premium-feel, with almost no low-quality materials, and the cabin's ergonomics feel well-suited to the driver. For the taller driver, in can still a bit of an awkward cabin to fit into but for most it's just about cosy enough once you're in.
Road noise is still prominent roof up, but this is a trade-off to be expected with a mid-£20k convertible sports car.
The MX-5 Z-Sport is based on the Sport Nav model, which means standard equipment includes climate control, cruise control, keyless entry, automatic headlights and wipers, LED daytime running lights, rear parking sensors and a seven-inch infotainment system with Bluetooth connectivity.
There's also the Sport Nav's mechanical upgrades, including a limited-slip differential, Bilstein dampers and a strut brace to improve handling.
Cost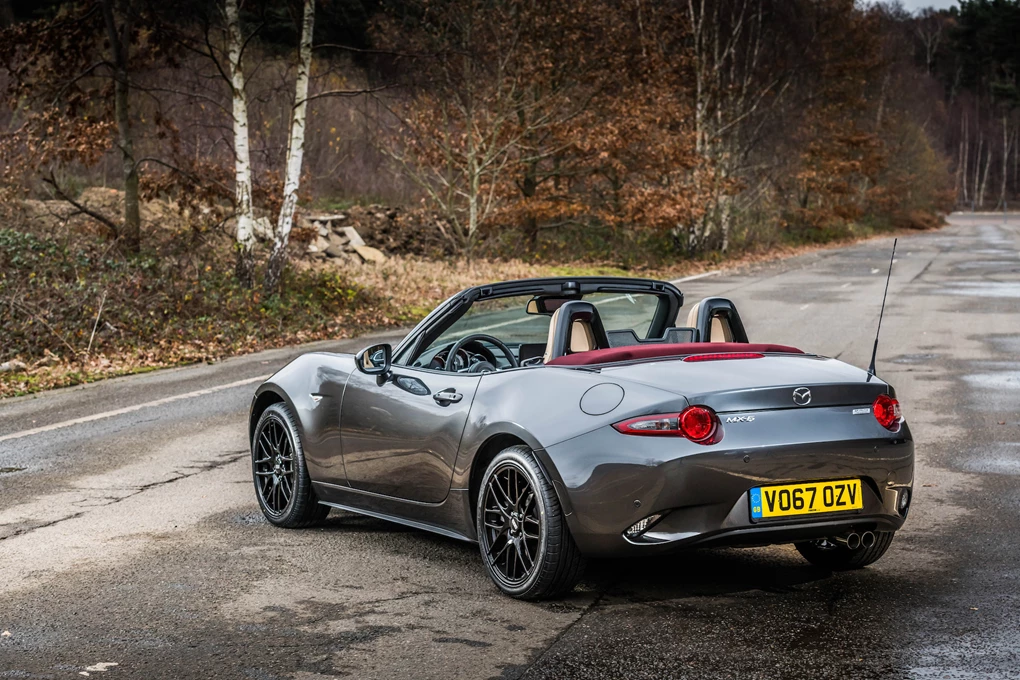 With a price of £25,595, you're paying a £530 premium over the regular 2.0-litre Sport Nav models for the BBS alloys and red roof. It's not a bad value package if you're a fan of the additions, and being a limited-edition model, there's a chance it could hold more value down the line.
It remains efficient for a sports car too, with fuel economy claimed at 40.9mpg on the combined cycle, while CO2 emissions are quoted at 161g/km. 
Verdict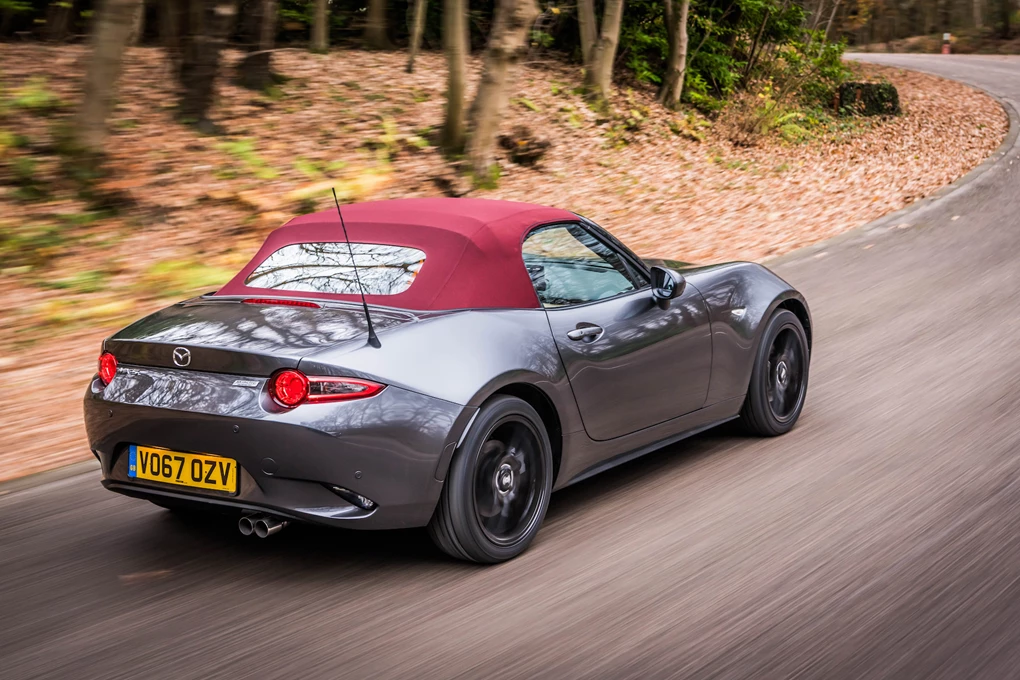 The Mazda MX-5 Z-Sport does little to mix up the fourth-generation of the roadster's formula, but it doesn't need to.
It remains a fun little sports car, with a good amount of equipment for the price. Sure, the extra additions may not to be everyone's taste and arguably a little more choice on the configuration may be craved by some, but as far as limited-run models go, the Z-Sport is a good one. 
You could be forgiven for wanting a little more power from the engine, but for most, the MX-5 continues to be all the sports car most will ever need.