Small it may be, but the SEAT Ibiza has always been one of those cars which seems bigger than it actually is, less in terms of dimensions but rather in terms of how grown up it feels.
When it was first introduced to the UK in 1985 the Ibiza was designed to rival unorthodox budget cars from the likes of Lada and Yugo, but now it stands shoulder to shoulder with best-in-class small hatches like the Ford Fiesta and Volkswagen Polo.
The latest all-new version of the Ibiza shifts things another step on again. The new Ibiza is the first car to be built on the new MQB A0 platform, a massive vote of confidence from the VW Group, and as a result is slightly bigger, but also wider, lower and sleeker to look at than ever before.
Although at a glance it mightn't look awfully different to the previous model, compared side-by-side with the previous generation car it's much, much sharper and resembles a mini Leon more closely than ever.
As well as that, it's packed with new and advanced kit to further broaden its considerable range of talents, and SEAT is even going so far as to suggest that this new Ibiza could be the best small car on the market right now. That's a bold claim, but it mightn't be totally unfounded.
Interior and equipment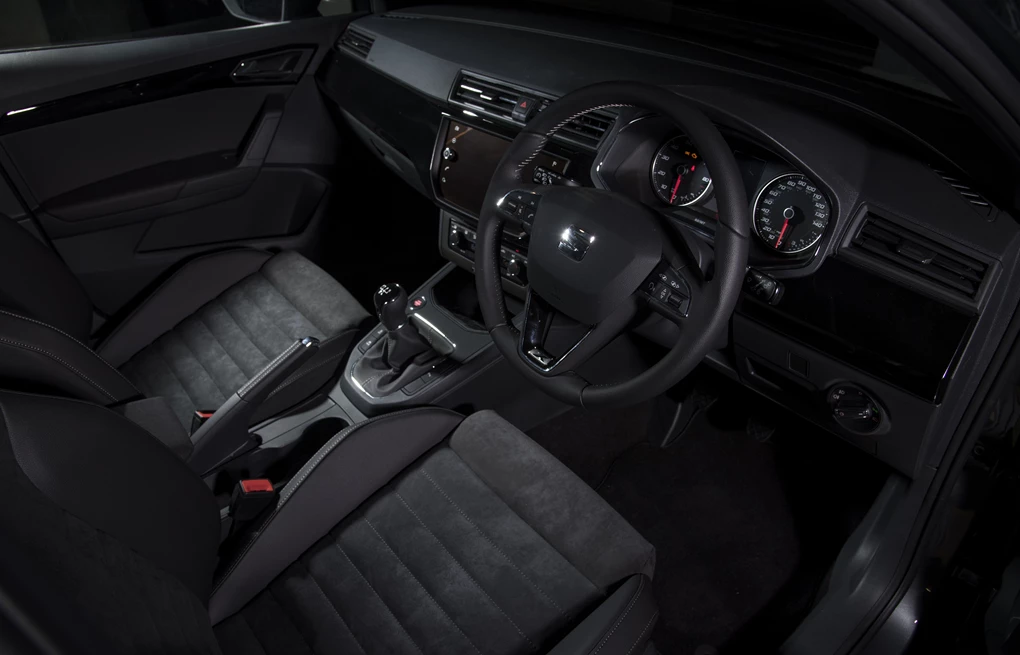 The difficulty of making a supermini these days is that while buyers like their compact dimensions, they still demand that their small cars do everything: they have to be fun to look at and fun to drive, but also spacious, practical, packed with equipment, affordable to buy and affordable to run.
Luckily, the Ibiza ticks just about every one of those boxes and its interior in particular is a clear step up over the last one. The materials are now much nicer to look at than the hard plastics of the previous car, and while compared against the funky trims of say, the new Micra, it still might look a little uninspiring it's smart and solidly made.
The driving position and switchgear ergonomics are spot on, while visibility out of the cabin is not half bad given the car's sleek proportions either. While the previous car came with a fairly tiddly 5.0-inch infotainment system, the new one gets the option of Volkswagen's latest 8.0-inch infotainment touchscreen, which is as fantastic to use as it is to look at.
Four trims are available: the entry-level S, SE, the sportier FR trim which is the car we tested here, and an all-new trim called XCELLENCE which sits at the top of the range and which adds a touch more luxury to the Ibiza.
Standard kit is fairly comprehensive with all cars getting Bluetooth connectivity, air con and automatic headlights. Our FR trim adds lots more kit with the likes of sat-nav, DAB radio and Apple Carplay/Android Auto.
There's also sportier touches like a flat-bottomed sports steering wheel and cloth sports seats, while it also comes with cruise control. Buyers can add options like a six-speaker Beats audio system for £365 or a sunroof for £665.
As well as that there's lots of new safety equipment, with options like tiredness recognition, adaptive cruise control, and pedestrian detection. However, it's worth noting that you'll have to pay extra for much of this on the Ibiza, while rivals like the new Micra pack in loads of safety stuff as standard.
One of the most attractive things about the last Ibiza was the fact that it was available as a three- or five-door hatch or as an estate. Unfortunately, that's no longer the case; the Ibiza is now strictly five-door only, with the estate nixed from the lineup to make way for the new Arona mini-SUV.
That might put some off, but no matter. The car's new platform means its wheelbase has been stretched considerably, opening up a surprising amount of room in the rear – certainly more than you'd get in a Fiesta or a Corsa for example. Head and legroom are great, and though you might struggle to fit three adults abreast in the back it's a comfortable place to sit.
The boot has also increased in size too, growing from 292 litres to 355 litres. That's significantly more than virtually all of its supermini rivals and about on par with some larger C-segment hatchbacks, while with the rear seats folded down boot space increases to a maximum of 823 litres.
Performance
From launch, the new Ibiza is available with a choice of three 1.0-litre petrol engines, with the entry-level engine being a 74bhp naturally-aspirated unit. Above that is a turbocharged 1.0-litre TSI, which is available in outputs of 93bhp or 113bhp.
The less powerful engines get five-speed manual gearboxes as standard, while the 113bhp gets a six-speed manual; later in the year, the more powerful 1.0-litre will also be available with a six-speed DSG automatic gearbox too.
We tested the 113bhp 1.0-litre, which may be small but which packs plenty of punch for an engine of its size. Granted, it's not terribly fast with a 0-62mph time of 9.3 seconds, but it's certainly feisty and fun enough to drive every day.
The six-speed manual gearbox is slick and makes changing gears a breeze, while the car is also remarkably refined considering it's powered by a three-cylinder engine. Naturally, the motor can get quite gruff the higher in the rev range you go, but it's much smoother and quieter than the vast majority of turbo three-pots.
As well as the trio of 1.0-litre petrols, there'll also be the option of a much more powerful 148bhp 1.5-litre petrol later in the year, the same engine you get in the new Golf. A single 1.6-litre diesel with outputs of 78bhp and 93bhp will join the range too if you're one of a small number of buyers who prefer an Ibiza that drinks from the black tap.
So far, SEAT has remained fairly quiet on the possibility of a Cupra hot hatch version. The sales figures suggest that while the UK loves tiny pocket rockets the rest of the world isn't quite so keen, and so the manufacturer is simply sitting on its hands for a while and waiting for the feedback. Basically, if you want one you'd better ask nicely.
Ride and handling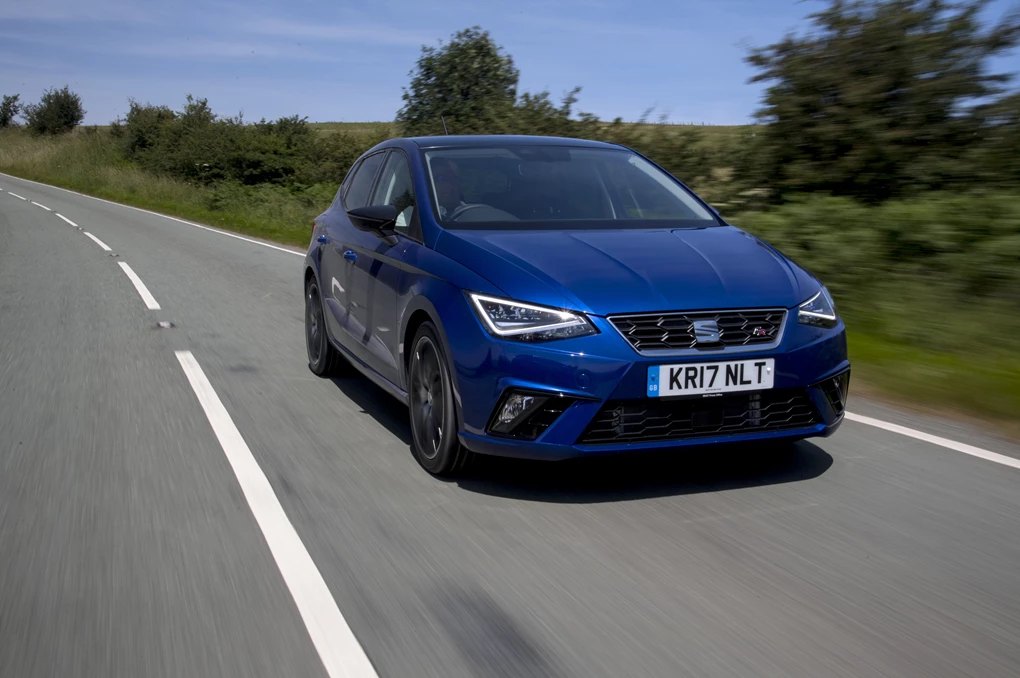 To drive, the previous Ibiza was a good car. Perhaps not amazing, but much better than many rivals: comfortable, surefooted and supple if not outright engaging. The new 2017 Ibiza is much the same story, but then that's not a bad thing at all.
With this car, it's always been less about what it does extremely well and more about what it does overall that really impresses; a spread of abilities rather than just one thing. On the road it feels light on its feet and nimble, while the six-speed manual gearbox that comes fitted to this 113bhp 1.0-litre engine is slick and easy to use.
The FR trim which we tested benefits from a slightly stiffer suspension setup than more 'everyday' variants, which improves the dynamics a little bit but without infringing on comfort. Even on the massive 18-inch alloy wheels which come fitted to the FR it remains a comfortable and easy car to drive even over rough surfaces and roads, while also being quiet and refined.
Where the Ibiza loses points to the best-driving cars in its class like the Fiesta and the MINI hatchback is in that final layer of sparkle. It's not quite as game to be chucked into a corner as either of the aforementioned cars, while the steering feels a bit numb and unengaging.
Will that matter to the majority of buyers? Probably not in the slightest, nor does it affect the Ibiza's appeal as one of the smartest and most enjoyable superminis out there right now.
Cost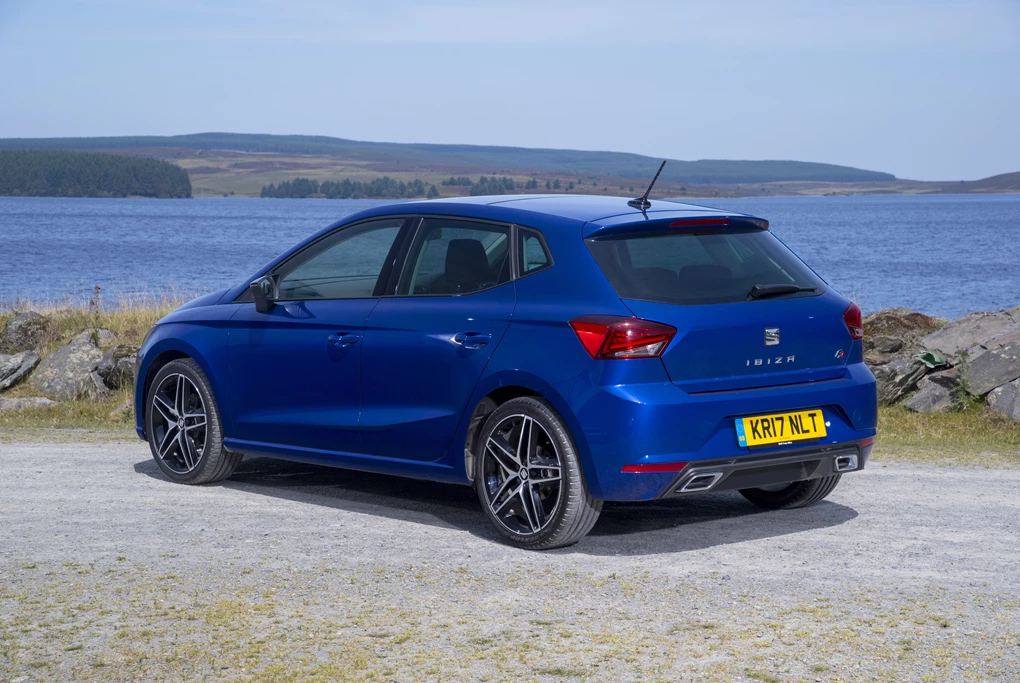 The new SEAT Ibiza starts from £13,130 on the road, which makes the base model slightly more expensive outright than some of its rivals but it does come well equipped as standard. This FR trim starts from £16,015, while the range-topping XCELLENCE trim is priced from £16,715.
There are cheaper options out there, but for many the Ibiza will be worth the extra few quid, while if you pay monthly like the vast majority of car buyers these days do then SEAT says it should work out marginally cheaper than many rivals thanks to strong residuals.
As well as that, SEAT is also offering free insurance for a limited time if you buy an SE or FR model, which will no doubt prove highly attractive to younger buyers and alleviate some of the overall costs.
In terms of efficiency, the numbers state that the 113bhp 1.0-litre engine can return up to 60.1mpg with 108g/km of CO2, though it's worth noting that as is the case with virtually all of these small turbo motors what it says on paper is usually quite a distance from what you'll get in the real world.
Verdict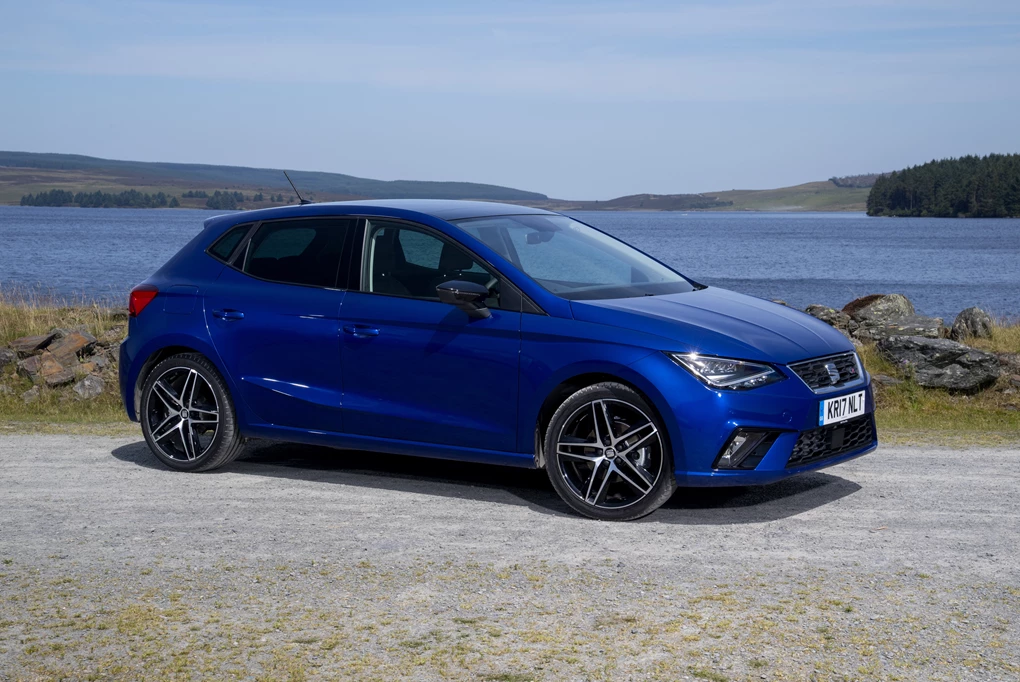 Optimistic efficiency numbers aside, the new Ibiza is one of those cars that doesn't really have any flaws or drawbacks whatsoever; it's just good. Of course, some buyers may prefer different cars for different reasons and particularly if you're a keen driver there are better options out there.
But still, the new Ibiza looks great, is easy to live with, is smart, spacious and relatively affordable to buy and run as well. On first impressions, this is easily one of the best small hatchbacks on the market right now.