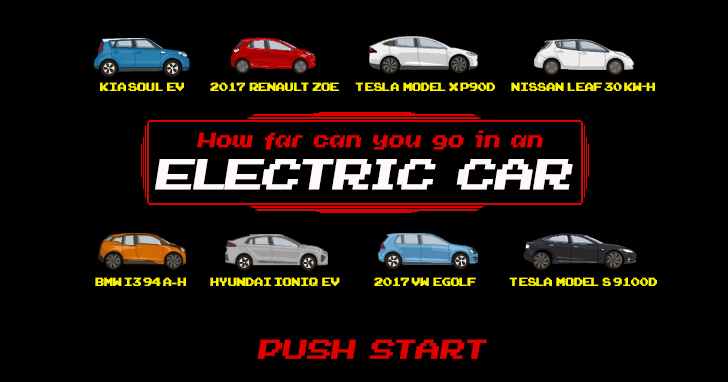 INSERT A COIN TO CONTINUE. 

We've lined up eight of the UK's best-selling electric cars in a retro gaming animation to find out who can travel the furthest.
PUSH START on the video below to watch the Electric Cars race:



Pssttt....how many background retro Easter Eggs can you spot? 
Na na na na Na na na na Elon BATMAN!

What is the longest range electric car in the UK?
Here's how the best selling electric cars in the UK finished in our retro animation. Where possible, we calculated the distances using the official EPA figures; if no figure was avilable we used an alternate real world estimate. 
How far can a Tesla go?
In the animation we raced two of the best Teslas available, the Model S and Model X. While most people would expect Elon Musk's bright sparks to be in it for the long haul, here's how far you can actually travel on a full Tesla battery:
Tesla Model S P100D Range – 315 MILES
Tesla Model X P90D Range - 250 MILES

 1UP: Car Keys Tesla Model S Review
2017 Renault Zoe Range
The 2017 Renault Zoe has had a huge battery boost, almost doubling its older sister's range. However, there is no official EPA range published as of yet, but Renault hopes to last 125-180 miles! The Zoe is even getting a sporty sibling with 456bhp.
Nissan Leaf Range
One of Britain's favourite electric veichles, the LEAF's 30kW-h battery can travel around 107 miles according to the EPA figures, with an improved 2017 model coming soon! 
Hyundai Ioniq & VW eGolf Ranges
The race's most heated battle was contested between the eGolf and Ioniq; both are excellent examples of how far EV's have come in the past year, with enviable power, range and style. 

 1UP: Car Keys review the Hyundai IONIQ Electric Premium

 1UP: Car Keys review the Nissan LEAF