These days, electric cars are no big thing. They've been available, in some form or another, for consumers to buy for the best part of two decades, and while they were once seen as some sort of Jetsons-esque slice of the future, they're now fairly commonplace.
While the earliest electric vehicles more closely resembled high-school science projects and came with a maximum range of around 50 miles before they needed recharging, the most famous electric car of today, Tesla's Model S, routinely features on lists of the coolest cars on the planet.
And yet for all that attention and despite a slight increase in interest, electric vehicles still make up a decidedly small portion of global car sales. The reason for this? The only one that goes far enough to be usable costs far too much.
With prices starting from around £50,000, it's fair to say that the vast majority of us just don't have the money to shell out for a Model S, which boasts an impressive range of 300 miles. The most popular affordable electric car, Nissan's LEAF, by comparison can only manage a middling 155 miles at the most.
Who wants an electric car?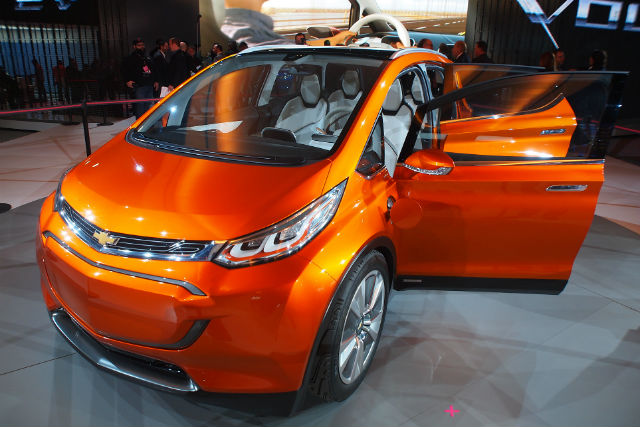 The problem is that people just don't want a car that can't travel that far, with dreaded 'range anxiety' a significant factor that puts buyers off the idea of battery-powered cars. Research by the California Centre for Sustainable Energy found that only nine per cent of consumers would be satisfied with a car that can travel 100 miles on one charge. Increase that to 200 miles, and suddenly 70 per cent of buyers say they'd be interested.
Tesla CEO Elon Musk has previously said that 200 miles is the absolute minimum threshold that the public at large will accept for an electric car, which presents a problematic dichotomy to buyers. You can either buy a cheap electric car that doesn't go far enough, or buy one that will go far enough but which will cost more than many sports cars; hardly mass-market material.
Although Tesla announced earlier last year that it's due to introduce a more affordable car, designated the Model 3, it's General Motors which has beaten the Californian giant to the punch.
Enter the Chevrolet Bolt, which was first introduced as a concept car in January last year. Although the Model 3 is due out in 2017, the Bolt will be available from the tail end of this year. What's more, it'll come with a range of 200 miles for a sticker price of only $30,000 – around £20,000.
New direction for GM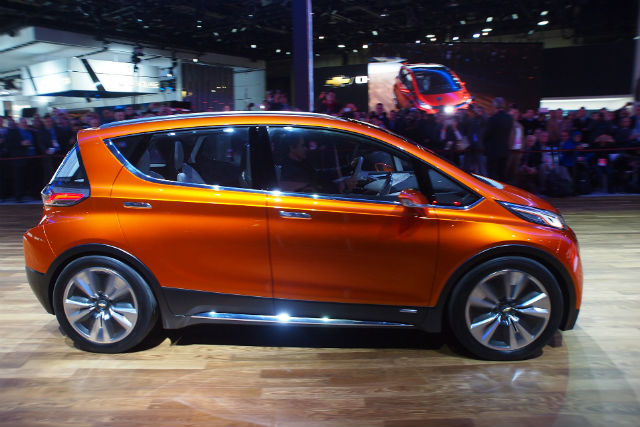 For GM, the Bolt is a headstart in the new era of electric and hybrid vehicles, but there's also a broader significance to the car. For a company as sprawling as General Motors, better known for manufacturing gigantic trucks and Hemi V8 engines, to beat nimble and innovative Tesla is beautifully ironic.
In the very earliest days of the automotive industry, electric cars were actually just as popular as combustion-engined counterparts. It was General Motors who, in 1912, invented the first electric starter for petrol-powered cars, negating the use of hand cranks and causing the popularity of electric cars to nosedive swiftly thereafter. GM killed the electric car, and now it's GM bringing it back to life.
Still, the Bolt isn't General Motors' first attempt at resurrecting the electric car. In 1994, it attempted to get the stillborn EV1 off the ground, an impractical early electric vehicle with a pitiful 50-mile range that was unceremoniously dumped after only a year or two.
By the mid-2000s, as the company was haemorrhaging money and losing its status as the world's biggest carmaker to Toyota and its new-fangled Prius hybrid, GM knew it had to make a change. Spurred on by vice chairman Bob Lutz, a cigar-chomping industry veteran and a man who would later declare global warming to be a "total crock of shit", General Motors went back to the drawing board.
Everyday hatchback appeal
The car built at Lutz's insistence, the Chevrolet Volt, would go on to become one of the most talked-about American cars for decades, with its range-extender hybrid design. Combining a battery, electric motors and a small petrol engine that worked as a generator, the Volt was the second most successful hybrid on the American market at its time, second only to the Prius.
It came just in time for GM as well; when the economy tanked in 2008, the Volt's importance was one of the reasons President Obama cited for affording General Motors a $40 billion bailout, and it finally went on sale in December 2010.
Still, despite its significance and success, the Volt was always intended to be merely a stopgap for General Motors. The company's engineers had to abandon their expertise with traditional mechanics and change their entire approach to building vehicles, with the Volt an exercise in educating GM's workforce before being overtaken by vehicles like the LEAF and Model S.
So Chevrolet's design team started working on a new car that would appeal to consumers beyond the eco-conscious, early-adopter demographic: an affordable, reliable electric car that appeals to everyday mainstream drivers.
By early 2015, the engineers had constructed around 100 prototype Bolts, with help from LG which improved the new car's battery conductivity, allowing ions to flow faster through the battery and translating into a respectable seven-second 0-60mph acceleration time.
Electric, economical and accessible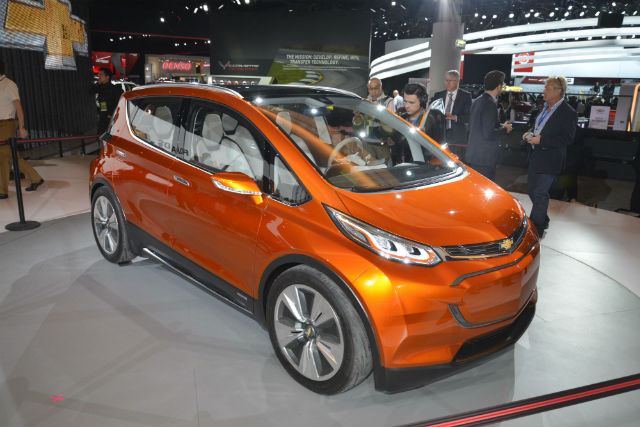 Sitting on 17-inch wheels and low rolling resistance Michelin tyres, the Bolt appears on the surface to be an appealing of-the-moment hatchback, with digital-age bells and whistles which include a large 10.2-inch touchscreen and a special dock to hold an iPhone.
Key to the Bolt's success, GM claims, is that it's built to be exactly like any other everyday car, albeit with battery power and a 200-mile range. It's roomy inside, well-connected and features a low boot lip to load in flat-pack furniture more easily. In the words of GM CEO Mary Barra: "No one's gonna buy 200 miles if it doesn't come with a great vehicle".
When the Bolt comes to market at the end of the year, it's poised to move into pole position ahead of other electric models provided all goes well. The Tesla Model S is too expensive and the company has a record of running a year or two behind its production targets, while others like the LEAF just don't have the range to compete.
Toyota, meanwhile, has instead turned its attention towards developing hydrogen-powered cars, which it says are due to replace every other option in its range by 2020, and Volkswagen will likely take a good few years to bring its new electric plan up to speed.
Will it change GM's fortunes?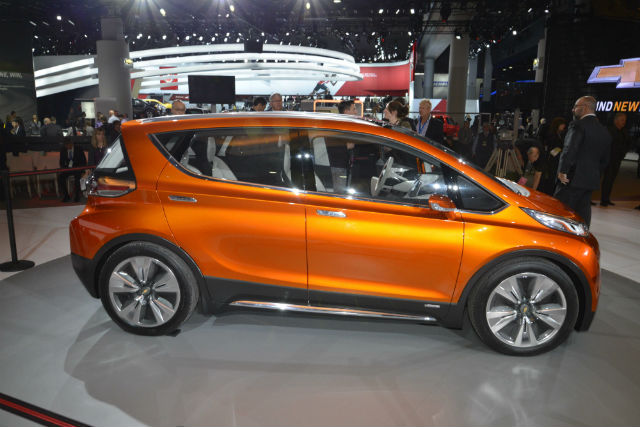 The only problem, for buyers here at least, is that due to the fact that Chevrolet pulled out of the UK market early last year, the Bolt won't be available to buy in Britain. Still, if it proves to be the success that GM is banking on it being, it's possible that its technology could trickle down to other brands under the General Motors umbrella.
In the event that it doesn't sell all that well, it's still likely to benefit the company. Its fuel economy will be so good that even minimal sales could significantly boost GM's average fleet economy numbers, which could in turn allow the manufacturer to sell more pickups and SUVs where the real profits are.
Ahead of profits, however, the Bolt represents a change of narrative for General Motors. Transforming it from a company that's the butt of jokes about reliability and wastefulness to an eco-friendly force to be reckoned with, the Bolt could be the shot in the arm to drive GM into the future.
In the eyes of many, if General Motors can turn its fortunes around in such a dramatic way, then anyone can. Sorry Tesla, looks like you've got your work cut out for you.