BMW has unveiled its latest Formula E safety car – a modified i8 Roadster.
It's the first safety car in the world that can feature an open cockpit, with striking differences over the standard drop-top i8 such as a large rear wing and a shortened front windscreen.
Other changes over the production model include a lower centre of gravity by 15mm, alongside an FIA-approved roll bar, a front splitter and 'M' carbon ceramic brakes. A dazzling blue and purple livery also compliments the look.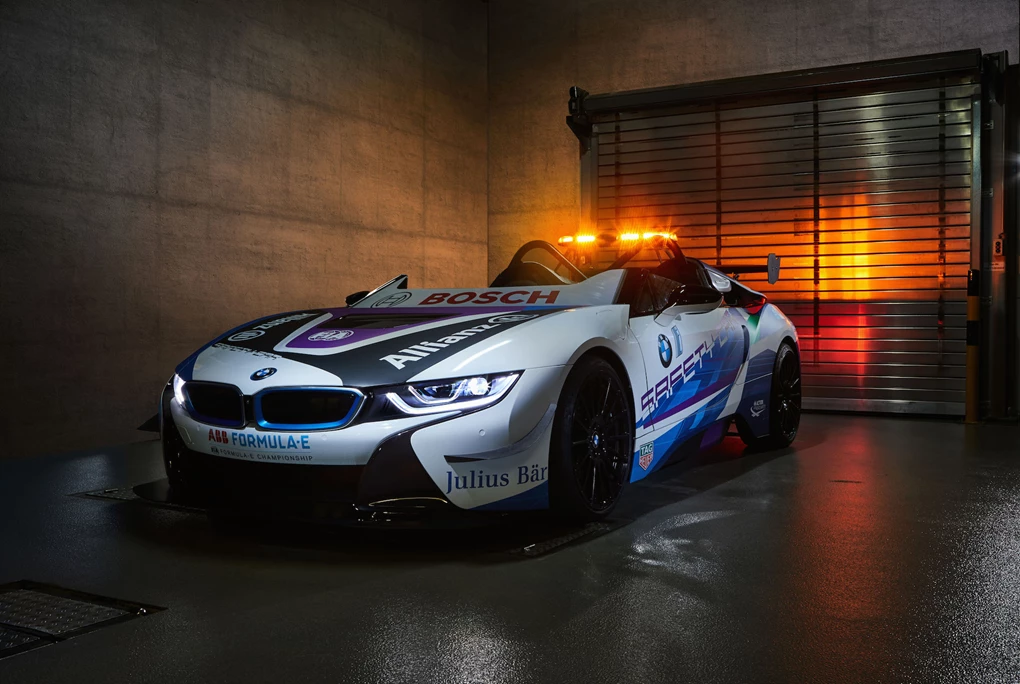 Mandatory changes have also had to be made in order for the vehicle to comply with safety car regulations. These include the rear light bar, making it much easier to see in the wet, alongside aerials for GPS and communication, as well as a rear-view camera.
The new model is based on its sister model, the BMW i8 Coupe, which is also used as a safety car and has been the model of choice for Formula E up to this point.
BMW's electric 'i' division is the official vehicle partner of the all-electric Formula E championship, which is now in its fifth season. The firm's i3 hatchback serves as the race director's car, while a plug-in hybrid 530e is the championship's medical car.
See Available i8 deals
The new safety car was unveiled at the Yacht Club de Monaco on the eve of the Monaco ePrix last weekend.
Dr Rober Irlinger, head of BMW's 'i' division, said: "BMW i and Formula E are synonymous with innovation, making them excellently suited to each other. This project is another very good example of the pioneering spirit at BMW i and in Formula E."