The third-generation Jazz has been a long time coming, but the wait hasn't stopped Jazz lovers from continuing to visit forecourts and sign their name. With the new model now offering more style and practicality than ever before, it will no doubt add some fresh faces to its club, although Honda admits the bulk of sales will unsurprisingly go to existing customers.
With its compact dimensions, plentiful practicality and competitive starting price of £13,495, the Jazz challenges everything from superminis like the Ford Fiesta and, more realistically, mini MPVs like the Nissan Note.
Firstly, let's look at some of the major changes to the schematics. The new Jazz is 95mm longer than the outgoing model and the wheelbase has been stretched by 30mm. Thanks to this, shoulder room up front is increased by 30mm and knee room for rear passengers has increased by 65mm – making overall knee room more generous than that of a Mercedes S-Class… crazy, I know.
Other bonus figures due to this enlargement include increased boot space, now up to 354 litres - or 1,314 with the seats folded down. The Nissan Note still trumps the Jazz with 411 litres, but let's not forget the Jazz's ace up its sleeve, the 'magic seats'. Added as standard on every model, these magic seats offer a series of different folding configurations, maximising practicality and genuinely being extremely useful. You can even configure the seats in 'Refresh Mode', which basically involves folding every seat in the car flat to allow for a mattress-like set-up. Great for taking a nap when camping...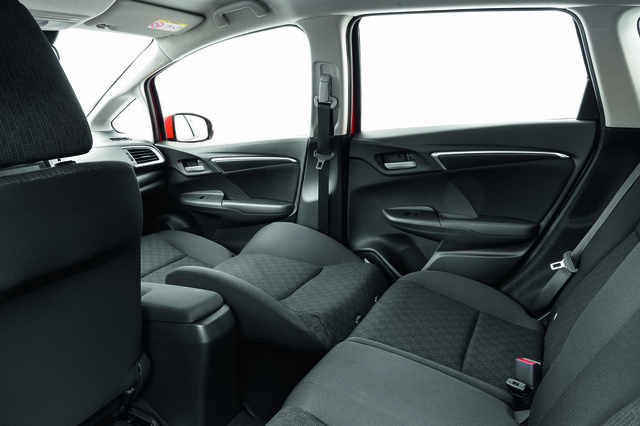 The Jazz's interior is much improved over the previous model, appearing sleeker and more modern. Scratchy plastics, even on our mid to high-range SE Navi model, are still very prominent though. The key addition of the SE Navi trim is the Garmin sat-nav , which comes integrated to the new Honda Connect system (as seen on the new CR-V and Civic models). The SE Navi model also features front and rear parking sensors, heated door mirrors and 15-inch alloy wheels.
As with many other models in the Honda range, the Jazz gets the City Brake Active system as a standard feature, great peace of mind for family car buyers. This system can employ autonomous braking in slow moving traffic when the driver's attention strays.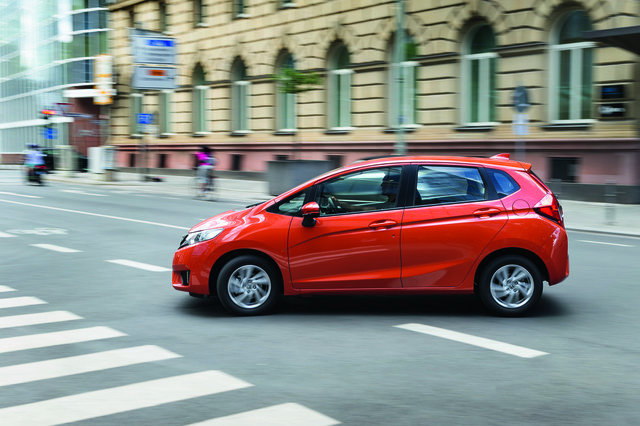 A 101bhp 1.3-litre i-VTEC is the sole engine option on the Jazz. Buyers will however have to choose between a new six-speed manual and a CVT automatic gearbox. Surprisingly – CVT derivatives are more efficient than manual models, significantly so in fact. For example, the lowest emitting manual is 116g/km of CO2, whereas the most frugal auto emits just 106g. Honda is being pretty smug about this achievement, and so they should be.
Sales are expected to sway slightly in the favour of manuals, taking a 52 per cent split. The manual gearbox is smooth enough and lets you climb through the range without fuss. Honda has actually reduced the throw of the 'box by 10 per cent to allow for quicker shifting.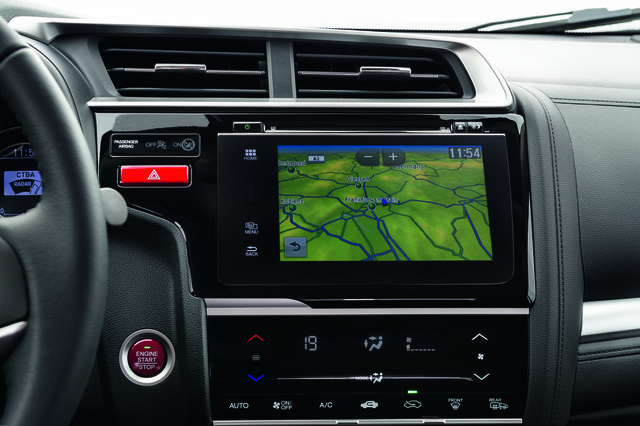 The petrol does have to be worked hard to get the most from it. Given, it is happy enough when you are slowly pushing the rev counter towards the red line, but when you need to overtake quickly you will need to hit 5,000rpm to get its maximum performance. So make sure you plan any overtaking manoeuvres meticulously. To be honest, we would rather have the low CO2 emissions than a slightly punchier unit.
Behind the wheel, the Jazz's steering is responsive and offers a reassuring amount of weight, meaning you can take it into a corner at speed (although you are unlikely to be doing this) and feel in control at all times. It is definitely more engaging than the Nissan Note and it feels more like a composed hatchback than a practicality-orientated mini MPV.
The new Jazz certainly delivers in the departments it has become so famous for – and with its newly found style and impressively entertaining driving dynamics, it will no doubt earn a look from new buyers. Honda is also offering its famed five year, £500, servicing plan for added enticement, too.