Mercedes-Benz, like so many other car manufacturers, is putting an increasing focus on electrification. It means that many of its cars are now becoming available with plug-in hybrid powertrains, giving these models exceptionally low emissions while also reducing running costs.
And though it only kicked off its electrification campaign quite recently, there are already a fair few plug-in hybrid models available. Let's take a look. 
A250e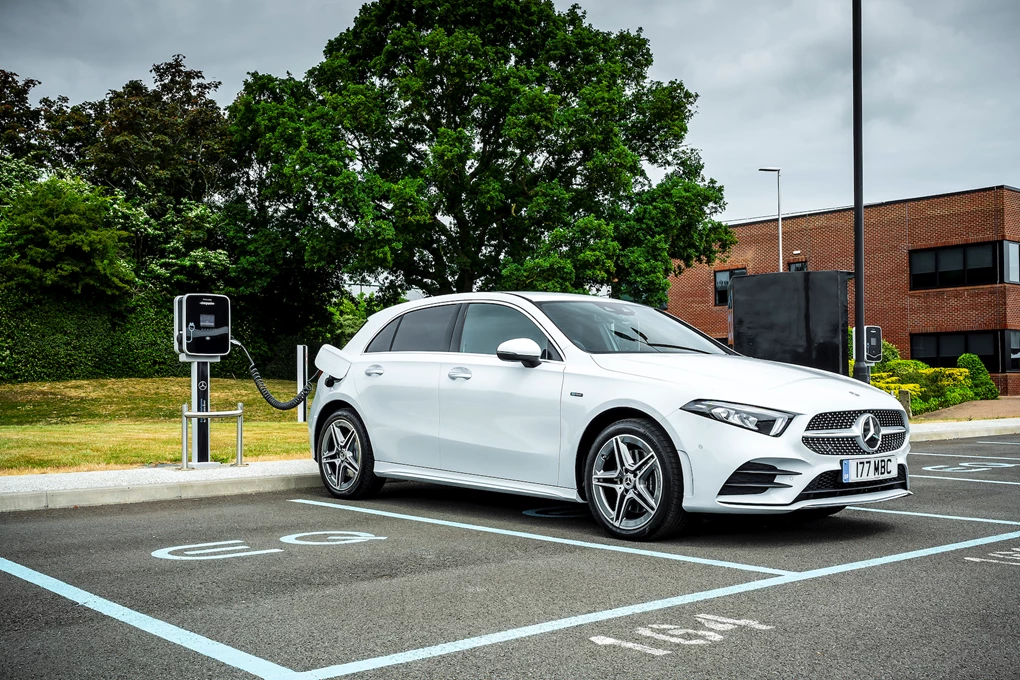 Kicking things off is the A250e, a plug-in hybrid version of the popular A-Class. Available in both hatch and saloon body styles, it brings a 1.3-litre petrol engine which is then linked to an electric motor and battery. 
Mercedes claims that you should see up to 202mpg and CO2 emissions of just 33g/km, alongside an electric-only range of 40 miles. 
B250e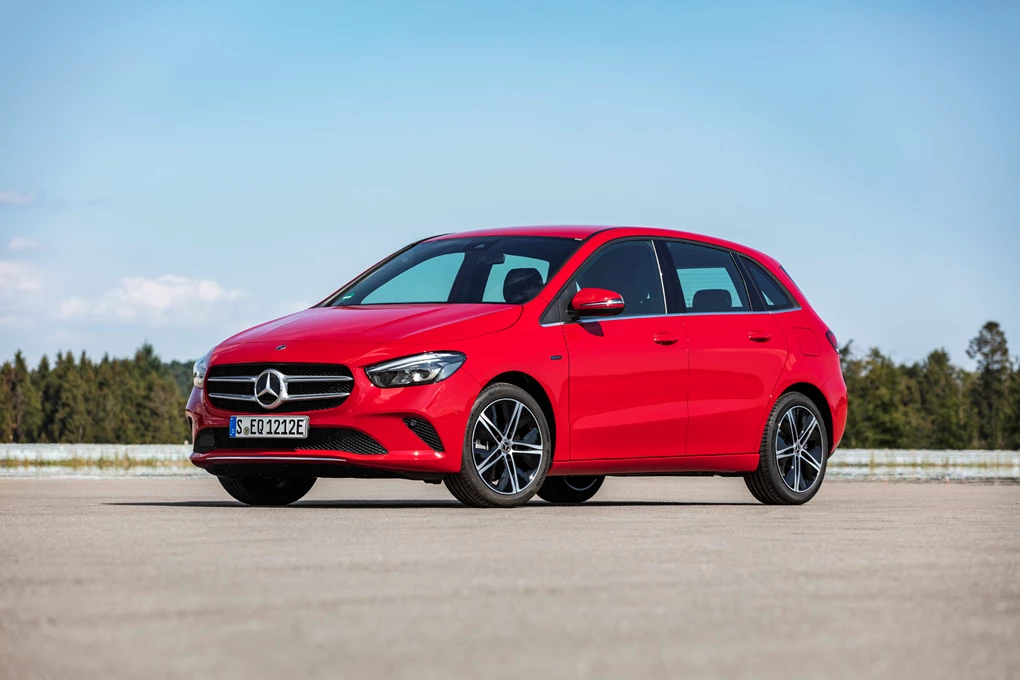 If you're after a little more space, then the B250e could be a good option. It utilises the same powertrain as the smaller A-Class plug-in hybrid and has the same excellent efficiency levels, but has a slightly more spacious interior. 
The B250e also has a comprehensive range of standard equipment, with even base-level cars coming with Mercedes' full MBUX multimedia system, heated front seats and climate control.
CLA250e Shooting Brake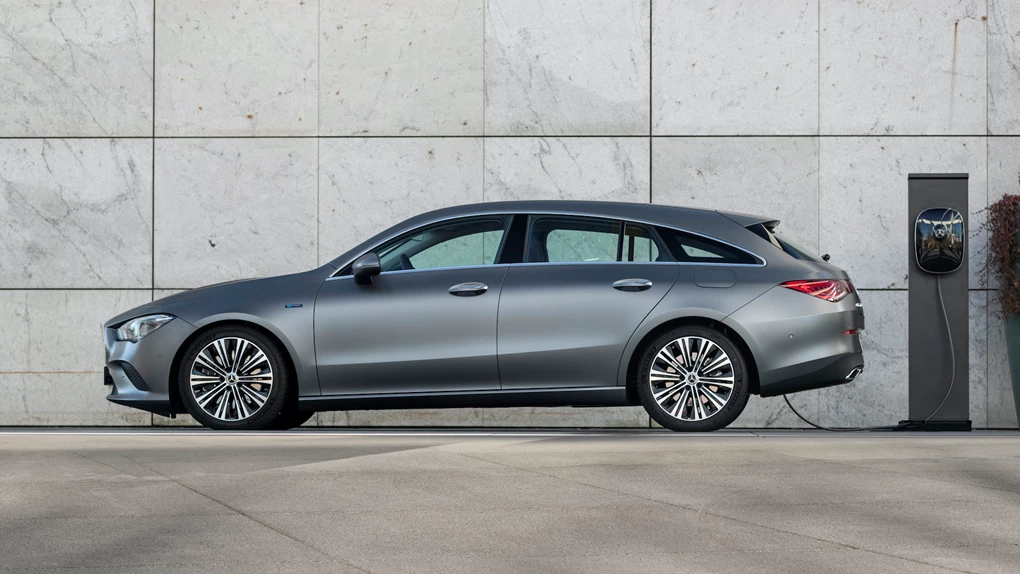 The CLA Shooting Brake is one of the most stylish cars in the Mercedes-Benz line-up, providing the sleek appearance of a coupe but with the spacious practicality of an estate car. Now, there's a plug-in hybrid version in the form of the CLA250e.
It brings the same powertrain as the A- and B-Class hybrids, but is able to deliver up to 43 miles of electric-only power. 
C300e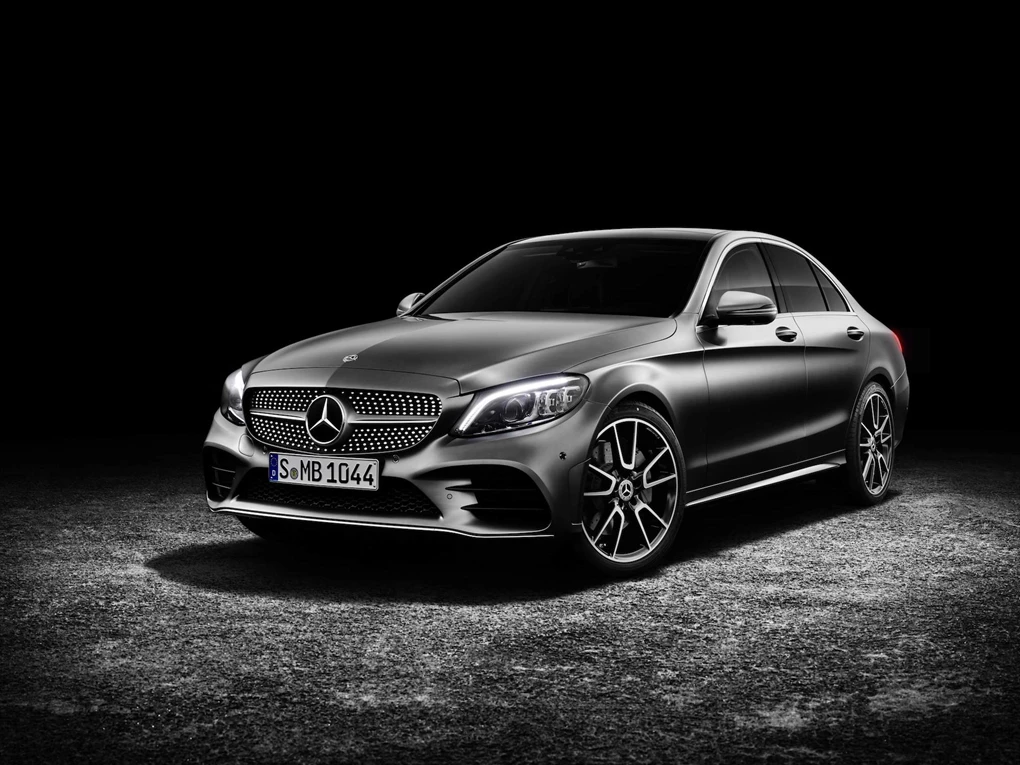 The ever-popular C-Class has also been given a plug-in hybrid powertrain. Badged C300e, it uses a 2.0-litre petrol engine and an electric motor, coupled to batteries which help it to deliver up to 34 miles of electric-only power.
Plus, if you're after a slightly more practicality-focused C-Class, this plug-in hybrid can be specified in estate format too. 
E300e/de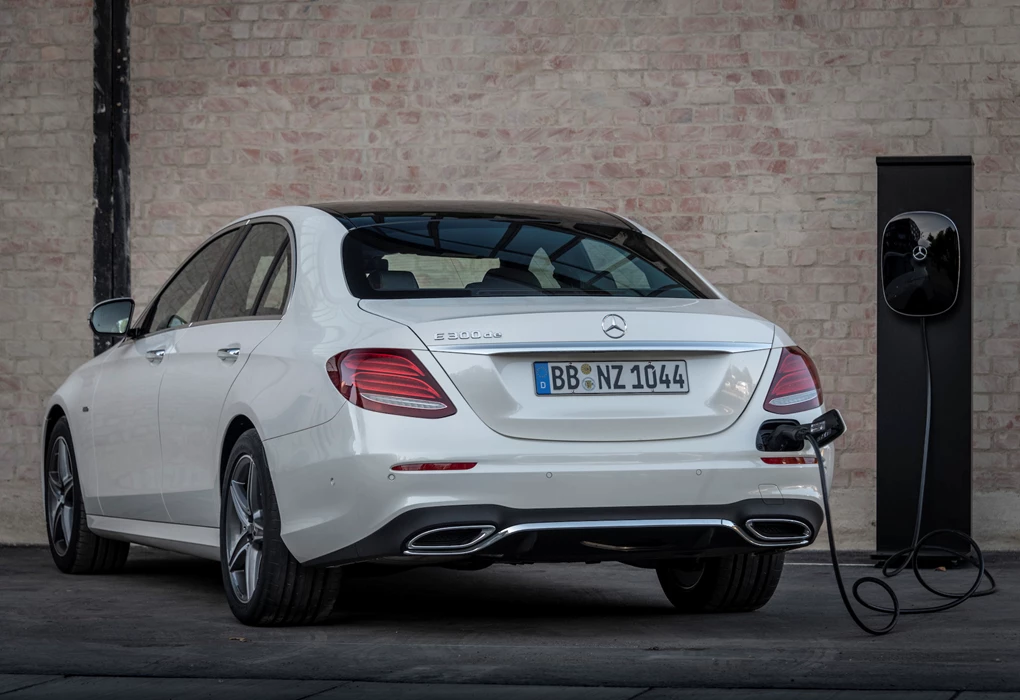 The E-Class feels like a great fit for electrification, owing to its large size which is ideally suited to holding batteries. And in a break from the norm, it's available with both petrol and diesel powertrains, with the latter being a great choice for long-distance drivers.
Whichever one you opt for, you'll find tip-top efficiency levels. They boast an electric range of up to 34 miles, while a full charge via a home wallbox will take just one and a half hours. 
GLA250e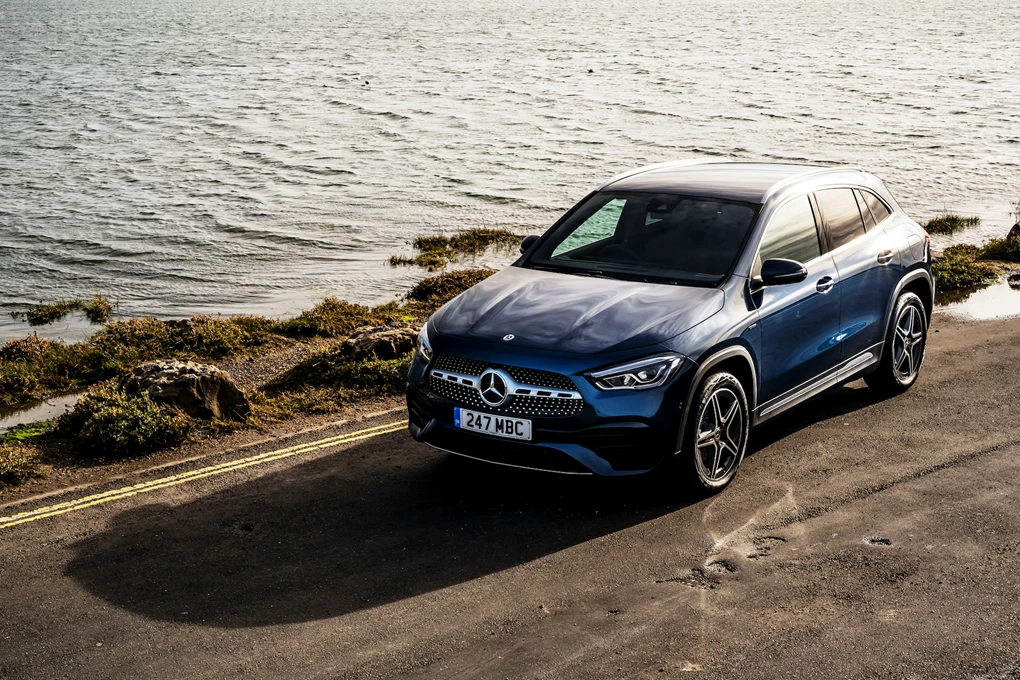 The smallest of Mercedes-Benz's SUVs, the GLA is a fine choice for those who would like a slightly more elevated view of the road ahead without the large footprint that usually accompanies an SUV. 
The GLA250e is a plug-in hybrid version that recently joined the range and boasts the same high level of standard equipment as you'll find in more regularly-powered versions, but with the ability to travel up to 37 miles on electric power. 
GLC300e/de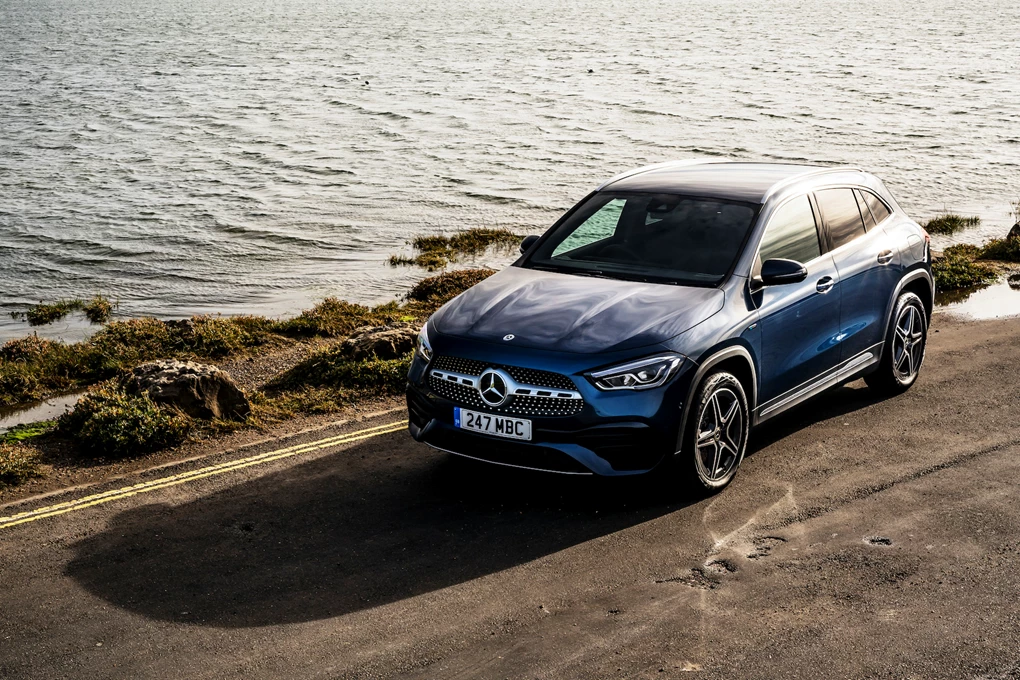 The GLC is one of Mercedes' most popular SUV choices as it sits right in the middle of the range in terms of size. It's good to drive, too, and has all of the classy exterior styling touches that you'd expect from a Mercedes model. 
The new GLC300e is the latest electrified model, combining electric and petrol power for improved economy. In addition, the GLC is also available as a diesel hybrid, pushing its appeal even further. 
GLE350de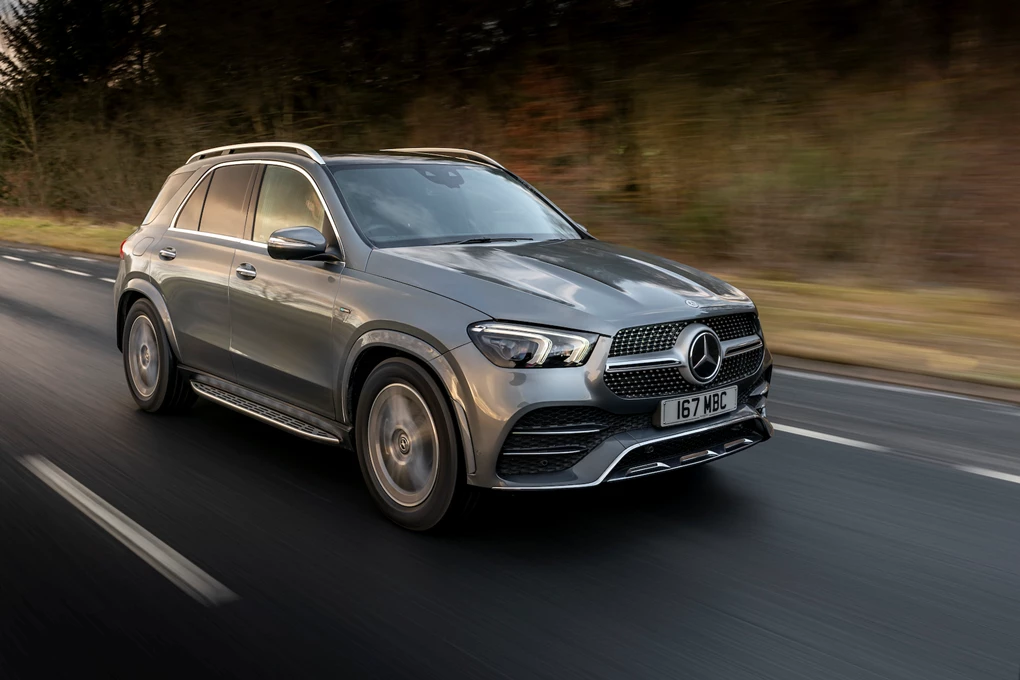 The largest of Mercedes-Benz's plug-in hybrid SUVs - there's no option for the seven-seater GLS yet - the GLE350de is a great choice if you're after space and practicality thanks to its large boot.
The 350de utilises a four-cylinder diesel which, when combined with an electric motor and batteries, produces a healthy 316bhp, yet is capable of returning up to 60 miles of electric-only power. 
Enquire on a new Mercedes-Benz