Over 30 years after it first arrived on the scene, the Mitsubishi L200 double cab is firmly established as one of the leading choices for pick-up truck buyers in Britain. The Series 4 model, launched back in 2006, consistently outsold all of its direct rivals year in, year out. However, while it excelled in terms of off-road capability and practicality, the on-road drive and interior were significant weaknesses.
But now a new version of the L200 has arrived to keep Mitsubishi top of the pick-up class by addressing its predecessor's weaknesses and building on its famous strengths. The L200 Series 4, however, will remain on sale alongside the new model for the next 12 months. There are numerous challengers including the Ford Ranger, Volkswagen Amarok, Isuzu D-Max and Toyota Hilux.
At first glance the Series 5 model may not look much different, save for the restyled chrome grille at the front. Make no mistake though, this is a new generation L200 with over 330 design and engineering improvements over the Series 4.
The new L200 Series 5 starts from £19,749, increasing to around £25,000 for the top specifications. That sort of pricing is competitive next to the Ranger and Hilux and all trims bar the range-topper undercut the VW Amarok.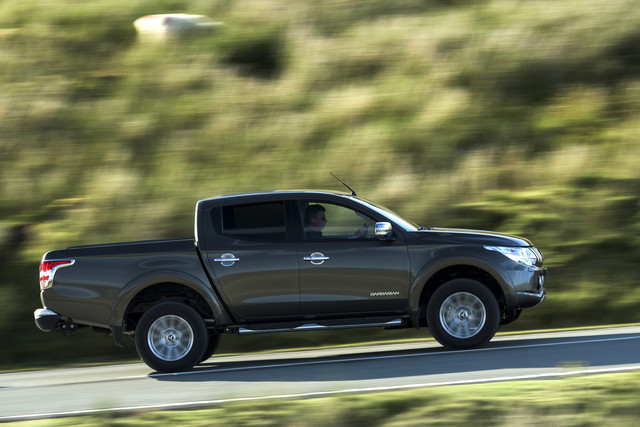 The L200 Series 5 is powered by a 2.4-litre turbodiesel. This is mated to a new six-speed manual transmission as standard, but when choosing the top trim level an automatic 'box with paddle shifters is available optionally.
The engine is not only more powerful, it's also now constructed out of aluminium, making it 30kg lighter than before. This benefits both performance and efficiency.
The Mitsubishi produces 178bhp and covers the 0-62mph sprint in 10.4 seconds, over half a second less than the 2.0-litre VW Amarok. It's also over a second quicker than the 3.0-litre Hilux and 2.2-litre Ford Ranger.
Officially, the new L200 records a combined fuel economy of 42.8mpg, up from 35.8mpg for the Series 4. This comfortably moves the Mitsubishi ahead of the main rivals which all record below 39mpg.
With CO2 emissions reduced to just 169g/km, the new L200 is well ahead in this area too. The next best rival, the Isuzu D-Max, records 192g/km and all other rivals emit over 200g/km.
At the moment, every new pick-up truck in Britain currently pays a fixed rate of £225 for the first year of Vehicle Excise Duty. Mitsubishi, however, anticipates new legislation for tax bands will be introduced in the near future which will see vehicles of this type charging higher or lower fees depending on their CO2 output. Right now, the L200 Series 5 is best prepared for such a change.
The previous L200 had a second gearstick used to switch the pick-up between two and four-wheel drive. All trims except standard, however, have swapped this second gear stick for a circular dial called Super Select 4WD-II. It allows you to quickly switch between four driving modes, including two-wheel drive and different four-wheel drive settings (while travelling at speeds of up to 62mph) to suit different conditions.
Mitsubishi say that the new L200 is the only pick-up you can drive on road in both two and four-wheel drive, and the latter is welcome when things get wet or icy.
Buyers of the L200 are likely to be spending significant amounts of time driving it across off-road terrain and the Mitsubishi is very adept for such tasks. Keep it in first gear and around 1,000rpm, and it'll make light work of uneven off-road terrain - whether that be thick, sludgy mud or steep gravely hill climbs - in a relatively comfortable manner.
However, while the previous L200 was widely praised for its off-road capabilities, the on-road drive was hampered by vague steering, a bouncy ride and a gearstick which rattled a lot.
We tested the new L200 out on the road with the manual 'box and in the optimum two-wheel drive set-up and noted significant improvements to the drive. The steering is more precise and the chunky tyres deliver loads of grip, providing confidence through corners.
The gearstick shakes far less and the engine always feels responsive, particularly when the turbo kicks in at around 1,500rpm. At low speeds it's a generally smooth and impressively refined driving experience.
When hitting about 40mph or more, however, there is a lot more engine noise. Through high speed corners, the L200's tall ride height still shows up, leading to a noticeable amount of body roll. Therefore, the L200's driving dynamics still can't match modern day SUVs or MPVs, but it's a heck of a lot closer to these sort of cars than it has ever been before.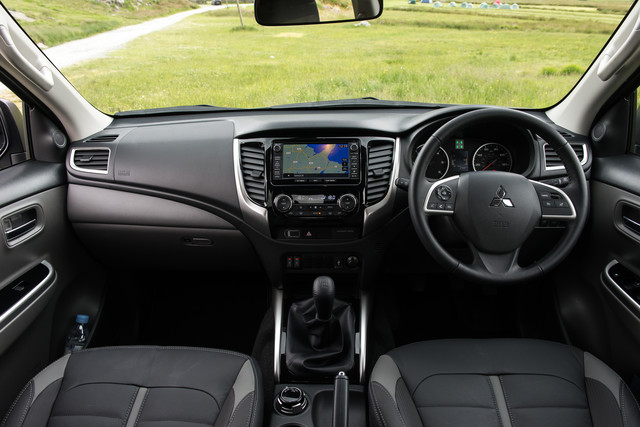 Another part of the L200 that's changed significantly is the interior, which previously had a solid but very utilitarian feel. Helping to make this pick-up feel a lot more car-like than before.
Leg and headroom in the double cab is plentiful for two adults at the front and rear. The load bed is 1,470mm wide and 475mm deep and can carry a tonne in weight.
There are four trim levels for the L200, starting with 4Life and followed by Titan, Warrior and Barbarian. Standard kit includes stop-start engine technology, daytime running lights, 16-inch alloys and cruise control with speed limiter. Higher trim levels offer all sorts of luxuries such as dual zone air conditioning, DAB radio, sat-nav and a rear parking camera.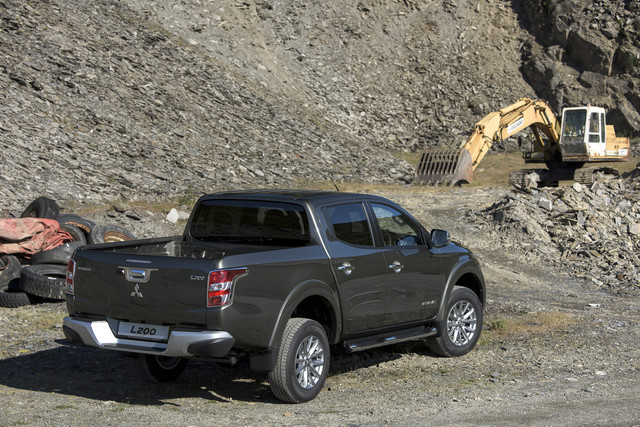 L200 fans will welcome the changes introduced by the new Series 5 model, particularly those centred on its on-road driving behaviour.
More traditional choices of family car do still feel more composed, particularly at high speed. But the new L200 is smoother, faster and more agile and all of this, combined with the much more modern interior, makes the L200 feel far better qualified to fulfil family car duties.
Customers will likely care more about how the Mitsubishi handles off-road terrain however, and in this regard it simply excels. With all these welcome improvements, it'd be unsurprising to see the L200 remain as top dog in Britain's pick-up market. In fact, it has a better chance than any pick-up before of luring newcomers to this type of vehicle.