Cutting-edge new road sign technology is due to be introduced in Sussex, which will detect when a driver is using their mobile phone behind the wheel.
The 'Vehicle Activated Sign' has been funded by the Sussex Safer Roads Partnership for use by Brighton and Hove City Council, and will be rolled out country-wide if it proves successful.
Able to detect the use of mobile phones within a vehicle whenever it drives past a sign, it will then flash and display a warning in order to encourage motorists to put the phone down.
Unlike speed cameras, the sign won't be capable of recording a vehicle's details, so the Partnership says that it's unlikely to lead to any direct prosecutions and will instead act as a deterrent.
However, while the technology in its initial phase won't be used to convict motorists directly, it's possible that speed camera-like devices could be introduced to clamp down on drivers in the future.
Although it's been illegal to use a handheld mobile while driving in Britain since 2003, many drivers continue to flout the ban and in doing so risk fines of £100 and three points on their licence.
A recent survey from Liverpool Victoria insurance claims that half of all motorists see another driver illegally using a mobile phone while behind the wheel every single day.
Furthermore, a quarter of drivers say that they see others using phones while driving twice a day or more, while three in 10 motorists admit to texting behind the wheel at least twice a day.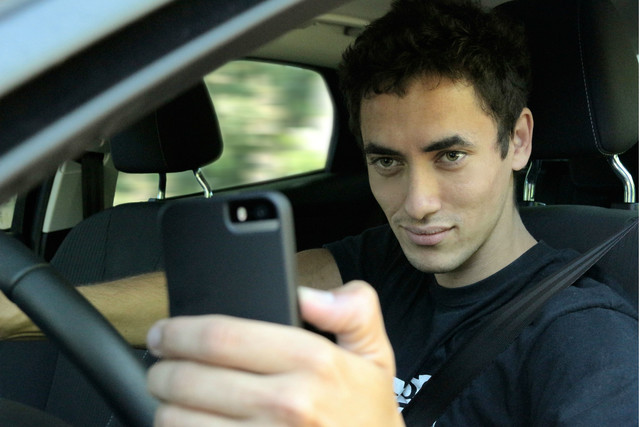 The study, based on Freedom of Information requests to police forces across the UK, found that men are four times more likely to be stopped for using a phone in the car than women.
John O'Roarke, managing director of LV car insurance, said: "Although it can be tempting to quickly check your mobile, it is essential that drivers keep their eyes on the road at all times.
"There can be enough surprises without the additional distraction of a mobile phone, and drivers need to be ready to react, to help improve safety for themselves and other drivers."