Porsche is expanding its range of EVs with the stylish new Taycan Cross Turismo – a new rugged shooting-brake-esque model.
Following years of hybrid expertise, the Porsche Taycan reached showrooms last year as the brand's first EV and has already proven a big success. It was one of the German firm's most popular cars last year, in fact. 
The new model is the next step in its electric car portfolio, and was heavily teased in 2018 by the Porsche Mission E Cross Turismo. It gains a more estate car-like shape that adds 47mm more headroom for rear seat passengers, as well as boot space of up to 1,200 litres with the rear seats folded.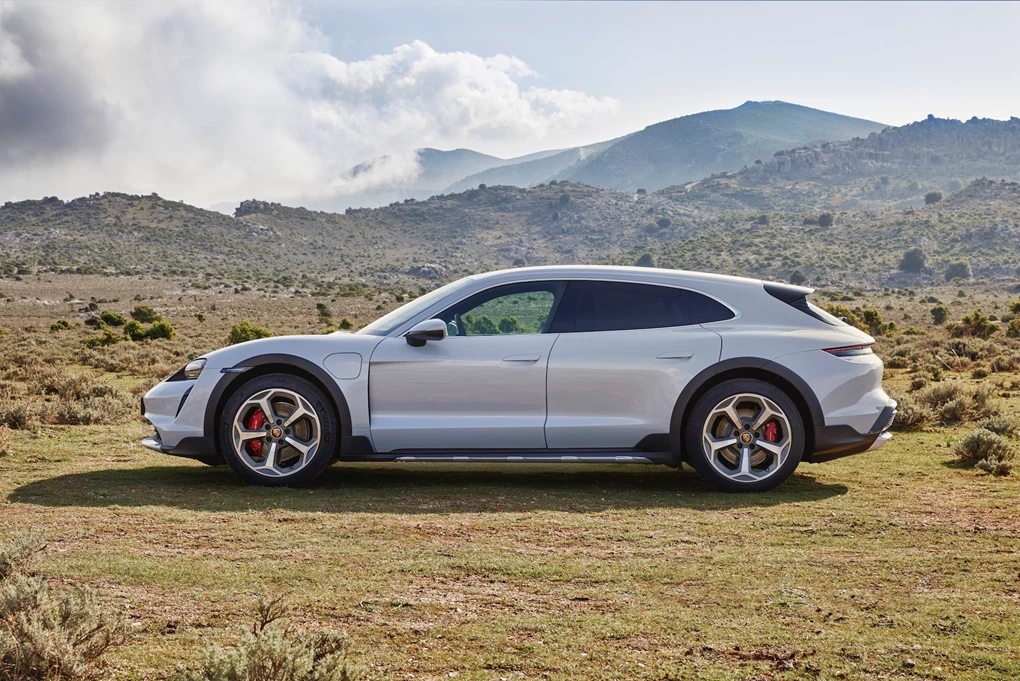 It gets a rugged look thanks to its raised ground clearance and optional off-road styling package that includes wheel arch extensions and unique front and rear suspension. It's far from being for show, though, as all Taycan Cross Turismo models come with four-wheel-drive as standard, while a new 'Gravel Mode' is also included, bringing extra ability on gravel roads by adapting the chassis, traction and throttle systems. Adaptive air suspension is also included across the range.
From launch the Cross Turismo is available with the full line-up of models – including th 4, 4S, Turbo and Turbo S. Power outputs range from 375bhp on the 4 through to 616bhp on the Turbo S, though all models come with a short burst of extra power that's accessed when the launch control is activated. On the Turbo S, for example, it increases the power to an impressive 751bhp. That also allows it to sprint from 0-60mph in just 2,8 seconds and reach a top speed limited to 155mph. 
All Cross Turismo models are also equipped with a large 93.4kWh battery (this is optional on the regular Taycan), which allows for an electric range of up to 283 miles. It's also equipped with 800V electric architecture, which can accept a rate of charge up to 350kW – meaning a 0-80 per cent charge could take just 2 minutes.
Oliver Blume, Chairman of Porsche, said: "We see ourselves as pioneers of sustainable mobility: by 2025, half of all the new vehicles we will deliver will have an electrified drive – either fully electric or plug-in hybrid. In 2020, one in three of all vehicles we delivered in Europe had an electric powertrain. The future belongs to electric mobility. With the Taycan Cross Turismo, we're taking another major step in this direction."
Porsche has also developed a new rear bike carrier specifically for the model, which can hold three bikes, and still allow the boot to open even with the bikes fitted. Two new Porsche e-bikes have also been created for the launch. 
Prices for the Cross Turismo cost between £1,000 and £4,000 more than the equivalent regular Taycan, with models available from £79,340 for the regular '4' through to £139,910 for the Turbo S. The new model is available to order now, with first deliveries expected in the summer.
Enquire on a new Porsche Taycan