Bentley has officially announced full details, pricing and specifications for its all-new Bentayga ahead of its debut at the Frankfurt Motor Show.
The first attempt at an SUV from the marque, the £160,200 Bentayga comes outfitted with a full range of luxurious trimmings and exclusive features and equipment as per Bentley tradition.
Powered by a huge 600bhp 6.0-litre W12 engine, with a 0-62mph time of 4.1 seconds and a top speed of 187mph, the Bentayga also smashes the record for the world's most powerful SUV.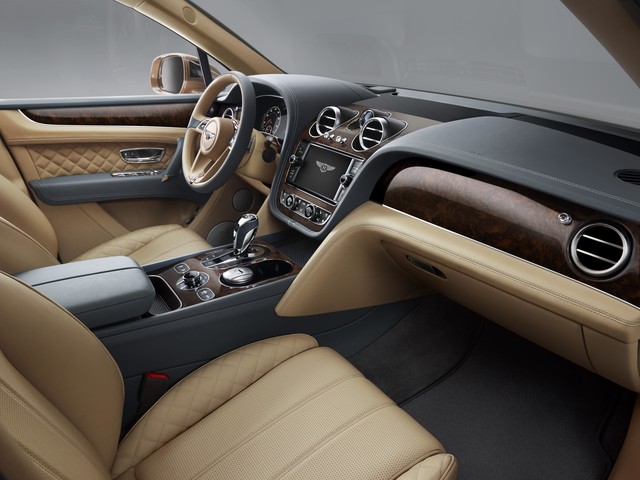 Designed to capture a balance between sportiness and powerful presence, the Bentayga's sides are pressed from a single piece of aluminium, while the grille sports four full-LED headlamps.
Emphasising the go-anywhere nature of its SUV focus, it also features a skid plate on the lower section of the front bumper, while the panoramic glass roof is flanked by aluminium roof rails.
Inside, the Bentayga is full of handcrafted wood and leather as buyers would expect from a Bentley, which includes a choice of seven different wood veneers and 15 colours for the upholstery.
It also comes with handcrafted metal adornments on the dash, centre console on doors, along with 22-way adjusting and massaging seats with contrasting stitching and a quilted diamond design.
Buyers can also specify a range of bespoke options, which include everything from extra storage trays to a refrigerator complete with crystal glass and Linley china, to a solid gold Breitling clock.
Equipment includes an eight-inch touchscreen infotainment system with integrated sat-nav and a 60GB hard drive, plus in-car Wi-Fi and 4G hotspots. Buyers can also choose between three sound systems, and there's also USB slots for smartphones.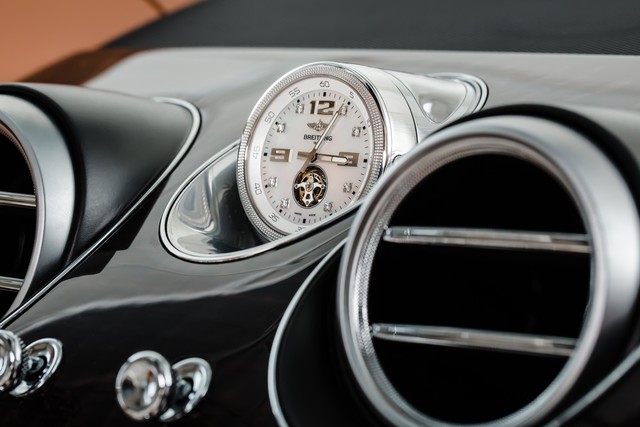 Other kit includes a drive mode selector to switch the optional Off-Road Setting on and off, plus adaptive cruise control, traffic sign recognition and a heads-up display to reduce distraction.
The 600bhp petrol engine comes linked with an eight-speed automatic gearbox, along with a four-wheel drive system. In an effort to curb the emissions of the 12-cylinder petrol engine, Bentley has engineered it with a variable displacement system, which can shut down half of the engine at lower speeds.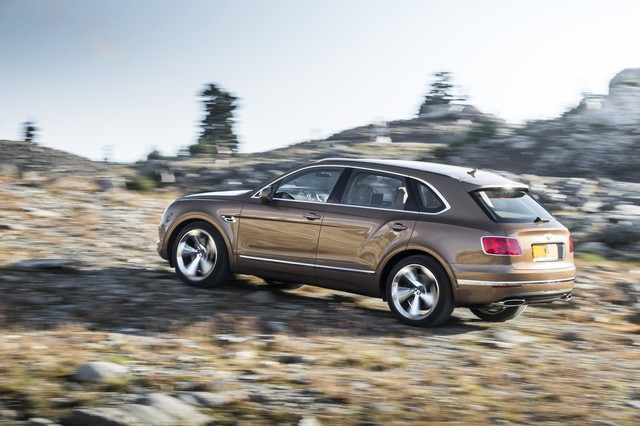 However, despite this, the Bentayga still emits 292g/km of CO2 with fuel economy of up to 22mpg, but Bentley has said that the model will be available in the future with diesel and hybrid power options.
Priced from £160,200, order books are already open for the all-new Bentley Bentayga, with first deliveries expected to arrive with customers early next year.