Massive wheel arches, eye-popping paint schemes and unfeasibly extreme aero wings; it could only be this year's SEMA show.
For those not in the know, SEMA is all about showing off crazy unthinkable designs and the latest batshit aftermarket parts at a massive convention nestled in the heart of Sin City.
It's been on the go for the best part of 50 years, and in its time has seen plenty of ridiculous and brilliant concepts from US titans like Ford, Dodge and GM, as well as plenty of other oddities.
Everything from the smallest components to massive bodykits and in-car sound systems are on display, and SEMA is always guaranteed to bring out the weirdest and most wonderful designs the car industry can come up with.
Bad news if you're looking to go, as the event is open only to exhibitors, traders and the press. Never worry though, as we've collated the best cars from this year's show especially for your viewing pleasure.
Mopar Challenger GT AWD Concept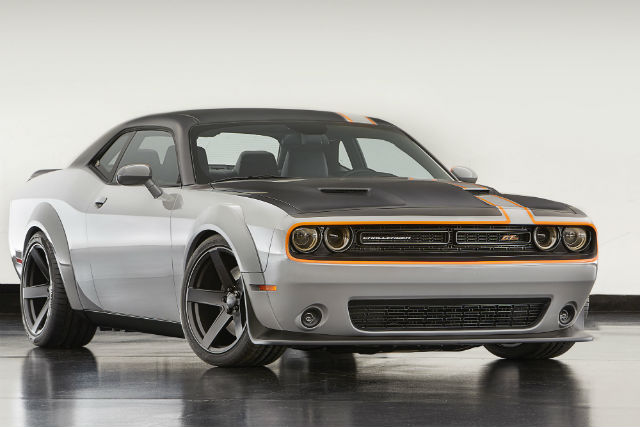 Heading up Fiat Chrysler's extensive assault on the SEMA show this year is a menacing, upgraded version of the Dodge Challenger - the Mopar Challenger GT AWD Concept.
This four-wheel drive slab of American muscle for all seasons comes courtesy of Fiat Chrysler's tuning arm Mopar, which claimed that it wanted a true muscle car that could be used at any time of year and on any terrain.
We'll be damned if it doesn't look cool as anything, but the Challenger GT AWD's badassery runs more than skin deep with a beefed-up version of the same four-wheel drive system that Dodge uses for the police version of its Charger.
Power comes courtesy of a 5.7-litre Hemi V8, which produces around 440bhp. Mopar has also bolted on a larger air intake, new camshaft and high-flow exhaust system, along with a widebody aero kit, 20-inch alloys and the unique Destroyer Grey paintwork.
Mazda MX-5 Spyder & Speedster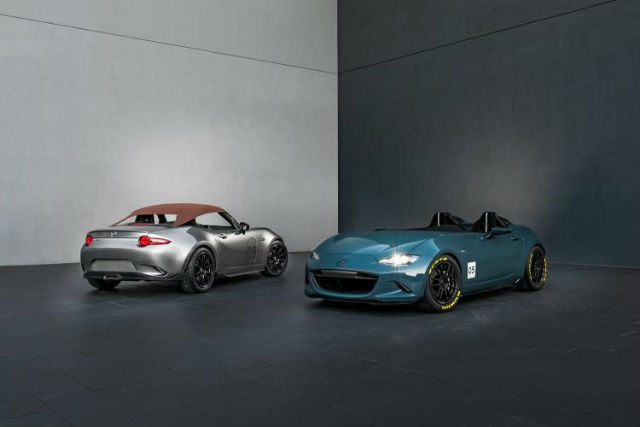 If you thought the latest MX-5 was light enough, prepare to be shocked; it's been on the SEMA diet, resulting in the rather fine MX-5 Speedster and Spyder models.
Thanks to a range of aftermarket experts, the already-skinny roadster has been pared back, with the Spyder getting fitted with a tiny cloth 'bikini' roof and lightweight 17-inch Yokohama alloys. The Speedster is even more extreme, with carbon fibre doors and seats, plus the complete lack of any windscreen or roof whatsoever.
Both cars come powered by same 2.0-litre four-pot engine as is available on the regular MX-5, but each clocks in at a significantly lighter weight; the Spyder weighs just 1,043kg, while the Speedster is a mere 943kg.
Performance figures haven't yet been released, but given all that weight-saving, it's likely that they'll be pretty ruddy nippy indeed.
James McDonnell BMW i8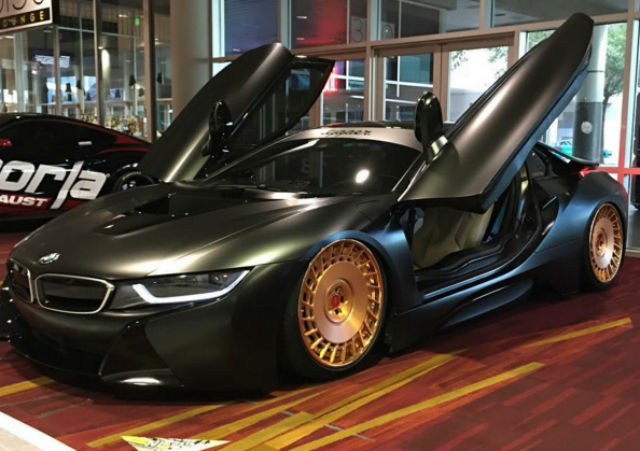 The aftermarket scene is evolving faster than ever, with hybrid supercars currently the hottest trend keeping tuners occupied and one of the focal points of this year's SEMA show.
Appearing on Accuair Suspension's floorspace this year will be Instagrammer and supercar aficionado James McDonnell's blacked-out matte BMW i8, and dear God it looks pretty.
With lowered altitude but plenty of attitude thanks to Accuair's air suspension on each corner, this unique wrapped i8 also comes with a set of Rotiform CBU wheels machined from rose gold.
As well as looking more like an automotive art installation than an actual car, Accuair also claims that this particular model is the lowest i8 in the world. We believe them.
Chevrolet Camaro Krypton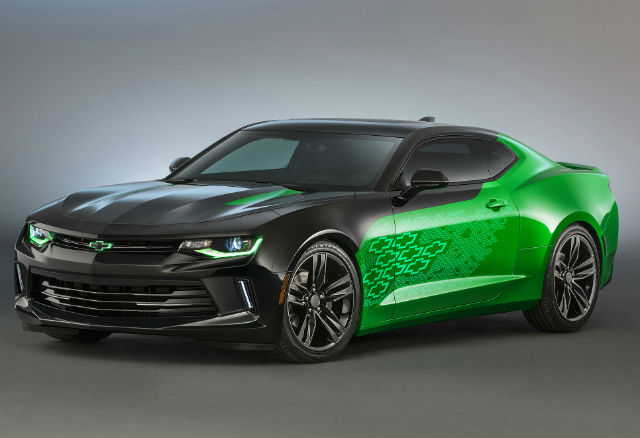 Chevy's taken a large number of custom vehicles to this year's SEMA show, with over 20 models that range from highly-modified restorations to tuned pick-up trucks.
Given the popularity of the Camaro in the aftermarket, it stands to reason that its latest sixth-gen version is going to get in on the action, with a total of four modded concepts on display.
Easily the coolest of them all, we reckon, is the Krypton concept, which comes outfitted with a retina-popping shade of green. The paint is actually electroluminescent, and the car features a compact electrical system which can send current running through the paintwork.
When activated, illuminated Chevrolet bowtie logos appear across the body, while headlights and painted exhaust tips finished in the same theme complete the Krypton concept's otherworldly appearance.
Scion Outcast iA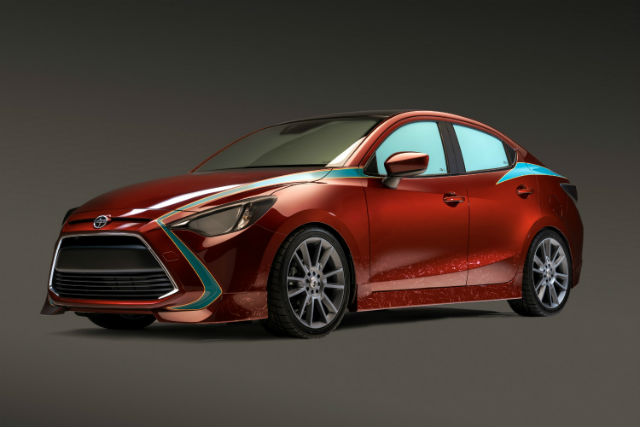 For any Brits who don't know of Scion, it's essentially the North American wing of Toyota, designed to appeal specifically to Gen Y'ers with a simplified one-trim approach and streamlined buying process.
For this year's SEMA exhibition, Scion enlisted the help of Walking Dead creator Robert Kirkman, who designed this special one-off iA model that's made to appear as though it's possessed by demons. Strange.
Named the Outcast, it's rigged with a load of neat features to scare the pants off show-goers with rear doors and a fuel flap that open on their own. The car also features air suspension that jitters to give the appearance that it's having a fit, while the glovebox pours spooky-looking smoke into the cabin.
According to Scion, they knew they had it right when the car genuinely caused one of the designer's children to get scared. In all honesty, we probably would be too.
Liberty Walk Audi R8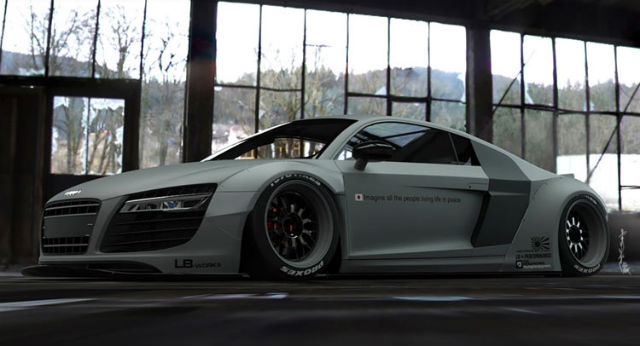 If there's one tuning firm that causes controversy time and time again, it's Liberty Walk. The Japanese company is infamous for its Need for Speed-style rivet flare kits, and despite dividing opinion amongst purists, it's one of the most respected in the hardcore tuner scene.
Though Liberty Walk got its start with a kit for the Nissan GT-R, inspired by the appearance of the 70s-era Datsun Z-cars, it's now turned its attention towards the Audi R8.
Two versions are available, one made of carbon fibre and a slightly cheaper fiberglass option. Both include front, side and rear diffusers, plus a rear wing and huge wheel arches all the way around. Mightn't be everybody's cup of tea, but we reckon this car deserves a place on this list for shock value alone.
Rally Innovations Ford Focus ST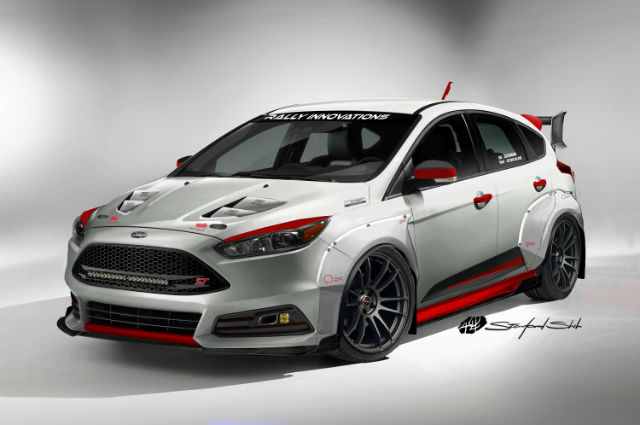 Leave it to California-based tuning company Rally Innovations to come up with what's probably the coolest version of the Focus ST that's ever been made.
Designed as a dirt-friendly improvement over the regular ST hot hatch, Rally Innovations added a deep front bumper with integrated aluminium spoiler, a larger rear spoiler and massive flared wheel arches to accommodate the wider tyres.
Inside, it gets a four-point roll cage and bucket seats, while the rear bench has been scrapped to save weight. Bizarrely, for a rally-spec model it also comes with an upgraded Sony sound system, and Rally Innovations hasn't yet said whether its powertrain has been juiced up either.
BMW M2 Coupe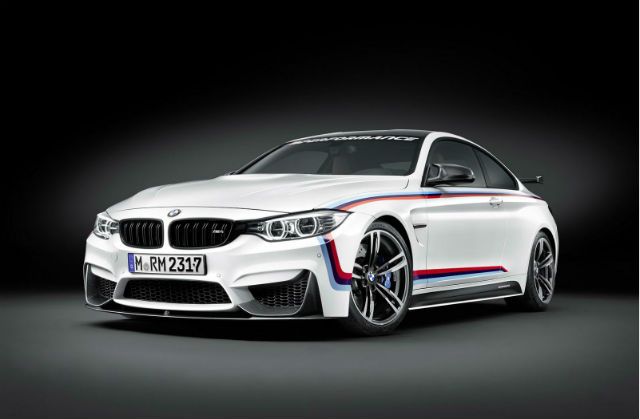 The new BMW M2 Coupe will make its world premiere in the metal at the SEMA show, trussed up in a unique set of BMW M Performance Parts.
Sporting BMW's newly-styled M Performance insignia, which is due to be rolled out across the entire M portfolio, it'll also be clad in various new tuning parts and aerodynamic components which the Bavarian marque will release next year.
Black gloss kidney grilles, carbon fibre mirror caps and a thicker Alcantara steering wheel will all feature on the SEMA M2, along with stainless steel pedal covers and a newly-developed sports exhaust.
According to BMW, further details of its aftermarket M Performance Parts will be announced in Spring next year, and we can't wait!
Bisimoto Engineering Mustang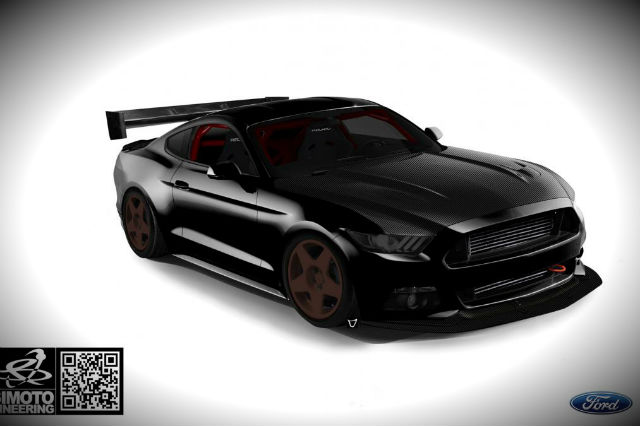 Mustang variants are aplenty at this year's SEMA show, but perhaps the most impressive of all is thanks to Canadian engineering agency Bisimoto.
Rather than the usual V8 offerings, Bisimoto instead concentrated on uprating the 2.3-litre Ecoboost version of the new Mustang, managing to wring an eye-popping 900bhp from the four-cylinder engine. Seriously. A 900bhp four-cylinder. Blimey.
All that power comes thanks to a new ECU and boost controller, plus forged pistons, new fuel injectors and a custom exhaust. It also gets a new turbocharger with a 'Godzilla' blow off valve, massive brakes and coilover suspension, in addition to a wing so big it looks ripped straight from a 747.