Despite December sales being down by 8.8 per cent, the 2018 light commercial vehicle market sat just 1.3 per cent down on 2017, according to the latest figures from the Society for Motor Manufacturers and Traders.
That makes last year the fourth most successful year for LCVs with 357,325 sales, beating industry forecasts.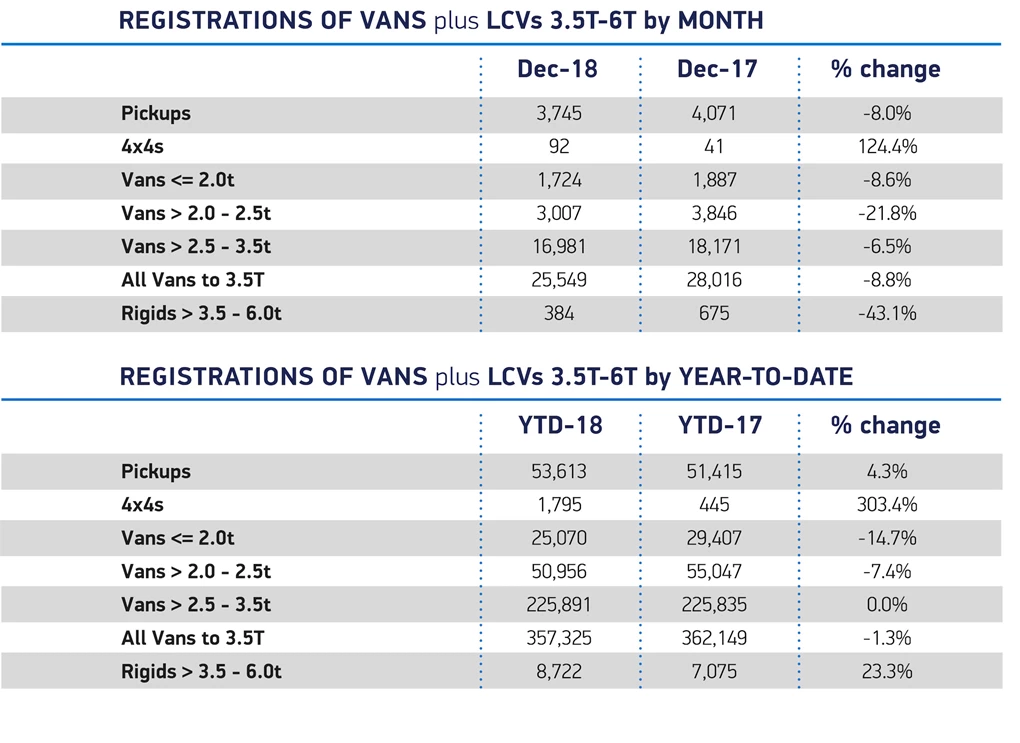 Pick-ups, 4x4s and rigid trucks weighing 3.5 and six tonnes were the sectors that expanded in 2018 – with gains of 4.3, 303.4 and 23.3 per cent respectively. Sales for vans weighing between 2.5 and 3.5 tonnes were also up, but only by 56 units up to 225,891.
Smaller vans were the ones to see the largest fall in sales, with vans between two and 2.5 tonnes seeing a drop of 7.4 per cent, and vans under two tonnes dropping by 14.7 per cent.
SMMT chief executive Mike Hawes, said: "This sector is a key indicator of business confidence in the UK, and operators need stability to renew their fleets. December's performance was worrying, as was the overall drop in fleet purchases.
Enquire Now on a new Van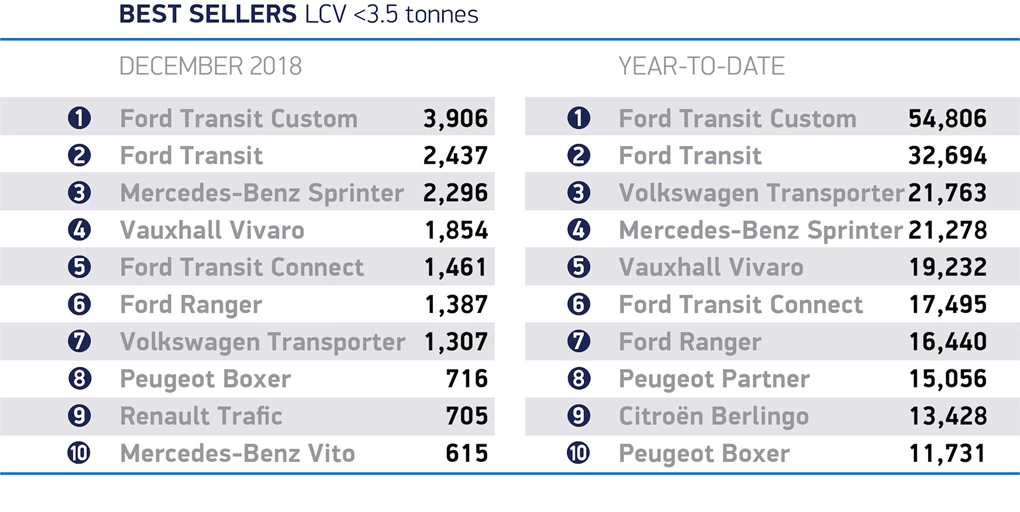 "Business confidence depends on government providing the right conditions, which first and foremost means taking a 'No Deal' Brexit off the table. We have a strong and competitive commercial vehicle market in the UK, one that can flourish in the right economic climate."
In terms of individual models, the Ford Transit Custom ended December on top with 3,906 sales, with Ford's Transit and the Mercedes Sprinter in second and third with 2,437 and 2,296 units shifted respectively.
The Transit Custom also topped the 2018 sales chart with 54,806 sales, with the Transit posting 32,694 units in second and Volkswagen's Transporter in third with 21,763 sales.
Stay up to date on the latest news, guides and reviews around commercial vehicles.
Subscribe to our newsletter >