From its debut to a public who waited with baited breath to catch their first glimpse of it at the World's Fair in 1964, the Ford Mustang has always been popular with tuners and gearheads looking to extract as much muscle as possible from America's premier steel bicep.
Fifty years and five generations later and the Mustang is just as common a site in tuner garages as ever, with big-name tuning houses like Saleen, MAD Industries and Hennessey Performance getting their hands on the latest 'Stang. Even Danish car designer Henrik Fisker, better known for his work with Aston Martin, transformed the sixth-gen Mustang into the beautiful and deadly Fisker Rocket, complete with 725 horsepower.
Yet of all the tuners to have modified the world's most iconic pony car over the years, there's one name that stands head and shoulders above all the rest: Shelby.
When it comes to American performance cars, Shelby American is a name that's almost, if not equally, as famous as Ford Mustang. Started by Texan chili farmer and racing driver Carroll Shelby, the company has worked alongside Ford for the better part of half a century, tuning and tweaking to produce some of the world's best-loved performance vehicles.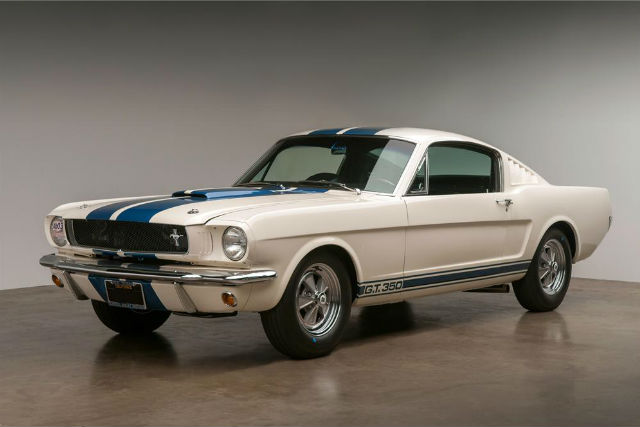 American muscle honed for the track
It was Carroll Shelby who had the bright idea of dropping a big Ford V8 engine into an AC sports car, and in doing so creating the Shelby Cobra. It was also Shelby who transformed Ford's GT40 into a multiple-time Le Mans winner and, according to the Daily Mail, who was also responsible for the introduction of the British speed limit after a high-speed test on the UK's motorways.
But most car fans will associate the Shelby name with the Mustang, and the first Shelby-badged 'Stang arrived just a year after the original first-generation model made its debut, all the way back in 1965.
The funny thing about the original Ford Mustang is that despite the fact that it offered aggressive sports car styling and a big V8, it was built from a medley of leftover parts that Ford had lying around. Its iconic design might have made it look fast even when it was parked, but underneath that angry exterior, it wasn't actually all that much of a sports car.
That was, at least, until Carroll Shelby came along and transformed it into the original Shelby GT350. He ditched the rear seats to save weight and dumped the windows for plexiglass, while also installing a lightweight fiberglass bonnet and front bumper.
Bigger tyres and larger brakes were added, along with a much more powerful Shelby-tuned V8 engine designed purely for competition, although public interest soon saw the GT350 made available for the road, with a few creature comforts added back in.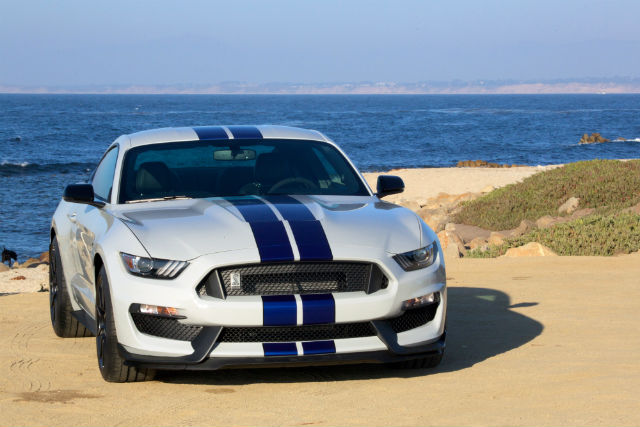 'Voodoo' V8 engine
More than fifty years after the original GT350 took to the track, the most exciting version of the Mustang still wears that famous badge, still with lightweight components, special brakes and tyres and, most excitingly of all, a very special new motor.
While the stock Mustang's V8 engine has famously been referred to as the "Coyote" throughout the years, with the current Ford Mustang coming with a 5.0-litre Coyote, the Shelby GT350 and its track-oriented GT350R variant gets an engine that's different from every other V8 Ford makes.
Referred to as the "Voodoo", this engine has a larger displacement at 5.2-litres and also features what's known as a flat-plane crankshaft, which connects to the engine's pistons and transfers power from the cylinders into rotational energy, driving the wheels.
Traditional V8 engines use crossplane crankshafts, so named because if you look at it along its axis, the shaft will look like a cross with four points extending outward at a 90-degree angle to the previous one.
By comparison, the GT350's crankshaft extends only upwards and downwards, and so looks 'flat' in profile as opposed to the cross shape of the more commonly used crossplane design.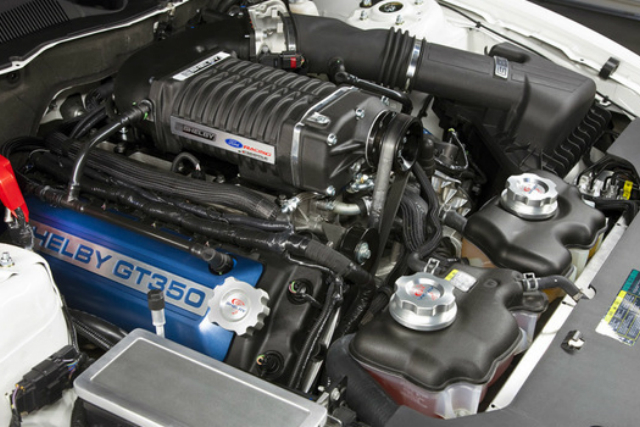 The problem with crossplane V8 engines is that to keep the engine balanced counterweights must be added to it, restricting how fast the engine can rev and thereby limiting the amount of power that the motor can generate.
In contrast, a flat plane crankshaft allows the engine to rev much higher and much harder than usual. Ferrari is perhaps the best-known proponent of flat-plane crankshafts in its racing engines, which is part of the reason why its V8-engined Formula One cars have always sounded so distinctive.
As a result, the Shelby GT350 redlines at a phenomenal 8,250rpm, outperforming the majority of American-made V8 engines by nearly 2,000rpm. Maximum power in its stock form clocks in at 526 horsepower with 582Nm of torque, meaning that the Voodoo engine is the most powerful non-turbocharged V8 that Ford has ever made.
That hyperbolic amount of power and baleful engine note comes matched with a heavy-duty Tremac manual gearbox, which has been almost entirely reworked to ensure that it can cope with the sheer output of the Voodoo engine.
True to Carroll Shelby's lightweighting ethos, even the gearbox components have been stripped down to their bare essentials to reduce weight, while the shifter itself has been manufactured of special light aluminium with low-friction joints.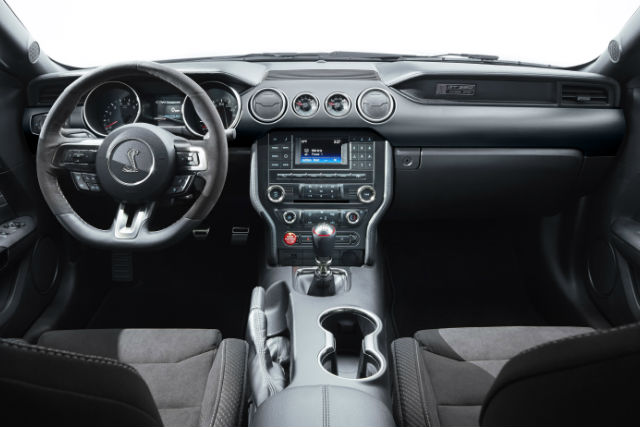 Lightweight, race-spec components
Aluminium is also used extensively in the suspension, which has been tweaked specifically for track use, and uses magnetic dampers that adapt every seven metres to continuously change for the road conditions.
Keeping all 526 horses tame are massive 15.5-inch six-piston brake callipers that clamp down on four ventilated and cross-drilled iron brake rotors, while the car gets 19-inch lightweight aluminium wheels as standard.
Opting for the GT350R model adds carbon fibre wheels, manufactured using techniques derived from NASA Space Shuttle technology and the first used by a mass-market car manufacturer, which weigh an almost unbelievably tiny 8.2kg each, almost half the weight of the aluminium alternatives.
Finally, all of the GT350's race-bred components are boxed in by a body that's markedly different from the production Mustang, with everything from the A-pillar forward completely new. For a start, it's got an angrier front bumper with an injection-moulded carbon fibre grille that's 24 per cent lighter than the normal Mustang and much stiffer.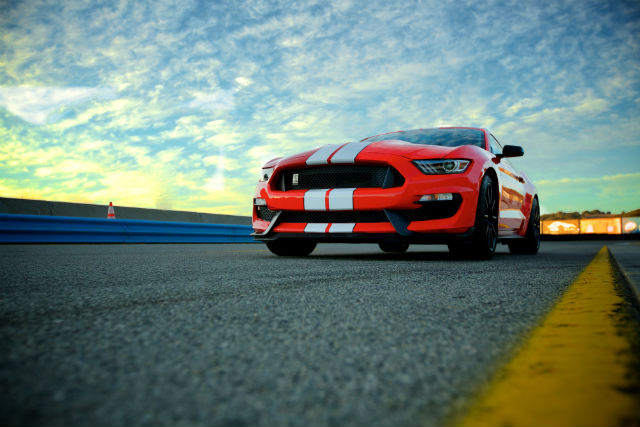 The GT350-specific bodywork also includes a range of aggressive aerodynamics add-ons, including a front splitter, an aerodynamically-shaped undertray and a carbon fibre rear wing which generates more downforce than a Porsche 911 GT3.
All of this combines to make a Mustang which truly drives as well as it looks, often something of a rare occurrence for muscle cars. The Mustang in particular has always had a bit of a reputation for being unruly, and a cursory Google of "Mustang Cars and Coffee" will prove that this remains true to the modern day.
The power of that Voodoo engine means that the GT350 is able to wallop its way to 62mph from a standing start in just 4.4 seconds, making it faster than a Lamborghini Gallardo, a 997 generation Porsche 911 GT3, or a V8-powered Audi R8 Spyder.
That all-important American benchmark measure of speed, the quarter mile, will whizz by in just 11.96 seconds, before the GT350 powers all the way on to a top speed of 155mph. But while straight line performance has always been a muscle car hallmark, the GT350 matches power with uncanny agility.
With its stiffer bodyshell, magnetic suspension and Ferrari-style engine, the Shelby GT350 is possibly the least muscle car-like Mustang that Ford makes, but rather than that being a bad thing it's more like this is the car that everybody thinks the Mustang should be.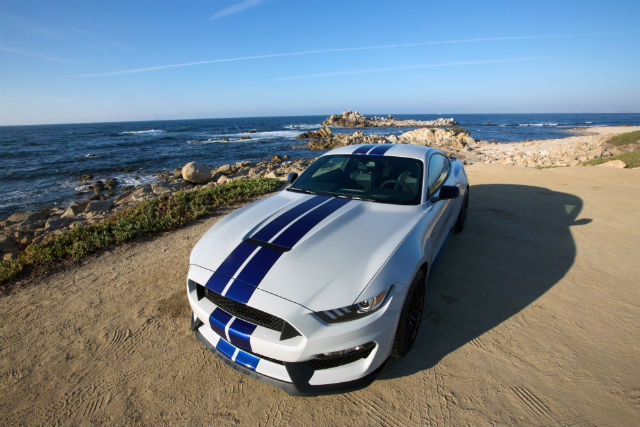 The Mustang that the world deserves?
Brutally quick but with an uncanny ability to chew up and spit out a track like the best of Europe's performance saloons, finally the Ford Mustang has performance as mythical as the legend which precedes it.
Unfortunately, despite the fact that the standard Mustang is available to buy globally for the first time in its history, Shelby's models remain, for now at least, exclusive to the pony car's home market. Measured against the usual competition like Chevrolet's Camaro and even some unexpected rivals like BMW's M4 it's something of an absolute bargain, but for now if you're in Europe and want get one, you'll leave your local Ford dealer disappointed.
If you absolutely must have a Shelby GT350, you don't mind the steering wheel being on the wrong side and you're prepared for mountains and mountains of paperwork, then you can look into having one imported on your behalf.
A massive pain in the posterior it'll be, but then in return you will have access to what's arguably the best version of the Ford Mustang ever made. Worth it? Worth it.
Compare prices for the brand-new Ford Mustang here.