Skoda's electric Enyaq iV has arrived as the firm's latest battery-powered model. Incorporating a variety of next-generation features as well as a selection of battery options, the Enyaq iV marks a step forward into the future for Skoda. 
But with a large boot and a spacious cabin, the Enyaq iV incorporates many of the classic features that draw people to a Skoda in the first place. Let's take a look at what else it has to offer. 
It has a completely electric powertrain
It'll come as no surprise that the Enyaq iV incorporates all-electric running gear. You've got the option of either 62kWh or 82kWh battery sizes, bringing respective ranges of 242 and 316 miles. 
All cars come with the ability to charge at speeds of up to 50kW as standard, though this can be upgraded to 100kW - for 62kWh cars - or 125kW for 82kWh battery cars. When charged through a 125kW charging unit, the Enyaq's batteries can be taken from 10 to 80 per cent in 38 minutes. 
It's still packed with 'Simply Clever' features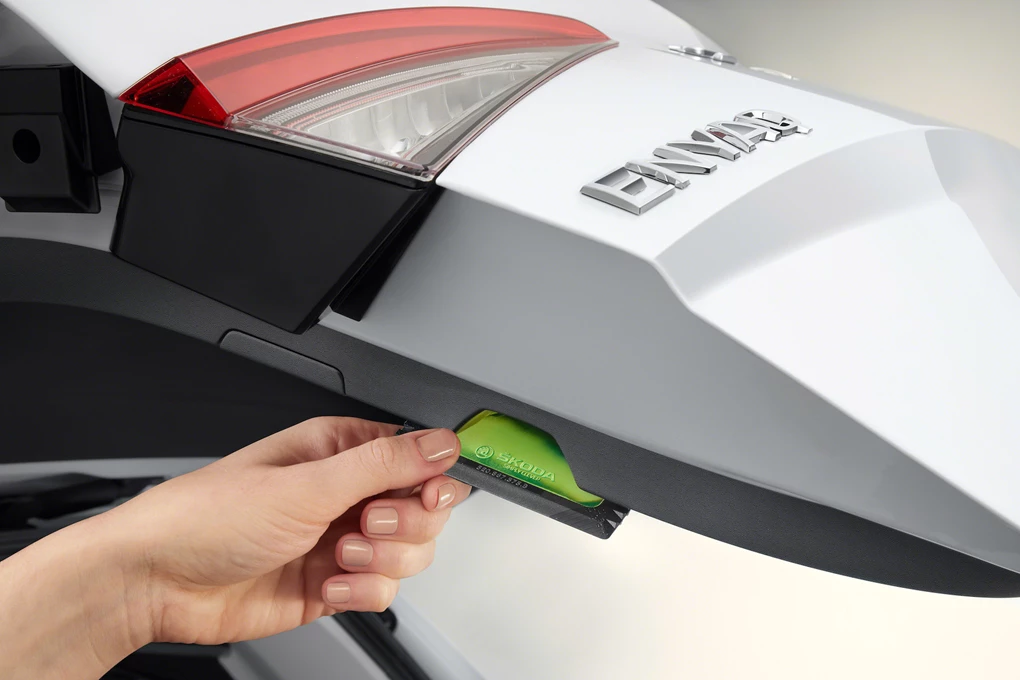 Skoda has a great reputation for its range of 'Simply Clever' features in its cars and the Enyaq is packed with them. For instance, there's an ice scraper incorporated into the boot lid, while the seatbacks offer up dedicated storage for smartphones. 
A sleep package brings fold-out headrests for the rear-seat passengers, just like on an aeroplane. 
Practicality is a key consideration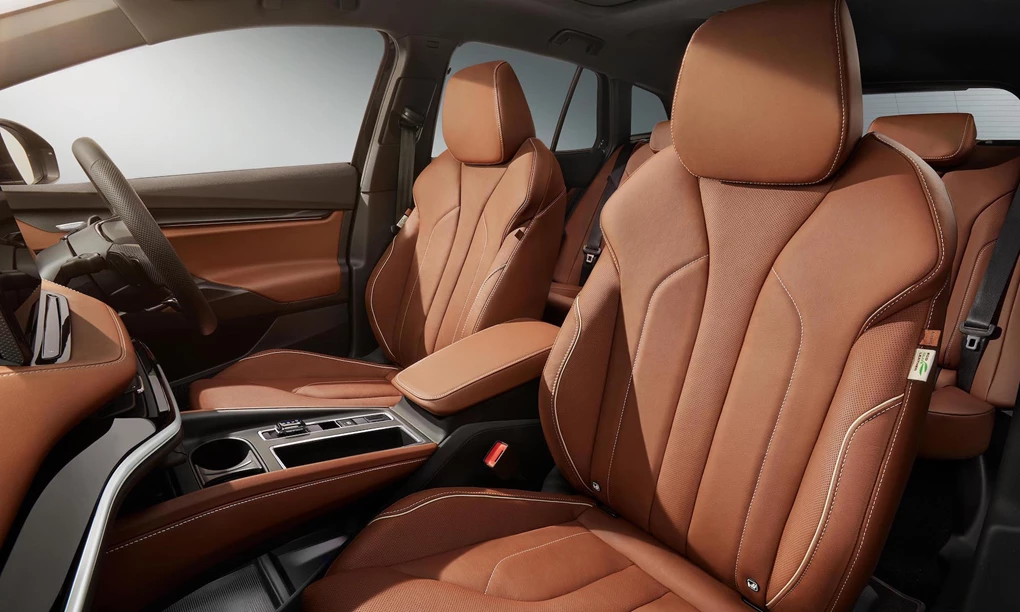 Nearly all Skoda models are built with practicality in mind and the Enyaq is no different. The lack of a transmission tunnel means that there's loads of storage up front, with deep cubbies and recesses allowing you to keep the cabin tidy. 
The boot is also impressively large at 585 litres with the seats in place, or 1,710 with them folded down. 
There's plenty of technology on-board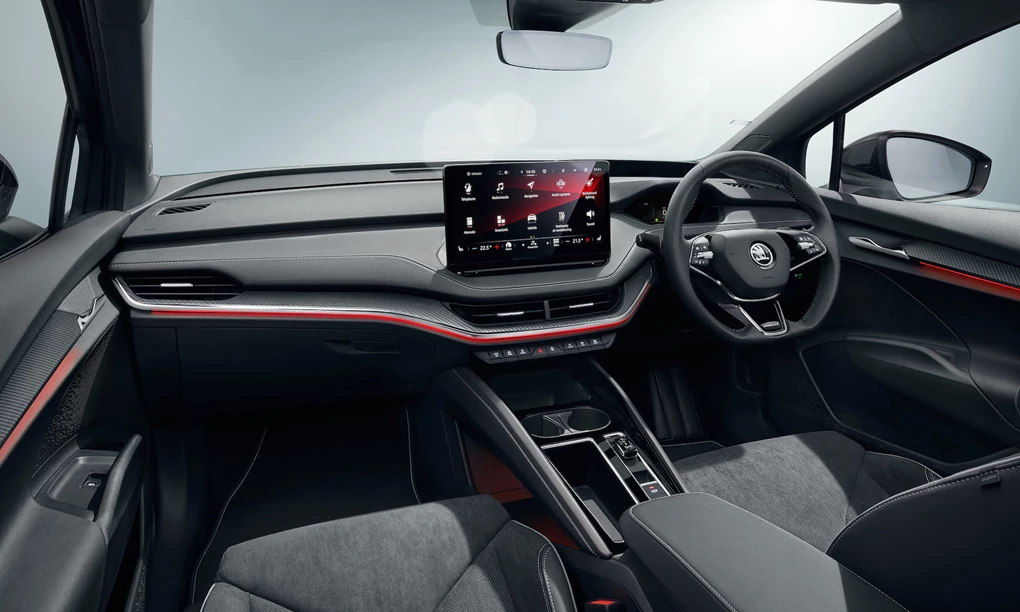 As one of Skoda's latest models, the Enyaq benefits from plenty of technology. It's all centred around a 13-inch touchscreen infotainment system that not only incorporates media and navigation, but also brings both Apple CarPlay and Android Auto. 
This is then added to with a digital instrument cluster ahead of the driver, while many cars also benefit from a head-up display capable of beaming information such as navigation directions onto the windscreen area. 
You've got a variety of trim levels to choose from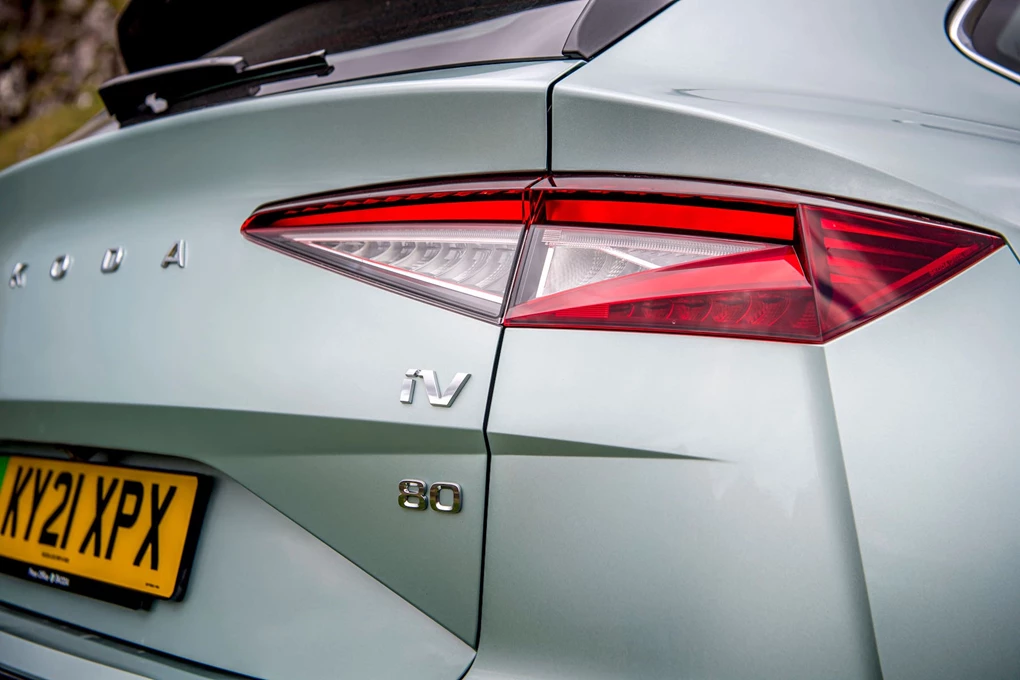 There are plenty of specification options available with the Enyaq. Initially they're based around the battery size you want to go for, but then you can tailor this with a series of 'Designs'.
'Loft', for instance, adds a selection of grey and black cloth touches and light-coloured dashboard materials, while 'Suite' brings black leather to a variety of areas. These options allow you to really tailor the way the Enyaq looks and feels. 
Enquire on a new Skoda