Remember Clive Sutton, the London-based luxury car dealer who last year pushed the new Ford Mustang up to as much as 700bhp? Yep, well they're back, and this time their tuned 'Stangs are even hairier.
Meet the Sutton CS800, which true to its name extracts a mammoth 800bhp from the Mustang's 5.0-litre V8 courtesy of a high-performance supercharger system and a significant tune.
That makes it more powerful even than the 750bhp Shelby Super Snake, the car which could formerly claim to be the world's most balls-out pony car, and which boasts more power than a Lamborghini Aventador S.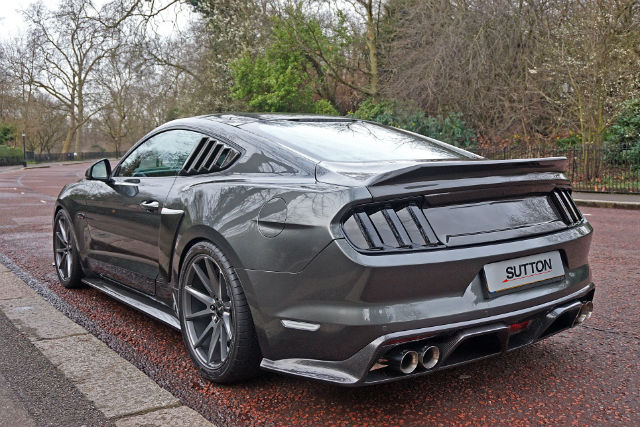 In order to wring out all that power, the CS800 gets a Stage 2 Whipple supercharger upgrade, along with an uprated intercooler, larger fuel injectors and a larger throttle body.
The exhaust system has also been completely revised, with long tube headers and a sports catalyst system to optimise airflow, along with active quad tailpipes to boost the exhaust noise.
The world's most balls-out pony car?
Sutton says it isn't just an all-torque-no-traction monster either, with a unique three-way adjustable suspension setup that the dealer says makes it more liveable than the previous CS700.
Rounding off the modifications are a deep carbon fibre front splitter, the same prominent bonnet as the Shelby Super Snake and a carbon fibre bootlid with an integrated spoiler.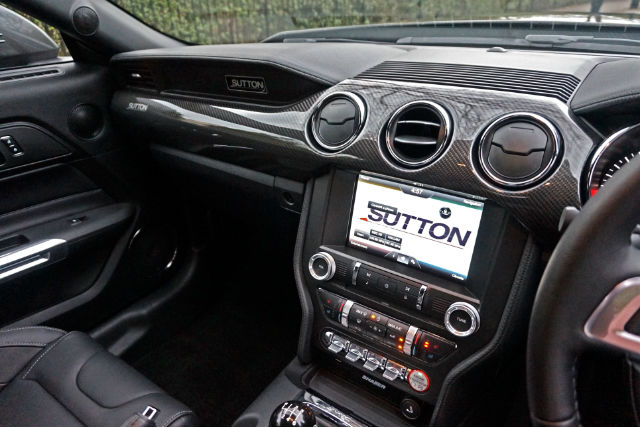 Inside, the Sutton CS800 gets electrically-adjustable Ford Recaro seats, which it says aren't usually available to UK buyers, plus a bespoke carbon fibre dash, a short-shift gear lever and a nine-speaker Audiofile stereo.
How much, you ask? Well, the Sutton CS800 Mustang starts from £64,950 here in the UK, with customers able to specify individual performance and styling upgrades to suit their own personal preferences.
In the market for a new Ford Mustang? Compare prices, order a brochure or book a test drive by clicking here