Introduction
Another day, another small crossover on the market. Or at least that's what it seems like.
Anyway, the latest offering is from Hyundai who has added a bit of flair into the somewhat mundane segment. The KONA is all-new and comes with a distinctive look thanks to vibrant colours, sharp styling and 17 or 18-inch wheels. The interior is equally eye-catching, too, thanks to quirky styling cues.
The KONA is competitively priced, and is packed full of kit as well. If you really want to make the most out of the KONA, it is definitely worth having it in a bright colour scheme, as this is also reflected throughout the interior – you can even have your seatbelts painted in a certain colour.
Performance
Currently, you only have the option of two petrol engines a 1.0-litre and a 1.6-litre.
The 1.0-litre T-GDI has 118bhp, and while it can be a bit revvy, it is fun to drive, even if it isn't very fast, taking more than 11 seconds to reach 60mph.
The 1.6-litre T-GDI is more powerful, packing 175bhp and taking just 7.5 seconds to hit 60mph from a standstill.  
While no diesels are available just yet, within a year there will be two more powertrains available.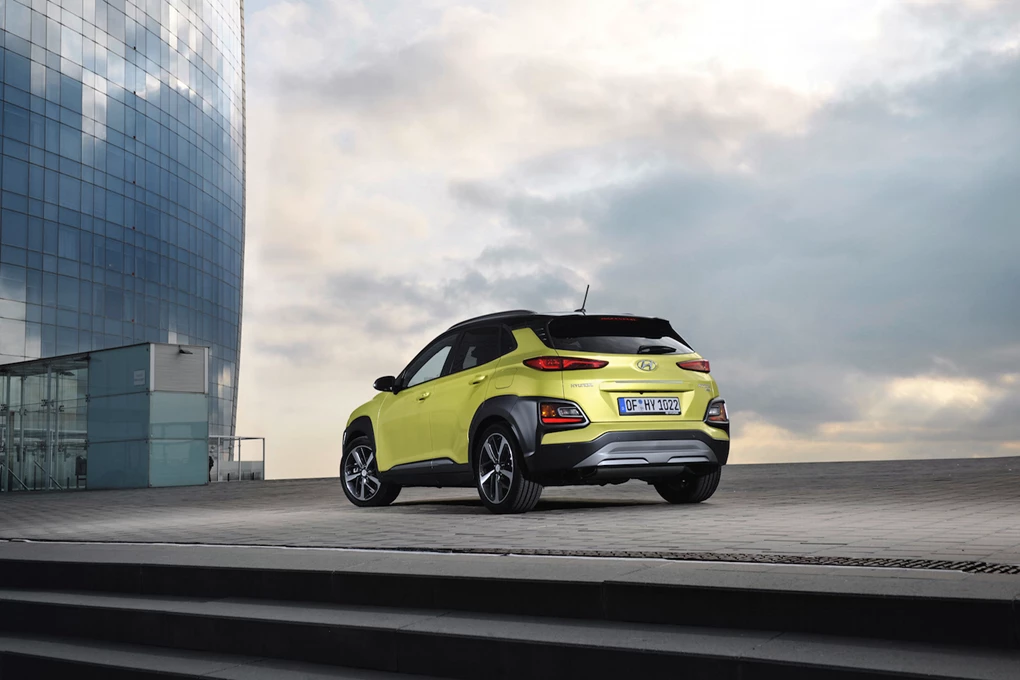 Ride and handling
The car we drove was the 1.6-litre T-GDI with a seven-speed automatic gearbox and in top-spec Premium GT trim. In Comfort mode, the gearbox wasn't hesitant until you pushed it hard, although it did liven up a bit if you flicked it into Sport mode. A six-speed manual gearbox is also available. 
We did find the steering to be a bit vague, though, especially in town where it felt numb and lacked feedback. While it felt slightly better on the open road, you'd struggle to describe the KONA as a driver's car – it certainly fairs much better as a family cruiser, which is really what it's meant for. The suspension also seemed to crash over even the smallest of bumps.
Interior and equipment
The interior is one of the KONA's best assets. Not only is it brightly coloured, it also feels solidly built. The KONA's interior gives the car an element of individuality.
The infotainment system will be familiar if you are used to modern Hyundais and is easy to use.Our test car came with other luxuries, too, such as heated and ventilated leather seats – which will come in handy when driving in these colder months.  
Standard equipment on the entry-level S specification includes cruise control, LED daytime running lights, all-round electric windows, a five-inch LCD screen, heated electric door mirrors and a DAB radio.
Other trim levels include SE, Premium, Premium SE and Premium GT, which was the car we tested.  
Boot space is slightly less than what you get in the Citroen C3 Aircross, with 334 litres with the seats up and 1,116 litres with them down, although this should be enough for most buyers.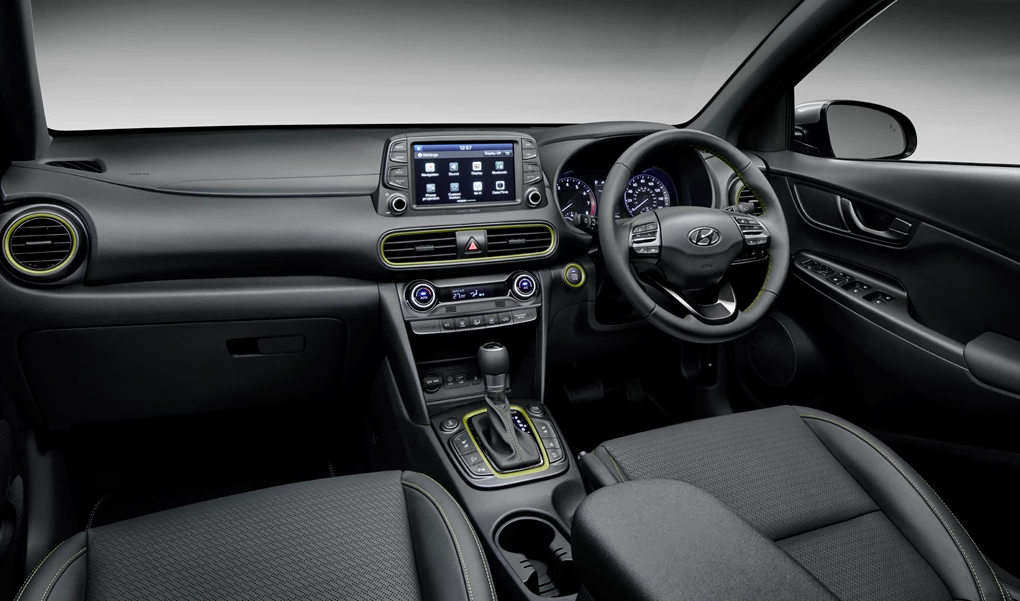 Cost
The KONA is competitively priced – ranging from £16,195 up to £24,995.
Standard equipment on the KONA is also impressive, although it is definitely best paying that bit extra for an SE spec car – rather than the S – for bigger alloys wheels, a 7-inch touchscreen, a rear parking system and Apple CarPlay and Android Auto connectivity.  
As for running costs, the 1.6-litre T-GDI with an automatic gearbox manages just 42mpg on the combined cycle and emitting a 153g/km of CO2. As for the 1.0-litre GDI, it does a little better, with a combined fuel economy figure of 56.5mpg and 114g/km of CO2 depending on the trim level.
Test drive a new KONA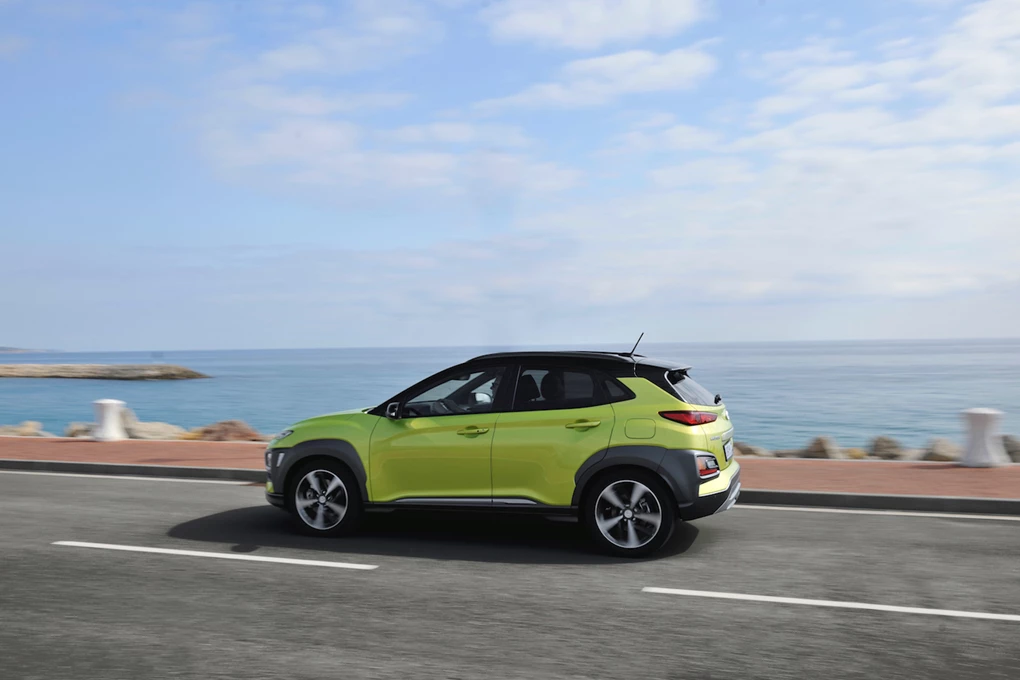 Verdict
The Hyundai KONA is a practical and quirky introduction to the small crossover class. It has a premium feel, and while the £24,995 top-end price makes it quite expensive, it is well equipped. It also comes with Hyundai's five-year warranty which makes a lot of sense for many customers – only eclipsed by the seven-year warranty you get with Kias. On the whole, though, the KONA is well equipped, practical, well made and is a welcome introduction to the small crossover market.
Terms & Conditions
* Personal Contract Purchase 5.9% APR and 0% APR offers available from 3rd January 2019 to 31st March 2019. T&Cs apply. Subject to status. 18s or over. Guarantee may be required. Hyundai Finance, RH2 9AQ.
At the end of the agreement there are 3 options: (i) Part exchange the vehicle; (ii) Pay the Optional Final Payment to own the vehicle; or (iii) Return the vehicle. Further charges may be made subject to the condition or mileage of the vehicle. Excess mileage charge of 9p per mile applies. Quotes are based on 8,000 miles per annum. KONA Premium 1.0 T-GDi from £20,685 OTR & Tucson Premium SE 1.6 T-GDi 177PS 2WD from £30,610 OTR. KONA with £5481.25 customer deposit, then £199/month x 24 with £9,927.75 optional final payment. Tucson with £8,728.62 deposit then £299/month x24 with £14,205.38. Both quotes include £500 test drive saving. Images show metallic paint at extra cost. 0% APR offers available over 24 months only, minimum 25% deposit required.
** Test drive a new KONA model during January, February and March, and go on to subsequently purchase and you will be given the relevant saving towards your purchase of the car. This offer can be used in addition to any existing offer (except Scrappage Offers & Affinity Offers) from 3rd January to 31st march 2019. All offers and savings are   subject to availability, while stocks last and are only available to private retail customers on new cars purchased, registered in the UK, and sourced through Hyundai Motor UK Ltd or its authorised dealers. Hyundai 5 Year Warranty subject to Terms and Conditions. Participating dealers only.
Emissions Statement
'Fuel Consumption MPG (l/100km) for Hyundai range. Low: 24.6 (11.5) - 64.2 (4.4) Medium: 33.6 (8.4) - 70.6 (4.0) High: 38.7 (7.3) - 72.4 (3.9) Extra High: 34.0 (8.3) - 52.3 (5.4) Combined: 34.0 (8.3) - 62.8 (4.5) Co2: 84 – 173. Figures shown are for comparability purposes; only compare fuel consumption and CO2 figures with other cars tested to the same technical procedures. These figures may not reflect real life driving results, which will depend upon a number of factors including accessories fitted (post-registration), variations in weather, driving styles and vehicle load.'