Introduction
Citroen has a good history of building people carriers, and its models such as the Xsara Picasso helped to promote this image. The name switched to become the C4 Picasso in 2007, with that nameplate remaining until 2018, when Citroen announced that the Picasso name would be replaced by the C4 SpaceTourer nomenclature. This was done to help the model remain relevant in Citroen's range, as its largest van-based MPV is simply called the SpaceTourer.
Just as the C4 Picasso has always been, buyers can opt between a standard five-seat model, or the more popular and practical 'Grand' seven-seat version tested here.
Apart from the name change, the rest of the model remained virtually identical to the C4 Picasso – other than gaining a new eight-speed automatic transmission. The only other addition is a new 'Safety Pack'. This feature is standard on top-spec Flair versions, and includes a driver attention alert, speed sign recognition and automatic emergency braking.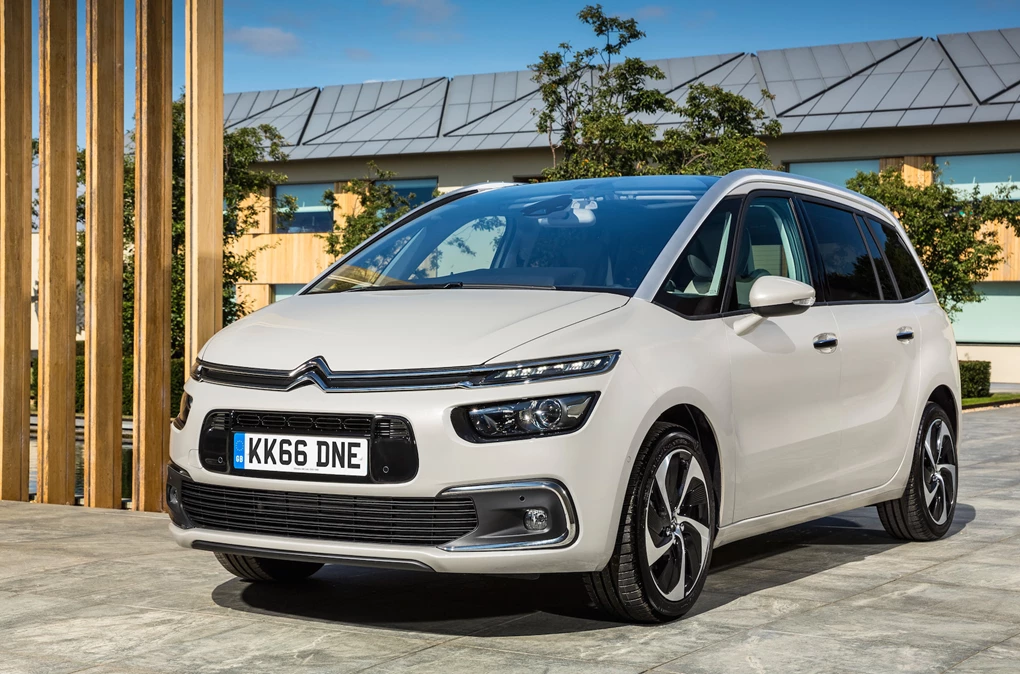 Performance
Citroen offers three engines on the SpaceTourer. The first is a turbocharged 1.2-litre petrol engine producing 128bhp, but on a car of this size, it's a diesel engine that makes the most sense.
As for diesel engines, buyers have the option between two BlueHDI engines. The first was the one fitted to our test car – a 1.5-litre unit producing 128bhp. It can't be described as fast, but the unit has a pleasing amount of torque, which makes hard acceleration not as lethargic as you may expect. The eight-speed automatic gearbox is also a good fit for this engine – delivering smooth gearchanges for the most part. It allows for a 0-60mph time of 10.7 seconds and a top speed of 123mph.
The other engine option is a 158bhp 2.0-litre unit, which is always paired to an eight-speed auto. It cuts the 0-60mph time down to 9.0 seconds.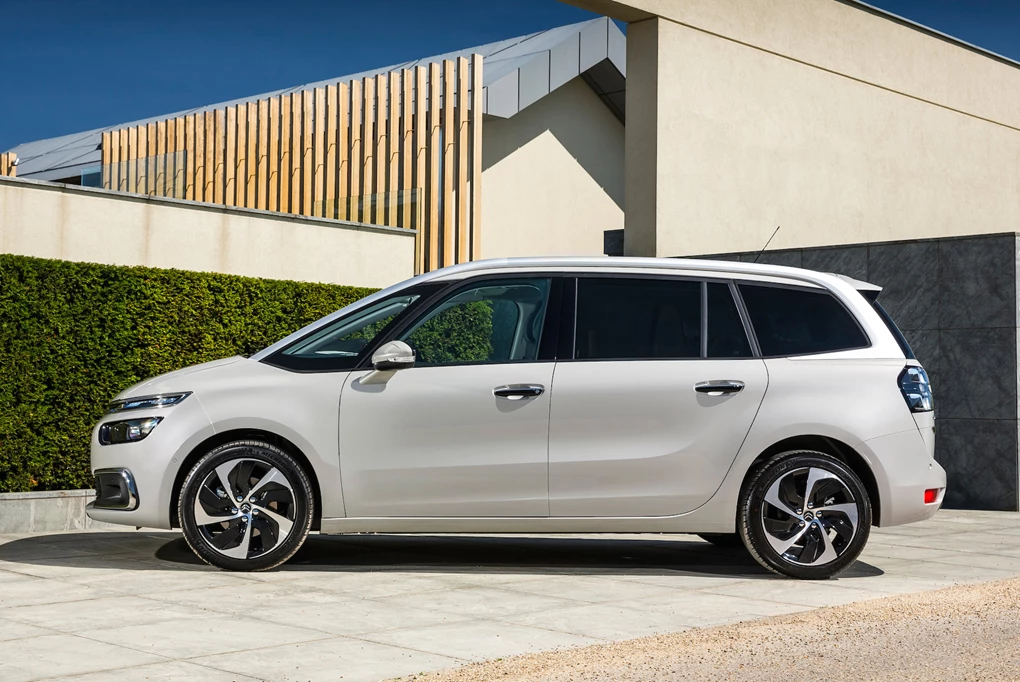 Ride and handling
The vast majority of Grand C4 SpaceTourer buyers will be looking for a relaxed and comfortable ride – and that's exactly what this Citroen offers. Some might find the suspension a bit bouncy-castle like, as it truly feels like it's floating over potholes at times. However, on Britain's pothole-laden roads, it makes a refreshing change from some firm setups fitted to rivals.
The steering is also deliberately light, meaning there's nearly no feel through the wheels, but this proves to be a big bonus around town. That's because the SpaceTourer is ridiculously easy to manoeuvre for such a big car, with a turning circle that rivals most superminis.
And the visibility is superb – it's so good it feels as though you're driving a greenhouse! Plenty of glass between the A-pillars and wide windows throughout mean there's very few blind-spots with this car.
See Available Grand C4 SpaceTourer deals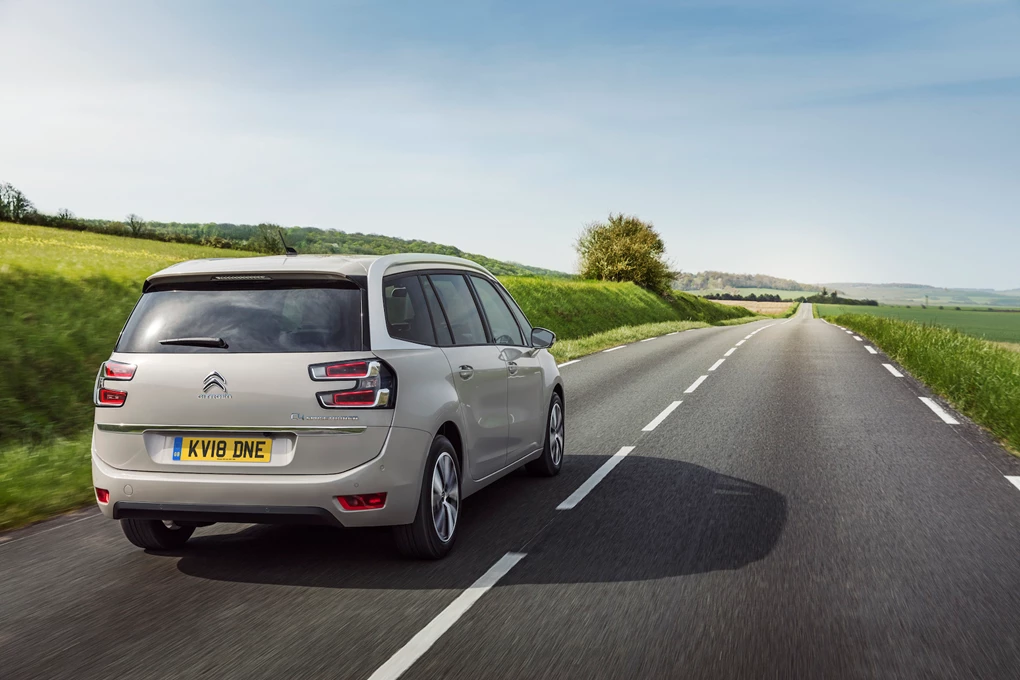 Interior and equipment
Citroen is known for not following the crowd when it comes to its cars' interiors, and that's very much the case here. A huge central digital display in the dashboard replaces conventional dials, and there's also a funky-looking steering wheel and lots of bold materials used throughout. The column sector mounted off the top of the steering wheel is a quirky touch. It can take time to adjust to at first but is easy to overcome with regular use.
But on a seven-seat MPV, it's practicality that's key. And the Grand C4 SpaceTourer delivers this by the bucked load. It has some of the simplest folding seats we've ever come across, with lots of neat touches that will slot neatly into a family life. One highlight is a separate rear-view mirror to check on the kids. We were also very impressed that two adults could sit behind each other in the second and third rows – providing the second row of seats has been slid forward.
As for trim levels, there's a simple choice between Feel and Flair.
Even the entry-level Feel is well-equipped, with standard equipment including automatic lights and wipers, front and rear parking sensors, a 12-inch panoramic display and satellite navigation being included.
The top-spec Flair brings blind-spot monitoring, an electric tailgate, keyless entry and start and a massaging front seat.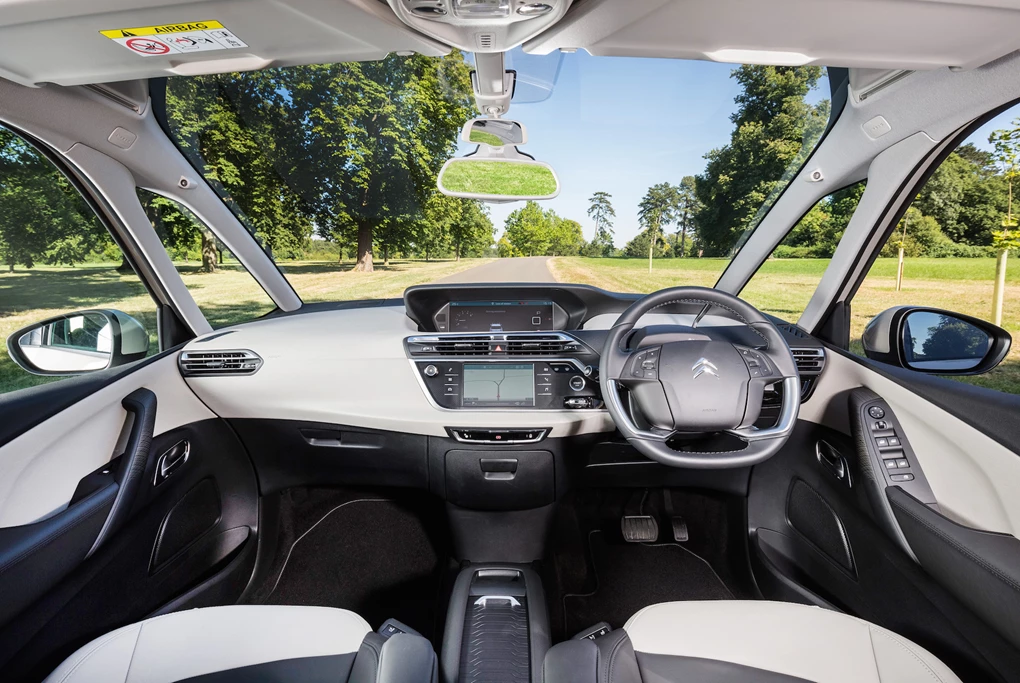 Cost
Prices for the Grand C4 SpaceTourer start from £24,880, which gets you a lot of the car for the money. Our test car came in at £31,825, which might start to look expensive, but it's important to think about how much equipment and space you're getting for the money.
As for running costs, Citroen claims the SpaceTourer, as tested here, can return an impressive 57.3mpg on the combined WLTP cycle while emitting 106g/km in CO2 emissions — making it an affordable prospect.
- Entry level Grand C4 SpaceTourer - starting from £24,880.00
- Range topping Grand C4 SpaceTourer - starting from £28,990.00
Prices correct at time of publishing from the manufacturer website.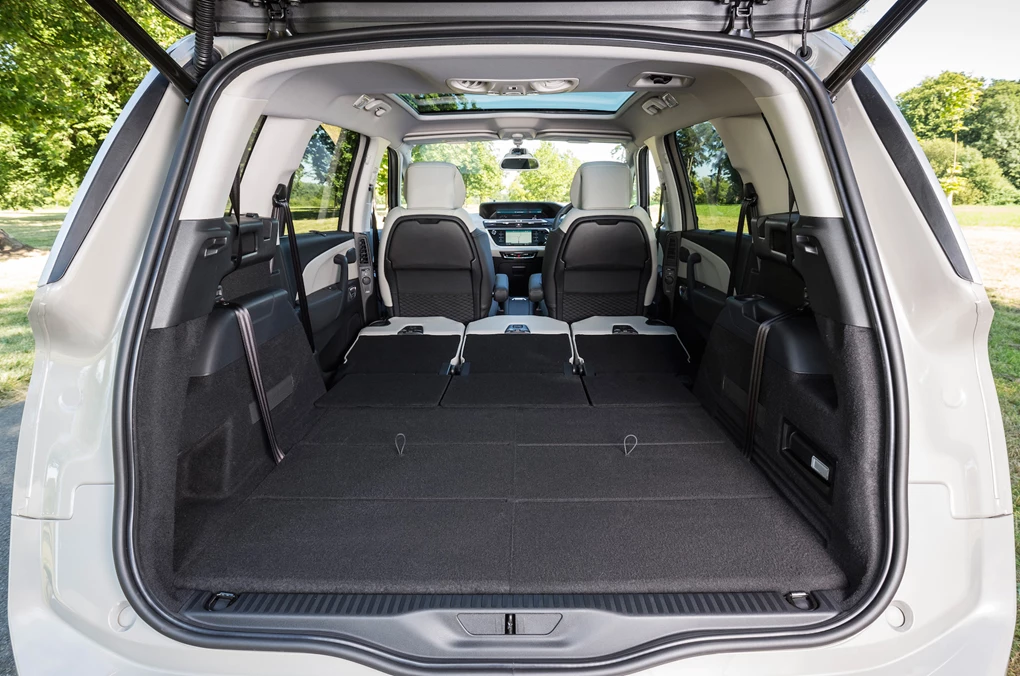 Verdict
The SUV market might be booming at a worrying rate to the manufacturers of MPVs, but this Grand C4 SpaceTourer just how impressively useful cars in this sector can still be. It would also be impossible to find an SUV with this flexibility and versatility for the same price.
But this Citroen should be praised for more than just its space. The Grand C4 SpaceTourer is bold, has a futuristic-looking cabin and is also exceedingly well-equipped. Sure, the driving experience might be a low point, but given just how comfortable it is, it will be a weakness most buyers won't be too worried about.
Interested in a new Grand C4 SpaceTourer? Find local prices, today!