Introduction
The 500 has been a storming success for Fiat. Over the years it's been a solid hit with buyers across the UK thanks to its retro styling and nimble handling. But it needs to keep pace with the changes, which is why Fiat has decided to make a new, solely electric 500. 
Only available in convertible form initially, an electric powertrain for the 500 makes a great deal of sense. As a car well-suited for use in urban environments, a zero-emissions powertrain really does bolster the 500's appeal for those who live and drive in the city. Equally, though, Fiat has ensured that the 500 brings enough range for those who prefer to travel further afield, too. 
So can Fiat translate the good looks and charm which have attracted people to the 500 for years into a practical and usable EV? Let's find out.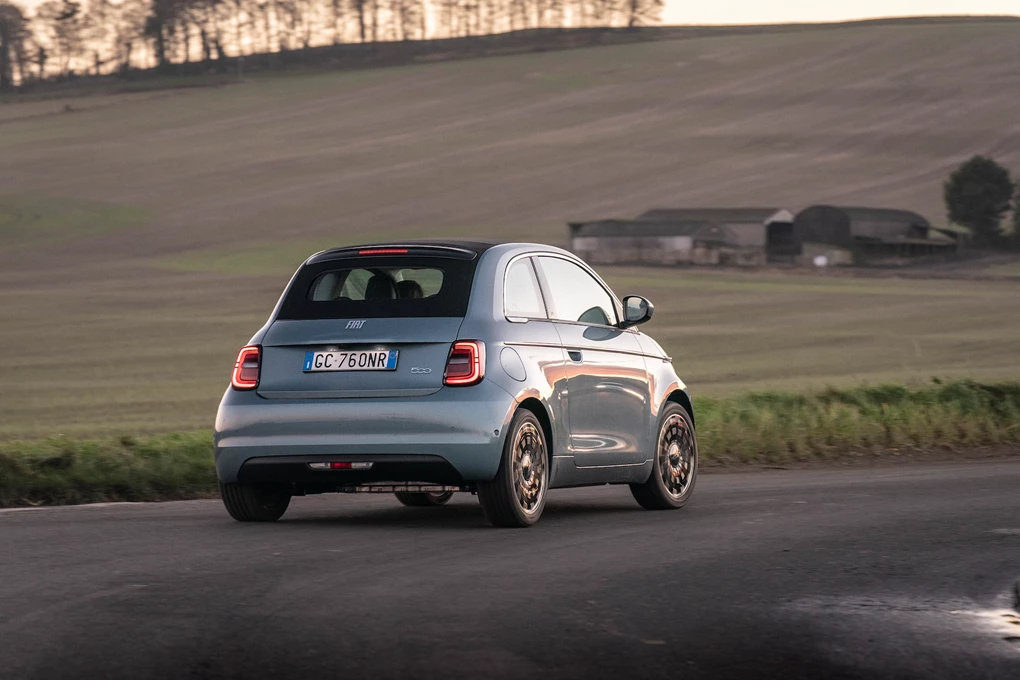 Performance
As we've already mentioned, the Fiat 500 Electric - as you've probably guessed from the name - features an electric powertrain. It uses a 117bhp electric motor which is then linked to a 42kWh battery pack, bringing a 0-60mph time of under nine seconds and a top speed of 90mph.
When it comes to range, the 500 does well. Fiat claims up to 199 miles between charges, ensuring that there's more than enough juice available to complete the vast majority of journeys 
Thanks to an 85kw rapid-charging system, the 500 Electric can be charged from zero to 80 per cent in just 35 minutes. It's also capable of adding 31 miles of extra range in just five minutes when using a rapid charger. Use a domestic socket and a full charge will take just over 15 hours.
There will also be a smaller battery version - using a 24kWh pack - which will bring a smaller range of 115 miles. Charging times drop considerably, with a domestic full charge taking just under nine hours. A regular 11kW charging station can top this model's batteries up from zero to full in two and a half hours, too.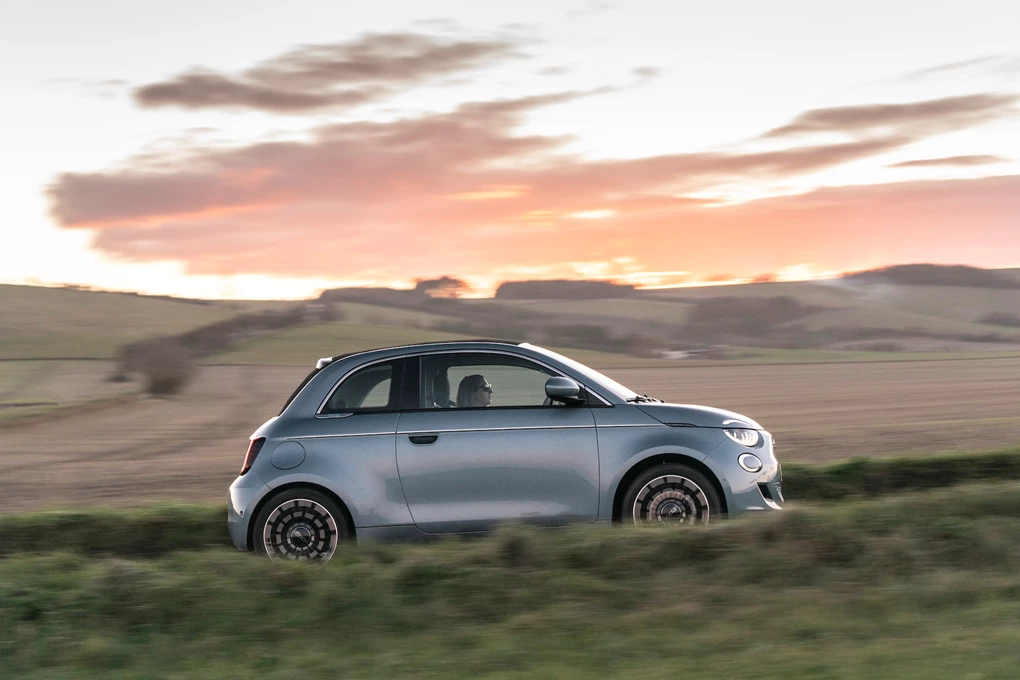 Ride and handling
It's easy to see that Fiat has designed the new 500 Electric to be as user-friendly as possible. The ride it delivers is comfortable without being too wallowy - something which many EVs struggle to achieve. The handling is also neat and direct without being overly heavy, something which again helps the 500 to feel sure-footed around town. 
The acceleration is brisk, too, with that nine-second 0-60mph time feeling more than true to the feeling you get when you step on the accelerator. This isn't a car which pushes you into driving more quickly, either, as the traction control systems quickly come into play when they feel the car cornering too quickly. 
That electric motor gives the 500 a serene quality too, with the whisper-silent cabin representing a stark departure from the interior of the previous car, which was usually accompanied by the thrummy note of the engine beating away under the bonnet.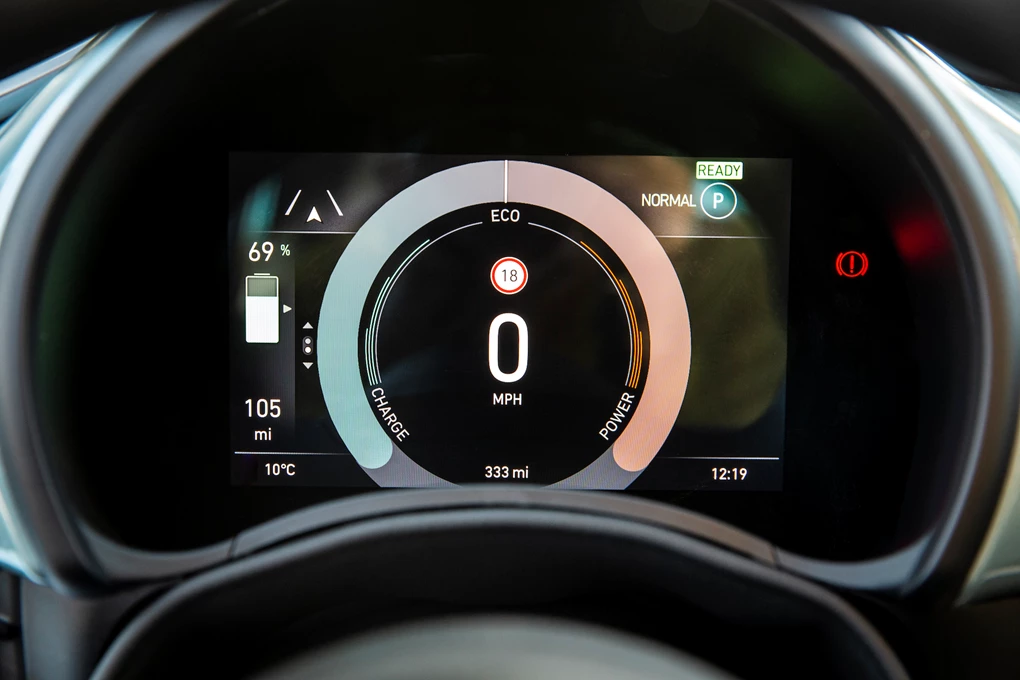 Interior and equipment
Three trim levels are available with the 500 electric - Action, Passion and Active. The latter two are the ones which utilise the larger battery, too. 
Standard equipment across the board includes Bluetooth connectivity, a smartphone cradle and rear parking sensors, while a seven-inch screen for the instrument binnacle is also included as part of the 500 Electric's entry price. 
Move up to Passion specification and you'll find cruise control added, as well as climate control and a seven-inch infotainment system with both Apple CarPlay and Android Auto smartphone integration systems. 
Finally, with Icon trim cars, you get a much larger 10.25-inch infotainment system with satellite navigation, as well as a wearable key which can lock and unlock the car automatically when you're nearby. 
Whichever specification you opt for, there's a good amount of standard equipment. 
Cost
As with most electric vehicles, prices for the new 500 Electric are a little higher than what you'd expect to pay for an equivalent petrol or diesel car. However, at £19,995 after the government's plug-in grant, prices for the 500 Electric are certainly competitive compared with other electric models. 
Prices then rise to £23,495 and £24,995 for Passion and Icon-specification cars respectively, but even these - given their increased range and equipment levels - appear to offer decent value for money. 
Remember, however, that the real savings will be made thanks to that electric powertrain, with larger-battery models costing around £9 to 'fill up' at home. For 200 miles of range, that isn't bad - and you won't have to pay any vehicle tax, either. 
Verdict
The Fiat 500 seemed like a perfect fit for electric power and, now that a version is finally here, it's clear to see those initial ideas were on the money. This is a car which really does 'fit' the EV mould thanks to its compact size and urban-focused nature.
The smaller battery cars will no doubt prove to be a hit with those who are often driving around the city and therefore don't require more range, while the larger battery version gives an option for those who do want to travel further afield. 
We're sure that with the inclusion of an electric powertrain, this new 500 Electric could prove just as popular as its petrol-powered predecessor. 
Enquire on a new Fiat 500