Sitting at the top of Ford's hefty family car range, the Galaxy MPV is a larger alternative to the S-MAX, sporting the same stylish Aston Martin-styled front-grille.
Sharing its foundations with the new S-MAX – the seven-seat Galaxy is practicality-orientated and, as it wears the blue oval badge, offers a little something extra when it comes to driving dynamics.
Although not expected to be as popular as the slightly smaller S-MAX, the Galaxy is still an integral part of taking sales from the likes of the Citroen and its Grand C4 Picasso as well as SEAT and its Alhambra.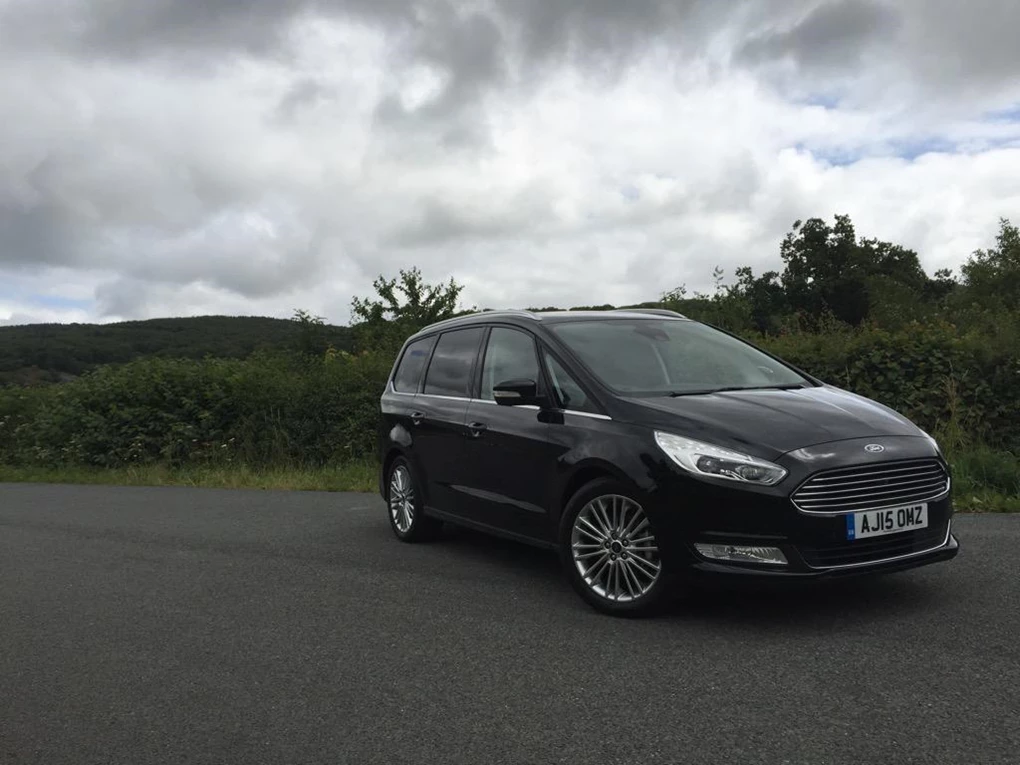 Performance
Ford offers a 158bhp 1.5-litre EcoBoost and a 237bhp 2.0-litre EcoBoost. Unsurprisingly for a car of its size, diesel is where it is at.
The diesel line-up consists purely of 2.0-litre TDCi units with power outputs including 118bhp, 148bhp, 178bhp and 207bhp, the latter being a bi-turbo model. These are available with either a six-speed manual or six-speed Powershift automatic transmission – although the 118bhp and 207bhp derivatives are restricted to manual and auto respectively.
The 148bhp diesel is likely to be the most popular due to its balance of power and fuel economy. We, however, tested the 178bhp model mated to the six-speed manual. This engine delivers plenty of oomph to shift the large Galaxy and, if needed, can complete overtaking manoeuvres fairly easily, with a zero to 62mph sprint time of just 9.8 seconds. As is the case with the S-MAX though, you will probably find the 148bhp model to be more than adequate.
The six-speed manual gearbox can take some getting used to as it is positioned quite high on the raised centre console. But once you get used to it, you will realise that its jacked-up positioning actually makes for a very comfortable place to rest your hand. First gear is rather short, so make sure your hand is at the ready when edging out of junctions. This short gear ratio will pay off when you have a heavy car full of passengers and luggage though.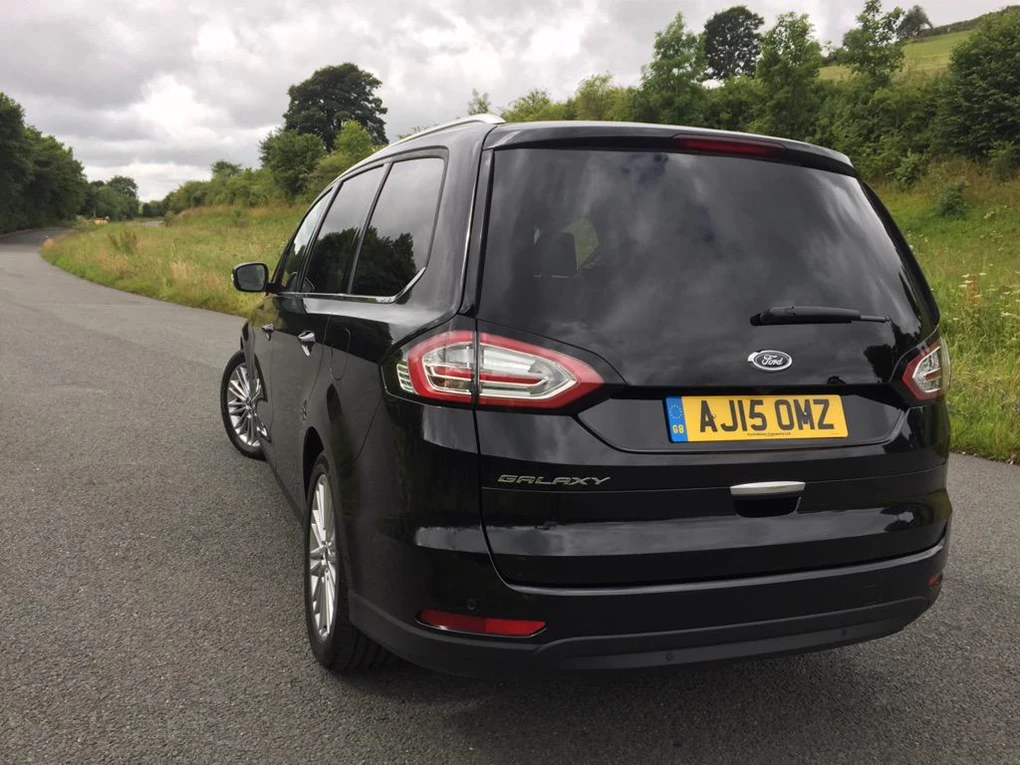 Ride and Handling
Speaking of its smaller family members, its driving dynamics are very similar, offering responsive, well-weighted steering that gives you confidence when going into a bend.
Cruising will most likely be at the forefront of Galaxy drivers' minds and it will happily accommodate on motorway journeys. Thanks to a supple suspension as well as great wind and road insulation, everyone aboard should feel at ease. At lower speeds it does feel like a big seven-seater, but once you get up to 60 or 70mph on the motorway it fells very similar to that of its smaller S-MAX and C-MAX siblings. Speaking of its smaller family members, its driving dynamics are very similar, offering responsive, well-weighted steering that gives you confidence when going into a bend. You are unlikely to be enthusiastically whipping it around twisty B-roads, but when your route calls for it, the Galaxy can handle itself.
Interior and Equipment
The very first Galaxy model was created in a joint effort between Ford and Volkswagen.
The Galaxy perfectly toes the line between luxury and spaciousness. With all the seats in place the Galaxy offers 300 litres, enough for a fair few shopping bags. Fold the rearmost seats down and there is 1,301 litres to play around with, a tad more than you would get in a hatchback like the Volkswagen Golf. Fold its five rear passenger seats down and you get a massive 2,339 litres. That is bigger than the Grand C4 Picasso (2,181) and Alhambra (2,297). As well as this space being capacious and offering a flat loading surface, the simplistic way in which you fold the seats down is also a huge plus point. Stand at the boot's opening and an array of buttons to your left will let you fold down the second and third row electronically. In fact, the only point you will have to intervene is when you fold the second row back up. Head and leg room all-round in the Galaxy is superb, even if you opt for the £900 glass roof, which does eat into headroom a smidge. And due to the straight-backed design of the second row there is plenty of leg room for average-sized adults in the third row of seats. Things like cup holders in the third row, large windows and tray tables in the second just enhance its family-friendly personality. Up-front the cabin is well laid-out with a simple dashboard set-up that is easy to get used to - and if you didn't know it was an MPV, you might think you were sat in a luxury saloon. All models in the Galaxy line-up get a SYNC2 infotainment system with DAB radio and Bluetooth, parking sensors at the front and rear (very handy for a car of its size), black roof rails and dual zone climate control. Key additions of the mid-range Titanium model include sat-nav and cruise control, with the top of the range Titanium X models getting things like self-parking capabilities, leather upholstery and a reversing camera. The Galaxy's options list is massive, with a series of features that are designed to enhance safety, comfort and make family life that bit easier. Highlights include adaptive cruise control, electric foot-activated tailgate, heated steering wheel and a three-pin socket.
Cost
The Galaxy starts from around £26,500 – that is a hefty chunk more than the Grand C4 Picasso (just under £20k) and the Alhambra (a whiff under £25k).
If you are after low running costs – who isn't – then stick to diesel. The 2.0-litre 178bhp derivative we drove emits 129g/km of CO2 and claims to return an average of 56.5mpg, so in real world driving expect around 45mpg. Those figures are very competitive, but if there is a fork in the road between the Galaxy and one of its competitors then it will be its price. The Galaxy starts from around £26,500 – that is a hefty chunk more than the Grand C4 Picasso (just under £20k) and the Alhambra (a whiff under £25k).
Our Verdict
You will have to pay a premium to have the Galaxy on your driveway, even more than the prestige-badged Volkswagen Sharan in fact. But whereas most of its competition merely ticks boxes, the Galaxy goes above and beyond and offers a plethora of features that really make it stand out. To be honest, you may end up scratching your head between the S-MAX and Galaxy as opposed to even considering models from Citroen, VW and SEAT. The entire MAX and Galaxy line-up are great cars - and when it comes down to it, the only choice you will really have to make is whether you want your family car in small (B-MAX), medium (C-MAX), large (S-MAX) or extra-large (Galaxy).