The Vauxhall Zafira Tourer has long been one of the UK's big MPV hitters and has seemingly become as frequent on our roads as the supermini giant, the Ford Fiesta.
Currently holding the title as the UK's best-selling seven seat MPV, the Zafira Tourer is selling in big numbers, so it is clearly doing something right. Vauxhall has recently facelifted the Zafira Tourer too, with some exterior tweaks – most of which make it more conservative, like the removal of its boomerang headlights – and a new cabin design.
Even though the Zafira Tourer is selling in great numbers, it fails to offer anything massively stand out, be it divisive looks, a sporty drive or a dazzling interior, something that many of its rivals offer, which include the Ford Grand C-MAX and Citroen C4 Grand Picasso.
So what is it that makes this seven seater worth a look?
Performance
Our test car featured Vauxhall's 138bhp 1.4-litre turbocharged petrol unit, an engine already championed in the new Vauxhall Astra. This engine is great, even when shifting the weight of a large seven seater.
It can however take a while for the turbo to spool up when setting off from a junction and it can get a bit breathy when climbing hills. But in full swing the 1.4-litre is more than capable of offering enough power to shift the Zafira Tourer. The 1.4 turbo doesn't offer much in the way of fuel economy though – averaging around 35mpg.
The six-speed manual gearbox we tested is slick enough for casual motorway and urban driving, but it can feel a bit rubbery when shifting rapidly up and down the gears.
Ride and Handling
The steering is accurate enough, being light and easy to manoeuvre, which helps when tackling tricky parking manoeuvres.
The first thing you are likely to notice with the Zafira Tourer is that it feels like a big car on the road. Take a corner at moderate speed – or change lanes with urgency – and you will feel it lean. This can be expected in a large seven seater though. The steering is accurate enough, being light and easy to manoeuvre, which helps when tackling tricky parking manoeuvres. The ride is also very adept, soaking up the majority of lumps and bumps, even when sitting on bigger rims, and the cabin is well-insulated from road and tire noise. The Zafira Tourer simply gets the job done, that's to say it isn't the most comfortable MPV on offer, nor does it serve up steering with amazing feedback that makes its burly frame shrink around you.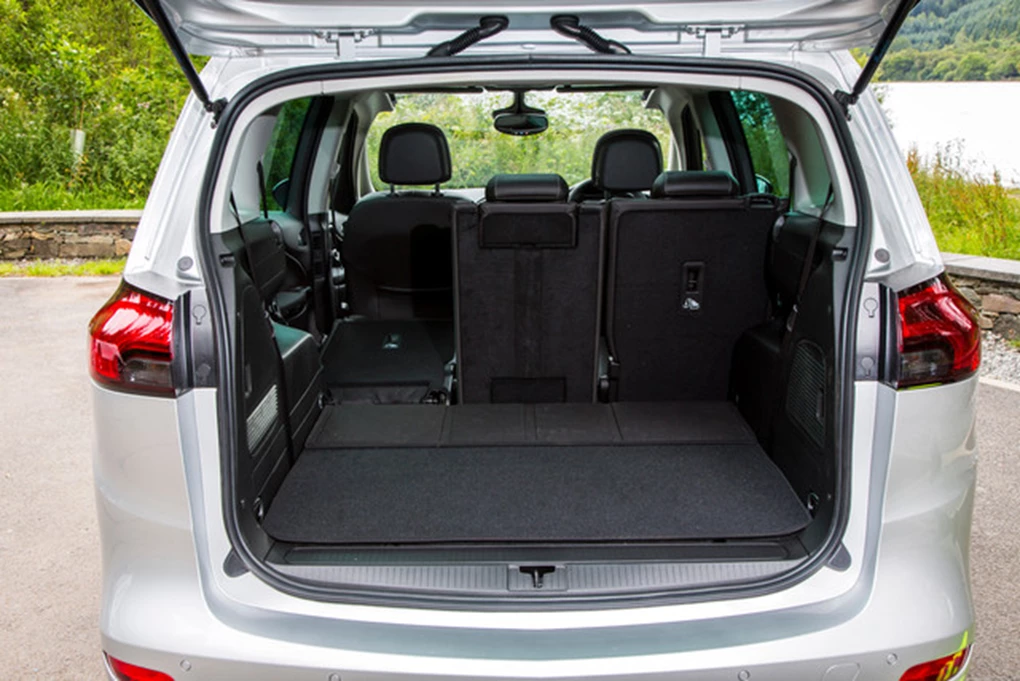 Interior and Equipment
The Zafira Tourer uses the same FlexRide chassis first used on the Insignia hatchback model.
As with its smaller crossover sibling, the Mokka X, Vauxhall wanted to focus on the Zafira Tourer's interior with its latest facelift, simplifying what was a barrage of buttons and toggles – and they did just that. A new seven-inch touchscreen system takes centre stage and helps minimise the amount of controls dotted throughout the cabin. On the SRi Nav trim we tested, this screen also came fitted with sat-nav, Bluetooth, DAB radio and OnStar. OnStar is Vauxhall's call centre-based advice service that allows users to ask for advice when out and about. It also facilitates 4G Wi-Fi for occupants. The six different trim levels for the Zafira Tourer can be a little confusing though, with some adding and other deducting kit, so make sure you know exactly what's on the spec sheet before you buy. Quality all-round the cabin is pretty high, although there are some scratchy plastics lower down, mainly to add a hard-wearing nature – it is a family car after all. A few of the storage compartments in the cabin are a little disappointing though, mainly the glovebox and door bins. There are still two large centre storage cubbies to utilise however. Practicality in the rear of the Zafira Tourer is among best-in-class, with tons of head and leg room, as well as mounted cup holders on the doors and enough elbow room to sit three abreast. The big selling point of the Zafira Tourer is its practical Flex 7 seating system, which allows the rear seats to be configured in a multitude of different ways. You can of course fold the five rear seats completely flat to open up almost 2,000 litres of storage space, but you can also fold each rear seat individually, with the first row of passenger seats boasting a 40:20:40 configuration. The first row of passenger seats also sits on a sliding mechanism that allows them to be pulled forward or backwards in order to adjust leg room. And they offer an ingenious forward tilting mechanism, which makes climbing into the rearmost seats a lot easier. Speaking of the rearmost seats, these are ultimately reserved for children, with very limited leg and headroom. There are still a few convenient features though, including a large head-height storage cubby near each seat, cup holders and glass panels near the C-pillar to allow plenty of light in. The boot has a few neat tricks too. Fold the two kids seats down and there is up to 710 litres of storage space, a parcel shelf that can be easily stored in the boot floor and a removable mat that helps smooth out the lumps of the folded rear seats to give a more useable storage area.
Cost
Our 1.4-litre Turbo SRi Nav model costs £24,000 which, when you consider the equipment included, is great value for money if you are after a seven-seat MPV.
The most obvious benefit of the Vauxhall Zafira Tourer when compared to rivals is its starting price. At £19,530, it is between £1,500 to £3,000 cheaper than many of its key competitors, including the Ford Grand C-MAX (£22,195), Citroen C4 Picasso (£22,635) and the Renault Grand Scenic (£23,445). Our 1.4-litre Turbo SRi Nav model costs £24,000 which, when you consider the equipment included, is great value for money if you are after a seven-seat MPV. Running costs is what lets the 1.4 Turbo down though, with a claimed average return of 42.2mpg – we only managed 30-35mpg. CO2 is rather high too at 158g/km.
Our Verdict
MPVs nowadays are usually preoccupied with being sporty or stylish, which means practicality can sometimes get side-lined. The Vauxhall Zafira Tourer isn't like that. Sure, it may not be distinctly stylish or offer much in terms of spirited driving, but its practicality is on the money and it offers a low price tag to boot. If you want an affordable MPV that can get the job done with zero fuss, then you should definitely check out the Vauxhall Zafira Tourer.