Introduction
Convertibles may not be to everyone's liking, but you can't deny the exhilarating and relaxing experiences that they can offer when the conditions suit.
So, when you combine roof-down driving with Mercedes-Benz quality, the car itself should be a good package, and with the E-Class Cabriolet you get just that.
We have tested the E400 version, which is fitted with a 3.0-litre V6 engine and many of the brand's top features that aim to make the drive both comfortable and exciting.
But does it compare to its German premium rivals – the Audi A5 Cabriolet and the BMW 4 Series Convertible – and does it drive like its coupe sibling? We find out…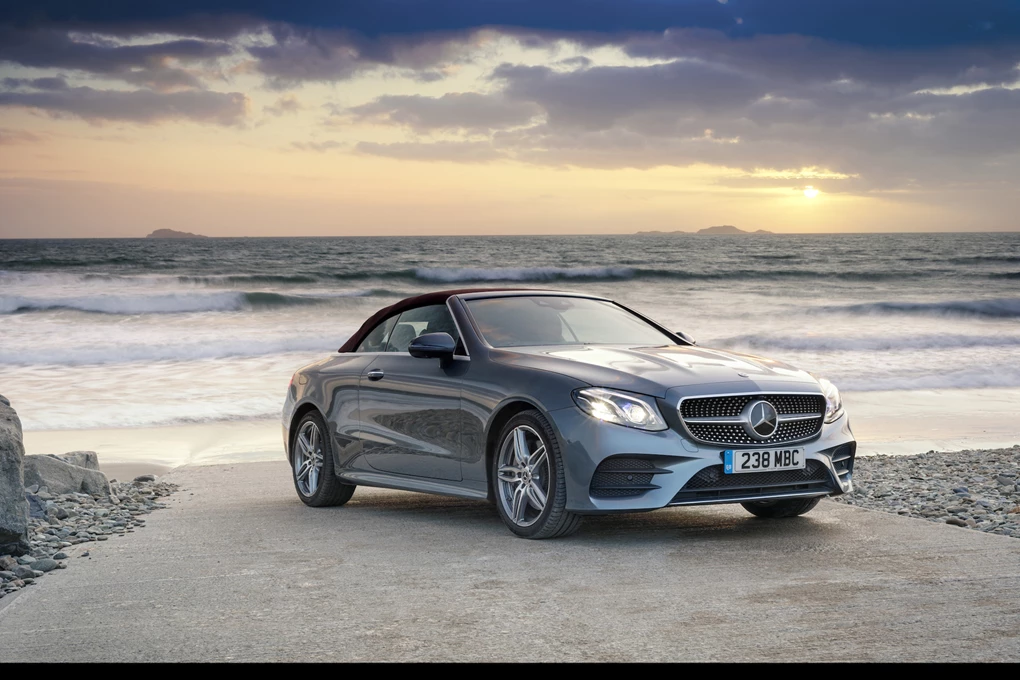 Find Prices on a new Mercedes-Benz E-Class
Performance
As mentioned, under the bonnet is a 3.0-litre V6 that is twin-turbocharged to produce 328bhp and is paired to a nine-speed automatic transmission. That power is driven through the Mercedes 4Matic all-wheel drive system, which can catapult the car from 0-60mph in 5.2 seconds. The top speed is an electronically limited 155mph.
That is more than enough oomph to get you about without much hassle, but as that power is in the confines of a non-AMG Mercedes, you'll get around comfortably too. You don't have to be particularly punchy either, as even the slightest squeeze of the throttle will get you on your way.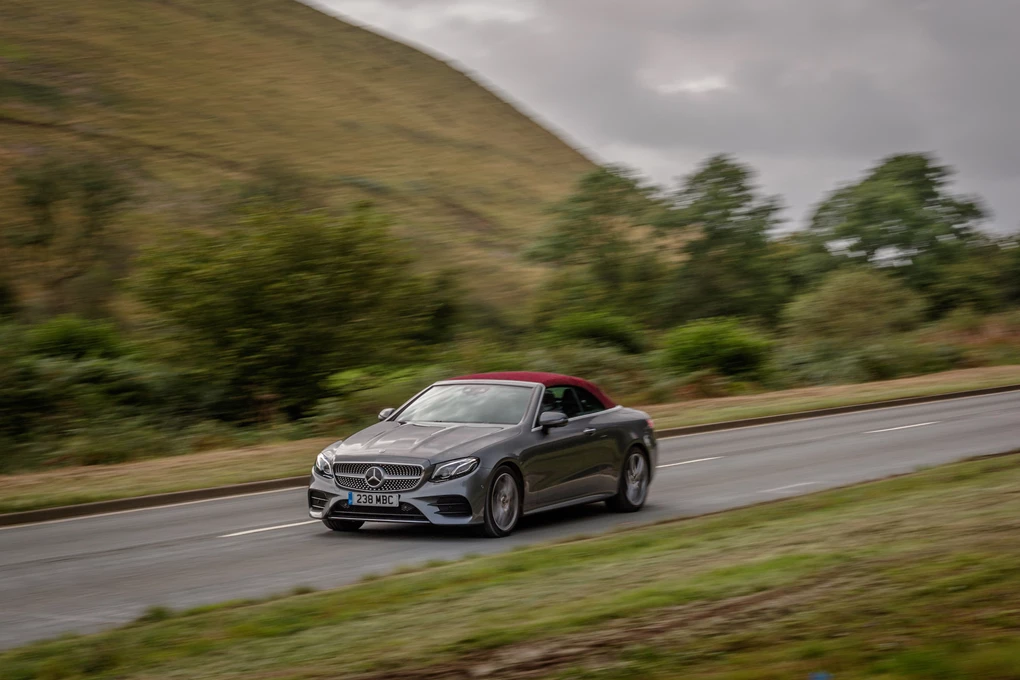 Ride & Handling
As you would hope the ride is supple and well-engineered, with rougher road surfaces soaked up. We would recommend leaving it in Comfort mode though, as any firmer will make it feel less composed.
The E-Class is a mid-size car, so is suited to the wider motorways and A-roads, but with a well-balanced chassis it corners well and feels perfectly comfortable in most circumstances. The steering can lack feel, however, which is not ideal at lower speeds.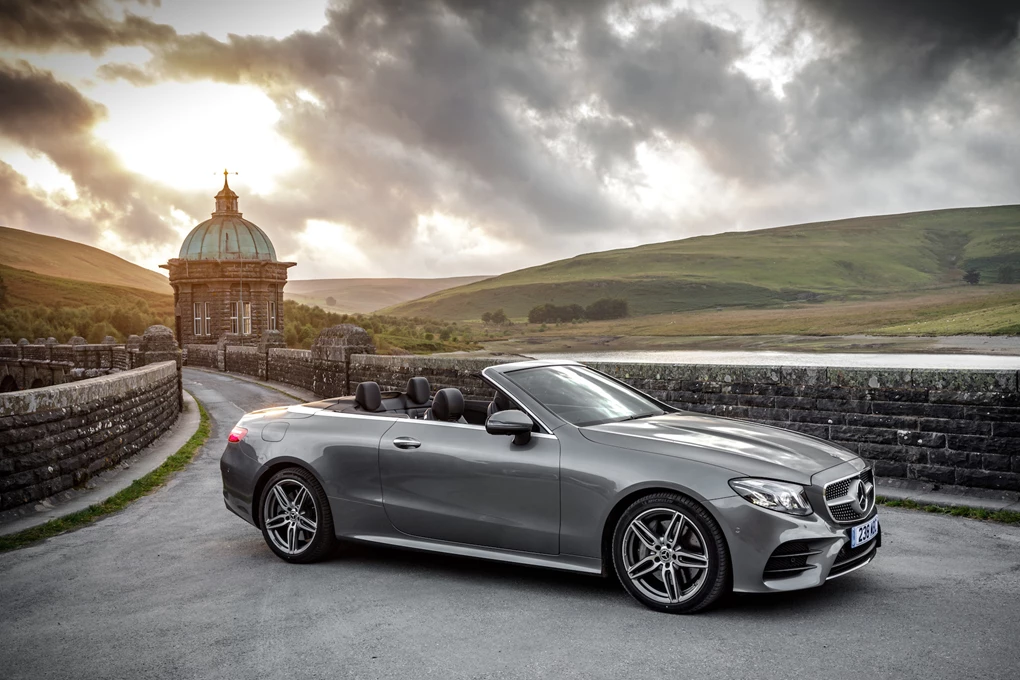 Interior & Equipment
Inside, it is as you would expect with Mercedes. A premium leather finish, a dual-screen cockpit display stretching from the instrument binnacle to the middle of the cockpit, and heated front seats. With other features like keyless-go, satellite navigation and leather trim elsewhere around the cockpit, you know that you're getting your money's worth.
As AMG-Line is the only trim, there isn't much variation between models but you can choose between interior trim options, wood or metal detailing and the colour of your cloth canopy. You also get an AMG bodykit as standard for the exterior, with an AMG steering wheel, wind deflector and neck-level heating that is paired to the air-conditioning system also fitted.
Surprisingly for a convertible you get 425 litres of boot space, which can be extended by the 50:50 split folding rear seats – although that's not what this car is really about.
Other features include cruise control, 19-inch alloy wheels with run-flat tyres, active brake assist, LED headlights and adaptive suspension.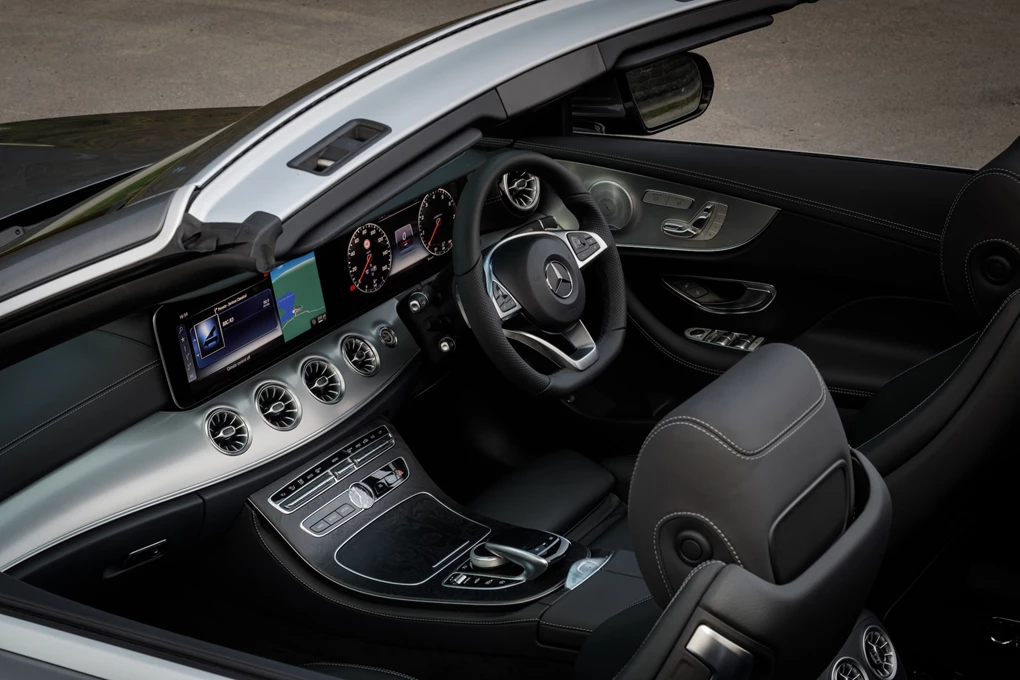 Cost
Prices for the E400 Cabriolet start from £55,715, which isn't the cheapest, but you do get what you pay for in terms of performance and equipment. The model we tested was £63,375 thanks to a few extra goodies and trim extras – all of which enhance the overall experience.
Consider this car comes with a twin-turbo V6, the emissions of 194g/km CO2 and a quoted fuel economy of 32.8mpg isn't that bad. Tax costs will be higher than average, but fuelling trips will be less common than you might think.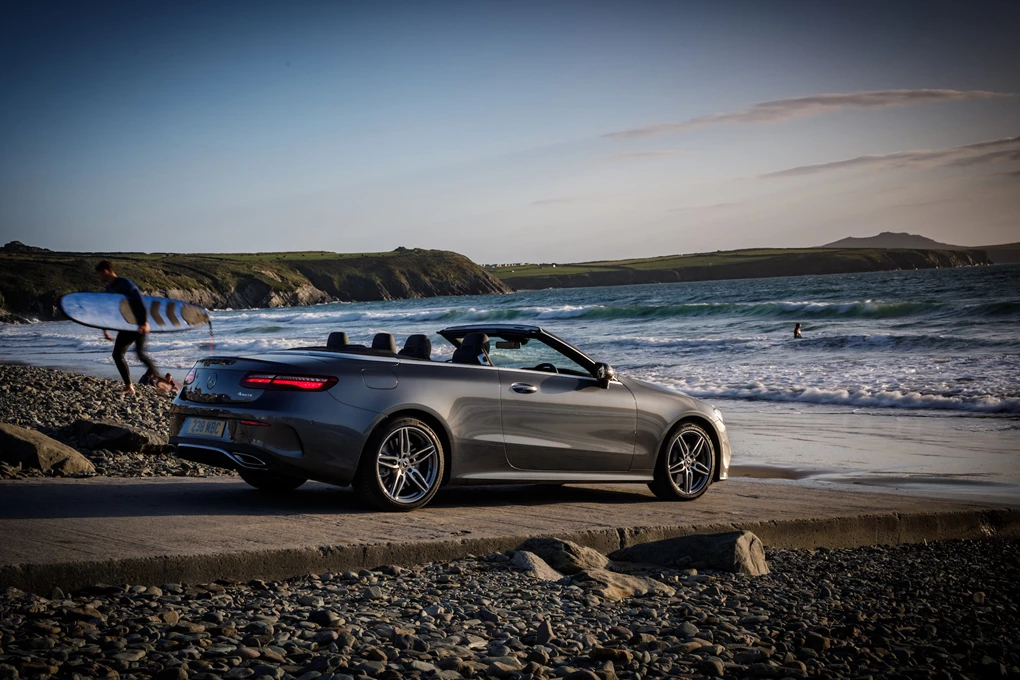 Verdict
Although the cost may be a bit high for some, the E400 Cabriolet offers more than enough premium comfort and performance for all. This is not the most practical vehicle in the world but you will be surprised as to what it can accommodate, and as cruising goes, the E-Class is right up there. A good effort all-round by Mercedes.
Find prices on a new Mercedes-Benz