Introduction
While performance SUVs might sound like a bit of an oddity, there's a surprising number on sale already. There's the Porsche Cayenne Turbo, the Range Rover Sport SVR, or if you feel like pushing the boat out, the Lamborghini Urus. Audi's alternative is a little bit different, because rather than going with a petrol, it's chosen a meaty diesel engine instead.
But don't think it scrimps on practicality, as there's seating for seven people in comfort – thanks to its capacious interior.
But this trumps standard 4x4s, as its staggering performance can put many a hot hatch to shame , and even some sports cars. It achieves this with the help of some rather advanced tech – as well as the monstrous engine, which you'll read about later.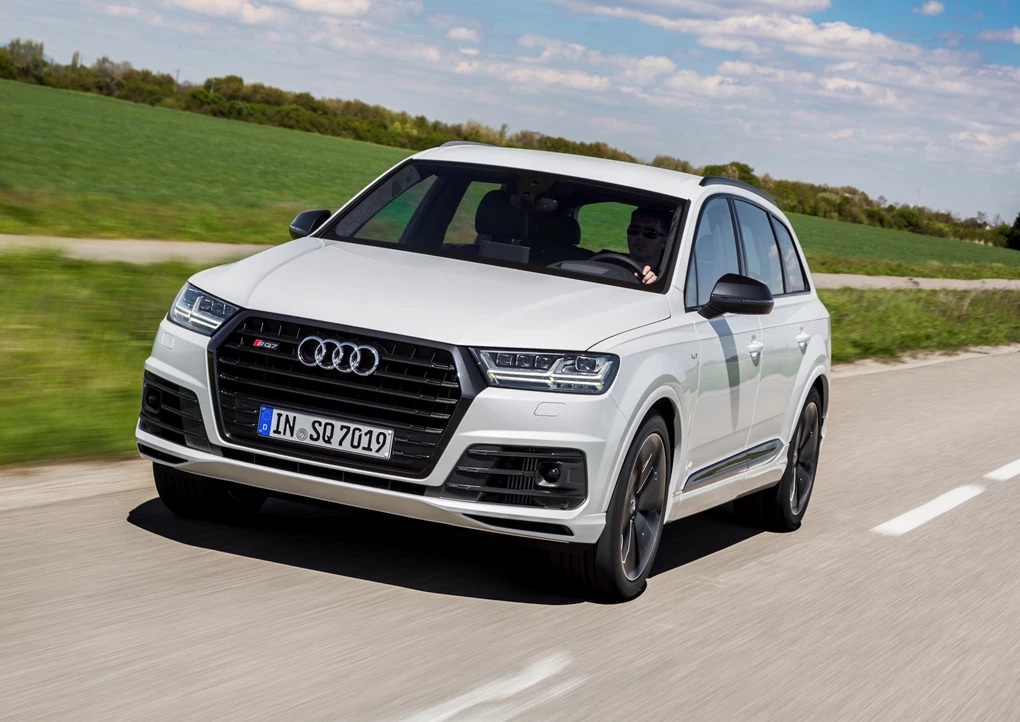 Performance
What do you think of when you hear a diesel engine? Perhaps an efficient 2.0-litre engine in a Volkswagen Golf? There's nothing wrong with that, but while there is much talk about the demise of diesel, the SQ7's powertrain shows the scope of the fuel.
Under the bonnet lies a 4.0-litre diesel V8 fitted with two turbochargers, and the star of the show – an electric compressor. While most turbochargers rely on exhaust gases, the SQ7s are, as their name suggests, powered by electricity. This means you don't get the typical turbo lag, and instead you receive instant performance.
The combination produces 429bhp and an almighty 900Nm of torque – allowing for a 0-60mph sprint of 4.7 seconds, and an electronically-limited top speed of 155mph.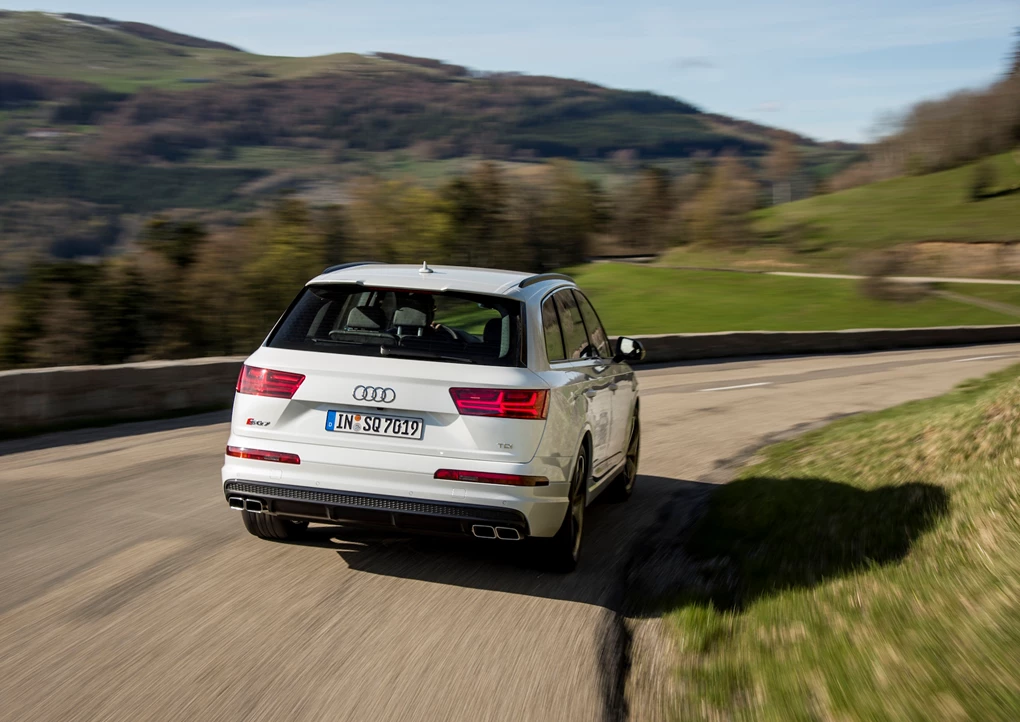 Ride and handling
Drive the SQ7 normally and it doesn't feel much different to the standard Q7. It feels huge to drive around town, but has excellent visibility, while the relatively light steering means parking isn't quite as arduous as you might expect.
But stamp on the accelerator and the SQ7's credentials instantly shine through, and the speedo can rise at an alarming rate. Stick it in Dynamic mode and you're met with a lovely loud bellow from the exhaust. Admittedly it would tire you out if  you used it every day, but it's huge fun in the right conditions. For the times when you just want it to cruise, it's refined, comfortable and quiet, and ideal for long journeys.
See Available Audi Deals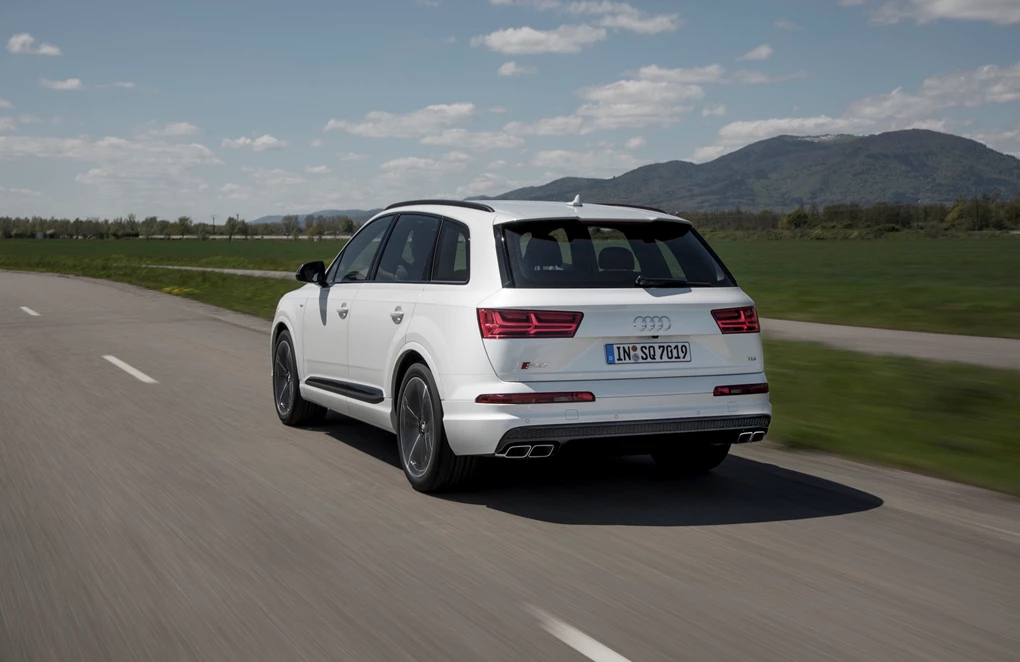 Interior and equipment
In typical Audi style, the SQ7's interior is superbly built, made using fantastic-quality materials and is also easy to use. The heated sports seats fitted to our Vorsprung-spec car are supportive, but not overly firm, while everything across the interior is perfectly placed to make everything simple to find.
As for interior space, there's an excellent amount of passenger room in the second row and while the third row might be a bit more compromised for adults, there's still ample room on smaller journeys to have seven adults on board. Audi has not scrimped on family duties either, with plenty of handy storage spaces dotted around the cabin for all odds and ends.
Standard features on the SQ7 include a digital Virtual Cockpit, an advanced satellite navigation system, front and rear parking sensors, as well as a very useful rear reversing camera.
Our range-topping Vorsprung Edition test car added luxuries such as a full Valcona leather interior, a head-up display, huge alloy wheels and wireless phone charging.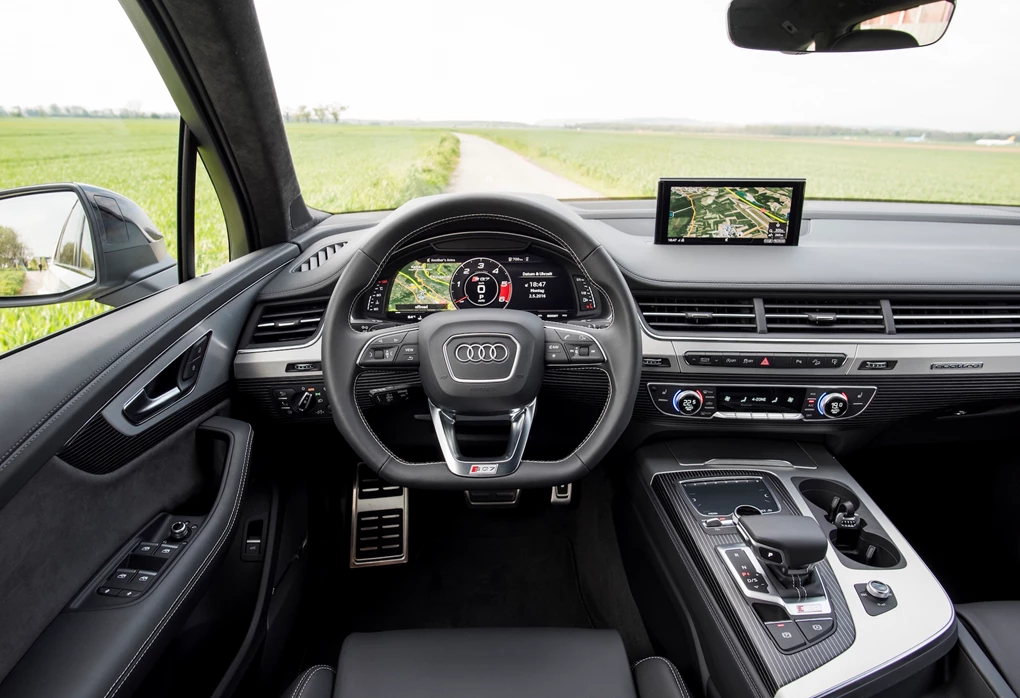 Cost
The SQ7 is a large and powerful family car, so prices are high. The entry level model costs from £74,385, but our Vorsprung Edition car weighed in at an excessive £90,580, which is just too expensive for most. While the SQ7 might deliver incredible pace, it can't match the performance of the Porsche Cayenne Turbo or Range Rover Sport SVR.
On the plus side, because the SQ7 is a diesel, it will be much cheaper to run than both of those cars – returning a commendable 37.2mpg (35mpg is achievable on long journeys), with CO2 emissions of 199g/km.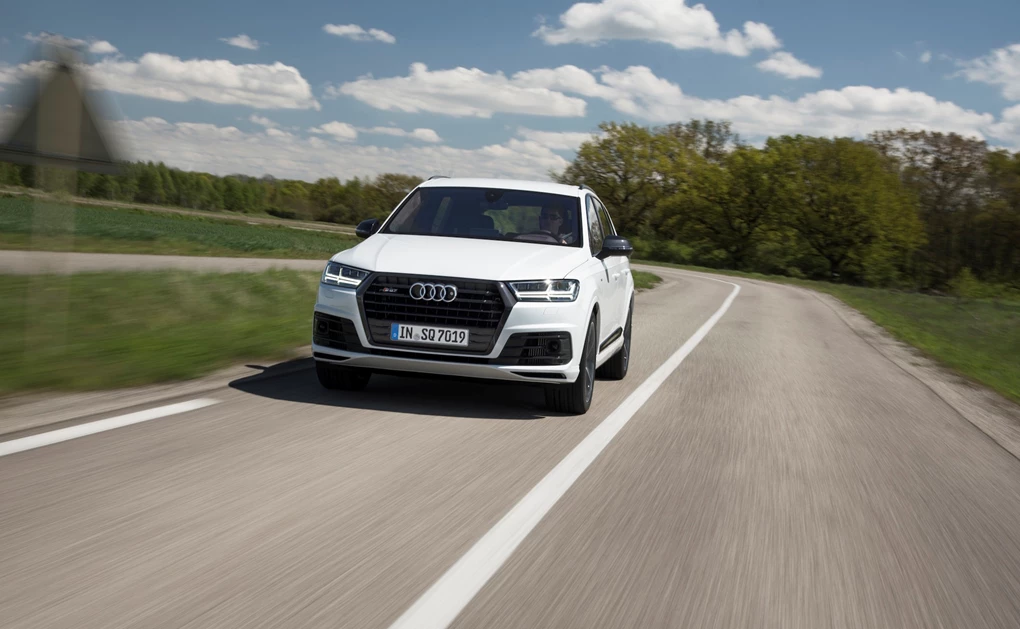 Verdict
The SQ7 really is a car that can do everything. Whether it's travelling in the utmost comfort, sprinting down B roads or acting as a large family car, it is superbly versatile. Granted, some might deem a 400bhp+ SUV as entirely unnecessary, and while they're probably right, if you can afford it, it's one of the best choices around.
Enquire Now on a new Audi