Introduction
The BMW 3 Series is one of Britain's most popular vehicles, be that in saloon or estate guise, and that's mainly down to the premium finish and dynamic drive.
The station wagon version is the one we're looking at here, and with it you get plenty of practicality, quality equipment and now four-wheel drive.
Going up against the likes of the Mercedes C-Class Estate and Audi A4 Avant, the BMW 3 Series Touring is always in a dogfight for the top spot in terms of premium mid-size estates.
But can the addition of four-wheel drive help to make the 3 Series Touring even more appealing than before? We take a look…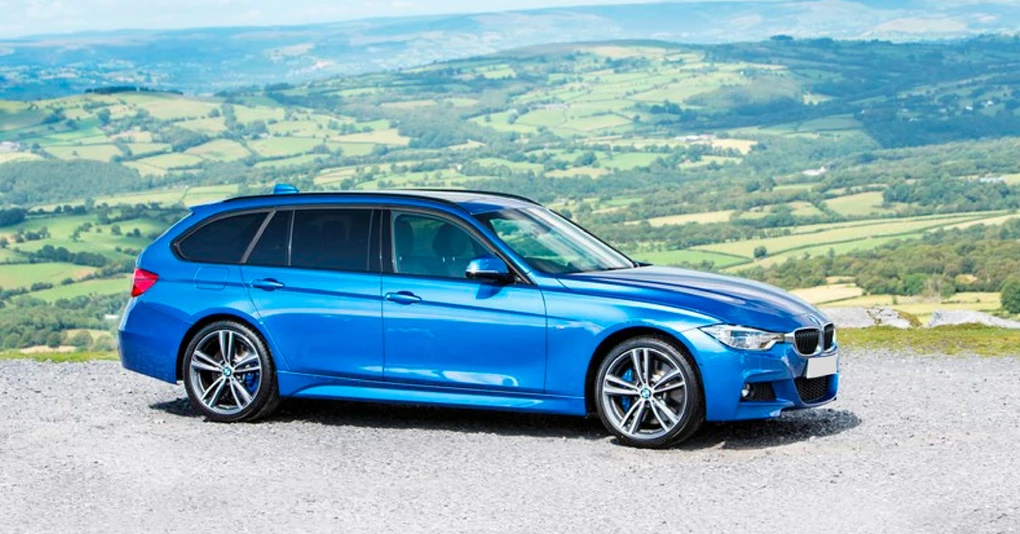 Performance
Here we're testing the most popular 320d model, which comes with a 2.0-litre four-cylinder diesel engine that produces 188bhp and 400Nm of torque. BMW has paired it to either a six-speed manual or an eight-speed automatic – with the latter fitted to our test vehicle.
With the help of the xDrive four-wheel drive system to put the power down, the 320d can get from 0-60mph in 7.2 seconds and reach a top speed of 142mph with the auto – 145mph with the manual. Although faster models are available in the range, including the 340i which can sprint to 60mph in just 5.3 seconds, the 320d is more than fast enough.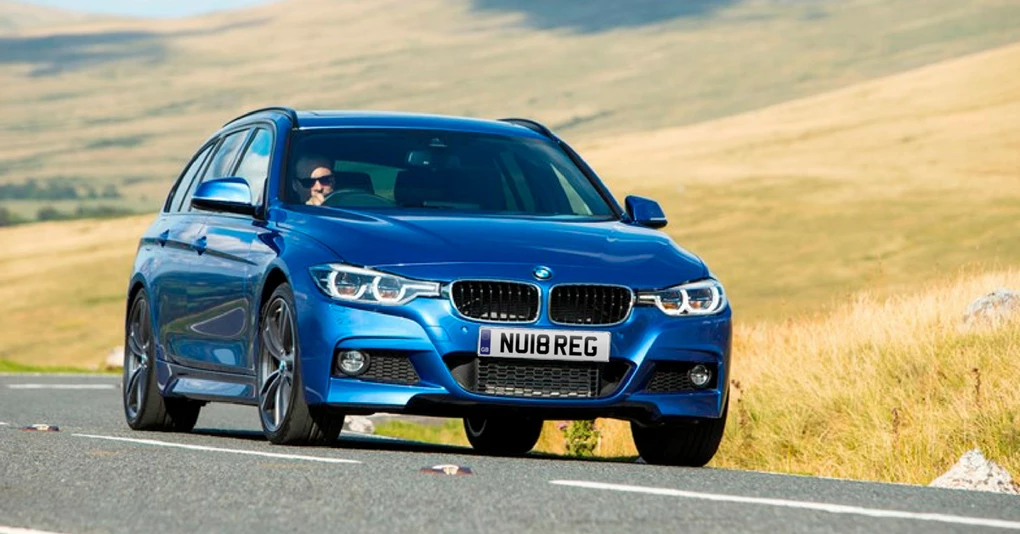 Ride & Handling
The BMW 3 Series is usually praised for its sporty drive as well as impressive cruising capabilities, and the story is no different here. In the M Sport guise we have here, the M Sport suspension adds to the vehicle's composure and makes it feel much more planted than most other estates. With an easily adjustable interior, you're able to find the right position in no time at all, and this helps make this car very comfortable very quickly.
Pedal and steering feel is also great, while the chassis and engine provide plenty of feedback, allowing you to place the car on the road with no problem at all. The four-wheel drive system is also excellent, as when used on slippier surfaces the car feels settled and allows you to put the power down without much hesitation.
Enquire Now on a BMW 3 Series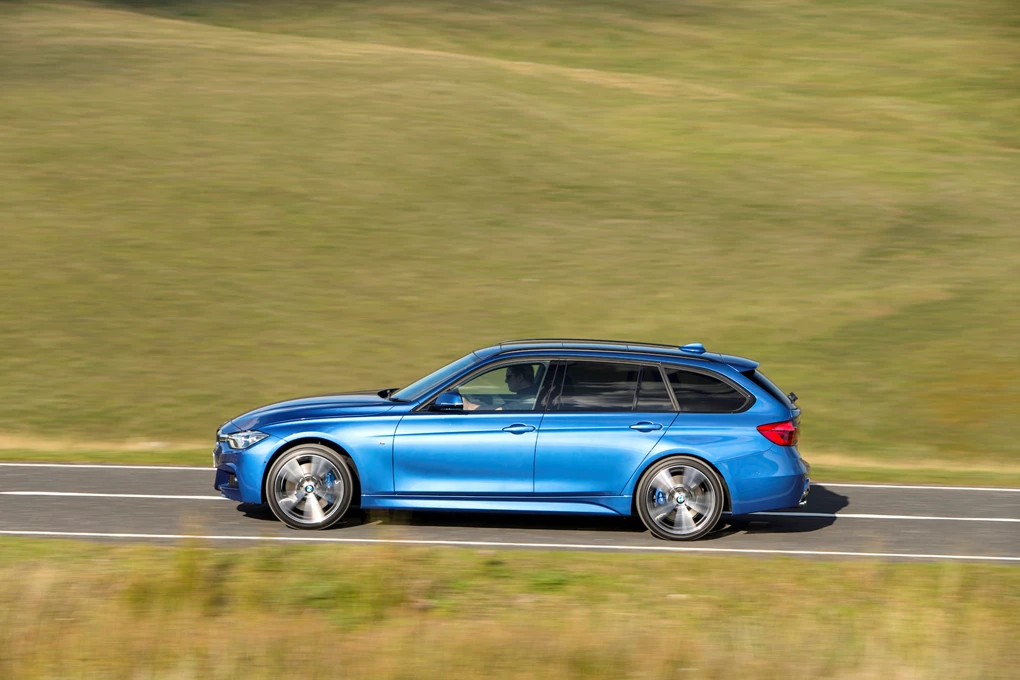 Interior & Equipment
As you would expect from an estate, practicality is no issue whatsoever, there's 1,500 litres of stowage when the rear seats are folded down. In the standard five-seat configuration, passenger space is also very good and taller occupants will be more than happy in the back – although you may find a little more space in rivals. The seats are also very easy to move around so switching from a two- to five-seat layout won't be difficult.
The 3 Series Touring is available in four trim levels – SE, Sport, Luxury and M Sport – and all of those come with a decent level of equipment as standard, such as automatic air conditioning, an infotainment system with Bluetooth hands-free, DAB radio, a multifunctional leather steering wheel, cloth upholstery and LED rear lights. The interior is trimmed in silver and black, but other colour options are available further up the trim levels.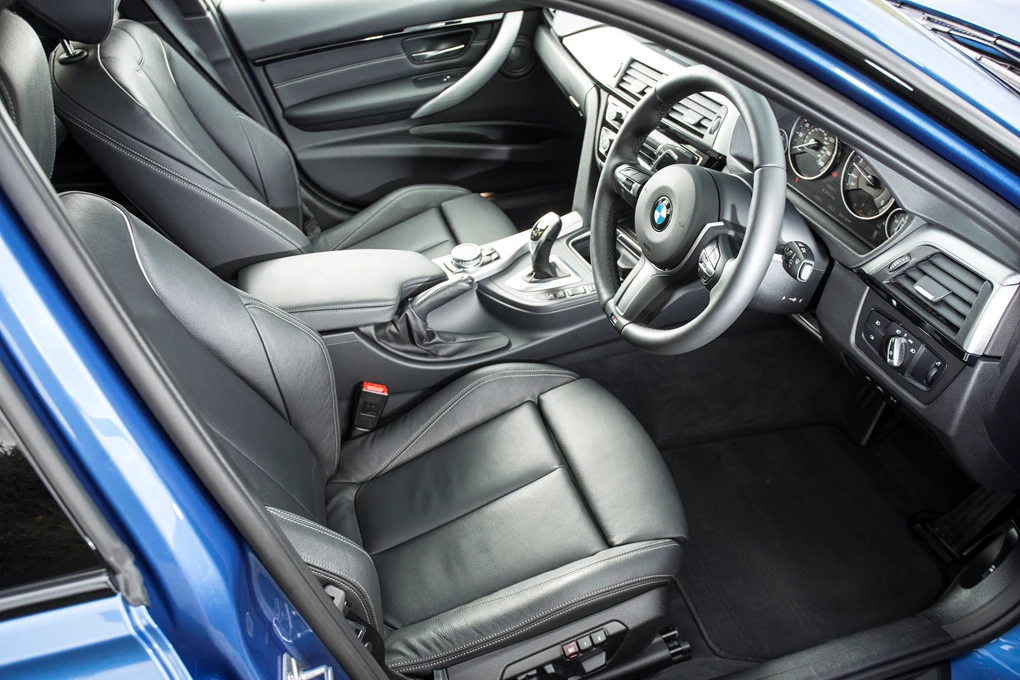 In the M Sport guise we tested, you get leather upholstery, an M Sport multifunction steering wheel, drive performance control, M Sport instrument cluster, front sports seats, LED headlights, 18-inch alloys and high gloss exterior trim. Chrome detailing can also be found on the tailpipes, with BMW also fitting a sportier body.
The interior quality and refinement is of an excellent standard, but the model we tested came in at £51,675 with lots of extras on top. You don't need to fit that much to a 3 Series to make it a great car, so be wary of what you add on the options list.
Cost
Prices for the 3 Series Touring start from £28,800, which is around the same mark as its main rivals from Audi and Mercedes. In the 320 d M Sport form we tested, prices start from £35,420 – with the automatic transmission option adding £3,150 to that.
Even with the four-wheel drive system – which can usually hinder a car's efficiency – the 320d can return 54.3mpg and emit 137g/km CO2. That helps to keep running costs down compared to petrol alternatives and makes this a great long distance cruiser.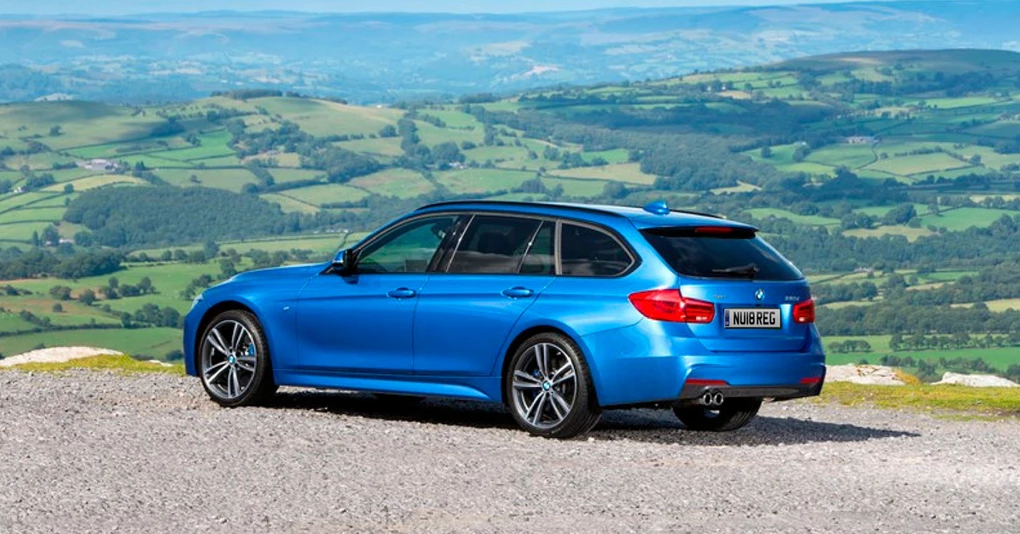 Verdict
If what you need is a well-sized estate that comes with quality equipment, feels great to drive and isn't too hard-hitting on your pocket, then this car could be for you. The xDrive system only adds to the capability of the 3 Series Touring by making it feel more stable in trickier conditions and helps put the power down. Be wary of the extensive options list that can make the price spiral out of control, but if you can stay on top of that, you will find the 3 Series Touring to be an excellent companion.
Test drive a new BMW 3 Series