Introduction
BMW's M division has gone from strength to strength recently, and shifted an impressive 80,000 units in 2017, and is working hard to expand its sports car portfolio. The next car in the line-up is the M3 CS – a lighter, limited edition and more expensive version of the already-fantastic M3. It follows a similar principal to the treatment the M4 CS received last year.
Just 1,200 M3 CS's will be built, and just 100 will make their way to the UK, with nearly all of them sold out already.
The boffins in Munich have managed to shave 30kg from the car's kerbweight, thanks to new forged alloy wheels and by replacing heavy panels, such as the roof and bonnet, with carbon-fibre reinforced plastics. New lighter seats have also been fitted, while the engineers have even gone to the effort of lightening the centre console, too.
Lightweight BMWs of the past bore the legendary CSL name – the L standing for lightweight. While BMW has certainly put the M3 on a strict Slimming World diet, it hasn't shed enough pounds to warrant the tag – so for now CS will have to do.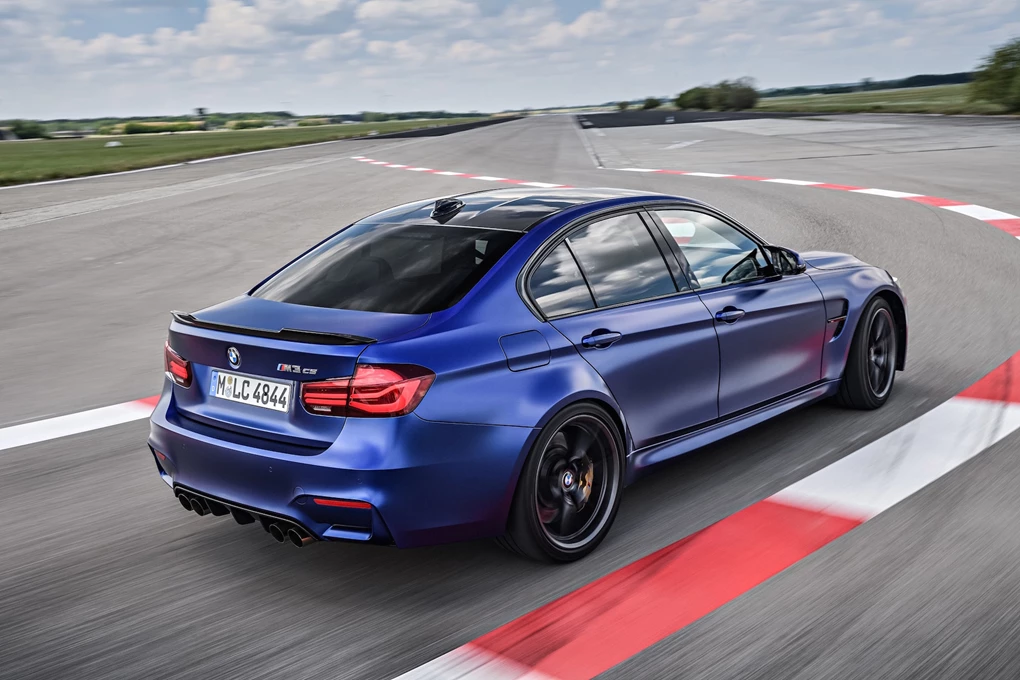 Performance
As well as the CS being lighter, it's also more powerful, too.
The already impressive 3.0-litre twin-turbo engine has been fettled to produce 10bhp and 50Nm more – the unit now producing 460bhp and 600Nm of torque.
The combination of lightness and extra power means the CS can hit 60mph in just 3.9 seconds – a figure that could make some supercars sweat. The electronic limiter has also been  removed, meaning that it's capable of going 173mph - where permitting, of course!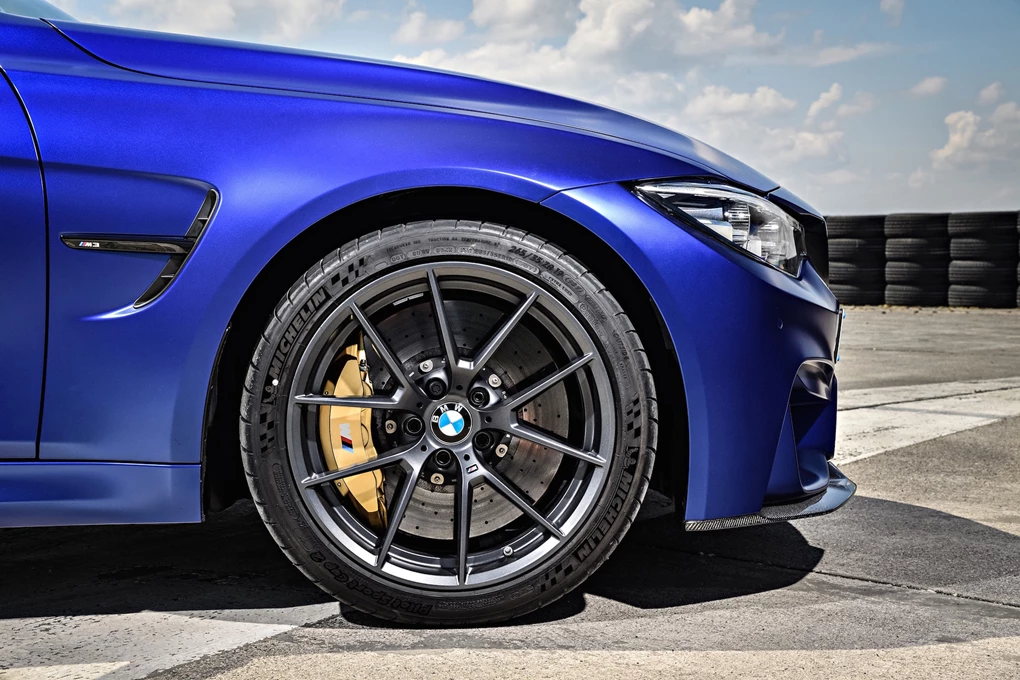 Ride and handling
This is what most people wanting a more thoroughbred M3 are after, and it's safe to say they won't be disappointed.
To drive, it's frankly astonishing. The engine revs all the way up to 7,600rpm and has plenty of power at all rev bands, as well as a spine-tingling engine note. And even once you're up to speed, the ceramic brakes have an immense ability to slow you down.
The Michelin Pilot Sport 2 tyres are also super-sticky, and allow the CS to feel perfectly balanced, while its seven-speed DCT automatic gearbox is a delight and can change gear at an unbelievable rate.
In some of the driver settings you can choose from, though, the steering lacks feel, and while shedding weight from the seats might have aided lightness, they certainly haven't helped when it comes to comfort.
Enquire Now on a new BMW M3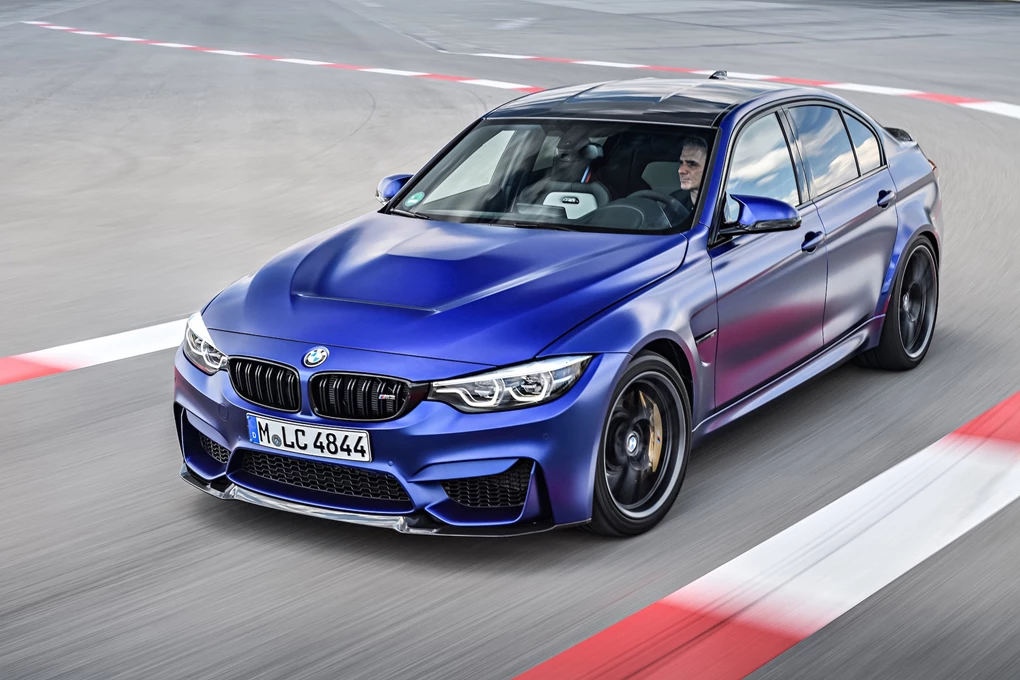 Interior and equipment
It's a typical BMW affair in the cockpit with swathes of plush materials assembled with perfection.
There's also the much-improved iDrive infotainment system with a range of connected services and a fantastic-sounding Harmon Kardon sound system.
Our test car was also fitted with an optional BMW M Performance Alcantara steering wheel, which is a must-have option as it's fantastic to grip and builds on the CS's character.
Standard kit includes adaptive LED lights, rear LED lights, satellite navigation, front and rear parking sensors – not to mention all the performance equipment, included, too.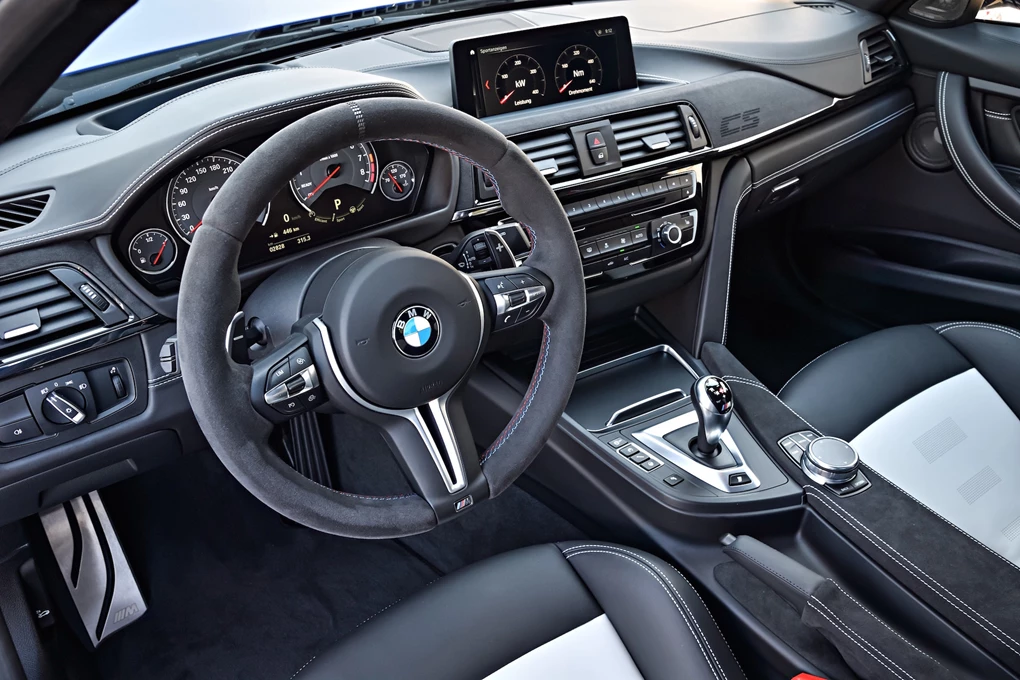 Cost
The BMW M3 CS is not a cheap car. It starts at £86,425, and if you aren't too careful with options, it could easily be approaching £100,000 – a lot for what is a £30,000 3 Series underneath.
But the M3 CS is so much more than that. It's a supercar-beater with enough space for your family, and if you look at it like that, it doesn't look quite so overpriced.
Running costs are likely to be high, but that's to be expected. While BMW claims an economy figure of 33.2mpg and CO2 emissions of 198g/km, drive it how it should and you won't see anywhere near that figure.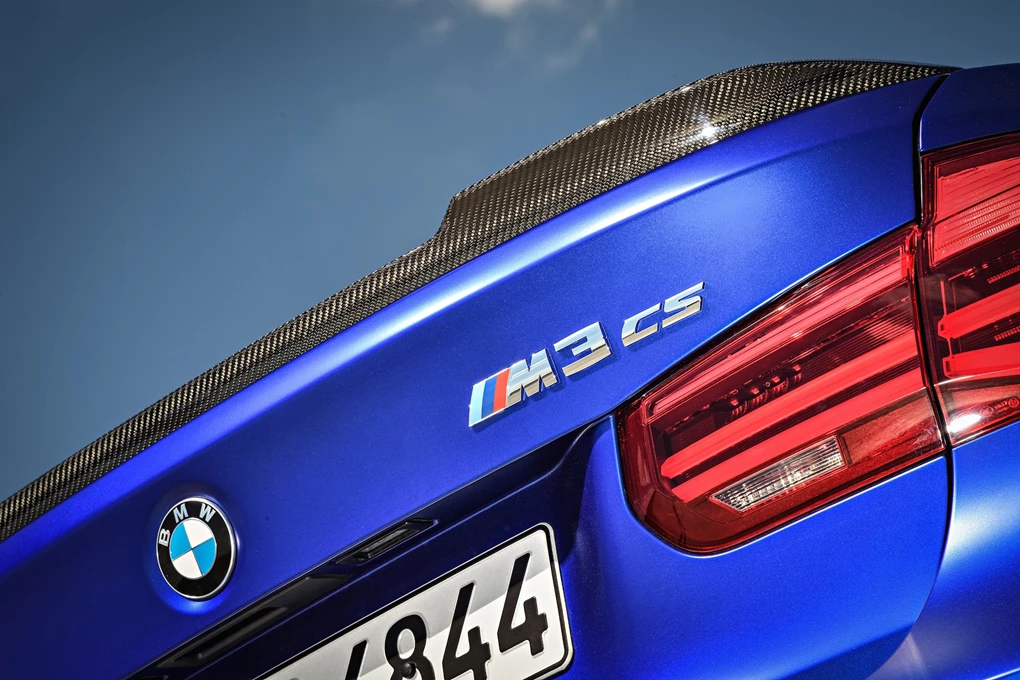 Verdict
BMW's M Division has produced yet another master class in engineering. Light tweaks to the CS have transformed the M3 from a great car to a phenomenal class-leader.  With a driving experience few cars can even get close to, awesome pace and all the practicality and creature comforts you'd get from a diesel 320d, the CS is truly remarkable car - and is already a future# classic in the making.
Test drive a BMW M3