The M badge is a force to be reckoned with and, since its birth in 1972, BMW's legendary M Division has retained its title as one of the leading creators of performance saloon cars.
Since BMW's mighty M3 arrived in 1985, the German marque has continued to build performance cars using the winning formula of a powerful front-mounted engine driving power to the rear wheels. And it still works!
At a glance, you may be tricked into thinking this is an M3. It is, however, the brand's first M4 – the result of BMW's new naming strategy across the range. Essentially, BMW separated it's two-door models from the 3 Series saloon by creating a 4 Series.
Playing big brother to the four-door M3, the M4 is a sophisticated saloon with enough power to blow your socks off in true M-power tradition.
Performance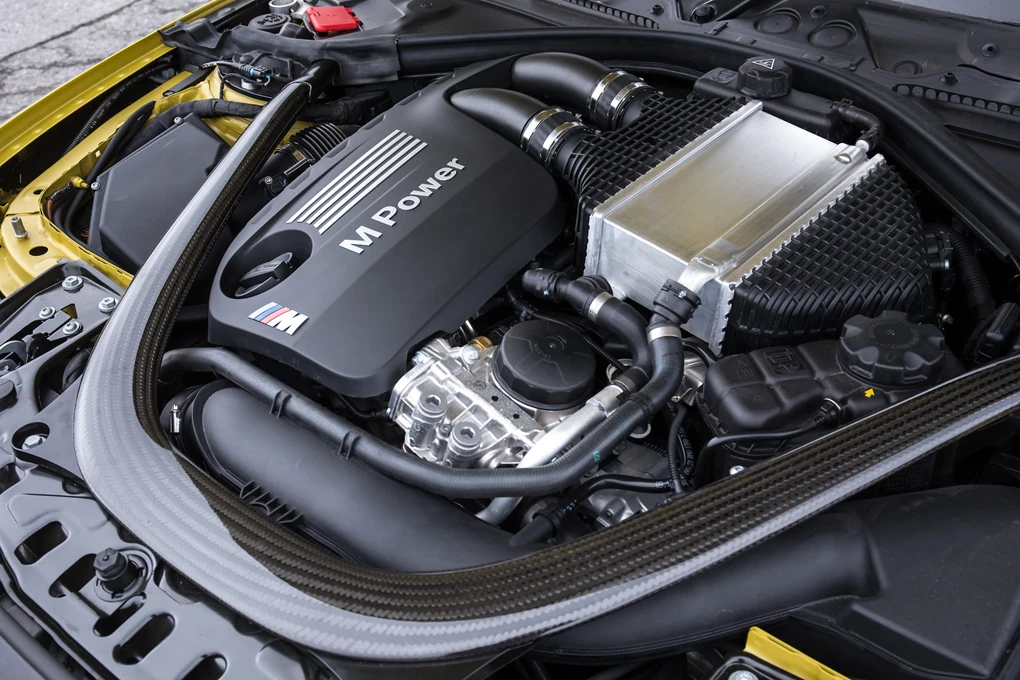 Powered by a three-litre twin-turbocharged straight-six, which generates 425bhp – that's 10bhp more than the V8-driven M3 coupe – the M4 scores top marks for straight line-performance, accelerating from 0-62mph in just 4.1 seconds and going on to reach a top speed of 155mph. If these figures impress you, it might be worth noting that the M4 will hit 100mph from zero in just 8.6 seconds.
If you want to squeeze even more from the three-litre, you can opt for the slightly pricey £3,000 Competition Pack, which will increase power output to 444bhp and drop the 0-62mph time to four seconds or you can upgrade to the CS guise for 545bhp – and it won't impact the impressive emissions or running costs.
Sadly, the turbocharger hasn't done wonders for the M4's soundtrack, with the former, naturally aspirated four-cylinder six- and eight-cylinder M3 units hitting a more seductive engine note. The turbo does claw back a few points by being significantly more cost-effective than the V8-powered M3, with an impressive combined 34.4mpg figure – if you suffer from a heavy-right-foot, however, this is more likely to average around 30mpg.
Ride and Handling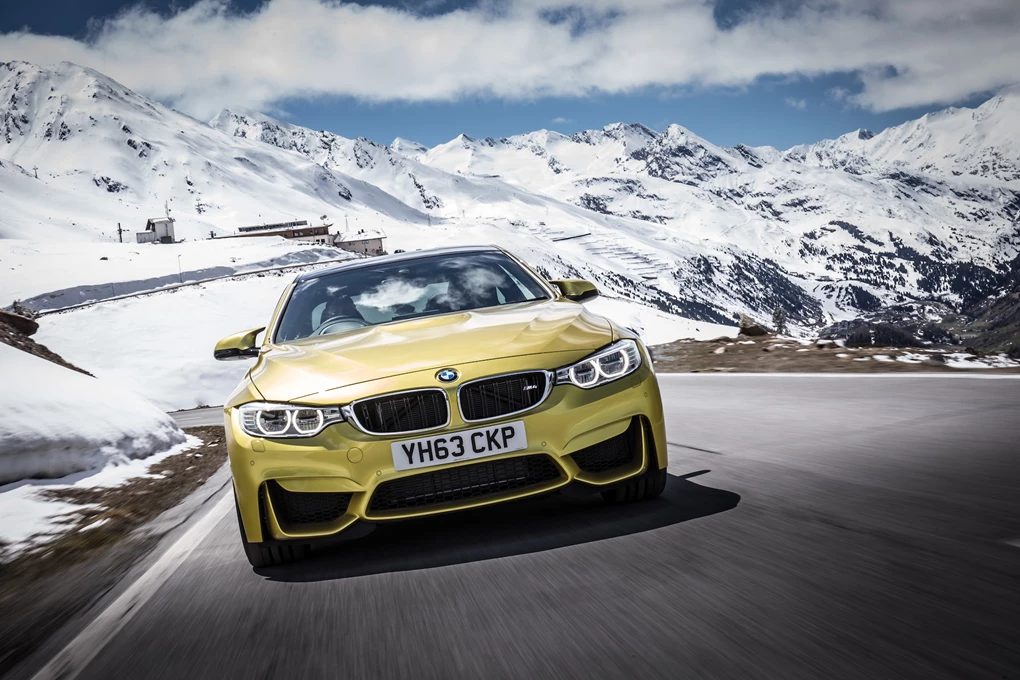 We've established that the M4 is a bit of an animal when it comes to sheer speed, but it's also worth noting that this particular car is significantly lighter than the M3 and, by pressing a few buttons, adjustments to the steering, suspension and engine response result in the M-powered motor being a comfy motorway cruiser and a civilised commuter.
Both the standard model and the M4 CS are incredibly nimble when cornering, and there's a satisfying connection between the steering wheel and what's happening on the tarmac.  We'd recommend you opt for the automatic gearbox, which allows you to adjust the speed of the gearshifts.
If you're in the market for an M4, comfort probably isn't at the top of your wish list. But it's worth noting that the M4's body has been stiffened and features a sportier suspension in comparison to other 4 Series models, resulting in a notably firm ride. However, thanks to the adjustable M Sport suspension, if you select the softest setting, you might be tricked into believing you're in a 5 Series.
Interior and Equipment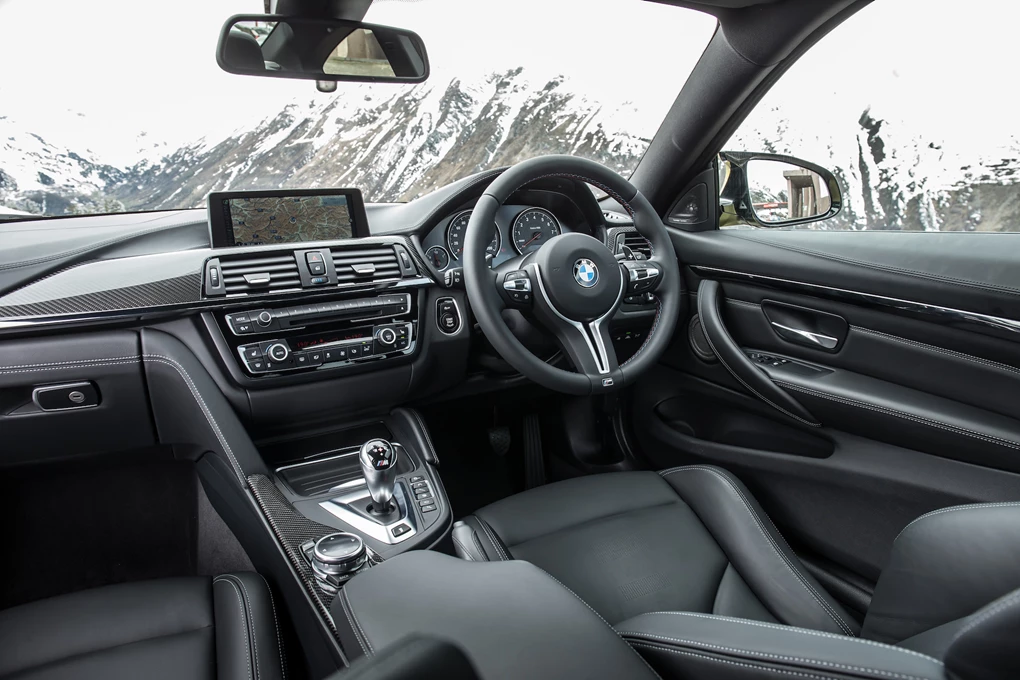 While the M4 may like to show off its power, it's relatively tame inside. As is the custom with BMW cars, the cabin is solid and well-laid out. It's also equipped with adjustable and supportive sports seats and the cockpit has been christened with the usual M Sport door sills and dials to remind you that you're behind the wheel of an M car.
The M4 gets BMW's high-ranking Professional Multimedia system, too, featuring an 8.8-inch screen incorporating BMW Online Services – it's known for being one of the easiest infotainment systems in its class, with credit going to BMW's renowned iDrive.
With a price tag of just under £60,000, you'd expect big bang for your buck. Thankfully, that's exactly what you get. The M4 offers an impressive array of features as standard, including 19-inch alloy wheels, Bluetooth connectivity, DAB, Sat Nav and heated seats.
Cost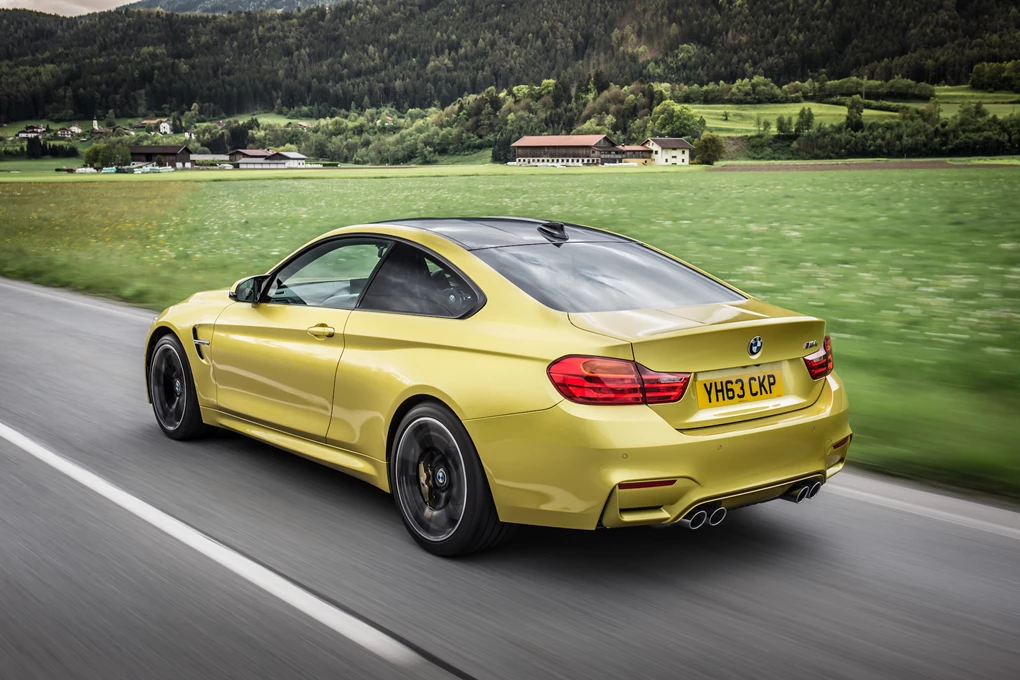 The M4 starts at £59,080 for the coupe and goes up to £63,180 for the convertible. Depending on how you spec either model, these prices can rise to way beyond the £70,000 mark. The Competition Pack adds £3,000 alone, with tempting optional extras – such as carbon ceramic brakes at £6,250 – racking up the final bill even further. The M4 CS, which is classed as the range-topping special, is priced from £89,130.
Verdict
There's no doubting that the M4 has inherited the performance pros and durability of the M3, and even with a smaller, turbocharged engine, it delivers the goods on demand.
The Mercedes C63 AMG is the M4's closest rival and while it makes a lot of noise and tyre smoke, it can't match that of BMW's cornering poise and sophistication.
What's most satisfying about this performance saloon is its ability to be both an understated everyday commuter and an absolute maniac at the flick of a switch – and it won't have you stood at the petrol pumps quite as often as the thirsty M3.
Enquire Now on a new BMW M4
The stats
Model: BMW M4 CS
Price: £89,130
Power: 545bhp
Torque: 600Nm
Top speed: 174mph
0-62mph: 4.1 seconds
MPG (combined): 33.6mpg
Emissions: 197g/km