Introduction
Van-based MPVs are nothing new, but they're become less noticeable in a world that's jam-packed full of SUVs and crossovers. Citroen, along with its friends at Vauxhall and Peugeot (all part of the PSA Group) is not willing to give up on these hugely practical vehicles, and this is its latest offering – the Berlingo.
It's still noticeably a van, but has had some added style injected into it with a funky nose, distinctive 'Airbumps' and rounded lines. It's the boldest looking one alongside the Vauxhall Combo Life and Peugeot Rifter, although all are mechanically identical.
The Berlingo sits on a platform that's largely shared by all new Citroen and Peugeot models – from vans to small hatchbacks.
Styling cues have noticeably been taken from the Citroen C3 Aircross and C4 Cactus. A number of new engines are also available, which offer decent performance, but importantly impressive economy.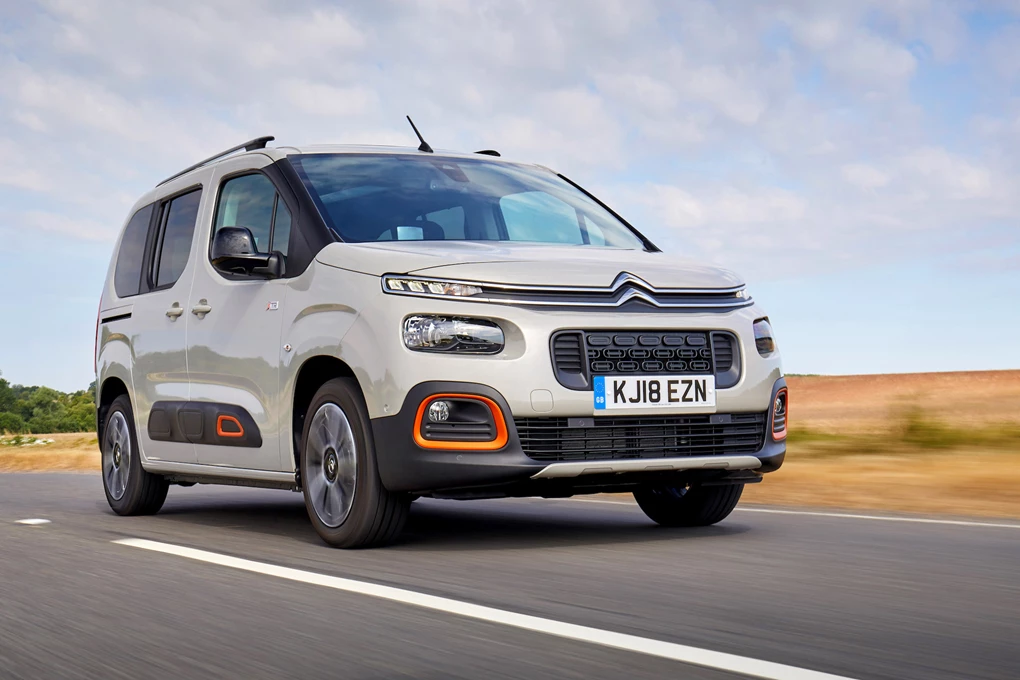 Performance
Our van was the middle option of the three diesels available. As well as the 1.2-litre petrol unit, there's a 1.5-litre diesel engine, with either 74bhp, 99bhp or 108bhp.
Our 99bhp test car offered adequate performance for most daily needs. The five-speed gearbox is hardly inspiring, while it needs a lot of work to make decent progress. But it is a smooth engine that sits well at higher speeds and is refined for a commercial vehicle. If you regularly trawl up and down motorways, the 108bhp option, with its six-speed 'box, could be a worthy investment.
While petrol engines in vehicles like these are often flawed, the latest turbocharged engine is excellent, and is a worthy choice for those who spend most of their time around towns.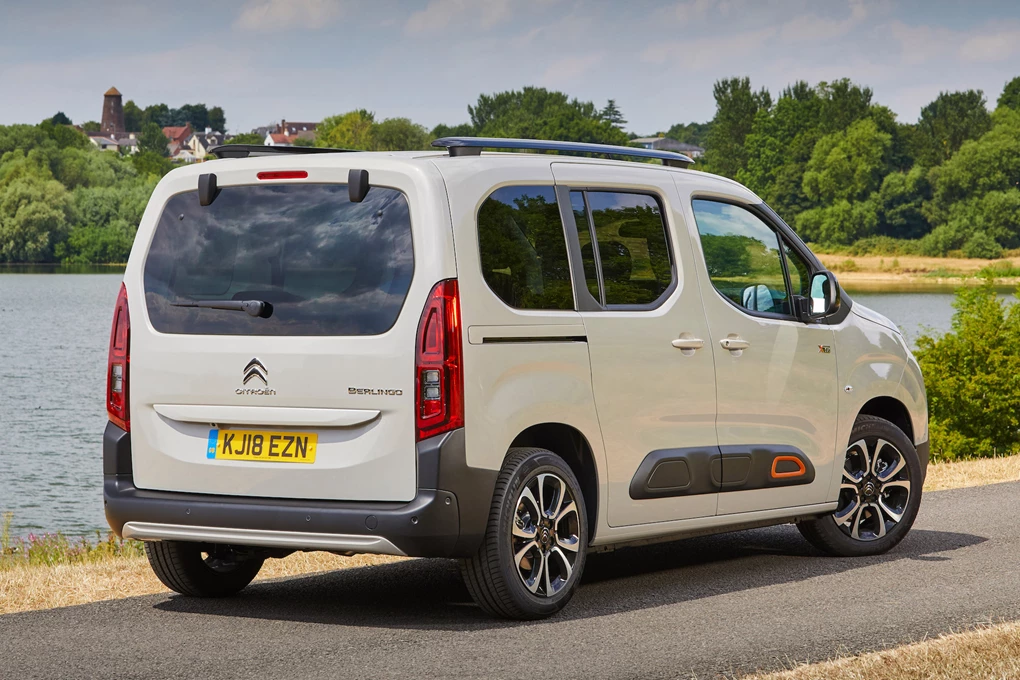 Ride and handling
A quick glance at the Berlingo is enough to tell you about the model's absence of sporting credentials.
The Berlingo is firmly tailored towards comfort, and it largely performs well in this aspect. The ride is best once the van is heavily loaded, or with some extra weight, but it deals with potholes well, and doesn't feel unsettled even on rougher surfaces.
With the set-up angled towards comfort, it means that there's plenty of body lean, but providing you drive it sensibly, the Berlingo doesn't feel any less able than a similarly-sized crossover.
See Available Citroen deals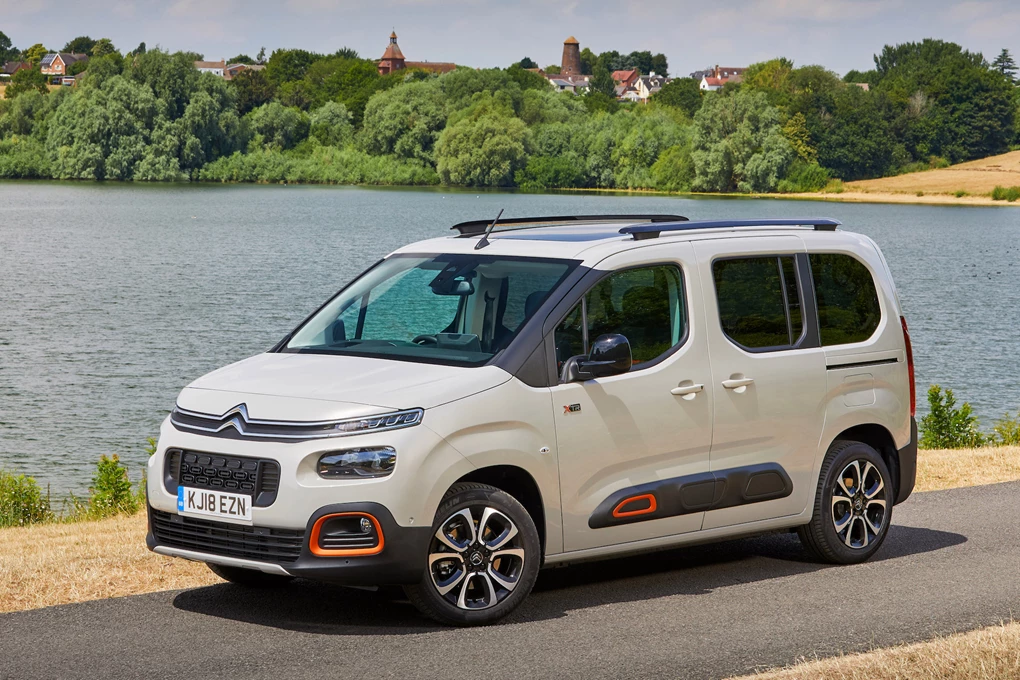 Interior and equipment
Compared to some small crossovers, the Berlingo is truly enormous. It is vast inside, and all occupants enjoy plenty of space, while even the tallest of drivers or passengers won't be able to grumble about headroom. The boot is truly huge as well, although, because of the tailgate's wide opening, you have to leave plenty of space when parking so that it can be opened.
The rear seats also fold completely flat, while the sliding doors at the back make getting in and out a doddle. There's also a never-ending number of storage spaces dotted around the cabin.
The emphasis is clearly on space, which means that interior quality has been somewhat neglected. It's still very solid, but its areas like this where the Berlingo's commercial roots shine through.
It's available in two trims – Feel and Flair. Feel comes with the basics, such as remote locking, air-conditioning and cruise control, but adds things you might not expect – Android Auto and Apple CarPlay, for example.
Upgrade to Flair, and Citroen adds alloy wheels, climate control and satellite navigation.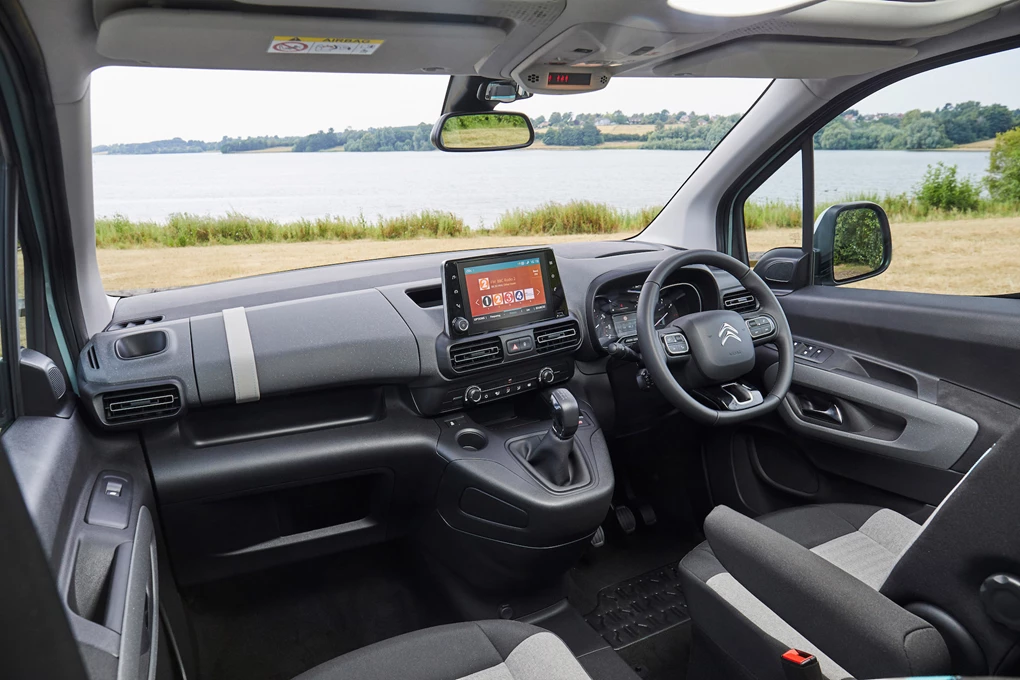 Cost
Berlingo prices start from £18,850, making it cheaper than both the Vauxhall Combo Life and Peugeot Rifer. It's a huge amount of vehicle for the money, considering the space on offer, although the interior quality could be better for the money.
Range-topping versions are still good value, while running costs should be low, too, thanks to the efficient engines. Our test car returned well over 60mpg, with low CO2 emissions of 112g/km.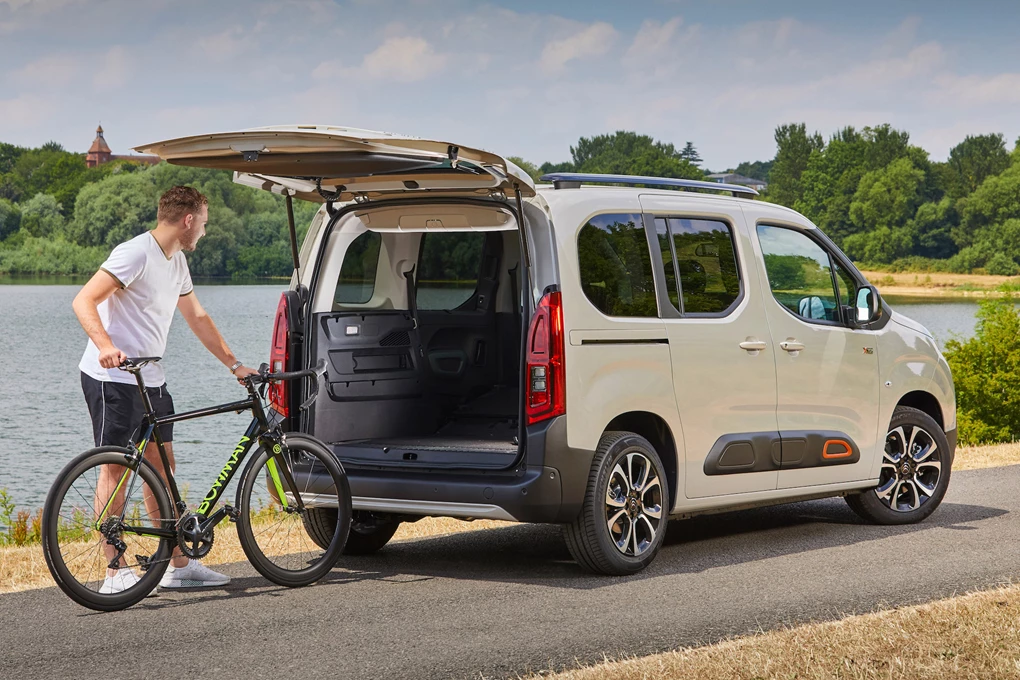 Verdict
The latest Berlingo is a far more compelling option than the last model. Not only does it retain superb practicality levels, but the addition of efficient engines and a smart new look have made the car more appealing than ever. It's not perfect, though, and its commercial-like driving dynamics will put many off. But if space and value for money are your main concerns, there are fewoptions quite as good as the Berlingo.
Enquire Now on a new Citroen