Introduction
The city car market is full of funky options that all try to offer customers with fun driving and enough practicality in a small package.
Here is Citroen's effort – the C1 – which shares its platform with Toyota's Aygo and the Peugeot 108. Although they all may look very similar, each one tries to come out on top in the market in its own way.
The C1 is arguably the trendiest one of the three and here we got behind the wheel of the Feel variation, which came with the Airscape fabric sunroof to allow for open-top driving.
We see whether the C1 can be a worthy competitor in the city car segment, which includes impressive rivals from Volkswagen and Skoda…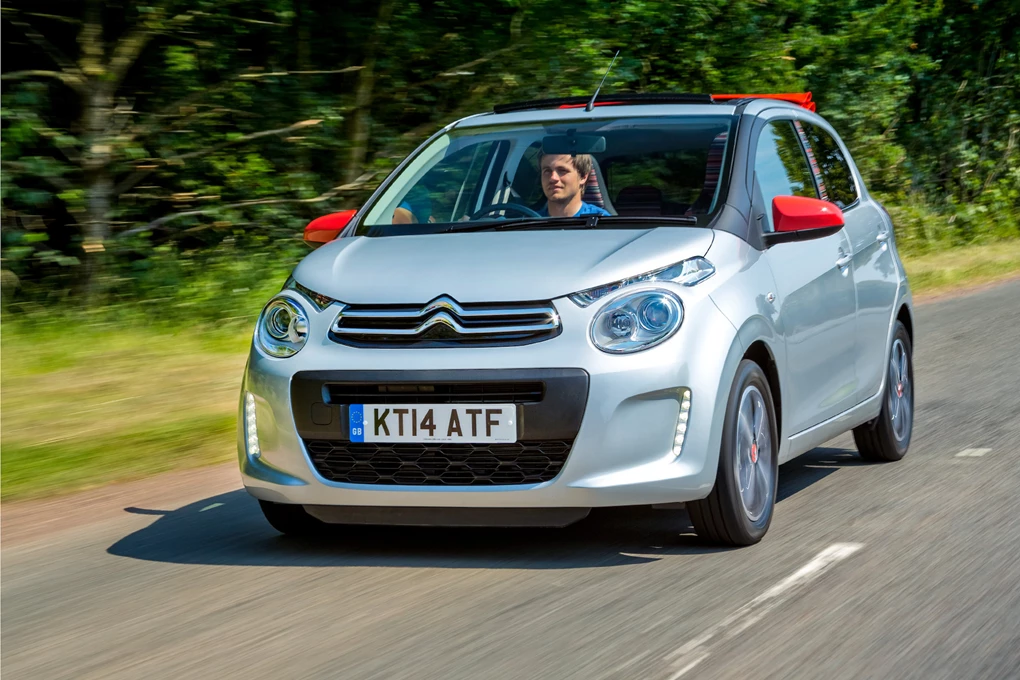 Performance
Although larger, more powerful units were previously available, the C1 now only comes with a 1.0-litre three-cylinder petrol that produces 71bhp. Available with either a five-speed manual or five-speed automatic, we tested the former, which is the better combination in terms of performance, driving pleasure and efficiency.
Don't expect the C1 to be particularly sprightly though, as it reaches 60mph in a leisurely 13.9 seconds from standstill and tops out at 99mph. That isn't the point of the C1 though, as it is definitely suited for city driving and you can have a lot of fun at much lower speeds than normal. If you keep it around 30mph, you're able to chuck it round narrower city streets and get a lot of enjoyment.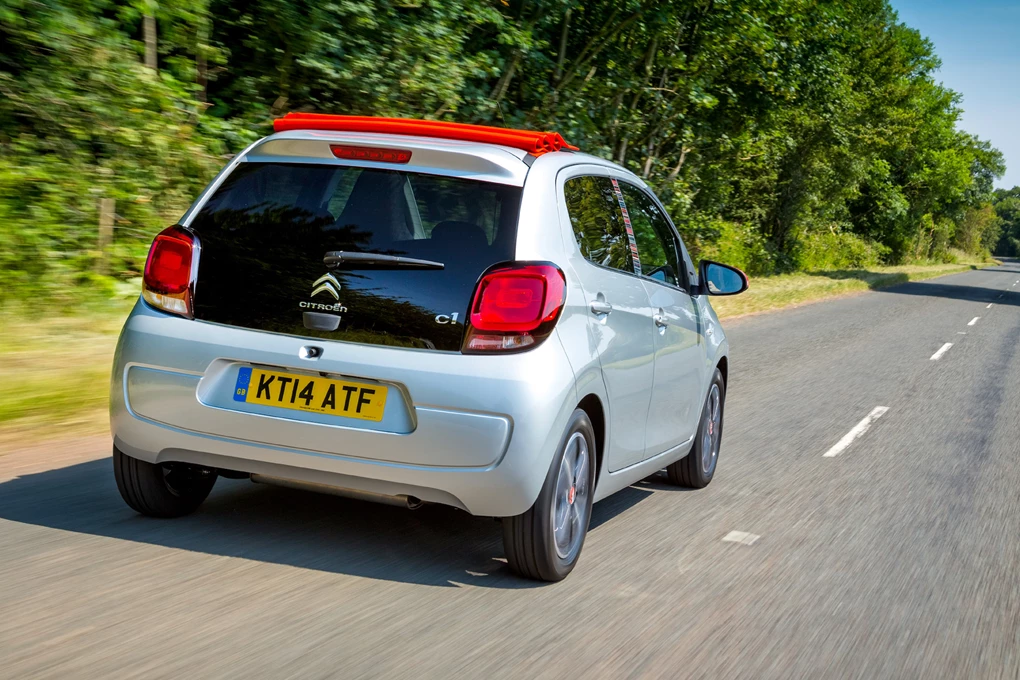 Ride & Handling
With its low weight, quick steering and surprising amount of grip from its skinny tyres, the C1 is a lot of fun to drive along twisty sections of road. With the low level of power from the tiny engine, you'll never find the car feeling overwhelmed.
Where the C1 does fall down though is on the motorway, as you need to keep it at high revs to stay up to speed and always feels like that it is being pushed well outside of its comfort zone. Other city cars feel more refined overall, such as the Skoda Citigo and VW Up!, but the C1 is aimed more a younger drivers who are after more style. The Airscape sliding roof also helps add a more special feeling.
See Available Citroen C1 deals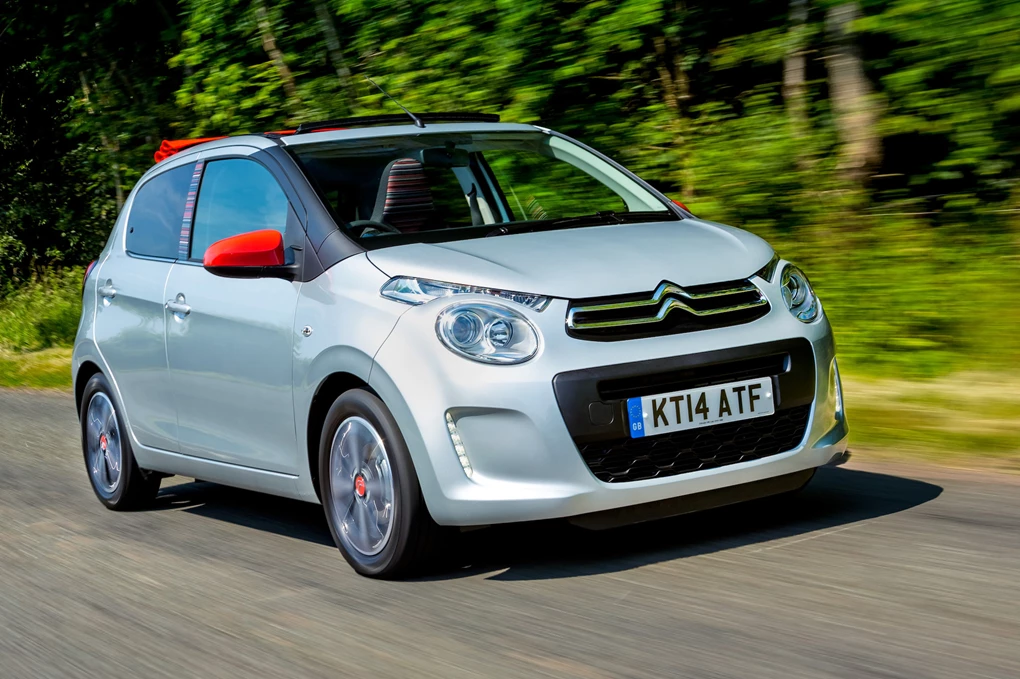 Interior & Equipment
City cars aren't the biggest to begin with, so to find that the C1 isn't as large as some may want isn't that much of a surprise. However, rivals can at least boast enough space for four adults, which the C1 will struggle to accommodate for anything but the shortest of journeys. Probably due to the Airscape sliding roof, head space is limited and legroom isn't anything to write home about for six-footers either.
The boot measures just 196 litres, but as you aren't likely to be using the back seats too often, you can fold the rear bench down and have 780 litres to work with. That makes it much more useful and you'll be able to cram more in behind the front seats.
With the Feel model we tested, standard features included a seven-inch touchscreen infotainment system with smartphone connectivity, gloss black trim, air conditioning, 15-inch wheels with 'Comet' covers and 50/50 split rear seats, as well as daytime running lights, two speakers and front electric windows.
The top-spec Flair option adds leather detailing, a reversing camera, speed limiter, chrome detailing, tinted rear windows, 15-inch alloy wheels and electrically adjustable wing mirrors.
Cost
Available now in just two trim levels, prices for the C1 start from £11,300 – helping it remain competitive in the segment despite being on sale since 2014 in its current guise. With the Airscape roof and a few extra additions, the model we tested came in a £12,670.
Without even trying to drive economically, we were able to achieve upwards of 60mpg and close to the C1's quoted return of 68.9mpg. It also emits just 95g/km, making it reasonably cheap to run.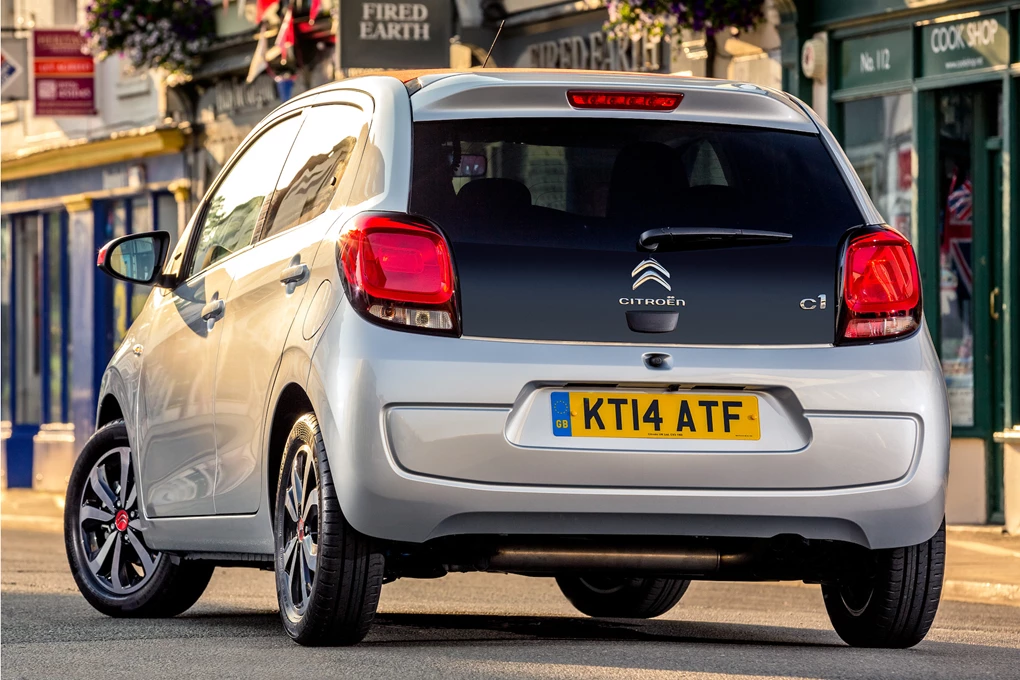 Verdict
The Citroen C1 is a fun city car that is definitely suited to that environment, but can struggle when asked to go further afield. With fun driving on offer at lower speeds, the C1 also comes with all the essentials so you won't be missing anything. It may not be the most refined or the largest city car around, but the C1 does the job well – so is well worth considering.
Enquire now on a new C1