Find Top Civic Deals
Introduction
With diesel engines not being as popular as they once were, manufacturers are increasingly delaying the launch of their diesel models, or not launching them altogether.
At the launch of the new Honda Civic in 2017, buyers were dismayed by the absence of a diesel engine – instead being the left with the choice of 1.0- or 1.5-litre petrol units.
But high-mileage drivers can now rejoice at the launch of this – a Civic diesel. Badged as the 1.6 i-DTEC, the engine makes for the largest change here.
Other small updates see the aluminium pistons replaced with steel ones, as well as a new turbocharger. Other than that, the Civic remains the same, with its distinctive looks and improved interior.
Performance
It's obvious here that the new diesel is the star of the show. The 1.6-litre unit produces 118bhp and 300Nm of torque, which is competitive compared to that of similarly-sized units in the Volkswagen Golf, for example.
It never feels that fast, and the torque delivery is a bit sporadic. It requires more work for constant progress than it should, but it's a great six-speed manual gearbox.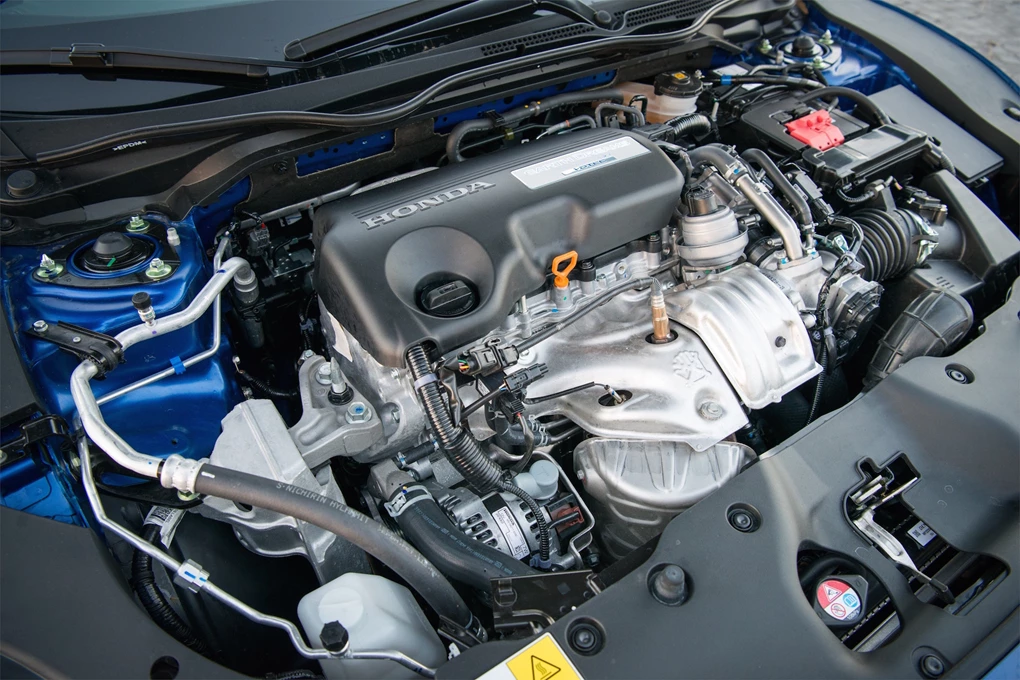 Ride and handling
Despite the diesel's extra weight, it has little impact on handling. The Civic steers accurately, and remains planted in the corners. It's not quite as wild to drive as its Type-R inspired looks would suggest, but it's capable.
The ride quality is also excellent, with potholes being largely unfelt in the interior. It's not perfectly smooth, yet the adaptive dampers are a worthy addition on shoddy British roads.
It's fair to say that the diesel Civic is not a thrilling experience (if you want that you'll have to stump up some extra cash and go for the Type R) and the petrols are perhaps slightly better to drive, but for those wanting efficiency without compromise, it's a solid choice.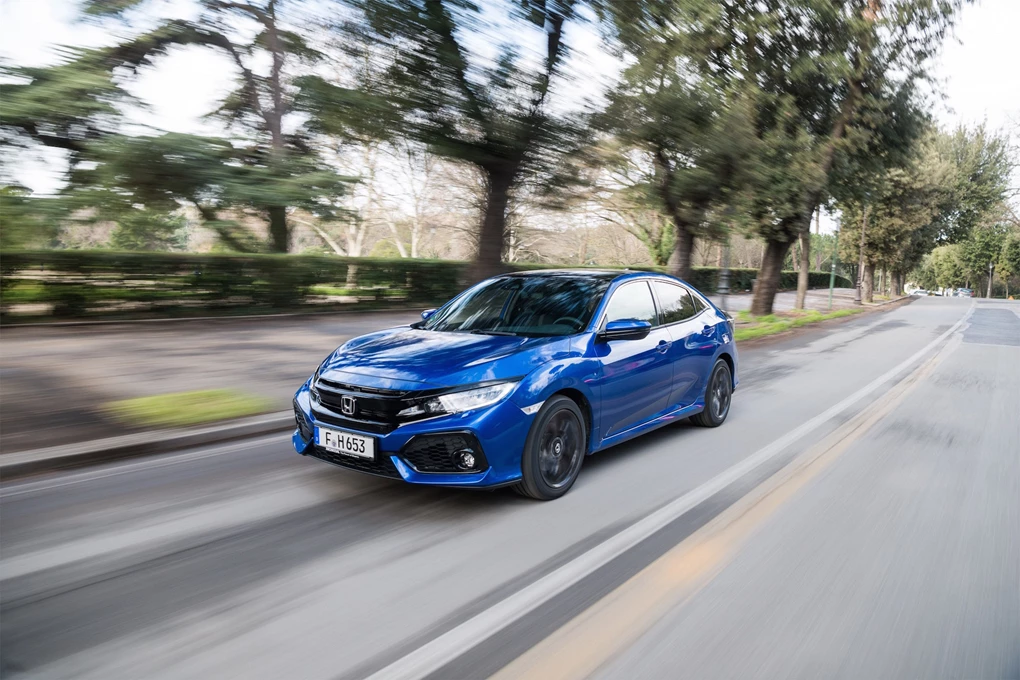 Interior and equipment
While Civics of the past have favoured comfort and easy access, the latest model is tailored towards a sleeker and sportier feel. This means you sit low, yet it remains comfortable with cushioned seats and ample head and legroom regardless of where you're sat.
Space is excellent, too, with a large boot, as well as a hefty underfloor storage area. Another great feature is the innovative parcel shelf which can fold up into a space the size of a small cardboard box.
The dashboard layout is good, although the touchscreen is a bit fiddly, and houses a few too many functions, which simple buttons could easily replace.
Our test car was the range-topping EX model. It comes excellently specced, and includes equipment such as 17-inch alloy wheels, a leather interior, adaptive dampers, a parking camera, a seven-inch touchscreen with Android Auto and Apple CarPlay and heated seats for both front and rear passengers.
The diesel engine doesn't have quite the number of trim levels as petrol models, although a number of option packs are available to bolster equipment grades.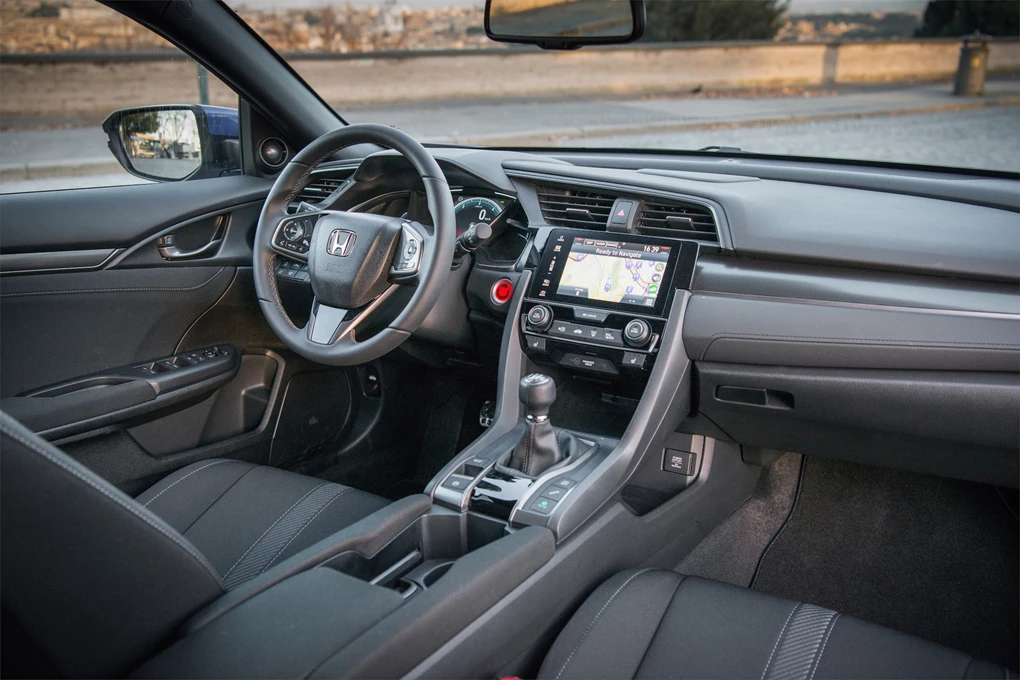 Cost
Prices for the diesel Civic start from £20,245, which makes it attractively priced compared to rivals. It's a bit more expensive than the 1.0-litre petrol – which starts from £18,895 – but it's undoubtedly worth it for buyers in need of a efficient hatch.
And that's where the engine excels, when it comes to running costs. While the claimed economy figure of 80.7mpg is a touch inflated, realistically you'll still be able to manage 60mpg easily on decent runs. CO2 emissions stand at 93g/km.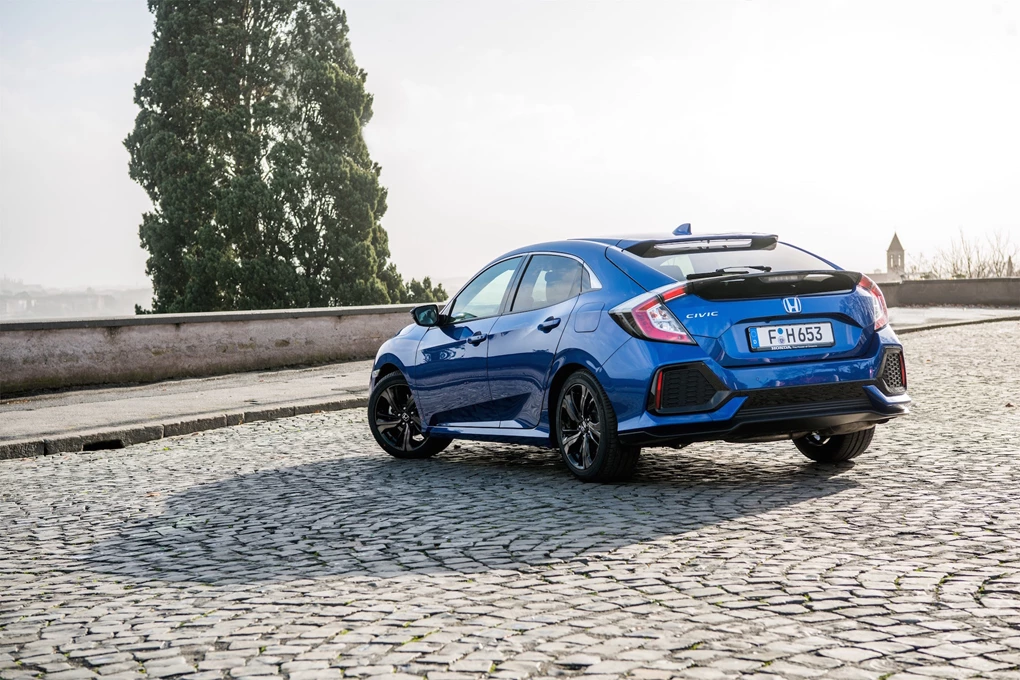 Verdict 
The diesel Honda Civic is a car you buy with your head. It's not quite as enjoyable to drive as the petrol units, and a 1.6-litre diesel engine is never going to spark emotions, but for those wanting an impressively efficient hatchback, without sacrificing on style, it makes for an excellent choice.
When the petrol units are so good, though, it really makes you question the need for the diesel unit – particularly at its extra expense. Perhaps the Civic's worst enemy is itself, but if you do enough miles each year to justify a diesel, you won't be left disappointed.
See Available Civic Deals Near You