Introduction
There's much conversation about the fuels of the future in the motor industry.
While many manufacturers have decided that electric is the way to go , some have been bolder and decided to explore hydrogen power.
While Hyundai is undoubtedly one of the leaders when it comes to hydrogen fuel cell technology, it's by no means the only one considering it. Several are already developing vehicle, but Hyundai and Toyota are the only ones to have revealed production cars in the UK.
The technology is sadly limited by a lack of infrastructure, with just 13 hydrogen filling stations currently operational in the UK – with six of these being within the M25.
Regardless, Hyundai is ploughing on with hydrogen development, and proving that hydrogen-powered vehicles can be viable. It builds on where its first hydrogen car – the ix35 Fuel Cell – left off, but this is an all-new model designed from the ground up to be hydrogen.
It only expects to make a few thousand each year globally, but hopes it will spur on the development of additional infrastructure.
Performance
Under the bonnet you'll find a hydrogen fuel cell stack, which takes energy from three hydrogen tanks. There's an electric motor, and a small battery pack as well, but for the majority of the time it's driven by the fuel cell.
There's benefits to this – first of all there's the charging times. Even rapid chargers for electric cars take around 30 minutes, but a hydrogen car can be replenished in minutes. It also boasts a claimed range of 497 miles – far more than any range of a current EV.
The NEXO's peak power output is 161bhp, as well as an impressive 395Nm of torque. It can accelerate from 0-60mph in nine seconds flat and has a top speed of 111mph. It's smooth off the line, but the power soon tails off at higher speeds.
See Available Hyundai Deals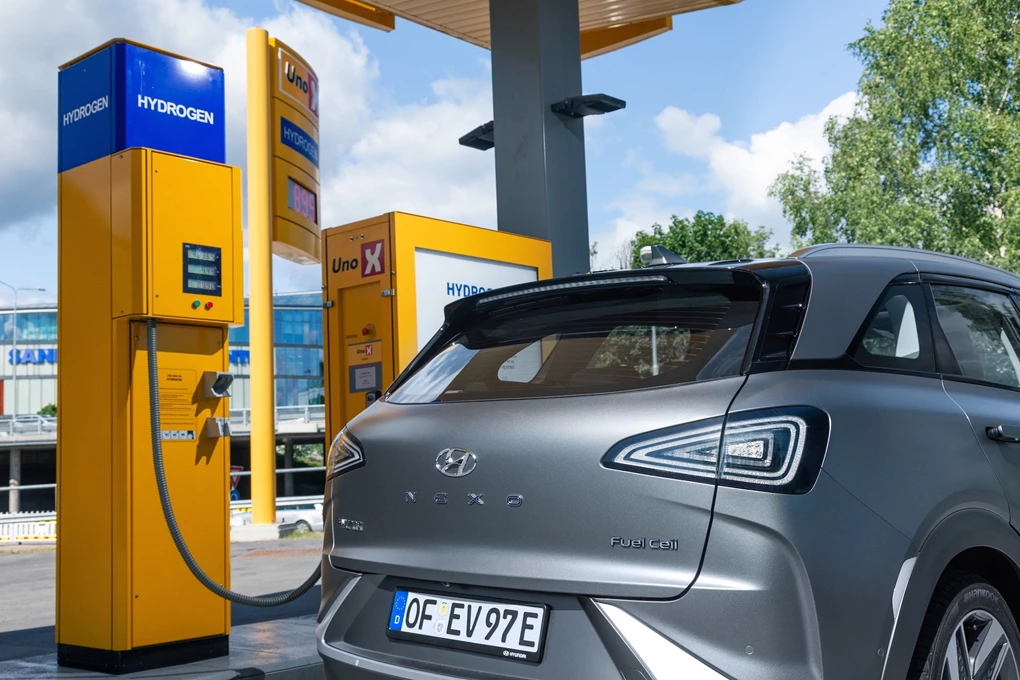 Ride and handling
All that clever tech adds a lot of weight to the NEXO, so it's by no means a sports car. But it's hard to criticise, as buyers will not be expecting anything ground-breaking to drive. The ride can be a touch firm, however.
It's an excellent cruiser, though, with an aerodynamic body reducing wind noise. It's also laden with driving tech – including semi-autonomous systems that follow the car in front and keep you in your lane. There's also a fantastic blind spot monitoring system which projects a camera looking in your blind spot onto the instrument cluster when you indicate. The NEXO can also park itself without even needing you inside, too.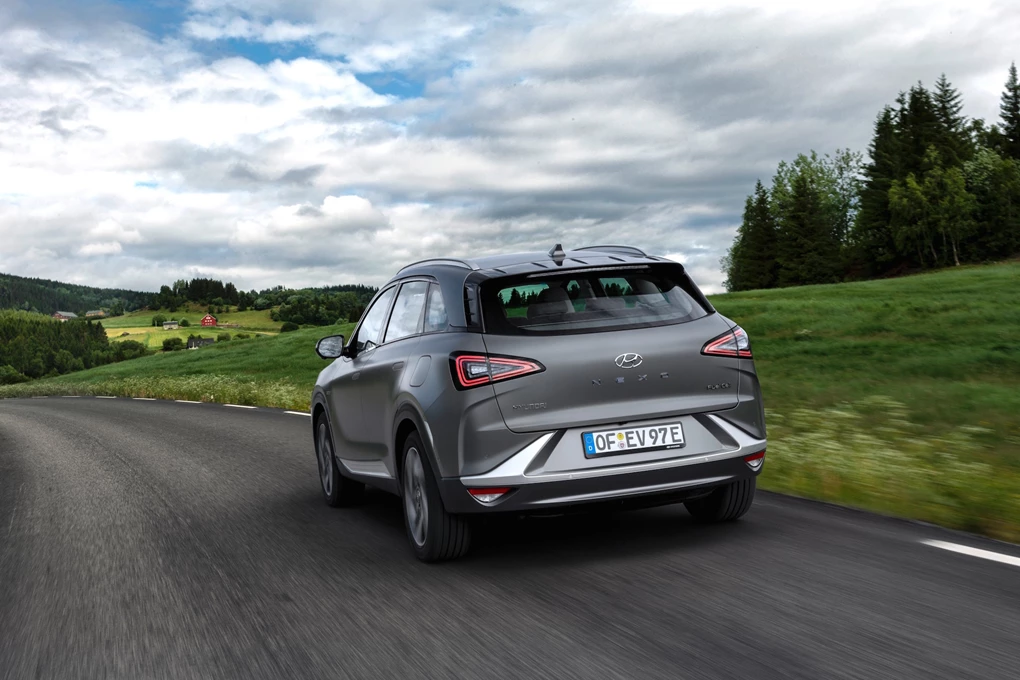 Interior and equipment
The NEXO is one of the most premium Hyundais yet, and it certainly has an executive feel to it with it's large central 12.3in infotainment system, a 7.0in display ahead of the driving seat and a metallic finish over the floating centre console. 
There's no apparent compromise when it comes to practicality, with clever fuel cell storage ensuring that the mechanicals don't interfere with interior space. Its 461-litre boot will be enough space for most, while there's decent legroom and plenty of interior storage dotted around the cabin.
The NEXO is probably Hyundai's most advanced car yet, and the tech on offer reflects this. As well as the aforementioned semi- autonomous features, it comes with a digital instrument cluster, heated and cooled seats, a powered tailgate, and front and rear LED lights.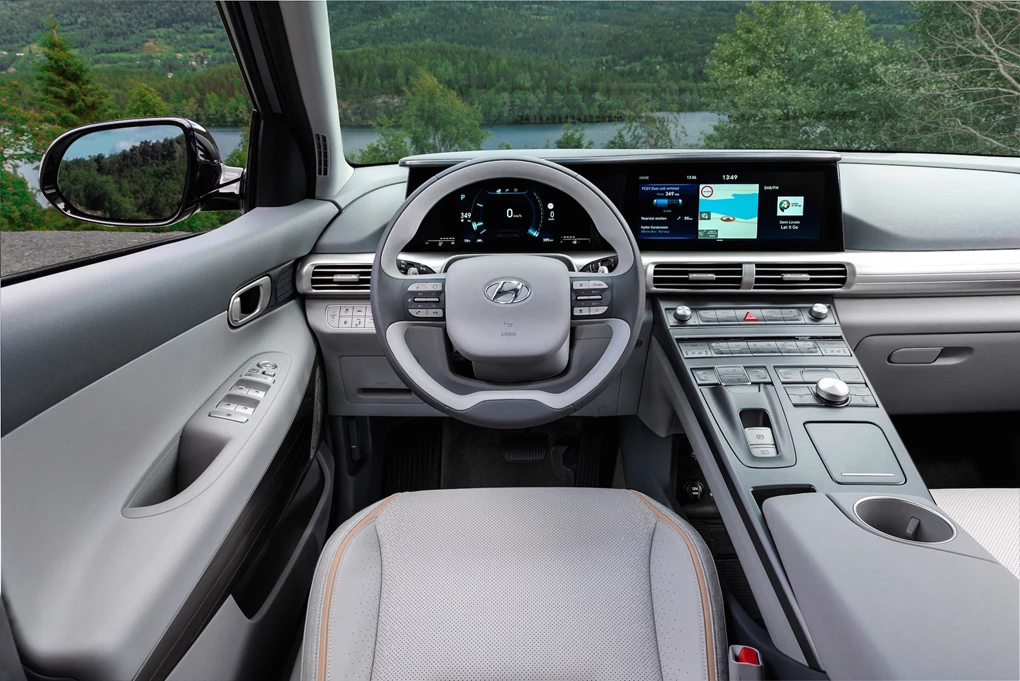 Cost
If you compare the NEXO against a similarly-sized SUV, it does seem expensive. While Hyundai hasn't revealed prices for it yet, it's expected to cost around £60,000, or £56,500 with the government grant.
You do have to consider the superb level of tech fitted to it though, while the only emission from it is water. The NEXO uses 1kg/100km of hydrogen fuel - proving the crossover is very economical indeed.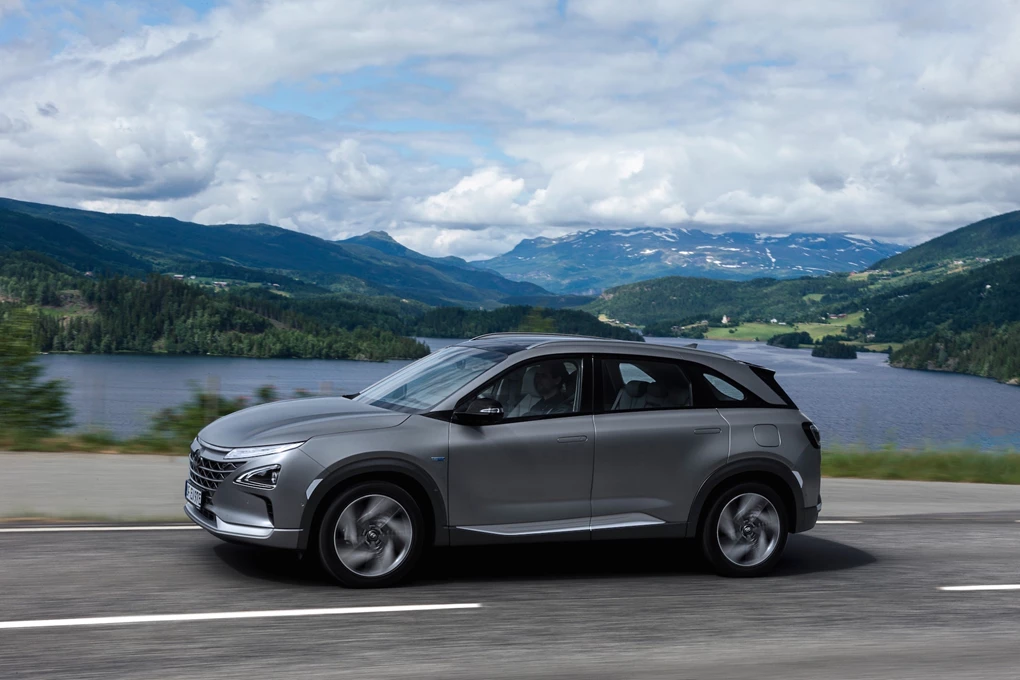 Verdict
The NEXO – ignoring the price for a second – is a fantastic, well-equipped and comfortable SUV which will cost pennies to run.
Counter in the price and lack of infrastructure, and it does limit its appeal. The NEXO is ultimately a car for early adopters of hydrogen and offers a glimpse of the future, but thanks to its EV-beating range, anyone who buys one will certainly not be disappointed.
Test drive a new Hyundai