Introduction
As the brand's flagship, the F-Type is an incredibly important car for Jaguar and it is a contrast from the rest of its practical line-up.
Usually fitted with larger V8 and V6 units, Jaguar has now gone down a different route with F-Type by giving it a smaller and more frugal unit.
As fuel efficiency and lower emissions on sportier models becomes more important, could this move by Jaguar be the right one, and will the four-cylinder option maintain the excitement of its more raucous siblings? We take a look…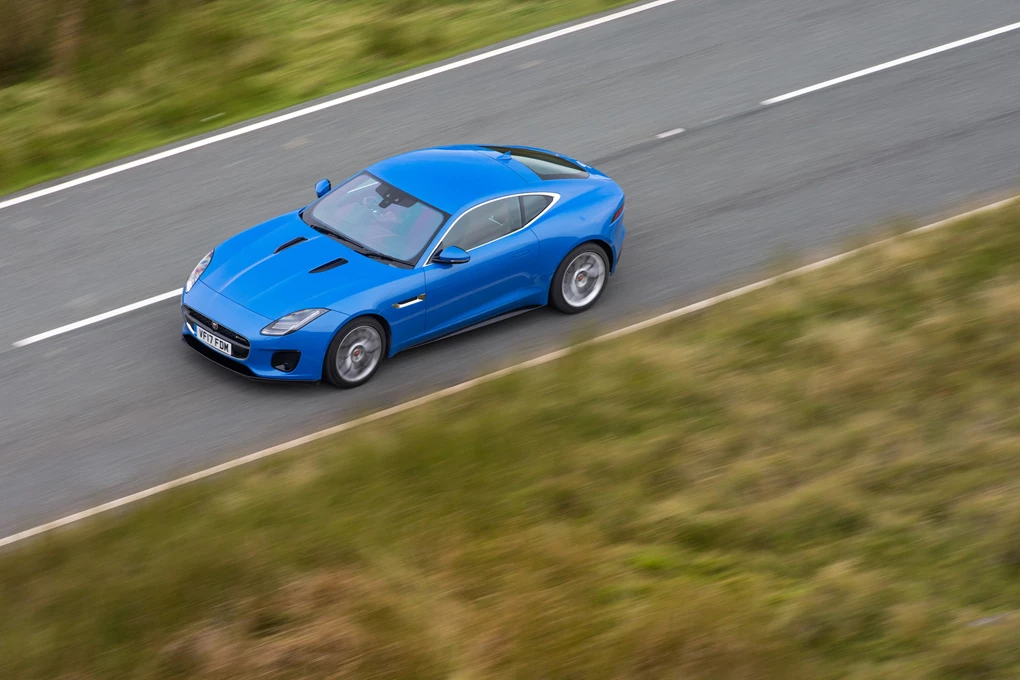 Performance
The major change for the F-Type here is the power unit under the bonnet, and the 2.0-litre four-cylinder turbocharged engine manages to develop 295bhp and 400Nm of torque – quite impressive from a relatively small block. Where this has a marked advantage over larger engines is its economy, as Jaguar claims it can achieve 39.2mpg and 163g/km CO2, which is considerably better than most other sports cars.
Paired to an eight-speed automatic transmission and rear-wheel drive, this F-Type can get from 0-60mph in 5.5 seconds and reach a top speed of 155mph – not bad for a four-cylinder turbo. Despite not being the full fat V8, you'll still get a pleasing engine note thanks to Jaguar specifically tuning the unit.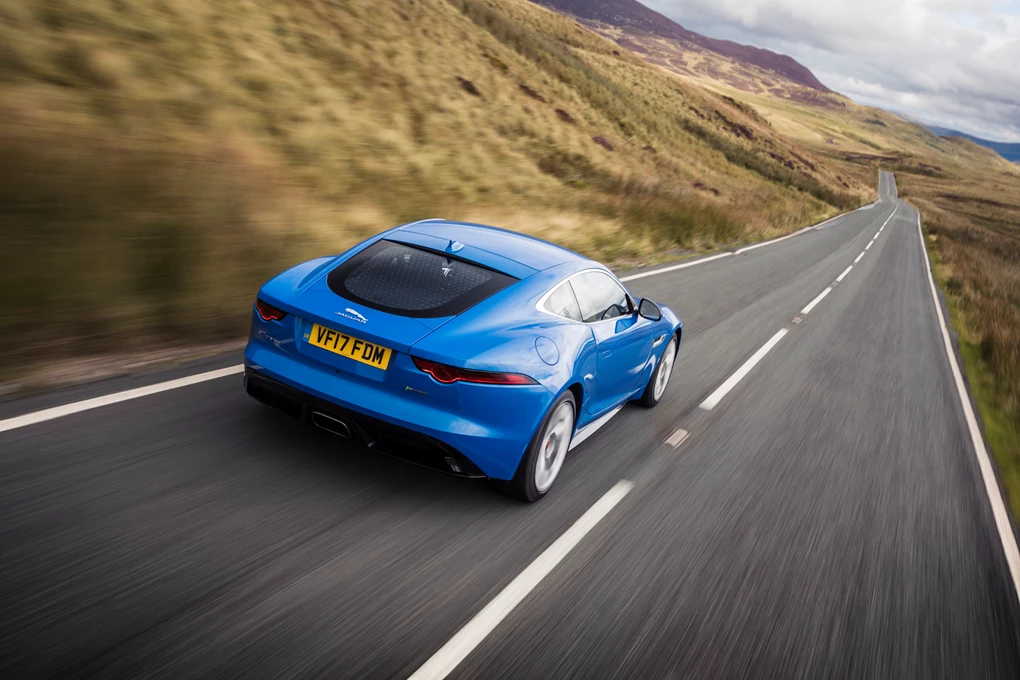 Ride & Handling
One major difference you'll find between the higher-capacity models and the four-cylinder is how it feels. With the 52kg weight reduction over the equivalent V6 vehicle, the F-Type Four-Cylinder feels sharper and more sprightly – with the turn-in feeling very good as well. With next to no turbo lag and plenty of torque, cruising in this is no bother – while getting up to speed won't be difficult either.
Jaguar has also adapted the suspension to suit the lower kerb weight, meaning this F-Type maintains the stability at higher speeds and through corners – with there being no compromise on ride comfort either.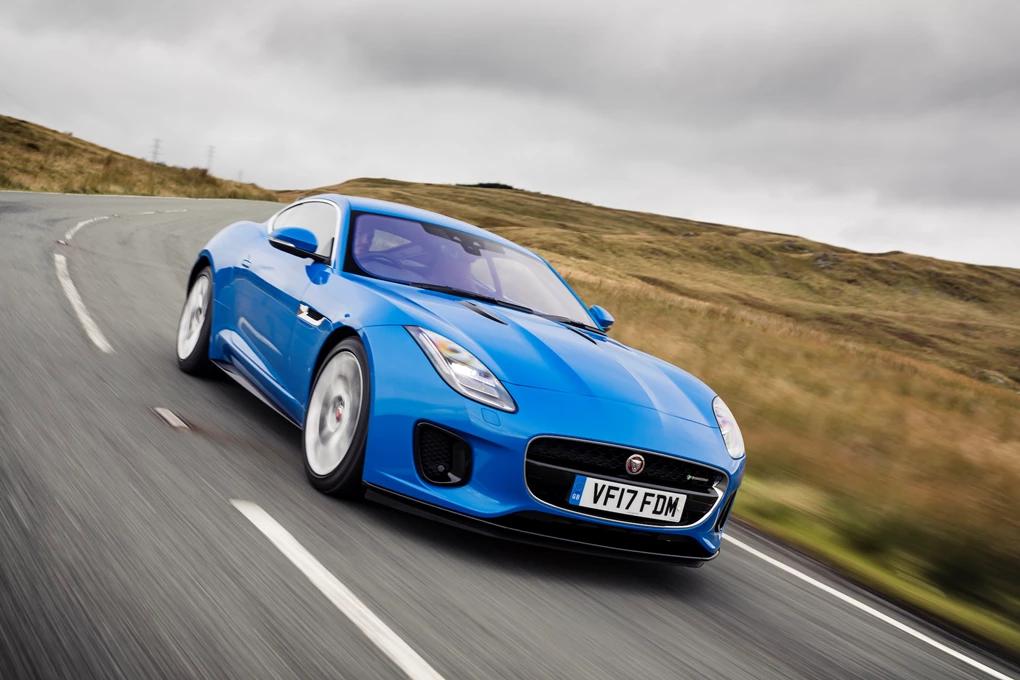 Interior & Equipment
The cockpit of this F-Type is like any other, and that means you get a driver-focused experience so you can concentrate on the road ahead. With slim sports seats and an easy-to-navigate cabin, the F-Type is a nice place to be – although a few cheap plastics will be found further down.
The F-Type Four-Cylinder is available in two trims, and from the standard specification it comes with a 10-inch touchscreen infotainment setup, Apple CarPlay and Android Auto, a leather steering wheel with silver gearshift paddles, climate control, Bluetooth, a Meridian sound system and satellite navigation.
For the higher R-Dynamic option, Jaguar fits 19-inch alloy wheels, silver brake callipers, LED headlights with daytime running lights, an active sports exhaust and an open differential with torque vectoring.
Safety systems fitted include emergency braking, lane keep assist, driver condition monitor, traffic sign recognition with adaptive speed limiter and parking sensors at the front and rear.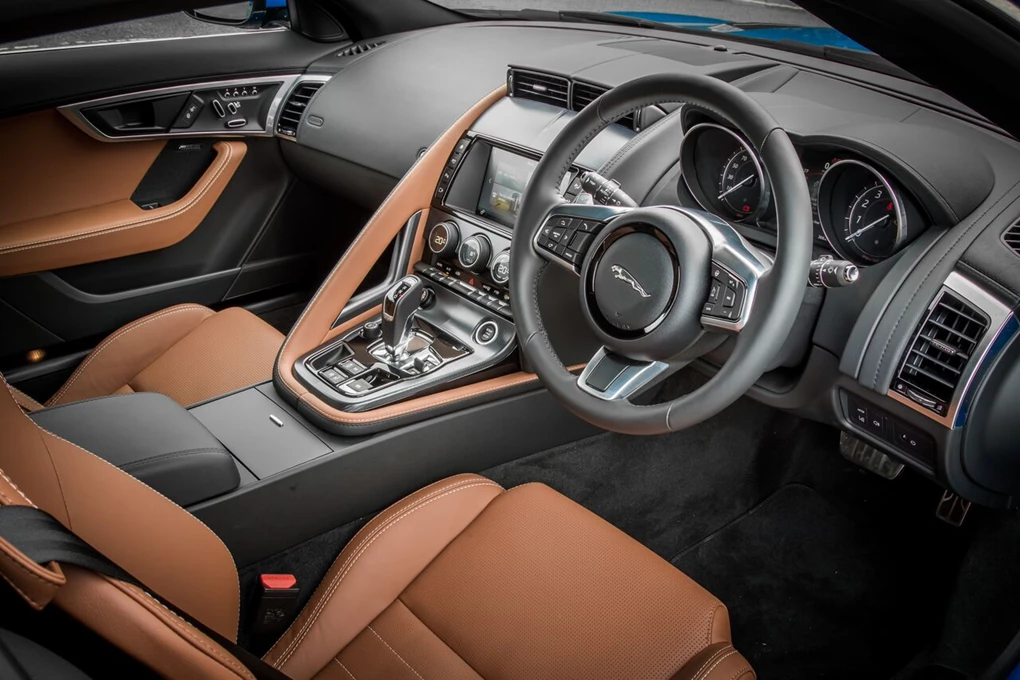 Cost
As the entry level F-Type, the four-cylinder model starts from £51,210 – while the R-Dynamic version costs £3,700 more at £54,910. That's £3,000 less than the comparative V6 and considerably less than the V8 option – although that engine is used in the R and SVR top-end models only.
With the smaller engine, you can expect much lower running costs and the aforementioned economy and emissions figures are much lower than the rest of the F-Type line-up.
See Available F-Type deals
Verdict
Even though purists may argue that putting a four-cylinder engine in a Jaguar sports car isn't right at all, you will be pleasantly surprised to hear that it definitely has its own merits and is genuinely as good a car to drive as its more ferocious siblings. There may not be as much theatre as in the V8 or V6, but you will be more than happy in the four-cylinder thanks to lower running costs and a sporty noise. Although it may not be the most traditional option, it is certainly worth looking at.