Introduction
After replacing the S-Type back in 2007, the XF took over the mantle as a credible rival to the BMW 5 Series, Audi A6 and Mercedes E-Class.
2015 saw the second generation of the XF come to the fore, with the mid-sized saloon featuring a more angular and modern design – as well as a series of new tech features.
As well as the saloon, Jaguar offers the XF in a Sportbrake guise – which offers more space and practicality, as well as – arguably – a more stylish package.
But here we get behind the wheel of the saloon. Can it match up to some of its fiercest rivals on the market?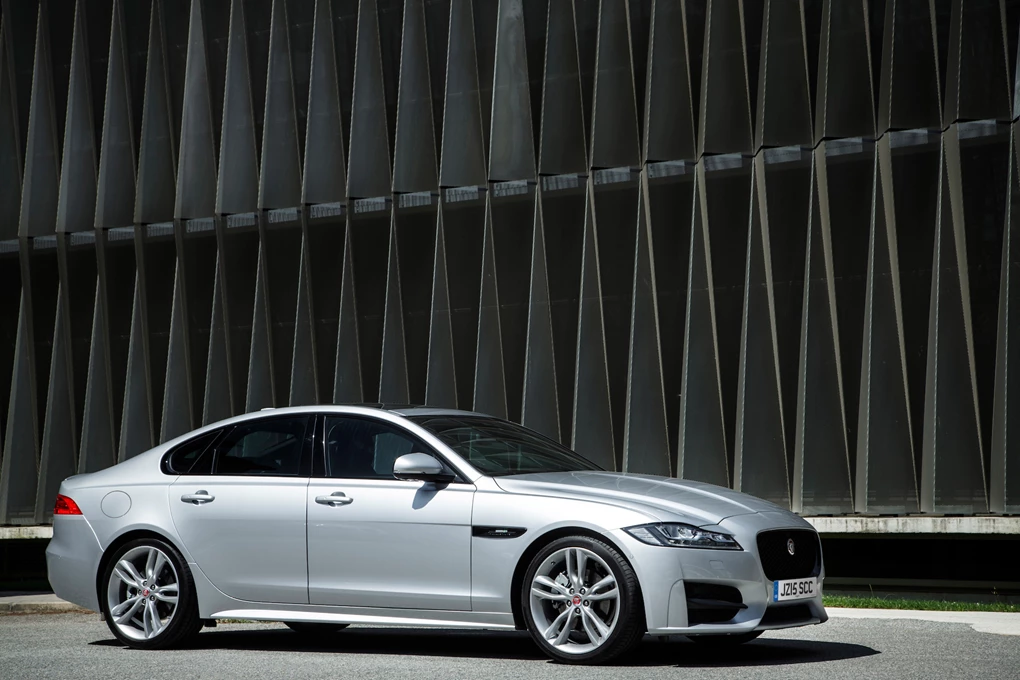 Performance
With six engine options – derived from three units – customers have plenty of power options. Four diesel selections are available and the one we got behind the wheel of was the base level 2.0-litre Ingenium 161bhp option. It may not be the most potent unit in the world, but alongside the 380Nm of torque it means that it has plenty of pull when needed and can get you up to speed without any problems.
With this unit, it can go from 0-60mph in 8.5 seconds and reach a top speed of 132mph – with the power directed to the rear wheels via an eight-speed automatic transmission. For the most ferocious package for the standard XF, customers can choose the 3.0-litre V6 diesel that develops 296bhp and can get the XF from 0-60mph in six seconds flat – before reaching a top speed of 155mph.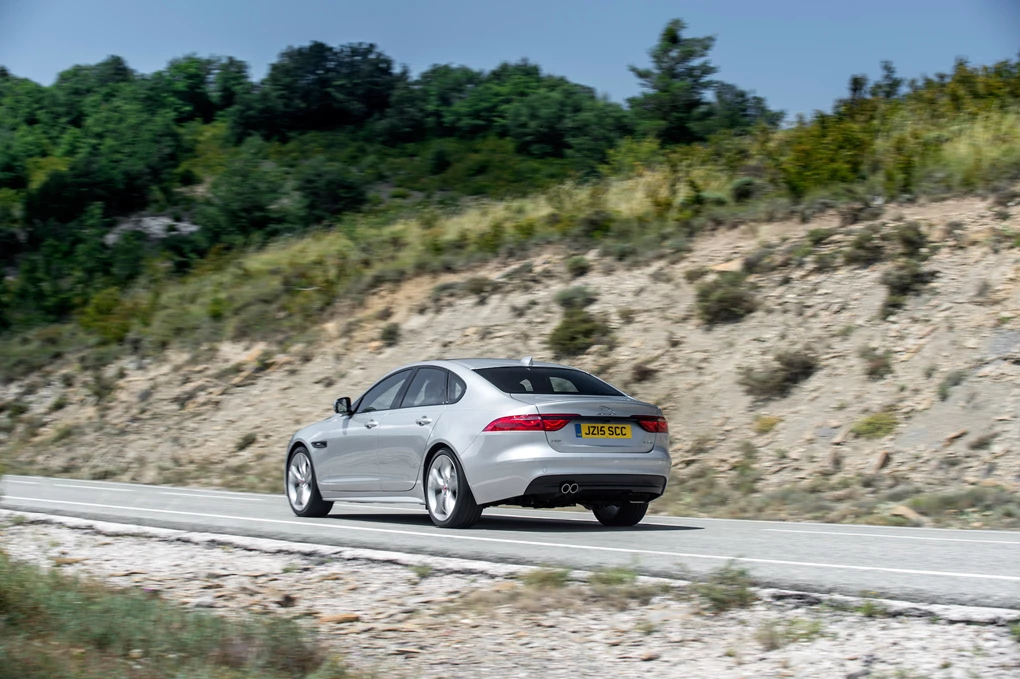 Ride & Handling
Jaguar is well-known for producing cars that are dynamically adept and composed, and the XF continues that tradition. With either the standard or adaptive suspension on board, the saloon feels well-balanced and has plenty of grip to offer – meaning you can attack a series of corners and feel confident of coming out the other side without any issues.
Even on larger wheels, like the 20-inch alloys that were fitted to our test car, the XF feels comfortable and soaks up the bumps and ruts in the road you'll find on British roads. With the Jaguar heritage comes sporty dynamics, and the XF is fitted with torque vectoring, intelligent driveline dynamics and all-wheel drive to ensure that it can handle all conditions and roads.
See Available Jaguar XF Deals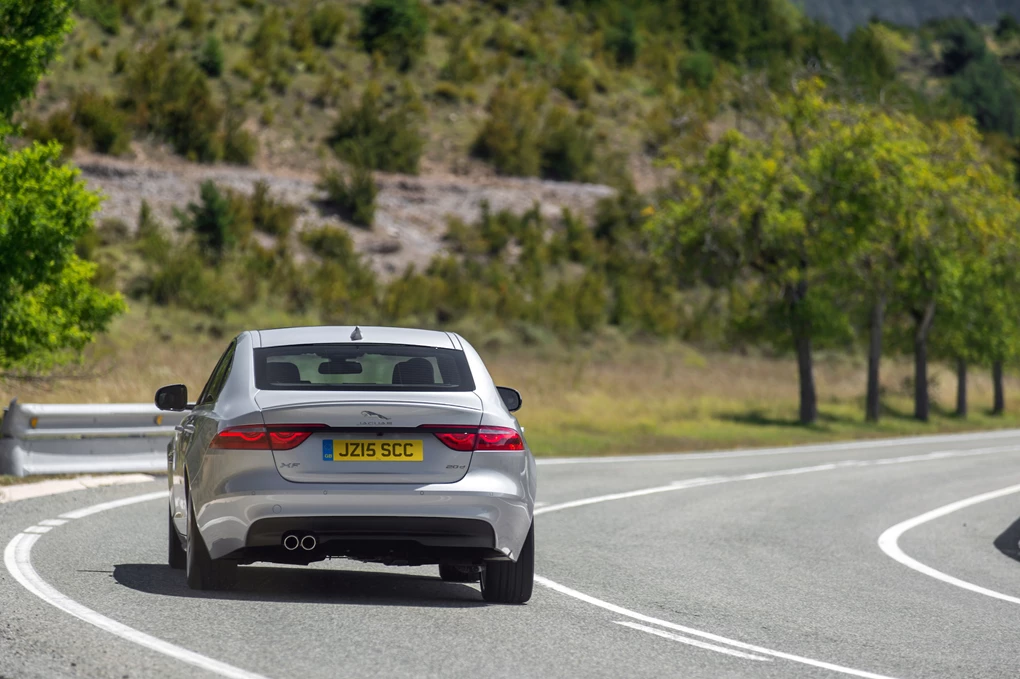 Interior & Equipment
Despite looking largely similar to the XE and XJ, the XF looks well-proportioned and very handsome indeed. Under that smart-looking exterior, there is a decent amount of passenger and storage space – with rear seating offering good head and legroom for taller patrons. The 540-litre boot offers a wide opening to chuck your bags in, and if you need extra space you can fold the rear seats down to provide a bit of extra space.
In terms of trim offerings, Jaguar splits them into two branches – Luxury and Sport – with the Prestige spec from the Luxury line-up considered the entry level trim. On the Prestige model, customers will find 17-inch alloys, LED daytime running lights, a leather steering wheel, a 10-inch touchscreen infotainment system, Wi-Fi hotspot and a 180kW sound system.
On higher spec models, such as the Portfolio, R-Sport and S versions, customers will find 18-inch alloy wheels, leather upholstery, rear-view camera and sporty body kits for the R-Sport and S models – both of which reside in the Sport trim family.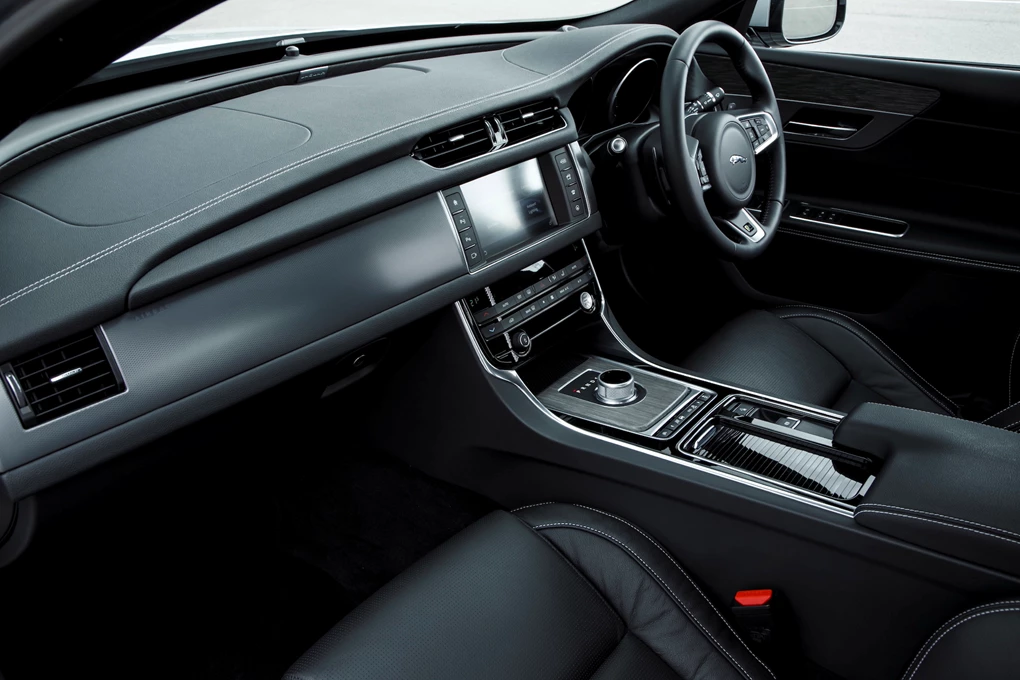 Cost
To be an attractive proposition compared to its closest rivals, the XF starts from £33,835 – which is roughly £3,000 less than the BMW 5 Series, Mercedes E-Class and Audi A6, but the Jaguar is a bit older than those three.
With the base 2.0-litre diesel installed, the XF can return 70.6mpg and 104g/km CO2, which is impressive for a mid-sized saloon and offers drivers great running costs.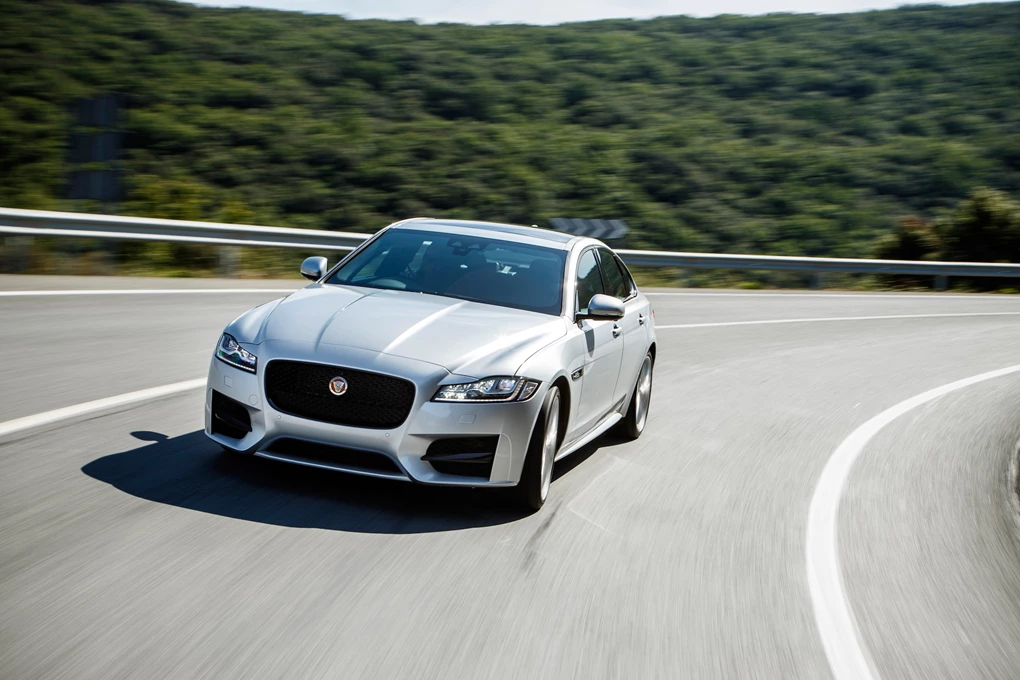 Verdict
As well as being a handsome saloon option, the Jaguar XF offers mid-sized saloon customers with a credible alternative to the German monopoly from BMW, Audi and Mercedes. It comes with a lot of space for passengers and storage, excellent driving dynamics and lots of kit from the base level. Teamed with that package is a series of smooth engines that are excellent when cruising – especially in terms of efficiency.