Introduction
Mazda loves a special edition – particularly for its MX-5 roadster. Each of its four generations have been littered with limited edition models (some more desirable than others) and there have been dozens of them over the years.
But this trend is showing no sign of slowing down, with its latest limited-run model being this – the MX-5 RF Sport Black.
Sport Black is a trim which Mazda has added to several of its other models recently – namely the 2 and 3 – and each one brings a host of interior and exterior tweaks, although very little in the way of performance enhancements.
Based on the hard-top RF model, the limited-run model comes painted in Eternal Blue Mica, and gains black exterior styling – such as a gloss black rear spoiler, wing mirror covers and alloy wheels. Inside, there's Sport Black scuff plates and floor mats, as well as a plaque in the centre console.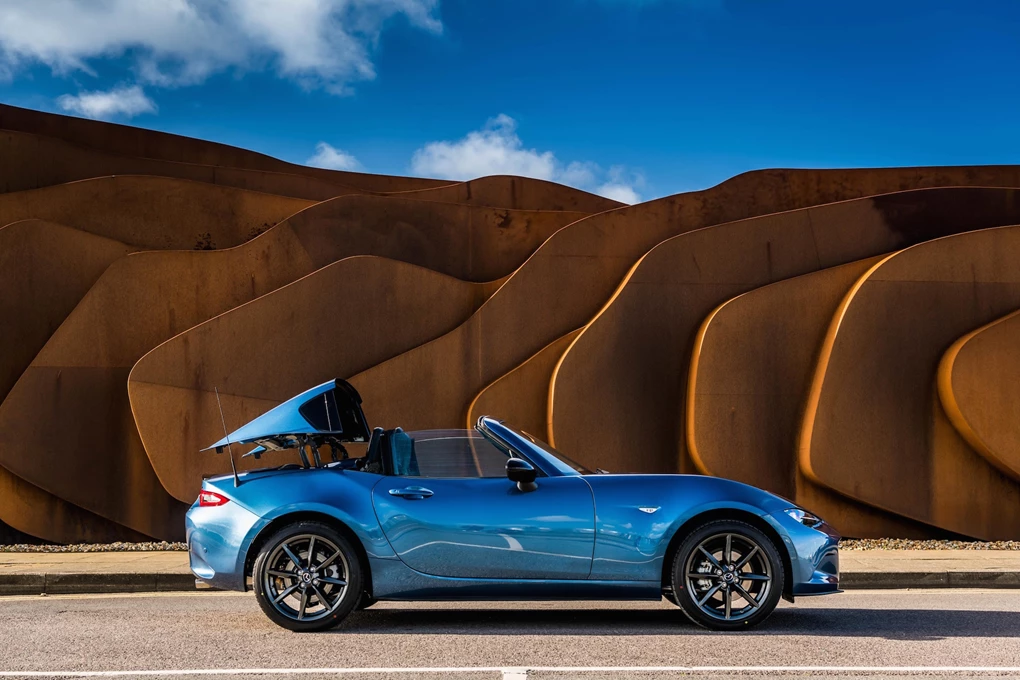 Performance
While Mazda offers a less-powerful 1.5-litre petrol engine on other MX-5 trim levels, the RF is offered solely with a 2.0-litre naturally aspirated four-cylinder unit.
It produces 158bhp and 200Nm of torque, and allows for a 0-60mph sprint time of 7.2 seconds and a top speed of 134mph.
The engine is just as smooth and punchy as before, with an even power delivery and plenty of oomph for some B-road fun. The chassis could definitely handle more power, so it's a shame that doesn't offer an even fruitier option from the factory. That said, there are numerous tuning specialists that can help with this.
Ride and handling
The MX-5 is one of the best cars to drive, and the Sport Black remains true to that formula. While minor tweaks have taken place for the 2018 model, you'd be hard pressed to notice them unless you drove a pre-fettled car side-by-side.
It's huge fun on a back road, yet is fantastically usable and it is unsurprising to see that many MX-5 owners use their cars as daily drivers. The steering is perfectly weighted and its dinky dimensions make city driving and parking a breeze. Rear visibility is poor, though, particularly on the RF, as two rear buttresses significantly impede on your view.
Enquire Now on a new Mazda MX-5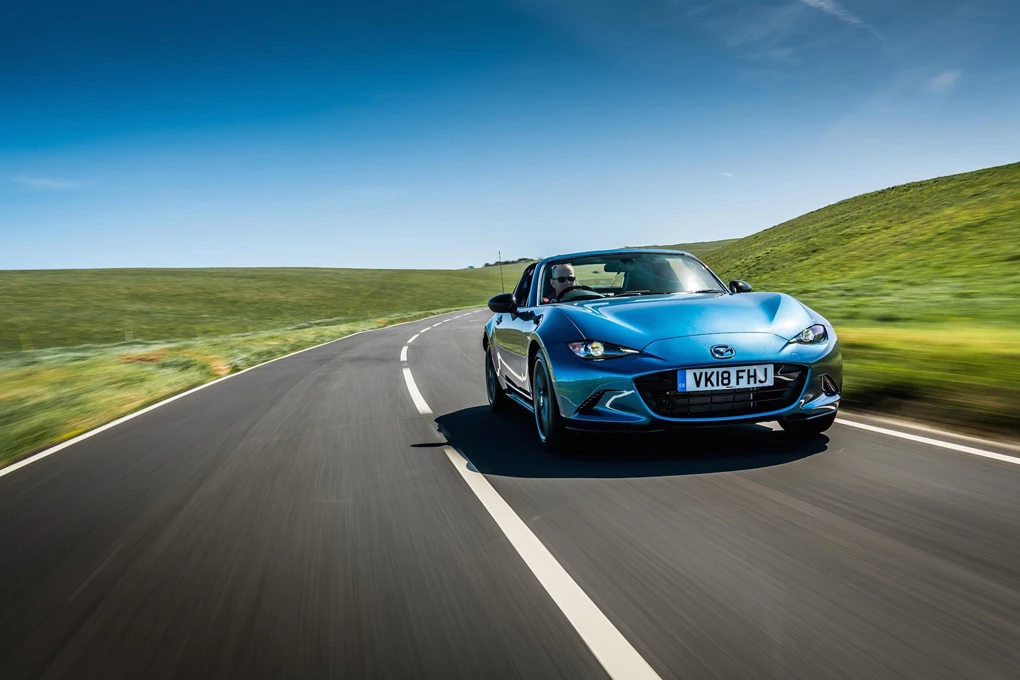 Interior and equipment
There's little in the way of variation on the inside, with Mazda's trademark interior being unchanged - the aforementioned scuff plates, floor mats and the plaque being the only differences you'll spot.
But why spoil a winning formula? The MX-5's driver-centric interior approach makes the cockpit a great place to be, and is finished in many premium-feel materials as well.
Practicality is somewhat flawed, though, as while there's enough room for two, carrying their luggage could be a struggle with its 130-litre boot.
The Sport Black trim is based on the already well-kitted-out SE-L Nav trim. This means you get LED headlights, a seven-inch touchscreen with Bluetooth, cruise control and keyless start as standard, with the limited edition adding extras such as leather seats, rain-sensing wipers and rear parking sensors at no additional cost.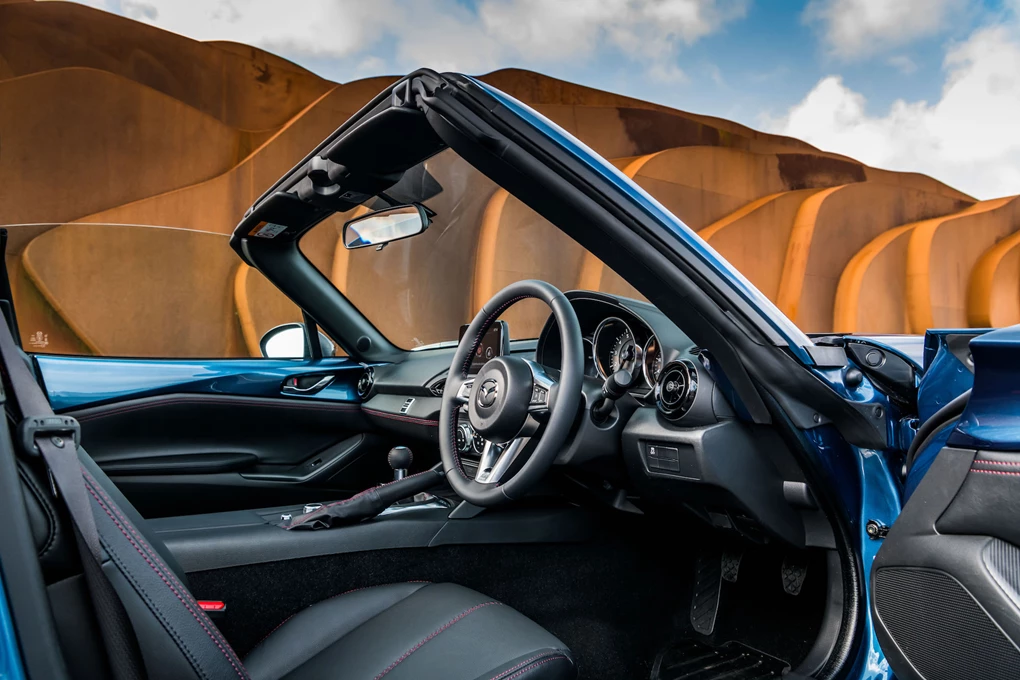 Cost
Prices for the standard MX-5 RF start from £22,495, while the RF Sport Black costs from £25,695.
It's not the bargain of the century, but if you like the look of the special edition, as well as its trim enhancements, it looks good value compared to pricier German rivals.
The RF Sport Black will also be one of the cheapest sports cars to run, and returns CO2 emissions of 161g/km and a claimed fuel economy figure of 40.9mpg. You'll realistically achieve figures quite close to those, too.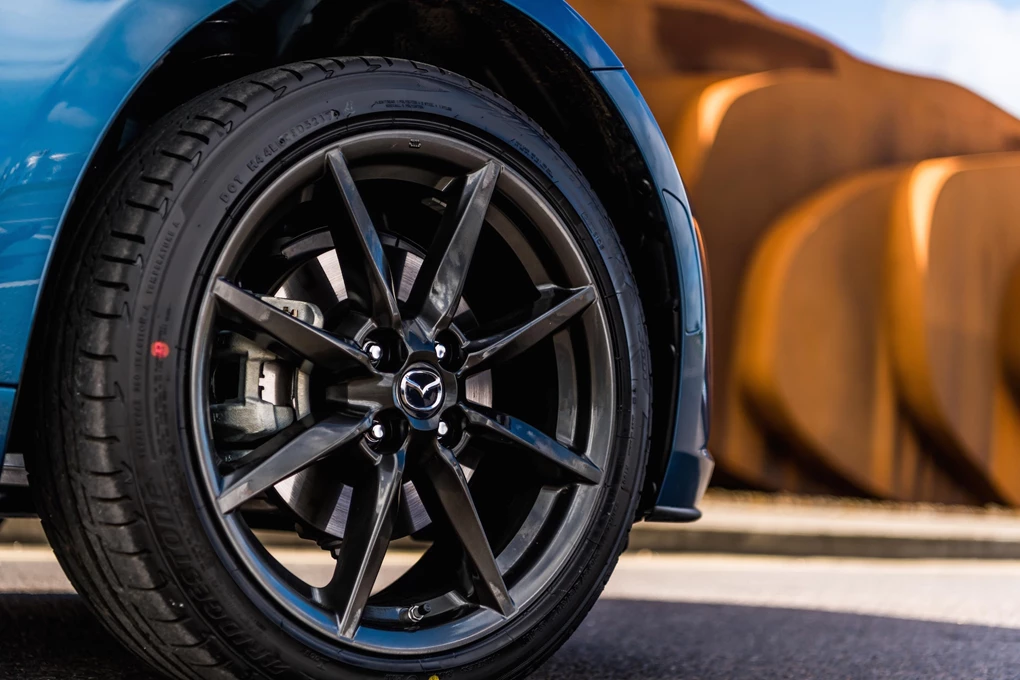 Verdict
The introduction of the RF Sport Black is a welcome addition to the MX-5 range. It remains true to the car's legendary philosophy of being small, nimble and fantastic to drive, but builds on this with new styling details and enhanced trim levels.
The new special edition is nothing revolutionary, and adds little of need over the SE-L Nav, but if you like the look of it and value that extra exclusivity, it makes for an appealing choice.
Test drive a new Mazda MX-5