The all-new A-Class has moved the premium German hatch even more upmarket, with its radical new tech and classy looks. Is it good enough to rule the premium hatchback class, though?
Introduction
In recent years, premium hatches have significantly grown in popularity as buyers are drawn in by attractive badges, affordable luxury and enticing finance offers.
The class has been dominated by the Audi A3, BMW 1 Series and Mercedes-Benz A-Class – the latter being the best-selling out of the three. Each manufacturer has regularly updated its models, but Mercedes-Benz is the first to unveil an all-new version, and is keen to have it at the top of the premium hatchback class.
It's still noticeably an A-Class – but has been freshened up with a new look in a similar fashion to the rest of the updated Mercedes-Benz range.
The biggest differences, though, are on the interior. The new infotainment system will be the car's biggest selling point, and is named MBUX (Mercedes-Benz User Experience). It's open to wild customisation, and adds voice control and also augmented reality features for the satellite navigation.
It also features a new infotainment system, dubbed MBUX (Mercedes-Benz User Experience). It's designed to offer a more immersive experience — bringing a new Mercedes-Benz Me voice assistant, tonnes of customisation options and some augmented reality features for satellite navigation.
Semi-autonomous driver modes and features are also now available.
Find great Mercedes-Benz A-Class deals
Performance
Underneath the bonnet of our A180d test car was a 1.5-litre four-cylinder diesel engine – which was the best-selling model on the old A-Class.
For the time being it's only available with a seven-speed dual-clutch automatic gearbox, although manual gearboxes will soon be available.
It produces 114bhp and 260Nm of torque, and is able to accelerate the A-Class from 0-60mph in 10.3 seconds and onto a top speed of 126mph.
While it's not the most powerful of units, it's brisk enough for everyday use and refined enough for long motorway jaunts, with little engine noise making its way into the cabin. While the gearbox does often hold onto gears too much when pulling away, it is otherwise faultless.
Ride and handling
The A-Class is a car that just gets on with the job in hand, rather than providing lots of thrills. While you can drive it enthusiastically, it is a far better suited to motorway cruising, where admittedly most will spend their time.
The A-Class's semi-autonomous drive modes come in the form of adaptive cruise control with road sign recognition. This makes motorway driving stress-free, if not all that comfortable because of the car's overly firm suspension.
Around town it also works well with a small turning circle and excellent visibility making it fantastic to manoeuvre.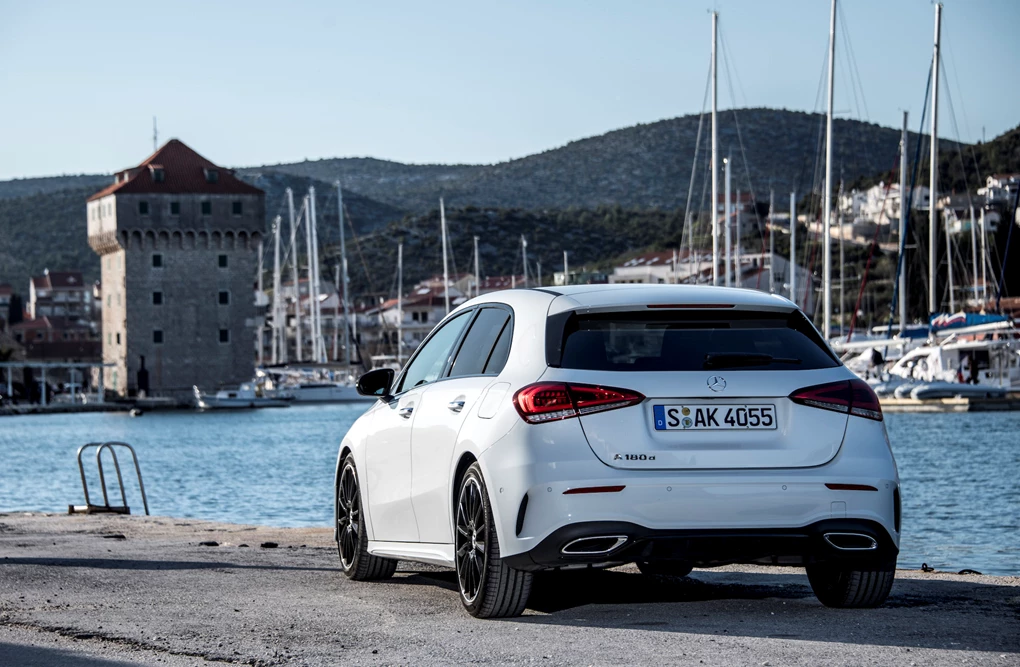 Interior and equipment
As you should expect with a car of this caliber, the A-Class is a luxurious and comfortable place to be inside. There's plenty of premium-feel materials throughout the cabin, such as synthetic leather upholstery, metal-effect trim pieces and a Nappa leather steering wheel. It not only feels luxurious and reassuringly premium, but also well put together, too.
Four adults should be easily able to sit in the car with comfort, although taller occupants may struggle for space in the rear a bit. The boot is also bigger than the last version, and now boasts 370 litres of space – 29 more than before.
The new MBUX is a real highlight of the new car. It's not only easy to use and intuitive, but the range of personalsation options are also fantastic.
Our test car came in AMG Line trim – what will be the car's best-selling grade. Standard equipment includes 18-inch alloy wheels, an AMG bodykit, LED headlights, keyless start and the MBUX infotainment system on a seven-inch screen.
Numerous equipment lines are also available.
Cost
As the Mercedes-Benz A-Class is a premium hatchback, it does mean you pay a premium price for all this luxury. Prices start at £25,800 for an A180d in SE trim, making it considerably more expensive than both the Audi A3 and BMW 1 Series.
For this extra price, though, you get an extremely well-equipped car, with tech that its other two German rivals simply can't match.  You do need to bear in mind the option packs, though, which can be quite costly .
As for running costs, the A180d tested here is the pick of the range. With a claimed fuel economy figure of 62.7mpg and CO2 emissions of 108g/km, it will make the most sense for buyers wanting to keep their fuel bills down while covering a lot of miles.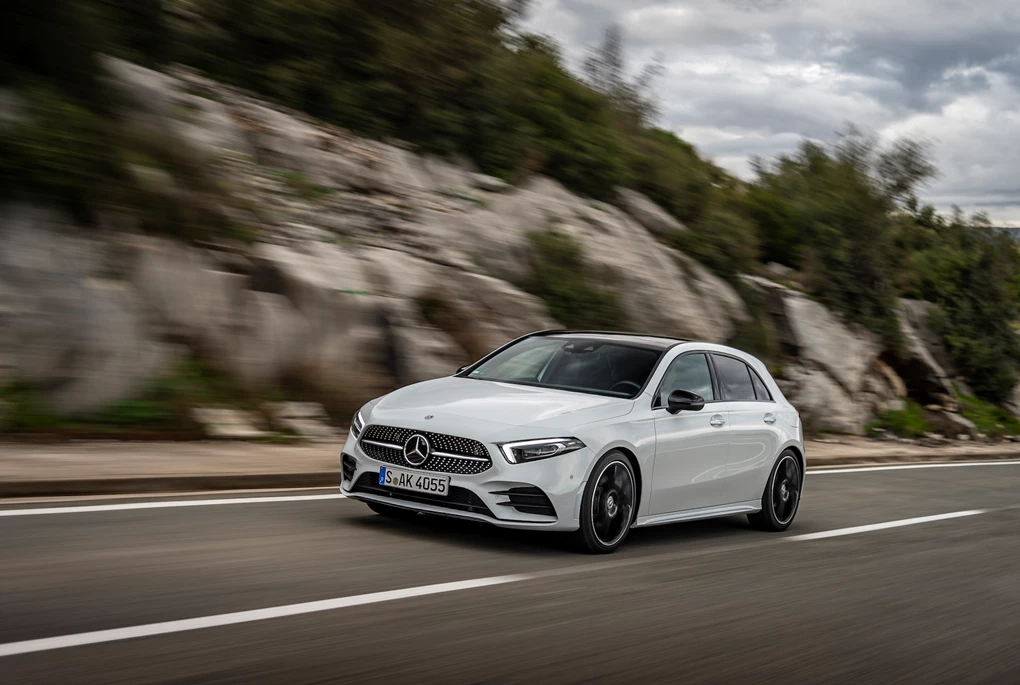 Verdict
The new Mercedes-Benz A-Class has set a benchmark for the next generation of premium hatchbacks, and one that may prove tough to crack for impending competitors.
The latest tech fitted to it is seriously impressive, especially when you consider that you can't even get some of it on cars twice the price.
But for those wanting a sleek, techy and luxurious hatchback, there probably isn't a better car out there at the moment.
Save money on a new Mercedes-Benz A Class today
The stats
Model: Mercedes-Benz A-Class
Base price: £25,800
Model (as tested): Mercedes-Benz A180d
Price (as tested): £27,620
Engine: 1.5-litre four-cylinder diesel
Power: 114bhp
Torque: 260Nm
Max speed: 126mph
0-60mph: 10.3 seconds
MPG: 62.7mpg
Emissions: 108g/km