Introduction
The premium pick-up market is one that doesn't really have many options, and why should it? It isn't the first sector you would think of when wanting a plush off-roader.
But Mercedes-Benz has decided to branch out into that segment with the introduction of the all-new X-Class.
Based on the Nissan Navara, it has all the workings of a dependable pick-up underneath but comes with the trimmings that you would expect from a Mercedes-Benz inside and out.
But can Mercedes get a foothold in yet another market with its first foray into pick-up trucks? We take a look…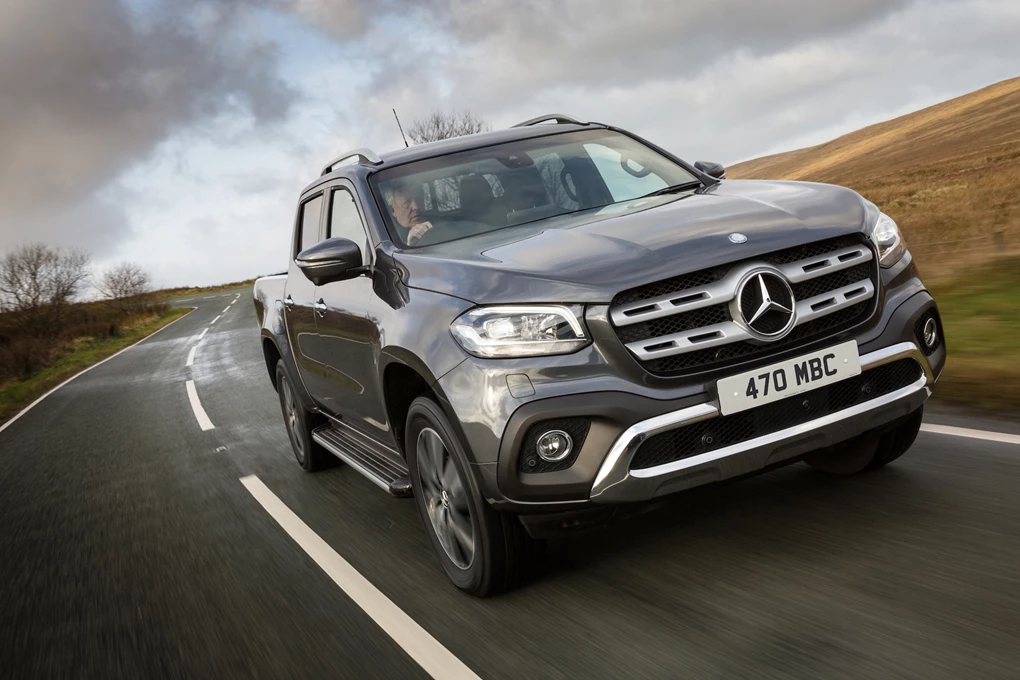 Performance
The X-Class is fitted with one of two units – a 2.3-litre four-cylinder diesel coming with two states of tune or a diesel 3.0-litre V6 that develops 255bhp. We tested the top power option from the 2.3-litre engine, which is a 188bhp unit labelled the 250 d. Also developing 450Nm of torque, this version of the X-Class can get from 0-60mph in 11.6 seconds and reach a top speed of 109mph.
Although it can take a considerable amount of effort to get up to speed, once you're there it feels well-balanced and nice to drive. But it's off-road where the X-Class excels, as the torque on offer allows you to get out of boggier patches and provides smooth power transfer through the 4Matic all-wheel drive system.
Ride & Handling
Most pick-up trucks can feel a bit unsettled when not hauling anything in the back, as that's what they're built to do. But Mercedes-Benz has managed to smooth the ride of the X-Class out, leading it to have the best ride in its segment. With the Navara chassis, Mercedes-Benz has fitted road-tuned suspension and given it a wider track which makes it more stable and smoother on tarmac than most other pick-ups.
You might also expect the X-Class to roll a lot with its higher body and raised ride height – but Mercedes-Benz has done a good job here too, and you don't feel like you're wallowing through the corners. The steering can be a bit slow at times, so take tighter turns with a bit more care.
See Available Mercedes-Benz deals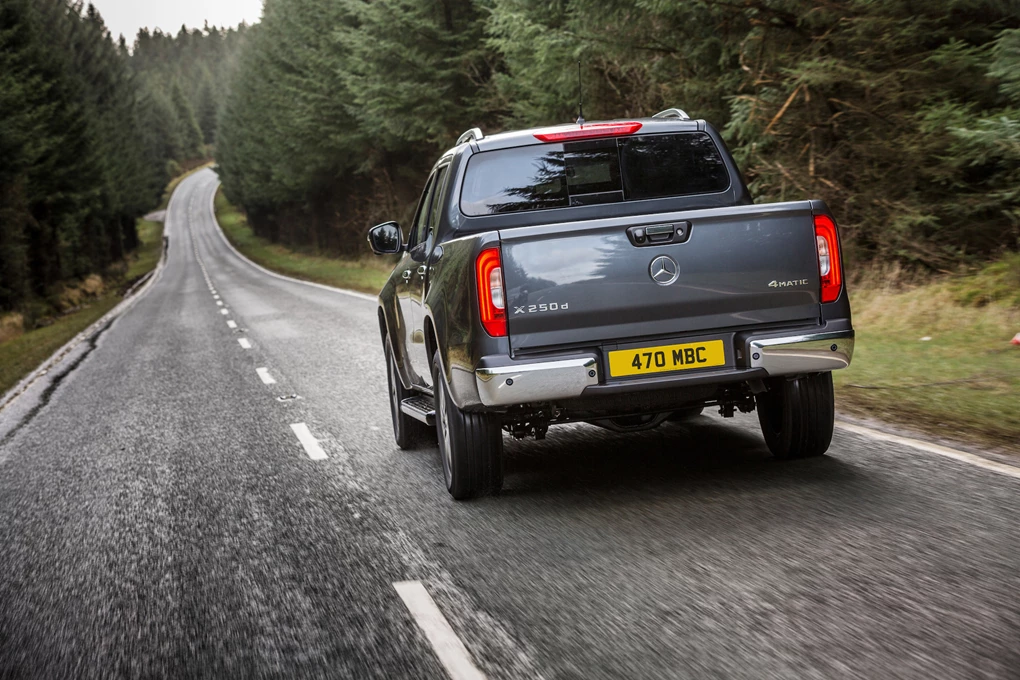 Interior & Equipment
Available in three specifications – Pure, Progressive and Power – the X-Class comes with a decent amount of equipment. But in the range-topping Power model we tried, Mercedes-Benz fits tasteful chrome detailing alongside body-coloured bumpers, 17-inch alloy wheels and LED lighting all-round.
The interior finish is definitely in the higher echelons of the pick-up world, as you'll find black artificial leather and microfiber upholstery on the seating, a seven-inch infotainment display, an eight-speaker sound system, aluminium trim, automatic climate control and chrome detailing. You will find some harsher plastics to make it better suited to wear and tear, and you could definitely say it is a bit removed from the rest of the models the German brand offers in terms of quality.
As all X-Class models come with a double-cab setup, there is seating in the back and it offers a good view out of the front from the back row. Passenger space is good, especially when you consider the large loading bed behind the rear window.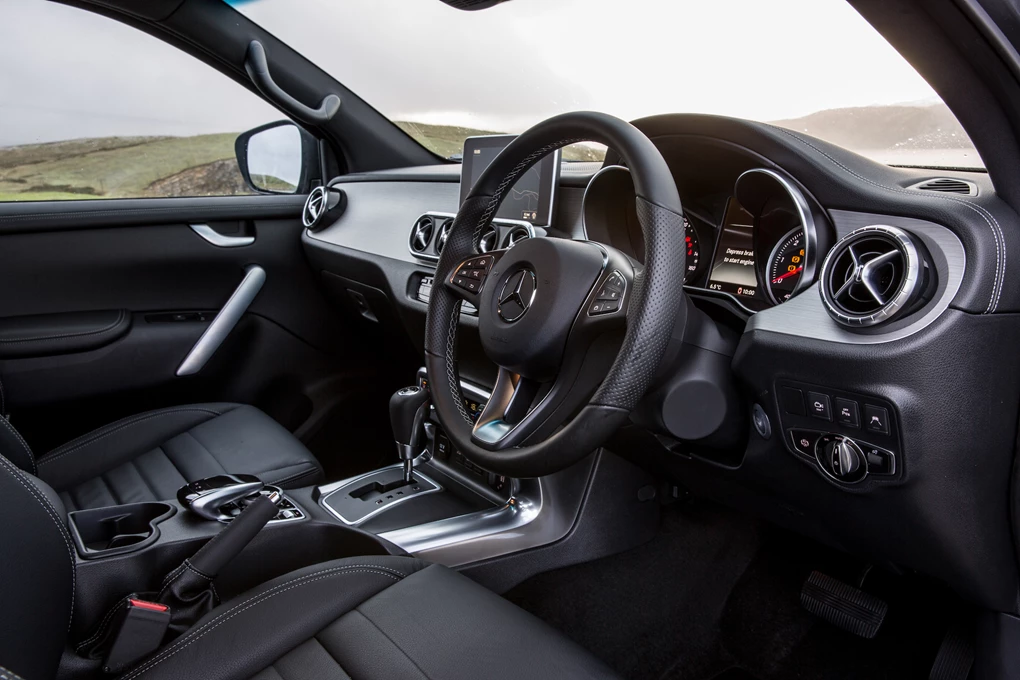 Cost
Basic list price for the X-Class starts from £27,310, which gets you the base spec Pure model with the 220 d diesel engine and six-speed manual. With VAT that increases to £34,157. The Power model we tested starts from £34,100 from its base price, while all additional costs raises the price to £42,305.
It shouldn't be expected that emissions and fuel efficiency will be that good from a hefty pick-up, but the X-Class's quoted returns are respectable with 35.8mpg and 207g/km CO2.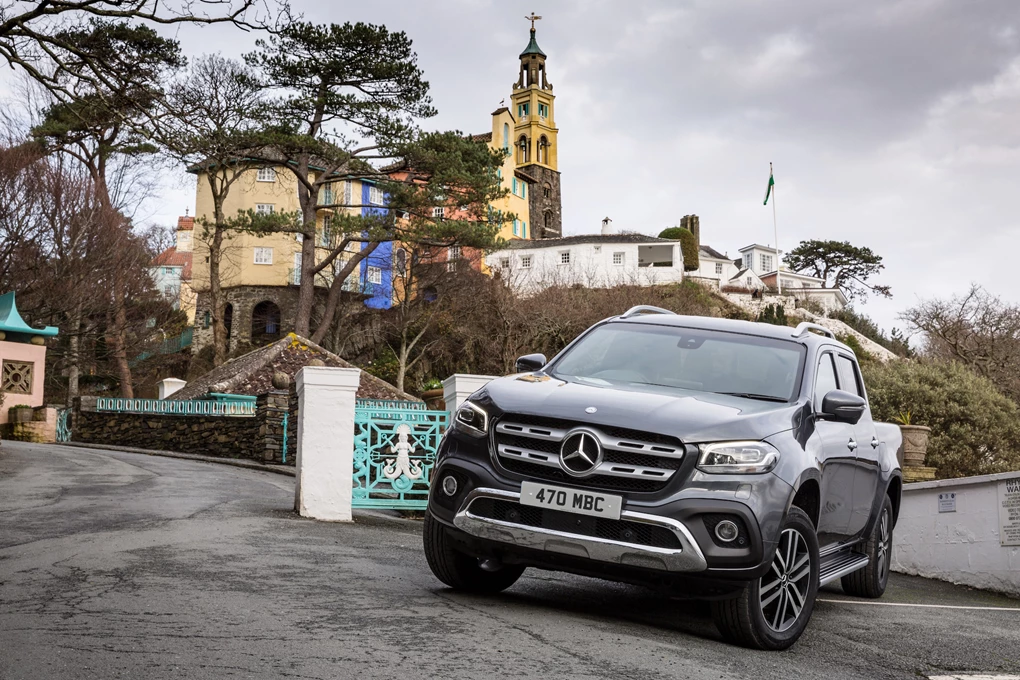 Verdict
When stacked up against other pick-up rivals, the X-Class is streets ahead in how it drives and makes much more sense on British roads than many of its competitors. The slightly more premium finish is also unique in the pick-up segment as no other brands really try to achieve that kind of result. Although families are more likely to go for an estate or SUV, the X-Class wouldn't be the worst option if they want the large load space in the back. It's easy to say that the X-Class is a distinctive prospect and one that may appeal to those looking for something comfortable and rugged at the same time.
See Available Mercedes-Benz deals