Save money on a new Toyota today
Introduction 
Created in 2015, Gazoo Racing is Toyota's motorsport arm to encompass its global racing activities, including entries in the Le Mans 24 Hours, World Rally Championship and VLN Endurance Series.
Now, it's even responsible for some high-performance versions of the Japanese manufacturer's vehicles and this is the first to make it to Europe — the Yaris GRMN (that stands for Gazoo Racing Meister of the Nurburgring, referring to the brand's success in VLN).
Based on the three-door Yaris hatchback, the ultra-limited GRMN takes inspiration from the car used by Gazoo in WRC and just 600 units will be produced — 400 for Europe and 200 for Japan. 
Take one look the Yaris GRMN and you instantly know you're dealing with a very different animal to the standard car, though. Easy-to-spot visual changes include the addition of more aggressive-looking bodywork, a centre-mounted exhaust, 17-inch BBS forged alloy wheels, a rear spoiler and an eye-catching decal set.
Underneath the still-recognisable body is also a totally different setup from anything else in the Yaris range. From the 1.8-litre supercharged engine, to the Torsen differential, modified suspension and larger brakes, there are a lot of new mechanical features for the nameplate.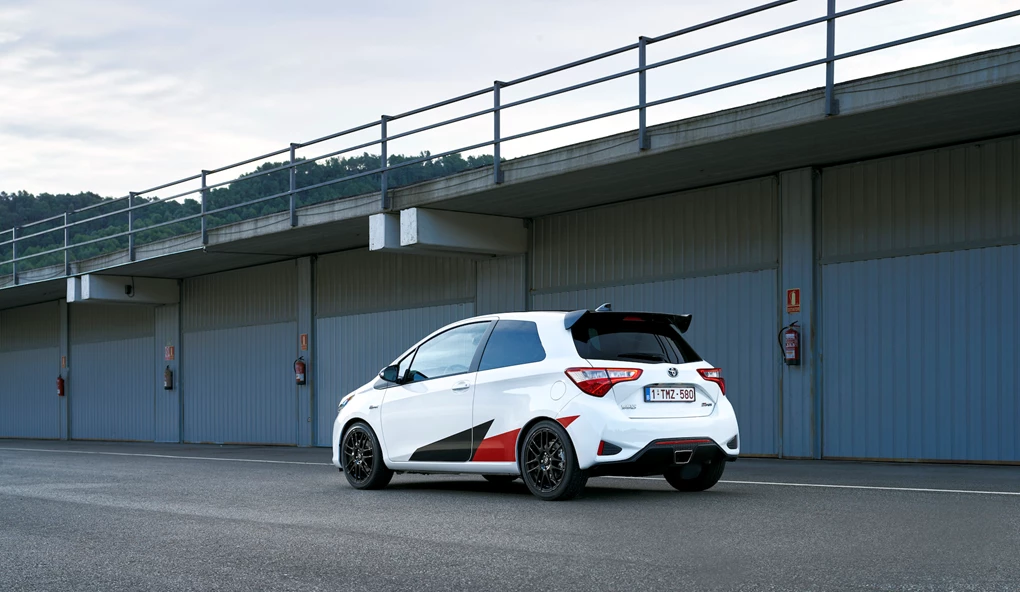 Performance
Powering the Yaris GRMN is a 1.8-litre supercharged, four-cylinder petrol engine — a modified version of the unit found in the current Lotus Elise. 
It develops 209bhp and 250Nm of torque, resulting in a 0-60mph time of 6.2 seconds and an electronically limited top speed of 143mph. This is paired to a six-speed manual gearbox.
Thanks to the supercharger, the engine delivers consistent performance across a wide power band, resulting in a smooth drive with fewer gear changes required than you might expect. Although short gearing lends itself well to performance driving, it does mean motorway speeds in sixth gear are done at quite high revs.
Ride & Handling
The Yaris GRMN's wild looks and raspy exhaust note don't quite match the driving experience entirely, but it's still an extremely capable and quick machine. 
Thanks to the addition of a Torsen differential and Sachs performance suspension, the front-wheel drive hatch remains well-balanced through corners and is actually pretty easy to drive fast, although the experience is a little let down by light steering under hard cornering. 
Despite its city car origins, this isn't a vehicle built for the town. Sure, it still has the space and visibility you would expect from a three-door hatch, but it's loud, harsh-riding and gulps fuel in no time.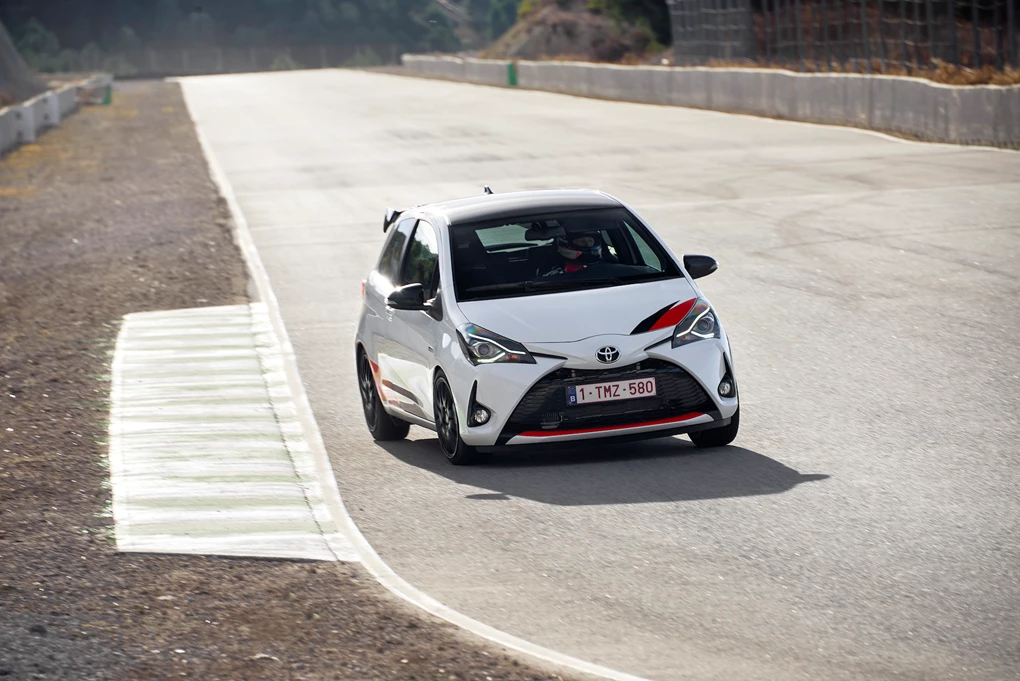 Interior & Equipment 
The interior of the car is something of a contrast to the exterior. It's mostly from the current Yaris range, albeit with a few changes, including the addition of Ultrasuede-finished bucket seats up front with Gazoo Racing badging and a steering wheel derived from the GT86 coupe.
This isn't exactly a bad thing, as it's well-built, but it does result in some scratchy plastics being present and may come across as dull to those hoping the inside the shouty exterior aesthetic. The driving position is a little awkward for taller drivers though — a problem carried over by the limitations of the base Yaris.
Standard equipment on GRMN models includes the bucket seats, an all-black interior with leather trim, an information display in the gauge cluster, aluminum sports pedals, a GR-badged starter button, dual-zone climate control, and an infotainment display taken from the current Yaris range.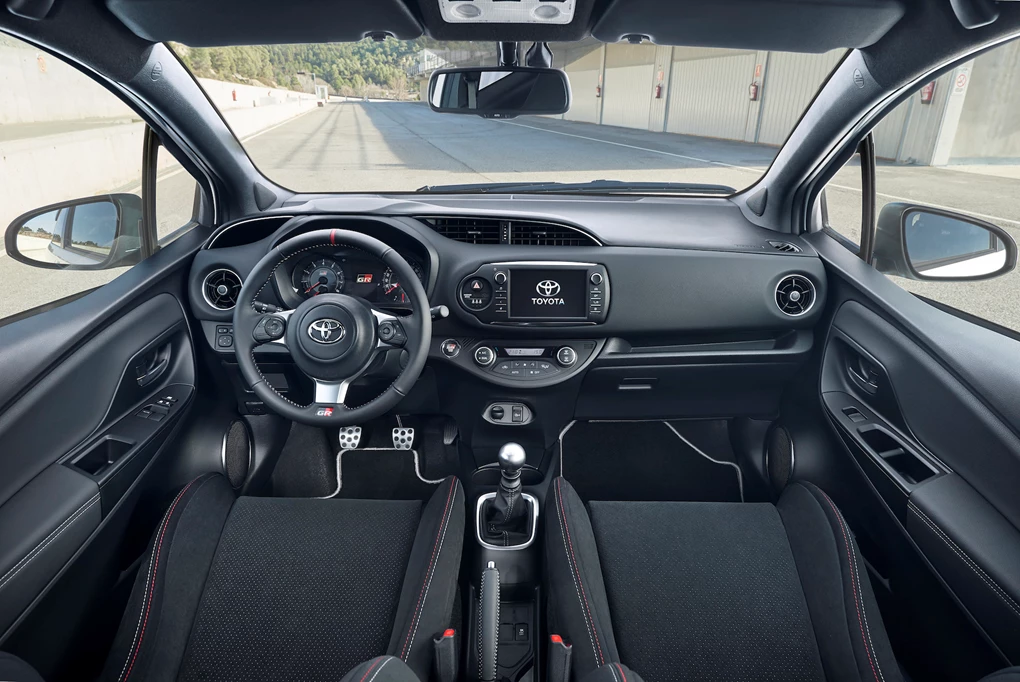 Cost
As a performance-focused car, most customers may not be looking at the list of added comfort extras, but at a price of £26,295, it's hard to justify the cost over similarly priced rivals like the Fiesta ST and Polo GTI, which also have performance figures to match the GRMN. 
As for efficiency, Toyota claims 37.7mpg on a combined cycle with emissions of 170g/km. For a performance car, that's a fair return.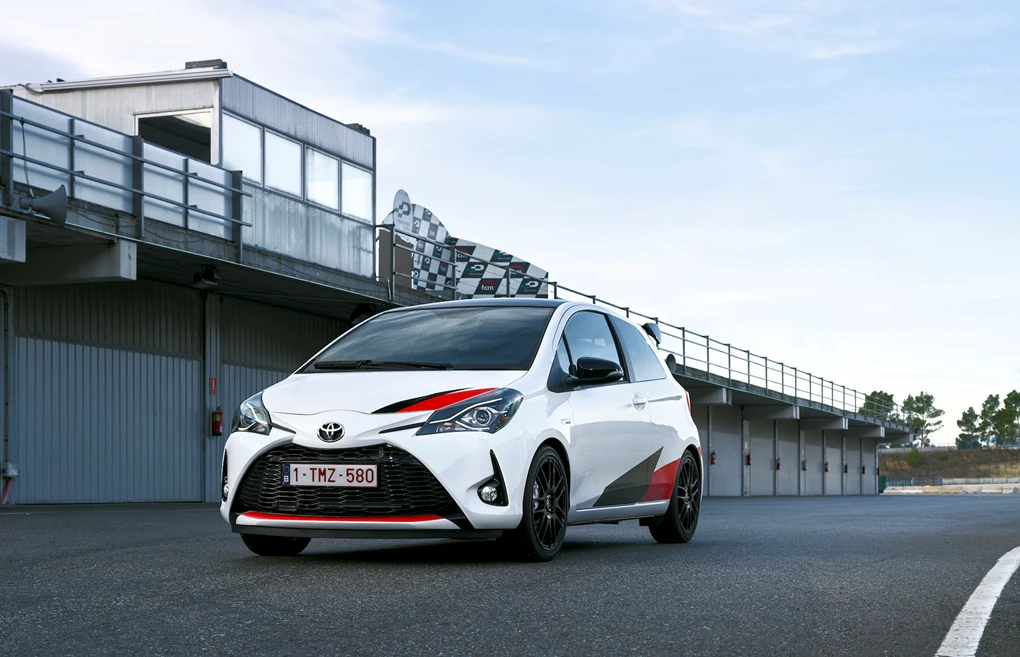 Verdict 
In its own right, the Yaris GRMN is a fantastic and very capable performance machine with an endless ability to put a smile on your face.
Compare it with rivals such as the Fiesta ST and Polo GTI though, and it's difficult to justify. Sure, it may beat them slightly on performance, but the extra cost alone would make it a hard sell in comparison — you're almost looking at Honda Civic Type R money. It doesn't offer the urban friendliness of those two, either.    
You'd have to seriously desire the GRMN over anything else to snub its rivals, but should you do that, you'll have one of the most capable machines to come from Toyota in a long time.