Introduction
When it comes to six-figure luxury convertible cars, there's no shortage of jaw-dropping choices. Mercedes has long set the benchmark with its S Class Coupe, while Aston Martin delivers with the head-turning beauty that is the Aston Martin DB11 Volante.
Well, now BMW wants in on the mix with this — the 8 Series Convertible. It's the drop-top version of the recently-introduced 8 Series, and is the first time the model has had a convertible variant — the original car from the '90s had a prototype in the works but it never came to production.
Has offering a soft-top given the 8 Series range a powerful weapon in its arsenal? Or will bringing the roof back cause a bit of a flop? We've been behind the wheel to find out…
Performance
We're in the 8 Series Convertible in its most powerful form currently on sale – at least until the M8 Competition hits showrooms. This is the M850i — powered by a potent 4.4-litre twin-turbocharged V8, producing an impressive 523bhp and 750Nm torque which is fired to all four wheels via an eight-speed automatic gearbox.
The result is 0-60mph in a lightning-quick 3.6 seconds — impressive for a car of this size and weight — while its top speed is electronically capped at 155mph.
Though the numbers alone are impressive, the true highlight of the engine is the way the 850i delivers its performance. It's a perfect blend of fire-breathing ferocity and buttery-smooth responsiveness. At a cruise it'll sit dormant, creating a comfortable and refined driving experience — but like a volcano, it sits ready to erupt. At full pelt, it's almost intoxicating.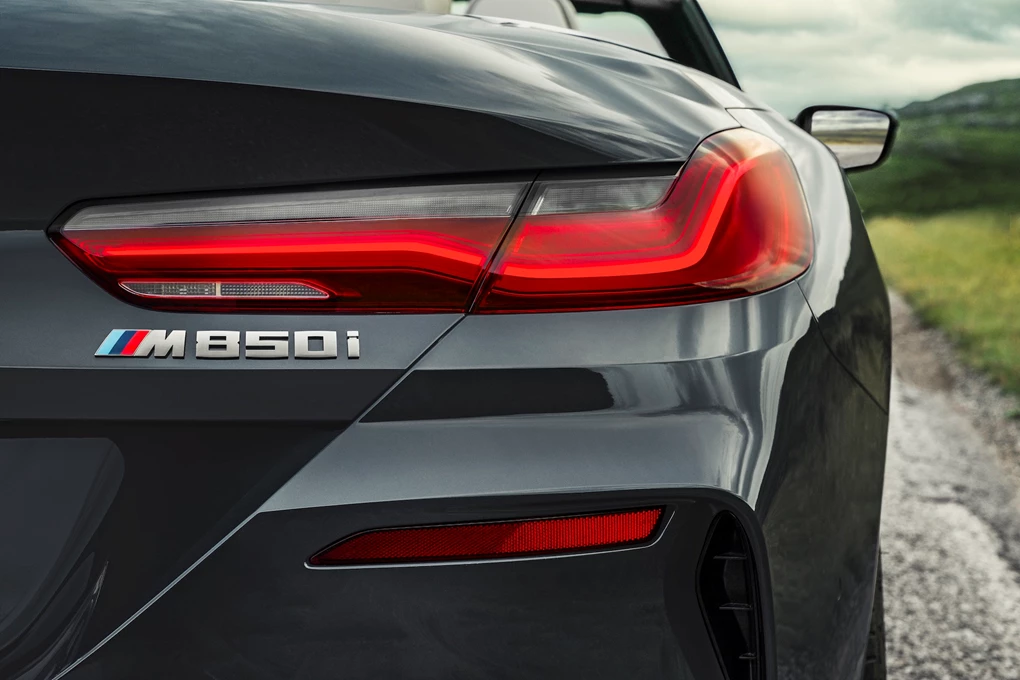 Ride & Handling
So, is the 8 Series Convertible a luxury barge or a proper sports car? Well, that's where things get a bit tricky. BMW will tell you this is more Lotus Exige than cruiseliner ship, but in reality it sits somewhere in between. Sure, when asked it will attack corners and it does well to hide its weight — but it's hard to get around sheer mass, and so the car proves to be a better grand tourer than race car.
That said, it does the GT side of things perfectly. With the roof down, V8 burbling away over long distances and driver surround by an array of space-age tech and luxurious materials, it's hard to think of a better car to be sat in.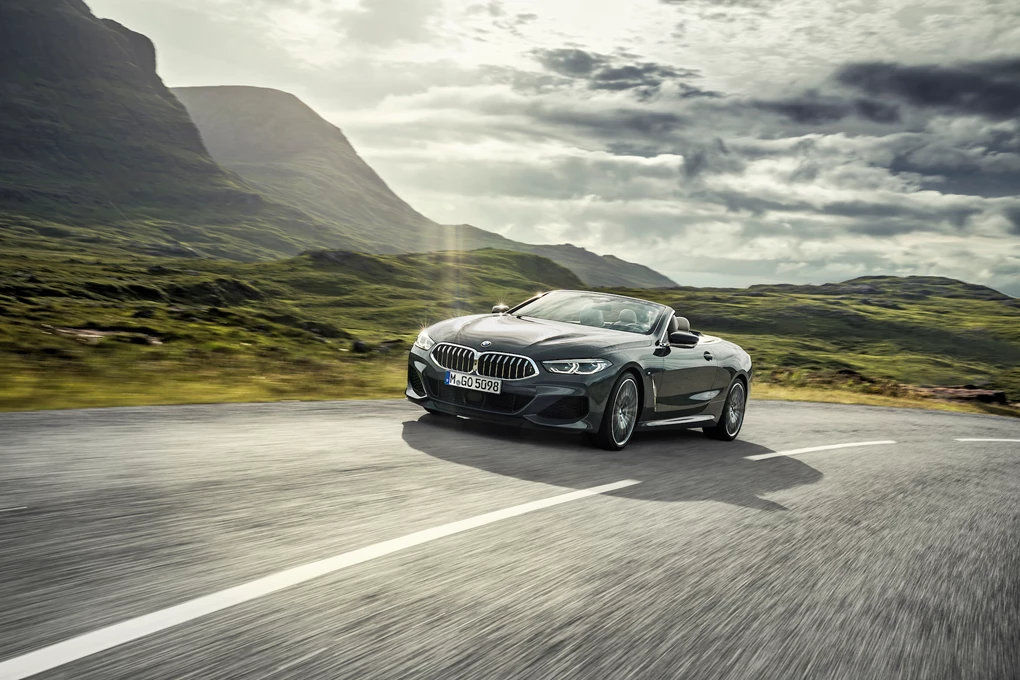 Interior & Equipment
Of course, being a six-figure grand tourer, you would expect an abundance of luxury and quality around you in the cabin — and that's certainly the case here. It's not quite up to Mercedes S Class standards in this department, but its slightly simpler approach works well.
Rear seats are present here, but they're not really useful for anything more than carrying shopping bags if we're honest — and they're rendered useless if you use the included wind deflector that reduces top-down blustering, which we'd recommend.
When it comes to visual equipment, the M850i features 20-inch alloy wheels, muscular bodywork additions and a sports exhaust system. As for interior luxuries, a leather steering wheel and velour floor mats are included, while BMW's assistance and connected packages make this a technological goldmine.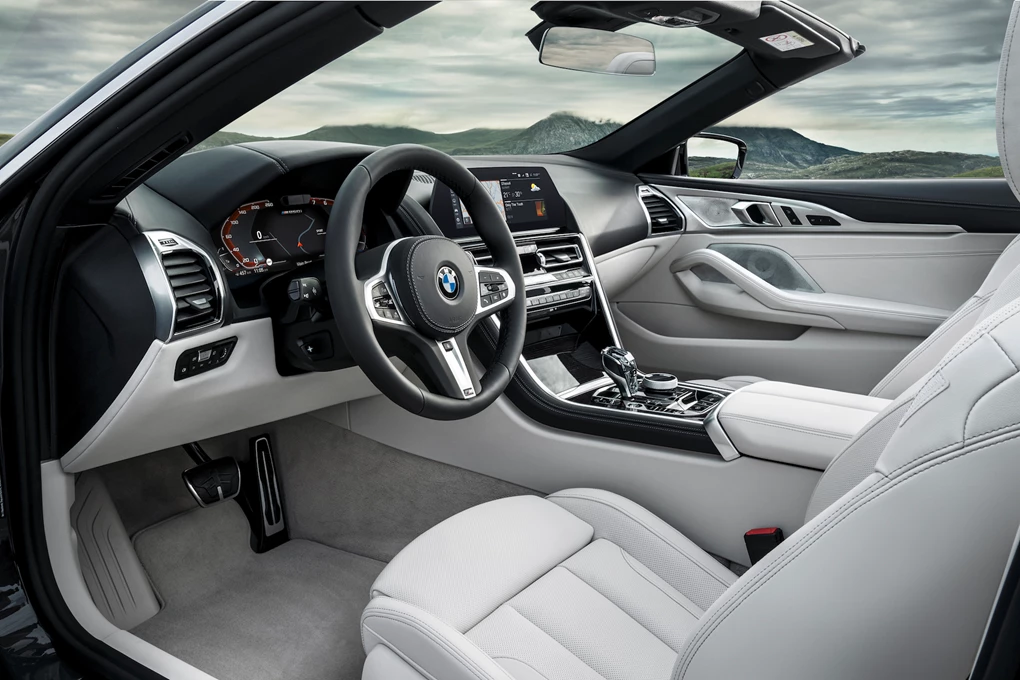 Cost
Pricing for the M850i starts at a fairly hefty £104,500 — but when you consider the performance and luxury on offer, it's an understandable ask.
As for running costs, with MPG claimed at 23.5 and CO2 of 229g/km, it's not going to be cheap to fuel or tax either. That said, we suspect buyers of such a car aren't too concerned with that…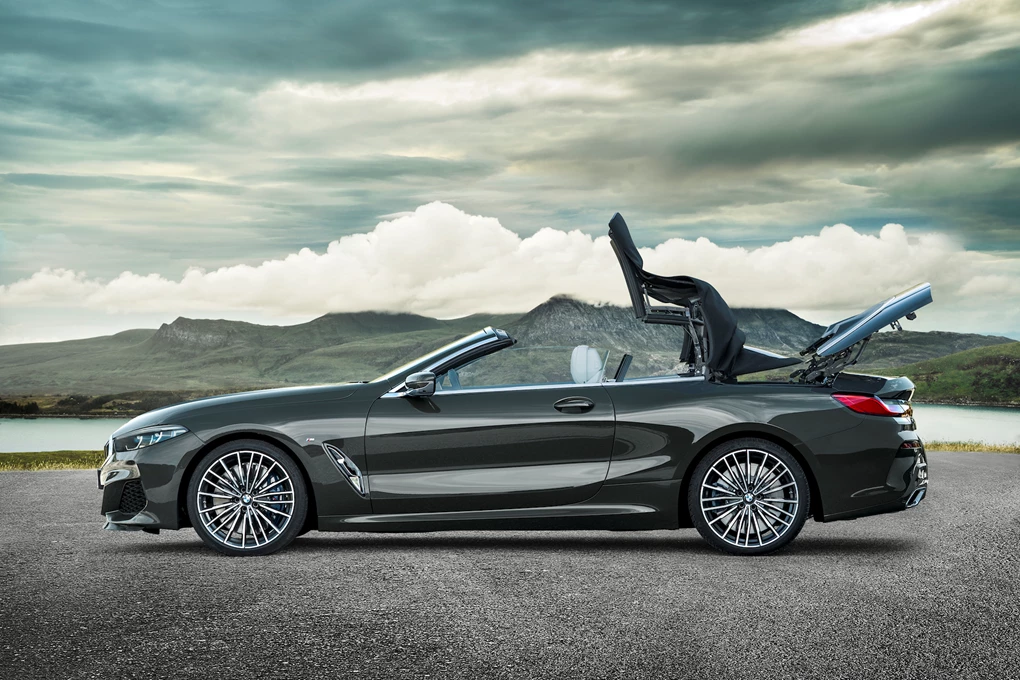 Verdict
The BMW M850i comes close to a perfect compromise between sports car and luxury grand tourer.
It doesn't quite offer the sheer elegance of the Mercedes S Class, nor the glamour of an Aston Martin DB11 Volante, but it definitely pushes both for theatre and driving enjoyment.
It's found a middle ground that we think will be a hit with buyers. Oh, and did we mention how good it sounds?