Introduction
While there's been lots of focus on electrified cars, there hasn't been a big emphasis on vans. While there are a number of small vans with electric offerings, there are few larger offerings.
Volkswagen is aiming to change that with the launch of its new e-Crafter – sticking with the firm's tried and tested electric naming strategy of sticking an 'e' in front of the model. It's aimed squarely at business users in town thanks to its limited range.
The latest Crafter went on sale in early 2017, although VW is insistent that the van was meant for an electrified powertrain from the start – rather than an afterthought.
Other than the electrified powertrain, there are few other differences to the diesel model it's based on.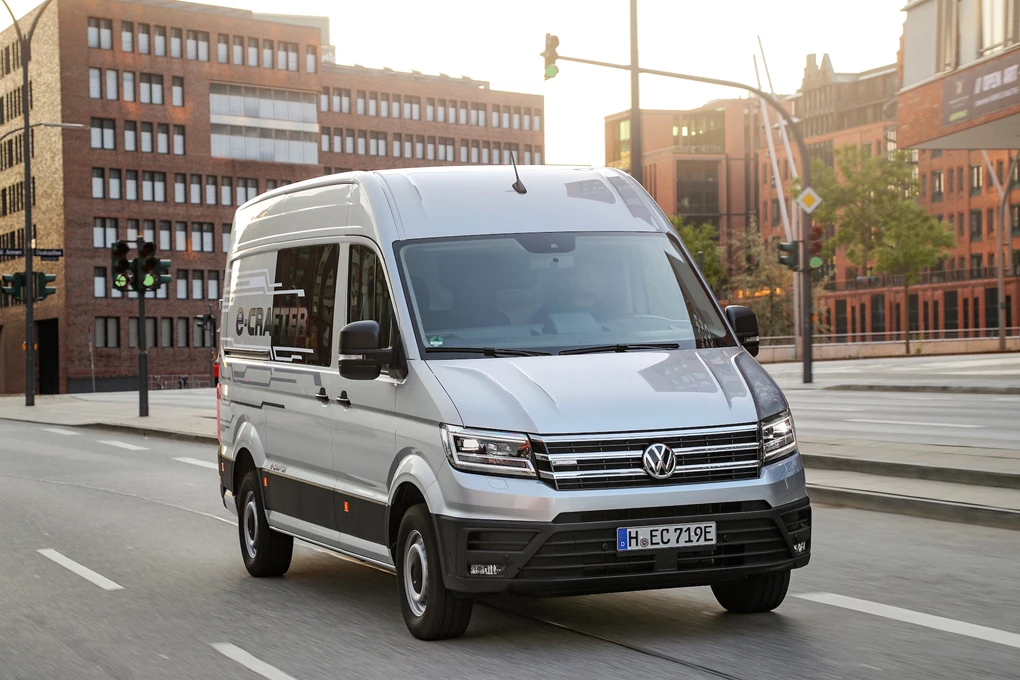 Performance
Powering the e-Crafter is an electric motor which has been taken from the e-Golf hatchback. It's front-wheel-drive, and develops 134bhp and 230Nm of torque. Its top speed has been limited to 56mph, so there's no 0-60mph time to worry about, and is therefore best in the city – where it was designed for.
It has a limited range of 107 miles on the NEDC cycle, although it comes as standard with fast charging capabilities.
The torque from the electric motor makes it feel reasonably nippy, and even with a medium-size load in the back, there's no limitation on performance.
Enquire Now on a New Volkswagen Van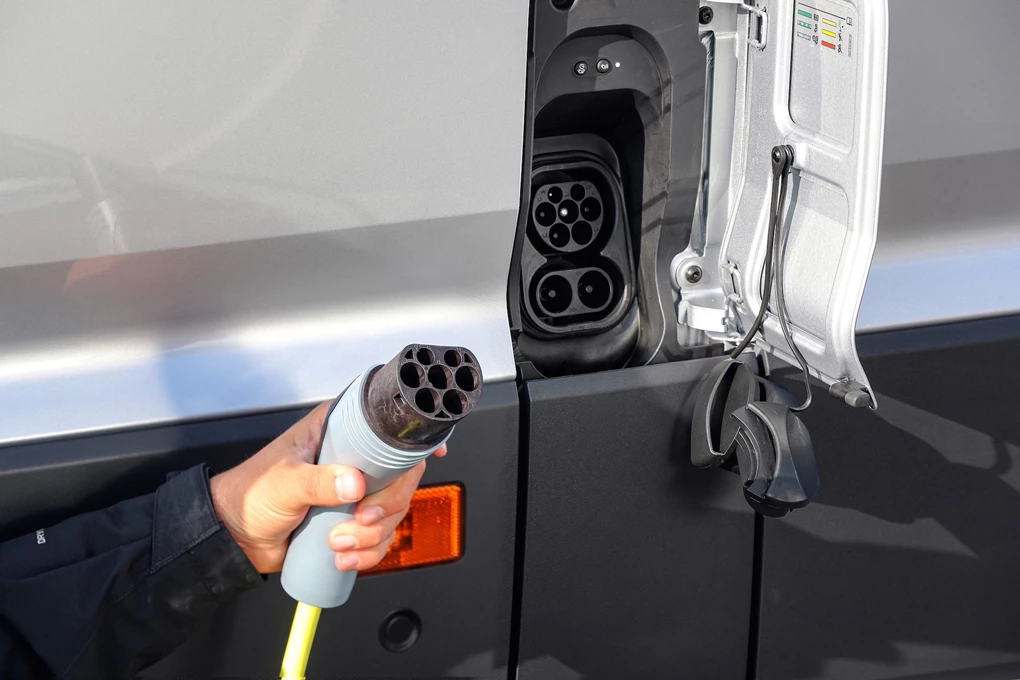 Ride and handling
All Volkswagen CVs have a habit of feeling very car-like behind the wheel, and the e-Crafter is no different, even with its larger dimensions. The electric steering is well-weighted, and it's surprisingly easy to manoeuvre.
It is helped by large double-stacked wing mirrors, and the standard-fit reversing camera is an enormous help on a vehicle of this size.
The e-Crafter's appeal is limited to those in towns and cities only. While it's fantastic around town, the compromised claimed range of 107 miles, as well as a top speed of 56mph, means it's hard to see how it will work for out-of-town users. But Volkswagen knows this, and isn't looking to target those covering hundreds of miles with its new electric van.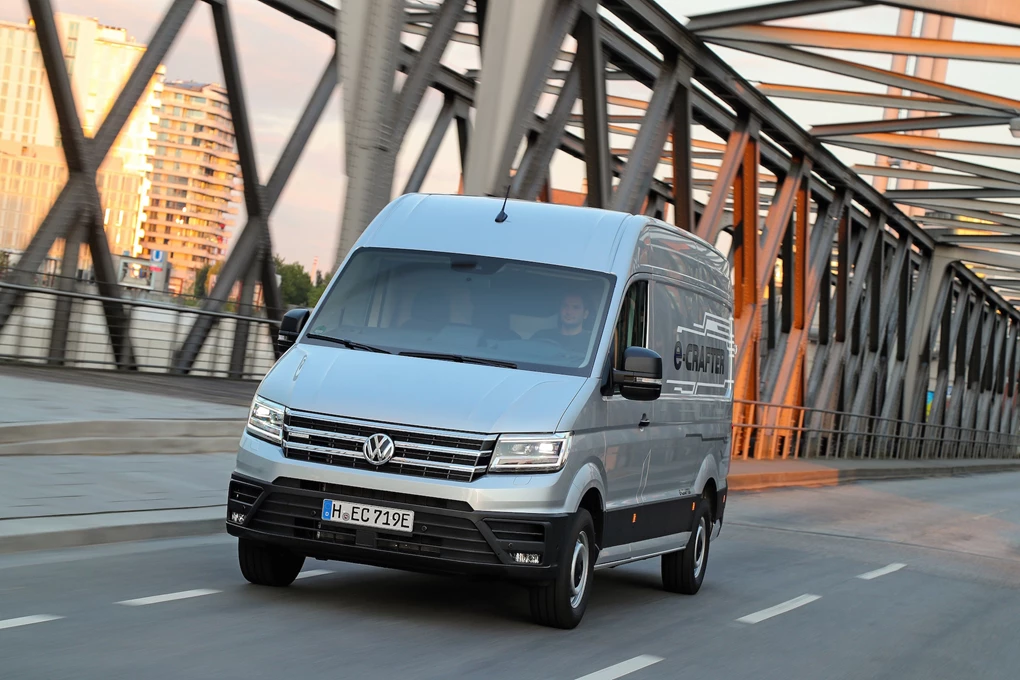 Interior and equipment
As with most vans, space and ruggedness are potentially the e-Crafter's greatest assets. It might be a wash with hard and cheap-feeling plastics, but a van doesn't need soft-touch materials and it's been designed for its ability to last and handle anything you can throw at it.
There's plenty of interior storage and cubby holes, while the tried-and-tested Volkswagen dashboard looks particularly stylish for a van, and is simple to use.
But what about the space in the back? Well, the e-Crafter can handle a claimed 1.72 tonne payload, while the ability to put four wooden pallets in the rear is another big bonus.
For a van, the e-Crafter is remarkably well-equipped, with Volkswagen offering class-leading safety equipment on its commercial range. You get ParkPilot assistance, with front and rear cameras, as well as post-collision braking (the first van in its class to come with this), cruise control with lane-keep assist and crosswind assist.
Elsewhere there's a full-colour infotainment display with satellite navigation and Bluetooth, and also a heated windscreen and heated seats.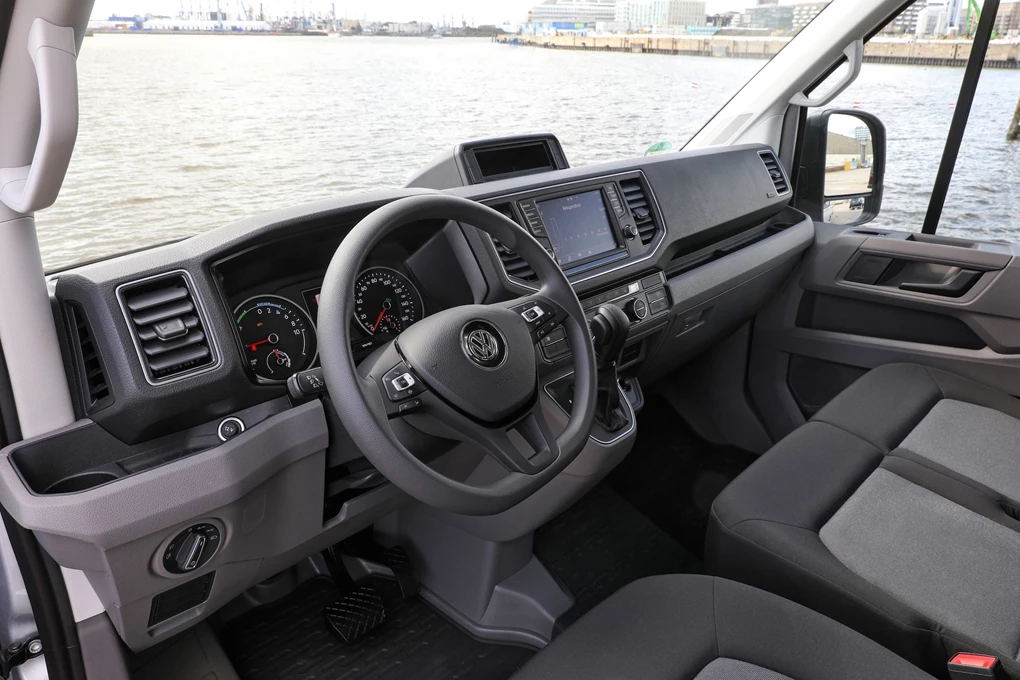 Cost
Volkswagen has not announced prices for the e-Crafter yet, although it's likely to command a hefty premium over the diesel's variants £30,611 starting price (including VAT). This is because of the complexity of installing batteries into a vehicle – even more so on a van of this size.
Volkswagen could potentially market it closely to the standard model to help boost its appeal and awareness, although we'll have to wait and see.
Running costs should be exceptionally cheap, with businesses likely to be offered hefty incentives to get behind the wheel of an electric van.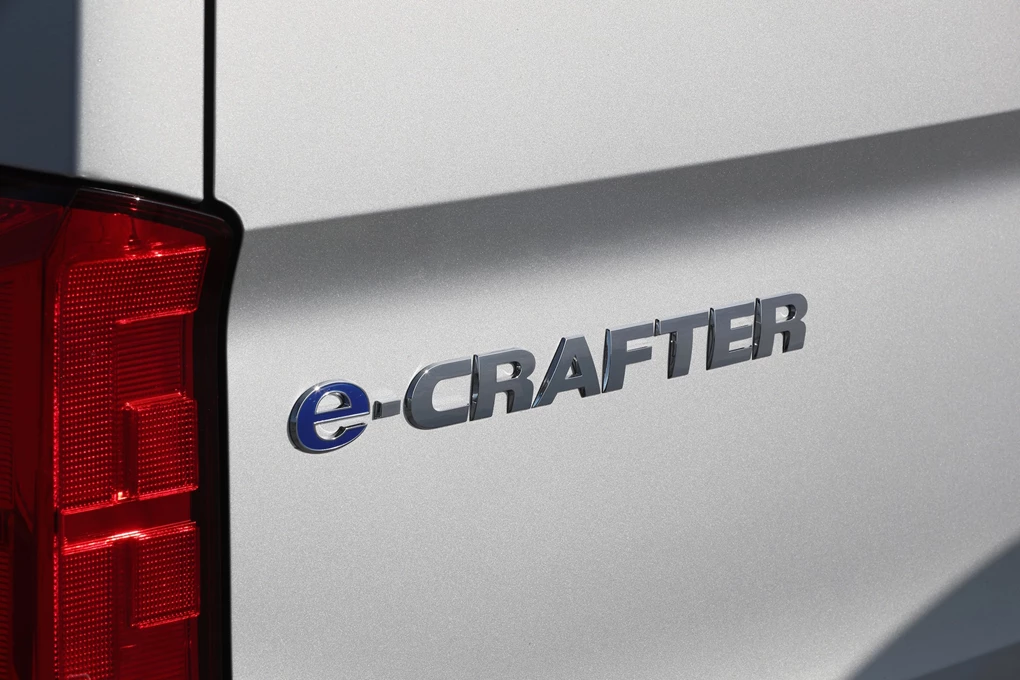 Verdict
The Volkswagen e-Crafter is a big showcase for Volkswagen, and shows that there is room in the market for large electrified van offerings, with no apparent compromise when it comes to practicality.
While its appeal is limited to those in the city, it makes a lot of sense to be used as an urban runabout. Although you might have to hold off on having an electric van for out of town driving, there is never-ending development to increase the range of electric vehicles and build charging infrastructure, which will only boost the van's appeal even further.
See Available Van Deals