Introduction
If you want a characterful and fun hot hatch, the Abarth brand more than delivers.
Now just selling its Fiat 500-derived hot hatch, the 595 has an exceptionally loyal following, with a whole host of editions and specials to choose from.
One of the best-known, though, is the incredibly Italian-sounding Esseesse (you say it 'essay-essay' if you want to sound really cultured, or 'SS' if you don't). It's a nameplate Abarth has been using for years – even appearing on the company's original 500 in 1964, and more recently in 2009 when the Fiat 500 returned for the 21st century.
It's now back on the facelifted 500, and is more of an option pack than anything else. It adds a set of white 17-inch alloy wheels and a host of performance touches – including an Akrapovic exhaust, Brembo brakes  and a mechanical limited-slip differential.
It's one of the fieriest Abarth 595s to date, but is it one you should go for?
Performance
Under that small bonnet lies what is Abarth's most potent engine on sale at the minute – a turbocharged 1.4-litre petrol unit producing 178bhp and 250Nm. The figures might not sound all that impressive, but it's worth remembering how small and light this car is.
Power is sent to the front wheels with a five-speed manual gearbox, and in terms of performance, it'll hit 0-60mph in just 6.5 seconds and reach a top speed of 140mph. But it's also quite efficient as well – returning up to 41.5mpg, with CO2 emissions of 155g/km.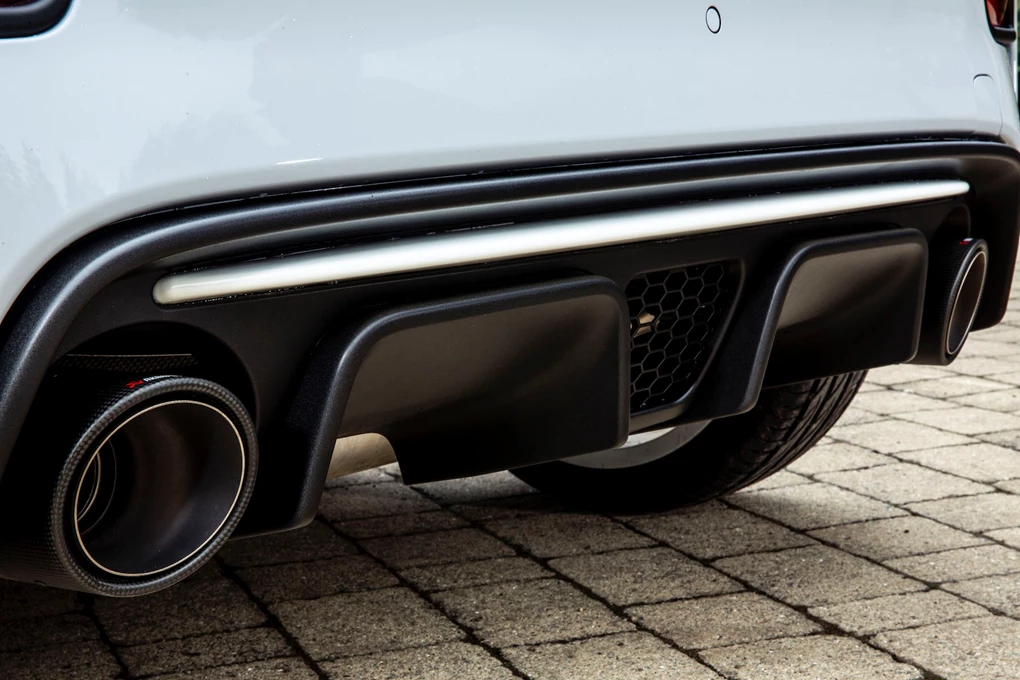 Ride and handling
The best way to describe the Abarth 595 is characterful. It's not going to challenge the best for engineering brilliance or engagement, but it's a rather joyous little thing that soon brings a smile to your face.
It has old-school turbo lag, which sort of drops the power on the plate all in one go – making it a bit of a handful at times, but no less fun. The levels of grip are also seriously impressive, while the Akrapovic exhaust and all its pops and crackles soon bring out the child in you.
It wouldn't be the easiest car to live with every day, though, as the Koni dampers give it a rather harsh ride at low speeds. It's far more usable at higher speeds, though.
Interior and equipment
If you're looking for a practical hot hatch, you should really look elsewhere. Being based on the Fiat 500 city car, this is a model that is best seen as a two-seater. While there are two rear seats, getting in the back isn't very easy, though there is an adequate amount of room once you're in. The 185-litre boot is also quite cramped, but fine if you rarely need to carry more than a few shopping bags.
On the plus side, all 595 models now come with a seven-inch touchscreen as standard, which is simple to use and comes with Apple CarPlay and Android Auto smartphone mirroring. If you want to take your Abarth on a track day, it also features in-built telemetry for lap times.
It's not a model that's brimming with standard kit, though you get rear parking sensors, climate control and a semi-digital instrument cluster. The figure-hugging sports seats on this Esseesse model are also very supportive and surprisingly comfortable, as well.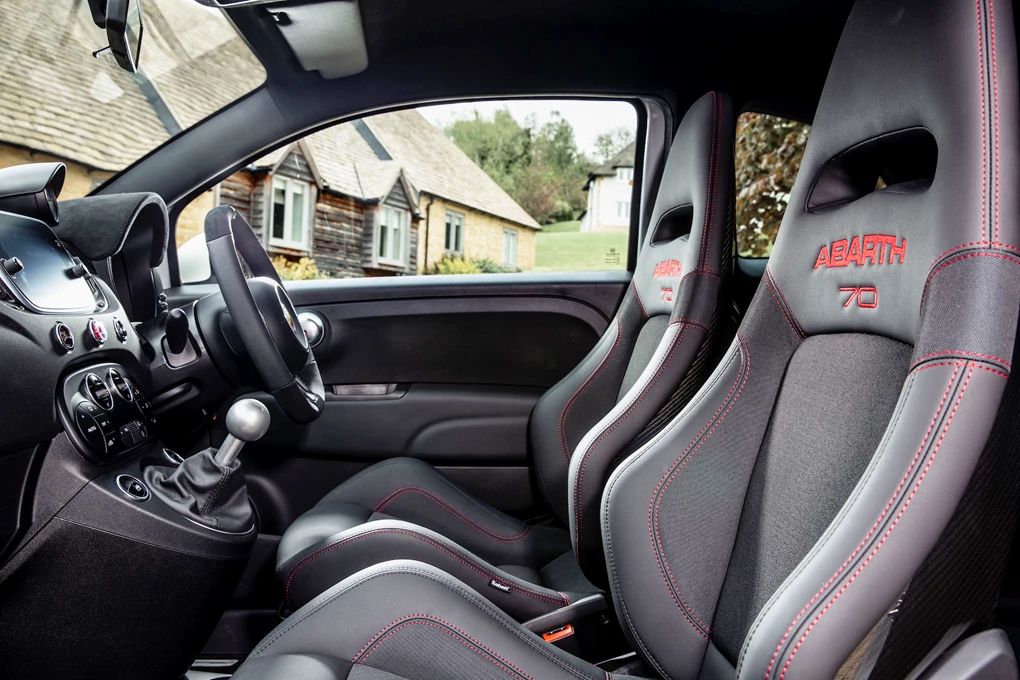 Cost
Choose a regular Abarth 595 and this model is one of the most affordable hot hatches on sale, with prices starting from £17,010. Given this Esseesse version sits right at the top of the 595 line-up, though, it's most certainly not a cheap option.
Prices for this Esseesse model start from £26,140, and if you tick a few option boxes you'll see the price jump to nearly £30,000. Other models in the range undoubtedly make more financial sense, but if you're not limited by budget and are looking for the ultimate Abarth, this is the car to go for.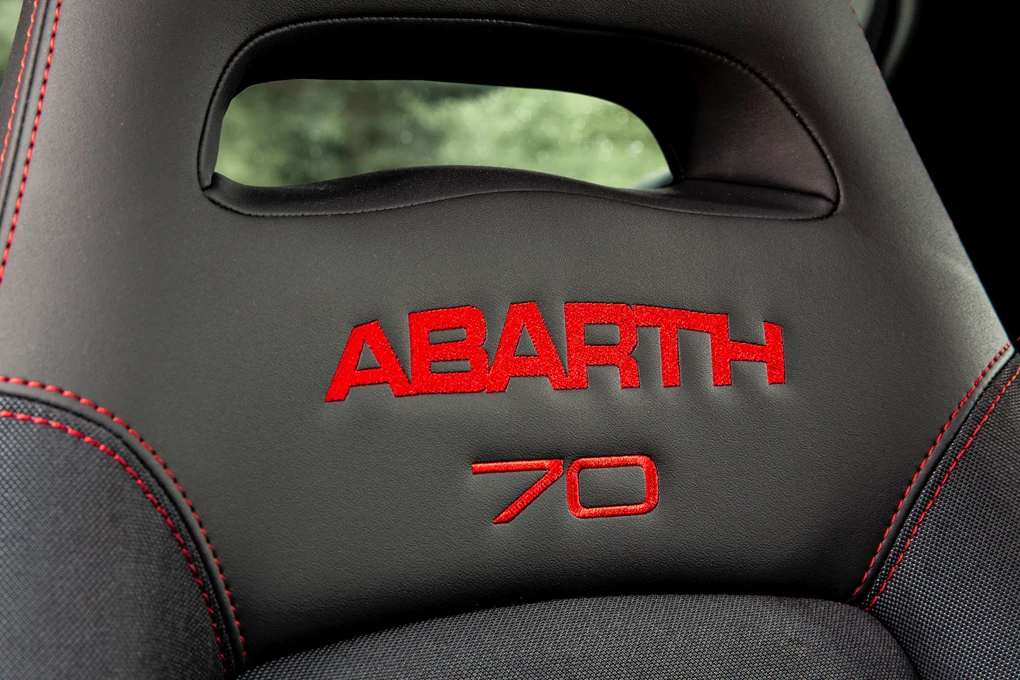 Verdict
If you think with your head, the Abarth 595 Esseesse isn't a model that makes a huge amount of sense. It's expensive, has a firm ride that would make it difficult to live with every day around town and is quite cramped as well.
However, this is a model you buy with your heart. Few cars offer the thrills this model can, while the raucous Akrapovic exhaust will leave you grinning like a Cheshire cat. Sometimes it's worth spending a bit extra on a car that can truly give you a sense of fun on every journey, and that's exactly what this Abarth does.
Enquire on a new Abarth 595