Introduction
If you've wanted a little bit of flamboyance and character from your next car, then the answer has always been Alfa Romeo. Over the years this Italian brand has created some of the most iconic - yet attainable - models, blending striking designs with agile handling to make cars that have been beloved by enthusiasts. 
More recently, Alfa has transitioned to create that all-to-difficult proposition - a car that is packed with character but can still deliver when it comes to everyday usability. It has, for the most part, been successful with the Giulia - the car we're looking at today - being a core model behind this drive forwards. 
Alfa hasn't just let the Giulia languish as it ages, mind you. It recently gave this very pretty saloon car a bit of an update, tweaking it with a new headlight design that plays close to the one used on Alfa's new Tonale SUV alongside some improved in-car tech to help modernise things. The appeal of the Giulia has always been in the way it drives, however, so what have these changes done to change the overall experience? We've been finding out.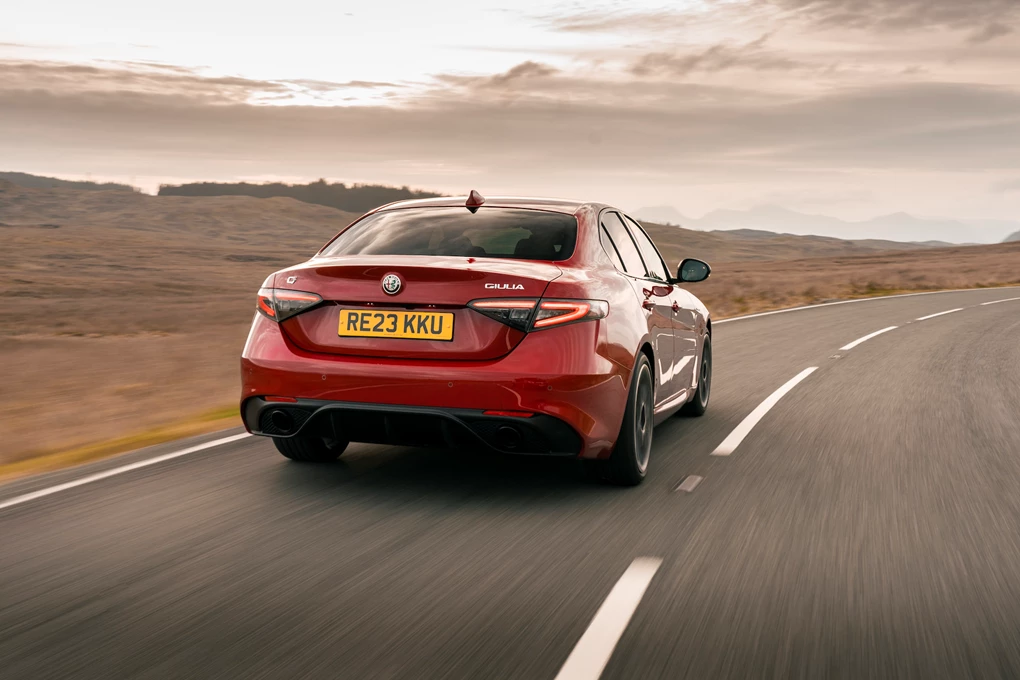 Performance
As part of its last Giulia update, Alfa Romeo ditched diesel engines entirely, meaning that if you're shopping new then you're fresh out of luck for oil burners - though you'll still be able to find them in the used market. 
Shunning a theme found in the rest of the market there's no electrification available in the Giulia, which solely turbocharged petrol engines on offer instead. In fact, there's just a single engine - outside of the range-topping Quadrifoglio - which is a 2.0-litre turbocharged unit developing 276bhp and 400Nm of torque. As is the Giulia way, all power is sent to the rear wheels alone via an eight-speed automatic gearbox too. 
When it comes to performance, this setup allows the Giulia to go from 0-60mph in a respectable 5.5 seconds and it'll carry on to a top speed of 149mph, too. In terms of efficiency, Alfa Romeo claims 38.2mpg and CO2 emissions of 167g/km, though you might see these figures affected slightly by versions with larger alloy wheels.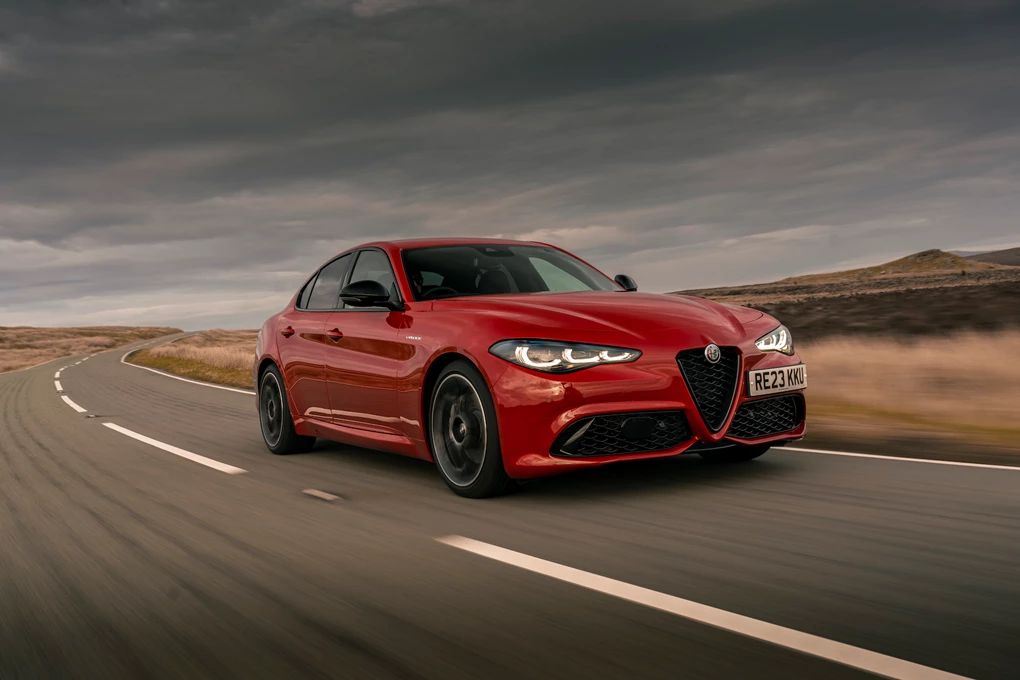 Ride and handling
The Giulia's sporty driving style has always been one of its key plus points, so it's great that this has been left completely unchanged for the latest version. It's easily one of the best 'normal' cars on the road today, with sharp, nimble steering that helps to make the whole car feel alert and alive. 
Though the 2.0-litre engine might not sound like the most powerful, it's able to serve up more than enough 'go' for most occasions. There's some good throttle response, too, while the shifts from the ZF-sourced gearbox are smooth and accurate. It's also pleasant to be able to take control of the gearshifts via the beautifully shaped paddles mounted behind the steering wheel. 
You could argue that the Giulia has a sharper ride than cars like the Audi A4, but given that this comes as a result of an overall involving and exciting driving experience then it feels like a worthy trade-off.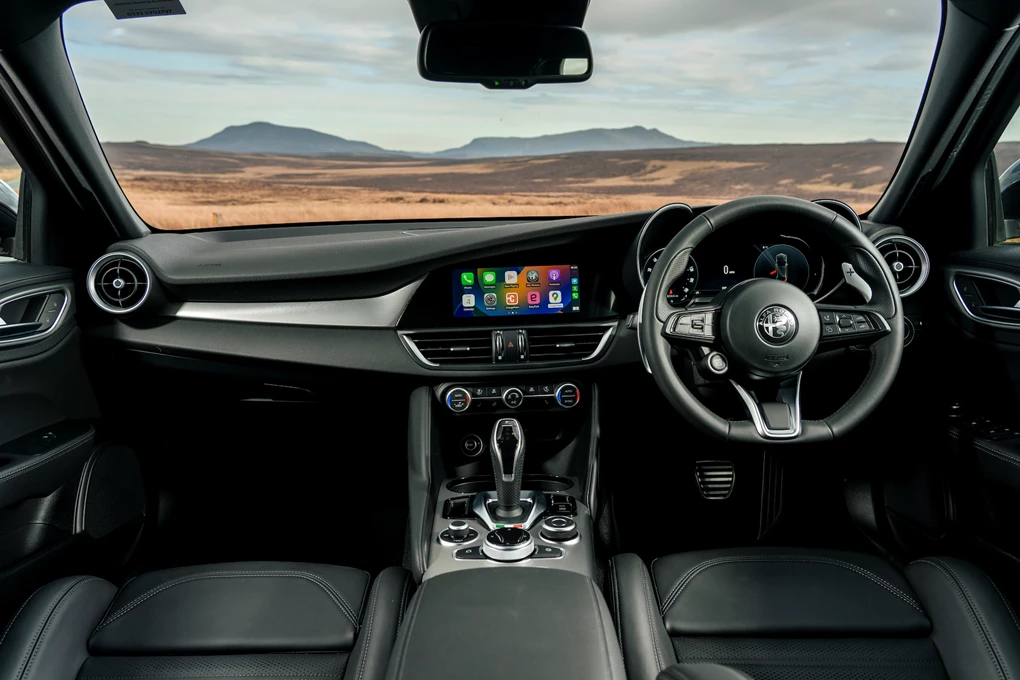 Interior
Things have been kept largely the same inside the Giulia for this new model. That said, we never had many complaints about the interior, as its seating position has always felt spot-on thanks to plenty of adjustability and a well-shaped steering wheel. Alfa has spruced things up by including a new 12.3-inch digital instrument cluster, however, which gives clear readouts and helps elevate the overall technology in the cabin. 
You might find that the rear area of the Giulia could be a bit tight for taller passengers as the sloping roofline eats into headroom somewhat. However, most occupants back there should be able to get reasonably comfy. 
When you turn to boot space, the Giulia's 480-litre load area is about right for the segment. It matches those offered by both the BMW 3 Series and Mercedes C-Class, in fact, so there's no downside in terms of practicality with this Italian model. Plus, because of the boot's opening, it's easier to access than you might think for a 'regular' saloon car.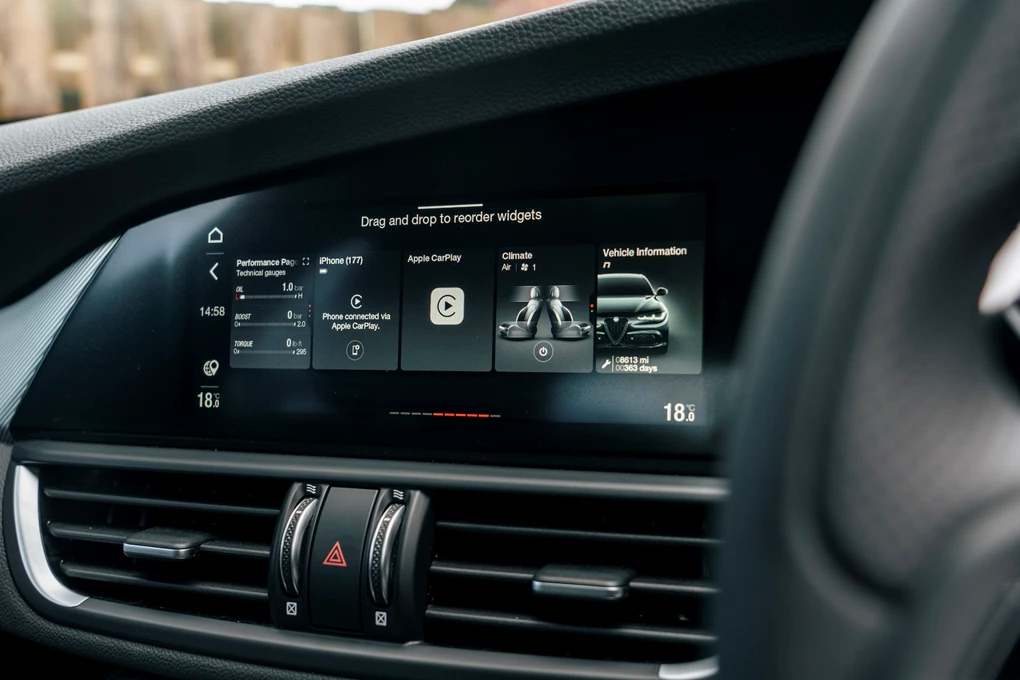 Equipment
The Giulia range is based on two main specifications - Sprint and Veloce - though a special-edition Competizione version is also available for drivers who want a little more pizzazz. 
However, you needn't go right to the top of the specifications list to get plenty of equipment. Entry point Sprint cars bring features like 18-inch alloy wheels, wireless smartphone charging and Matrix LED headlights which provide great levels of illumination at night. 
Move up to Veloce and you'll find features like 19-inch alloys added alongside gloss black detailing. Inside, heated sport seats do make things more comfortable while electric adjustment makes finding your ideal driving position a little easier. At the top of the range, the Competizione adds in a premium Harmon Kardon sound system as well as go-faster red brake calipers and adaptive suspension which allows you to soften the car's ride off - an ideal feature for the UK's potholed roads.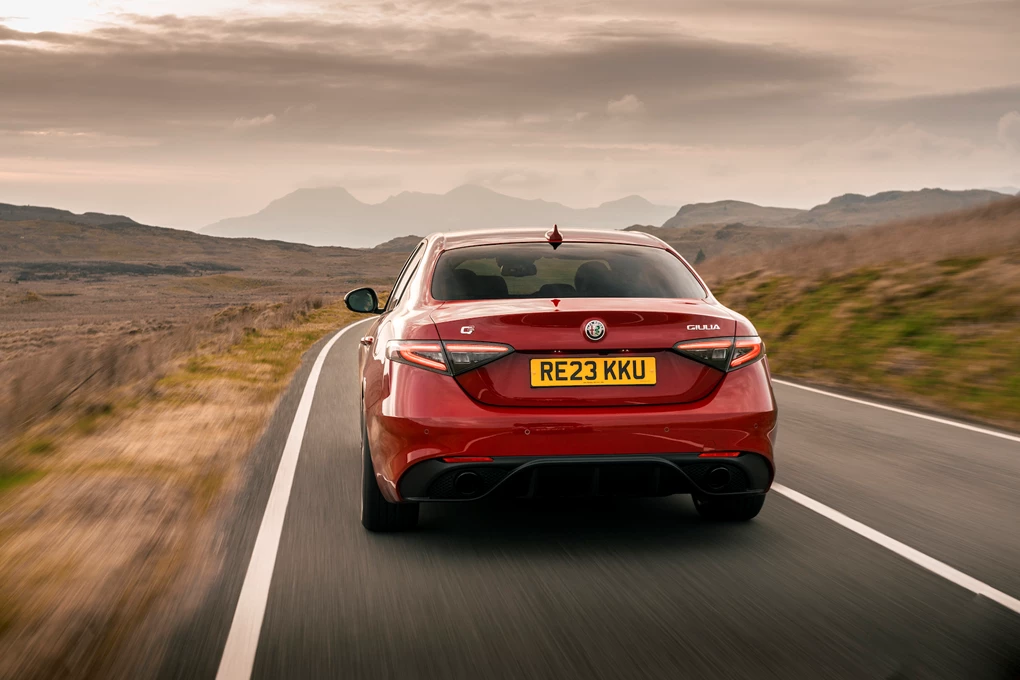 Cost
Prices for the Giulia do stand at the higher end of the scale, with things kicking off at £43,259 for a Sprint-specification car, rising to £47,759 for a Veloce vehicle and topping out at £52,259 for a Competizione. 
There are a number of packs that can quickly ramp up the Giulia's price, too, such as the £2,400 Leather Seat Pack on entry-level Sprint models, but there's plenty enough standard equipment to ensure that you don't need to go near the options list if you want to keep the car's price down. 
Remember too that the Giulia has been on sale for a little while now, so there are plenty of options to find within the used market should you want a cheaper option. 
Verdict
One of the things that really shines through about the Giulia is how exciting it is to drive. This is a car that can turn even the dreariest of commutes into something a bit different, so it's a great option for people who want to add a bit of character to their 'normal' drives. 
The tweaks brought via this new model have definitely helped to sweeten the deal, but the same fundamentals that made the Giulia so good in the first place have been left untouched - and that's no bad thing at all.