Introduction 
The Alfa Romeo Giulia Quadrifoglio is well regarded as one of the best performance cars of its type. Nimble, punchy and packed with character, it's little wonder why this Italian sports saloon has left its German rivals quaking in their boots. A superb attempt from Alfa Romeo, the Giulia QV is effortlessly quick on the road, and it's capable of holding its own out on the track too.
So how does Alfa improve things? Well, it has taken the Giulia QV and made some subtle touches which only serve to enhance its appeal even further. Boosts have been made to the car's technology levels, while its safety assistance systems have been given a comprehensive overhaul too. Let's take a look at what it's like.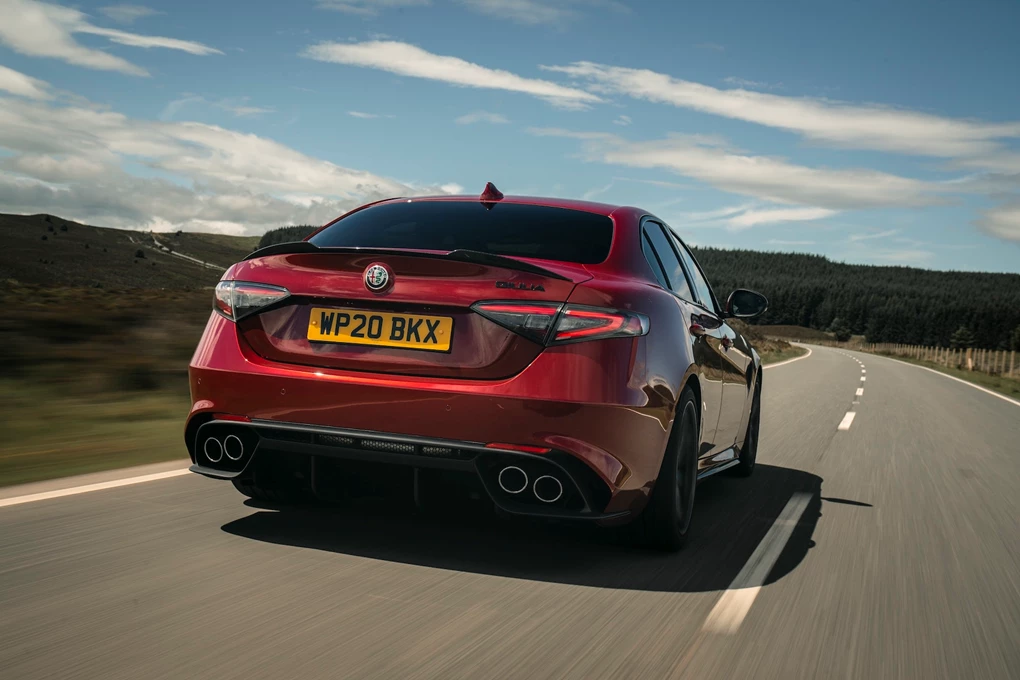 Performance
Performance is something that the Giulia Quadrifoglio has quite resoundingly sewn up. Power comes courtesy of a 503bhp 2.9-litre biturbo V6, throwing all of its drive to the rear wheels via an eight-speed automatic gearbox. Going from 0-60mph takes just 3.6 seconds and flat-out the QV will manage 190mph. The engine is a key source of the Giulia's character, with its many pops and bangs proving immensely enjoyable to whoever is behind the wheel. It's also an extremely smooth-revving engine which rewards you for wringing out what the unit has to offer. 
In terms of economy, Alfa Romeo claims 27.2mpg, while emissions sit at 236g/km CO2.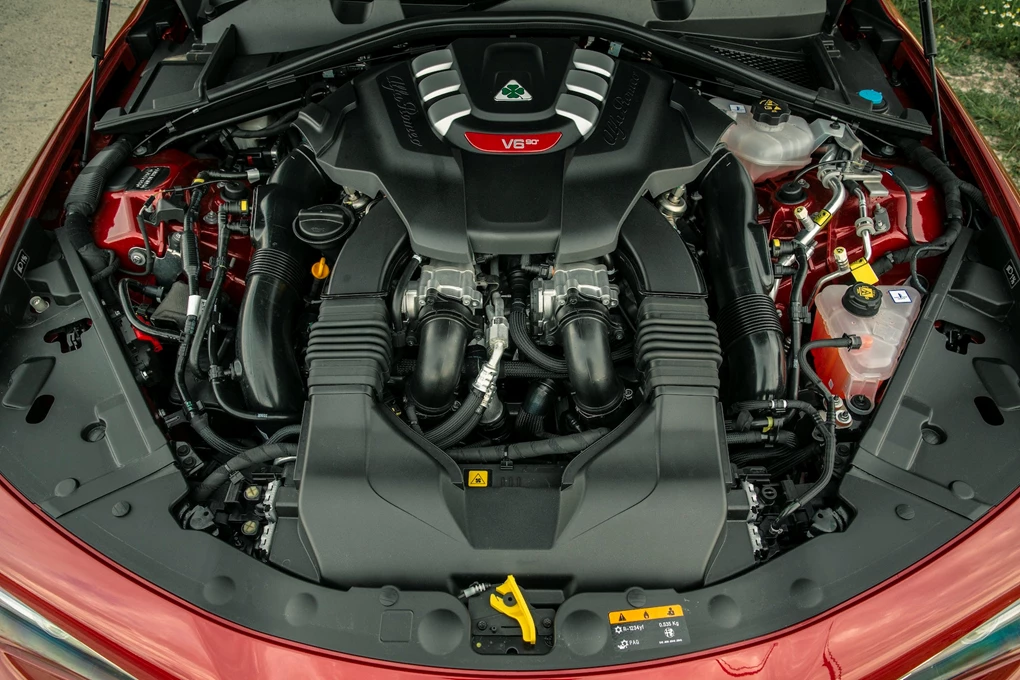 Find local Giulia deals
Ride and handling 
Again, ride and handling is an area where the Giulia really shines. Though it's relatively firm - particularly over the UK's pockmarked roads - the suspension has been well-judged and isn't too sharp or brittle. Adjustable dampers allow you to soften the car's ride out too, which is particularly useful if you want a little more ride comfort.
The steering itself is quite quick but extremely accurate. While it takes a little bit of time to get used to, once you're up to speed it lends a supreme amount of agility to the car. The steering wheel itself is nicely shaped and sits in front two of the best shift paddles in the business; metal and well-shaped, they make shifting gears a real joy.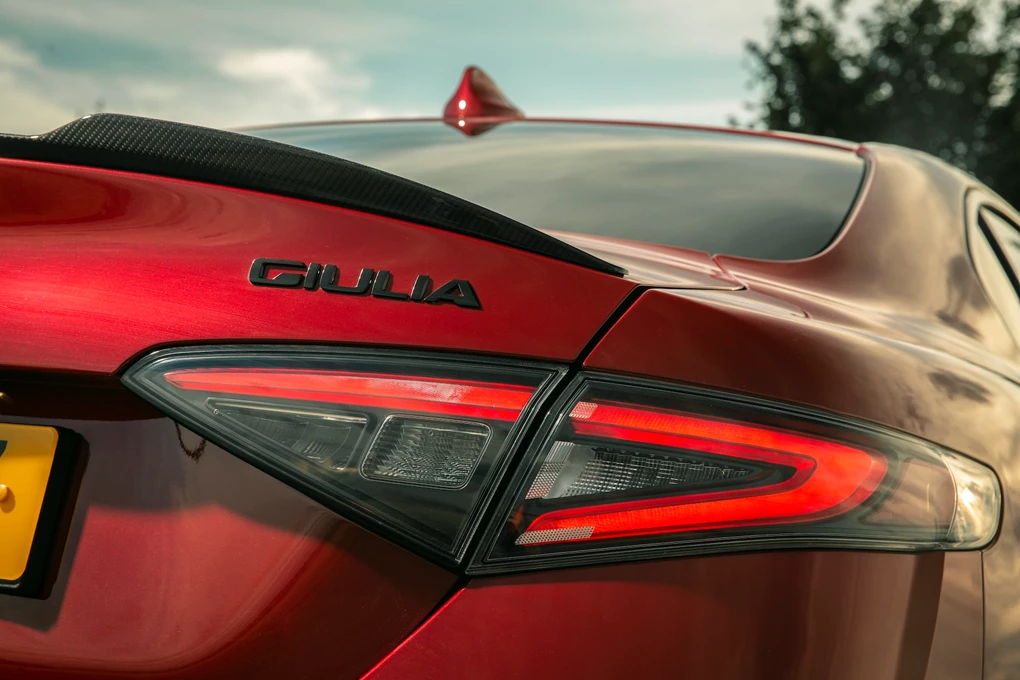 Interior and equipment
The changes for this latest model-year Giulia QV have been chiefly made in the cabin, which did suffer with some slight quality issues previously. As such, there's now a leather-trimmed steering wheel and leather gearstick, which both feel pleasant to use. However, the biggest change here comes via the infotainment system which has been completely remodelled and redesigned. It now incorporates 'widgets' which can be customised and moved, allowing you to change the look and setup of the screen to your liking. And whereas the older car required you to use a rotary controller, the updated Giulia's screen is now touch-operated which makes things easier when on the move. 
As we mentioned, the safety assistance levels in the Giulia have been seriously overhauled too, with features such as lane keep assist, active blind spot assist and traffic sign recognition now added to the car's setup.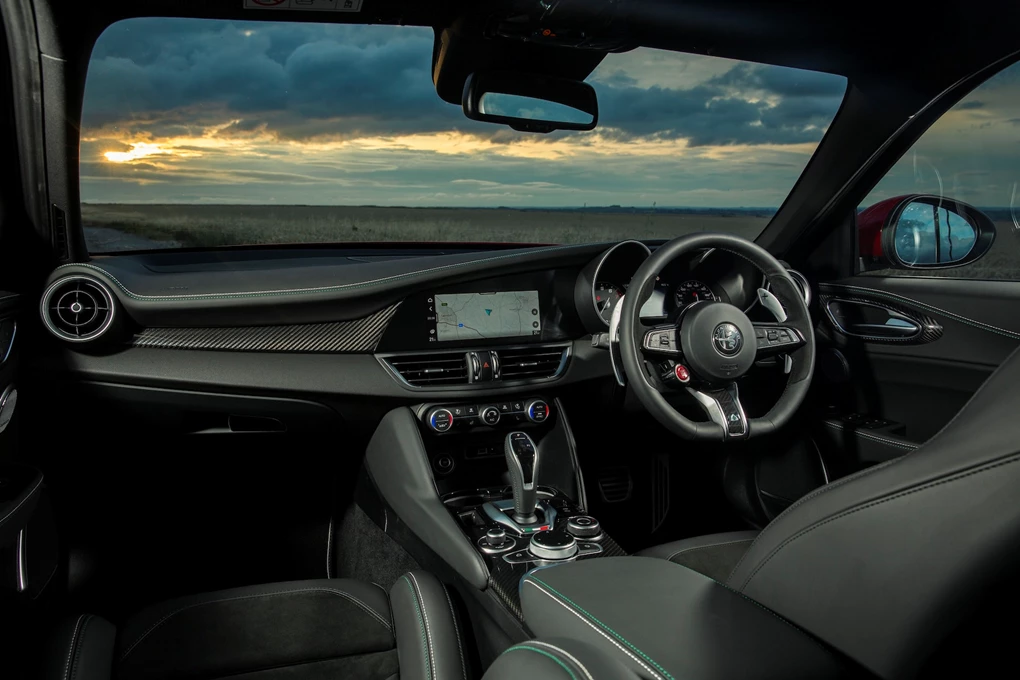 Cost
The Giulia Quadrifoglio starts from just over £67,000 which given the level of performance and equipment on offer, seems like exceptionally good value for money. You're also getting a much-improved interior as part of the package, as well as one of the most characterful engines in the business. We're sure that whoever gets the keys to a Giulia QV is unlikely to regret their purchase.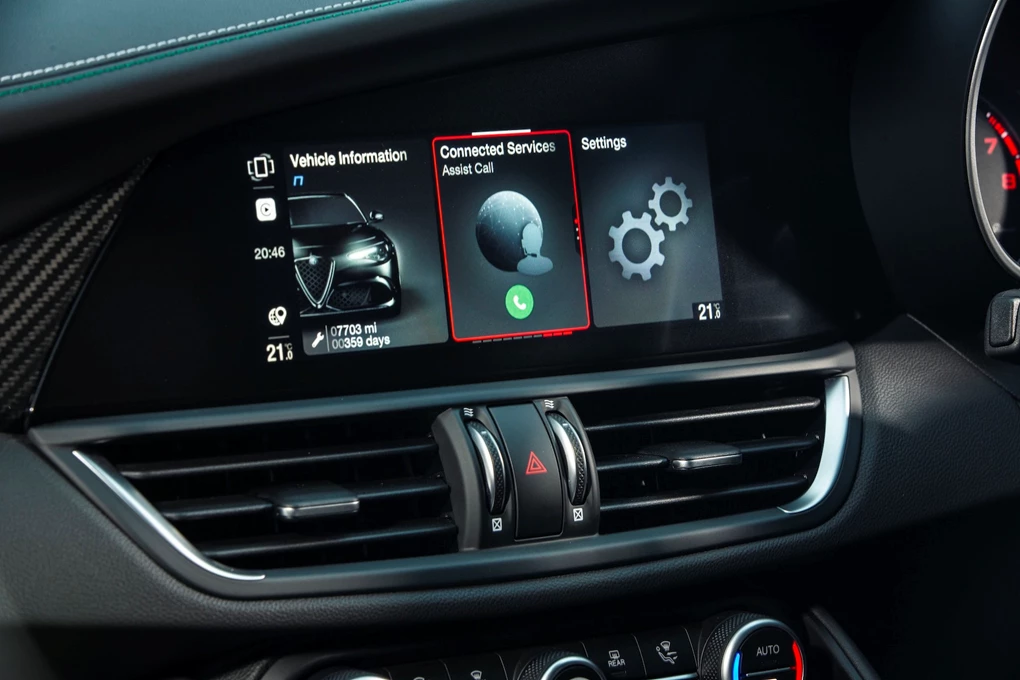 Verdict 
Alfa Romeo kept it simple with this latest Giulia QV; they addressed some previous quality issues while leaving the engine, suspension and gearbox - the areas which shone through on the previous car - well alone. It has only helped to strengthen the Giulia in terms of appeal and bring it even closer into line with rivals. 
In terms of performance saloon cars, we can't think of many more appealing prospects than the Giulia Quadrifoglio.