Introduction
Alfa Romeo might have been behind many manufacturers when it came to producing its first SUV, but its 2017 Stelvio showed that it was worth the wait.
As one of the best-driving SUVs on sale, it was hardly surprising that Alfa Romeo decided to up the ante further with an even hotter version – the Quadrifoglio, which essentially features all the underpinnings of the Giulia Quadrifoglio saloon.
This range-topping SUV is exactly what we expect from an Alfa Romeo – a fast, naughty and beautiful-looking model that eclipses rivals when it comes to the visuals.
But there's plenty going on underneath the surface – not least the V6 petrol engine, which we'll cover in detail later on. All-wheel-drive also features (known as Q4), but it's rear wheel-biased most of the time.
So, can the Stelvio deliver?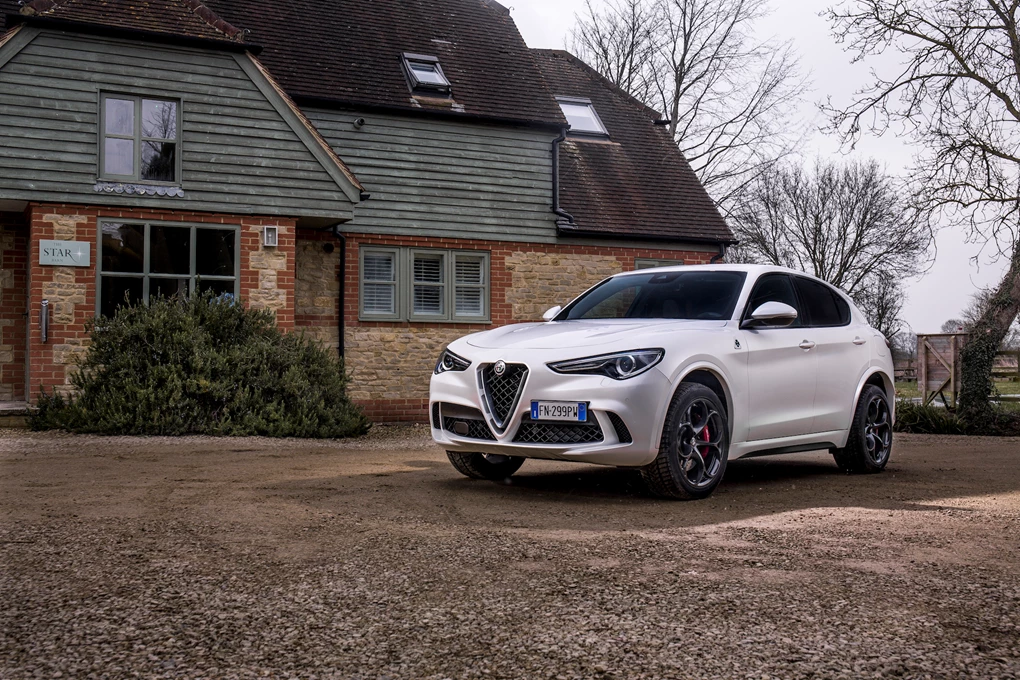 Performance
One of the key bits to any performance SUV is the engine, and the Stelvio QV's does not leave you disappointed. It makes use of a 2.9-litre bi-turbo V6 unit, which produces 503bhp and 600Nm of torque.
It's able to smash 60mph in just 3.6 seconds and would keep going onto a claimed 176mph. And, as previously mentioned, power is sent to all four wheels via an eight-speed automatic transmission, allowing for fantastic traction.
Adjustable dampers also feature, which are a godsend on the UK's poor roads, enabling more comfortable settings to be chosen alongside harsher performance modes.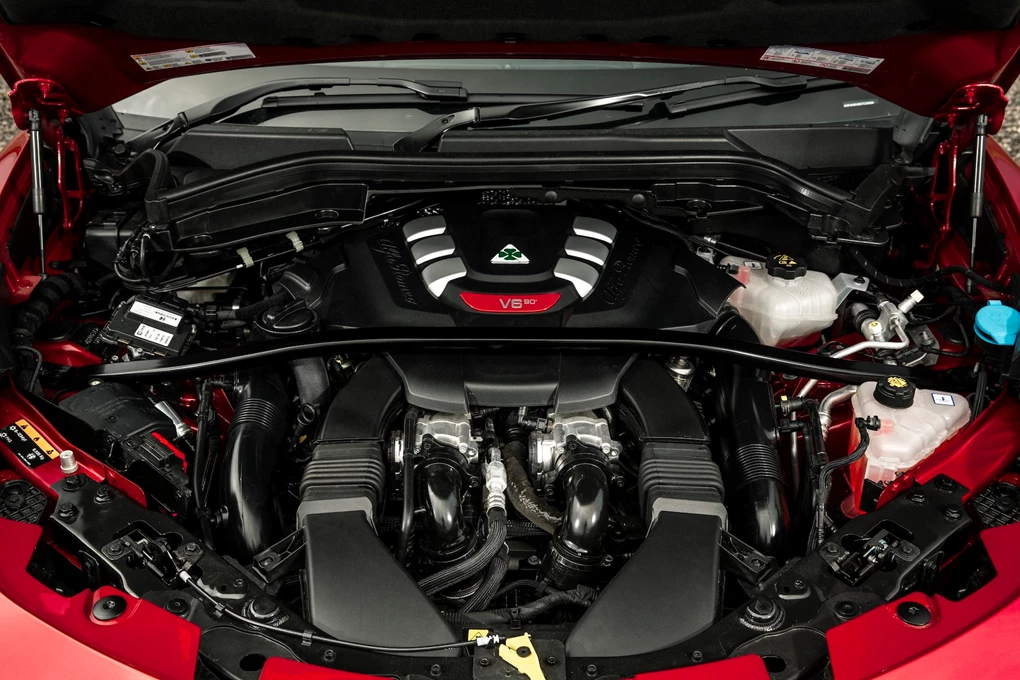 Ride and handling
The engine itself isn't particularly vocal at lower speeds, but it comes alive at higher speeds. There's a constant delivery of torque all the way up to its 6,500rpm redline, and with remarkable flexibility. The eight-speed automatic transmission's gearshifts are also instant, while the beautiful aluminium paddle shifters add to the theatre.
The ride is perhaps one slight area of weakness – it's either too firm and unsettled or offers too much body roll in more comfortable settings. But the steering is the best of any performance SUV on sale today – it's direct, quick, full of energy and delivers confidence to push the Stelvio to its limits; a rarity in models of this size.
See Available Stelvio deals
Interior and equipment
It's inside where the Stelvio becomes a bit of a mixed bag – combining beautiful features such as carbon-backed sports seats with cheaper plastics that don't quite fit in with a car costing £80,000. There are undoubtedly elements which feel disappointingly flimsy – particularly when compared to more premium German SUVs – but luxury isn't what makes the Stelvio steal the show – rather its delightful driving experience is.
Standard equipment levels are impressive on the Stelvio Quadrifoglio – as you might expect from a flagship model. Features include a full sports bodykit, 20-inch alloy wheels, Bi-Xenon headlight and a full leather and Alcantara interior.
Additional liveries, carbon details and racing seats are available on the options list – each helping to add further character to this superb sports SUV, albeit at quite a significant cost.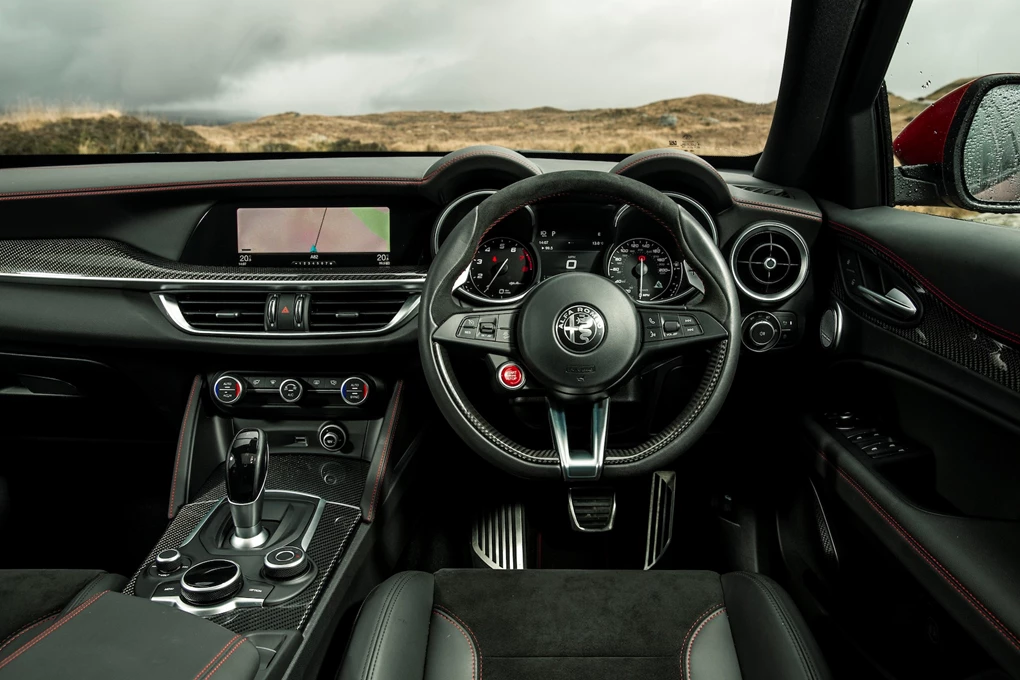 Cost
The Stelvio Quadrifoglio is not a cheap model – with prices starting from £70,900. That's nearly double what you would pay for an entry-level Stelvio, though of course that model would be lacking the brute force and appeal of the go-faster version.
But given that BMW's new X3 and M Competition – perhaps the Alfa's closest rival – are £10,000 more expensive, it begins to make the Stelvio look decent value for money.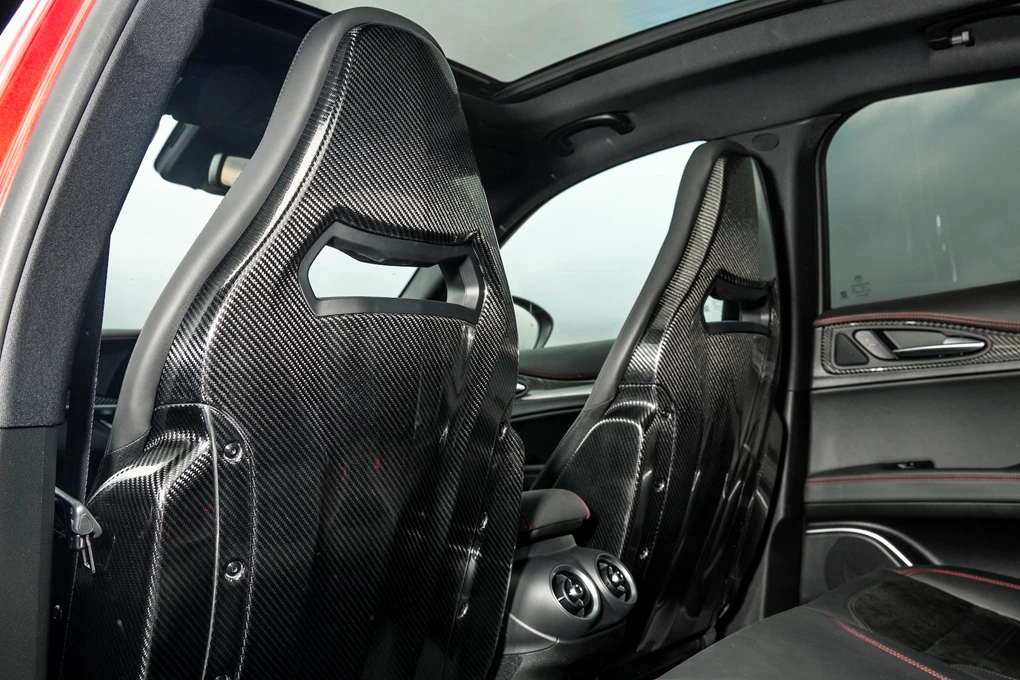 Verdict
On today's market, the Stelvio Quadrifoglio is undoubtedly one of the best SUVs on sale today from a driver's point of view – offering a level of enjoyment and thrills usually just reserved for more conventional sports cars.
Its gorgeous looks, characterful engine and sublime handing also give the Stelvio incredible appeal to those not wanting to sacrifice fun from an SUV. While the interior might lack the luxury and class of German rivals, get behind the wheel of this Alfa Romeo and we can assure you that you won't be disappointed with one of the Italian manufacturer's best cars in years.