Introduction
The quest for electric cars to become cooler and desirable is more important than ever, and it's a challenge that many manufacturers have on their hands. One way to do it is by having a 'statement car' – a flagship that gets people talking.  
For Audi that's the new e-tron GT – a dramatic-looking four-door coupe that gets off to a fantastic start by sharing a platform with the superb Porsche Taycan and gaining Audi's reassuring quattro all-wheel-drive system. It also packs an impressive battery back and powerful electric motor – even more so on the RS model – and offers 270kW rapid charging capability, that theoretically means the battery could be charged from five to 80 per cent in as little as 23 minutes. 
It certainly all sounds impressive on paper, but can the e-tron GT live up to the flagship status behind the wheel? Let's find out…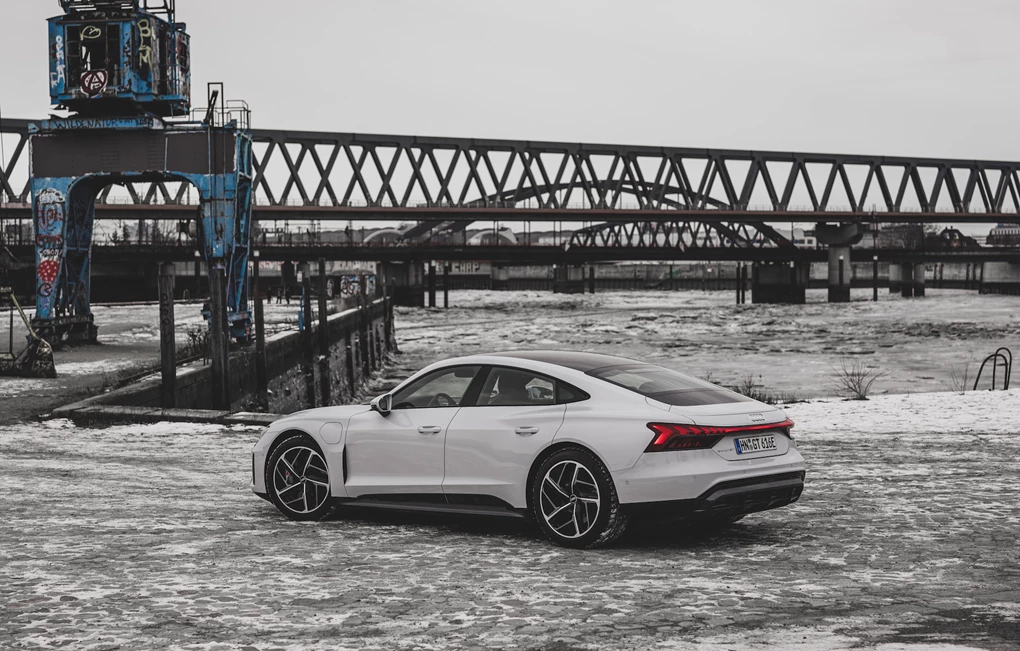 Performance
The e-tron GT gets a dual electric motor setup, with one being on the front axle and the second on the rear. With this regular GT, the motors combine to produce 470bhp, though a 'boost' setting allows this to be taken up to 523bhp for short bursts when launch control is activated. Audi claims the model can hit 0-60mph in 3.9 seconds and reach a top speed of 152mph – while the aforementioned all-wheel-drive is included, too. 
It will also have one of the best ranges of an electric car, with the model able to travel for a claimed 295 miles on a charge, though it does lag behind the Tesla Model S in this respect. That said, the rapid charging capability should make it one of the best electric cars for touring.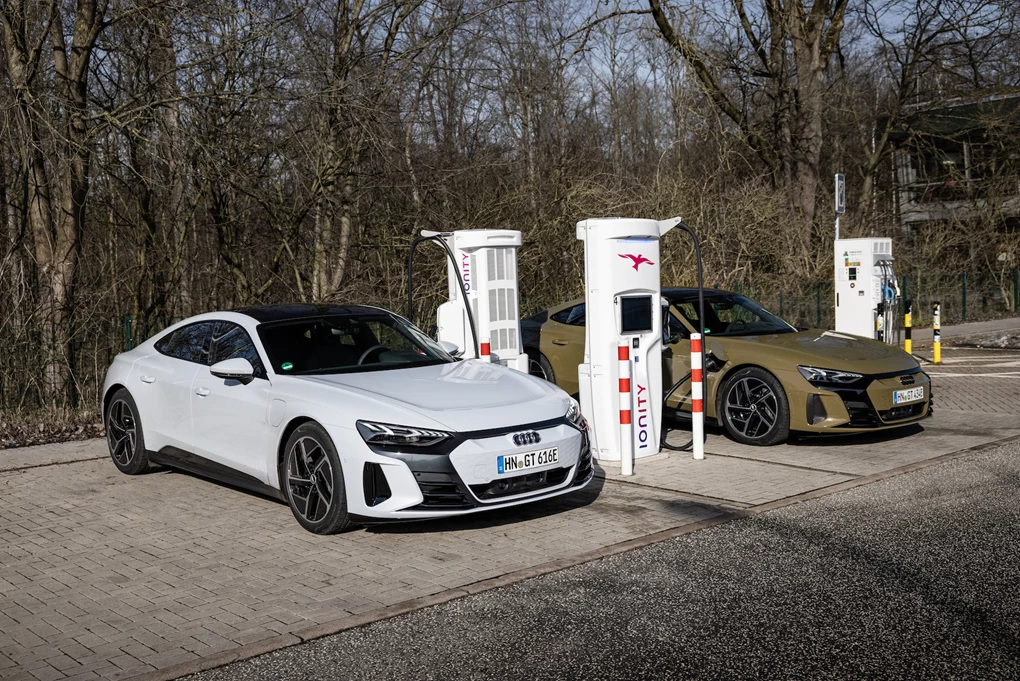 Ride and handling
Behind the wheel of the e-tron GT it's a superb affair. It sets off with the brilliant silence expected from an EV, and Audi has worked hard to push for this refined and hushed driving experience. 
There's a brilliant turn of pace as well, while the ride is absolutely superb, especially in the 'Comfort' setting, where it irons out just about all perfections in the road. Meanwhile if you want it to feel a bit sportier, you can flick it into the 'Dynamic' setting that makes the car more responsive and adds extra weight to the steering.

Despite the strong performance, though, you're more likely to enjoy the GT's brilliant relaxed and refined driving experience, and it certainly lives up to its 'GT' name.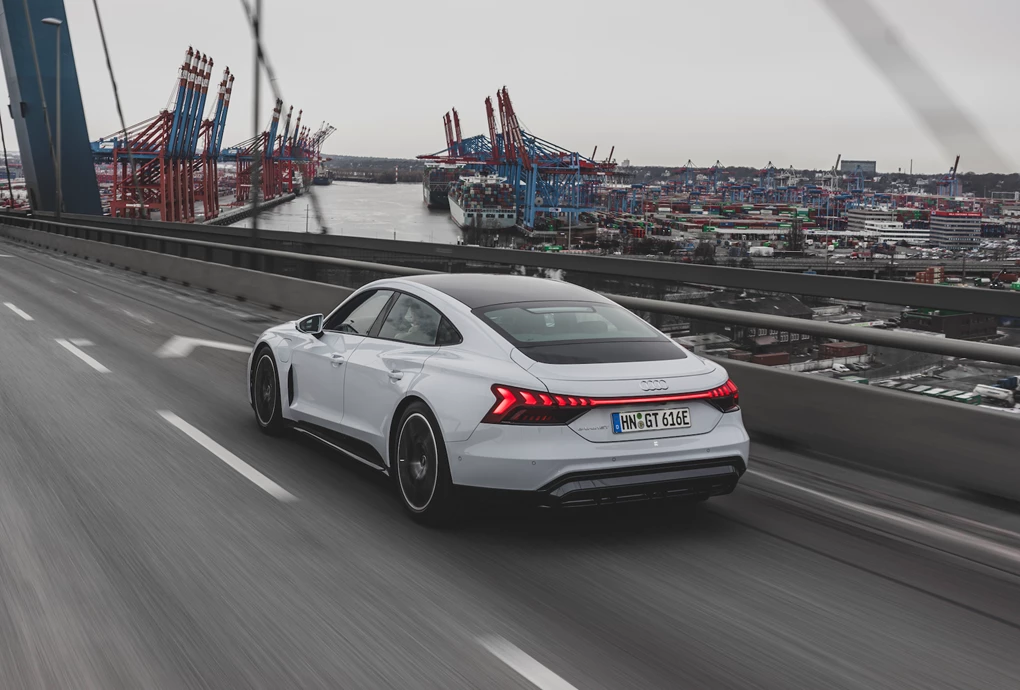 Interior and equipment 
The refined quality experience carries through to the cabin as well, which is brimmed with superb quality materials. 
And despite its electric powertrain, the interior will be familiar to any current Audi owner, with similar switchgear to its range of standard models, though the GT moves away from the familiar dual-screen setup found on cars like the A7 and Q8 to focus on one main media system, along with a brilliant digital dials system. Some might hope for a few more exciting features though to match the striking exterior design. 
Pleasingly, though, the GT is quite spacious. Adult passengers will be able to get comfortable in the back, though the boot's versatility is knocked by not being able to hide the charging cables like you can in other models. 
Two regular grades are available, too – the regular e-tron GT and a top-spec Vorsprung model. 
You're unlikely to feel short-changed on the kit front, with 20-inch alloy wheels, full LED lighting, leather electric seats and keyless entry included. 
If you want all the bells and whistles, the Vorsprung is the one to go for – this adding a host of equipment, including carbon detailing, Matrix LED headlights, adaptive air suspension and night vision to name just a few features.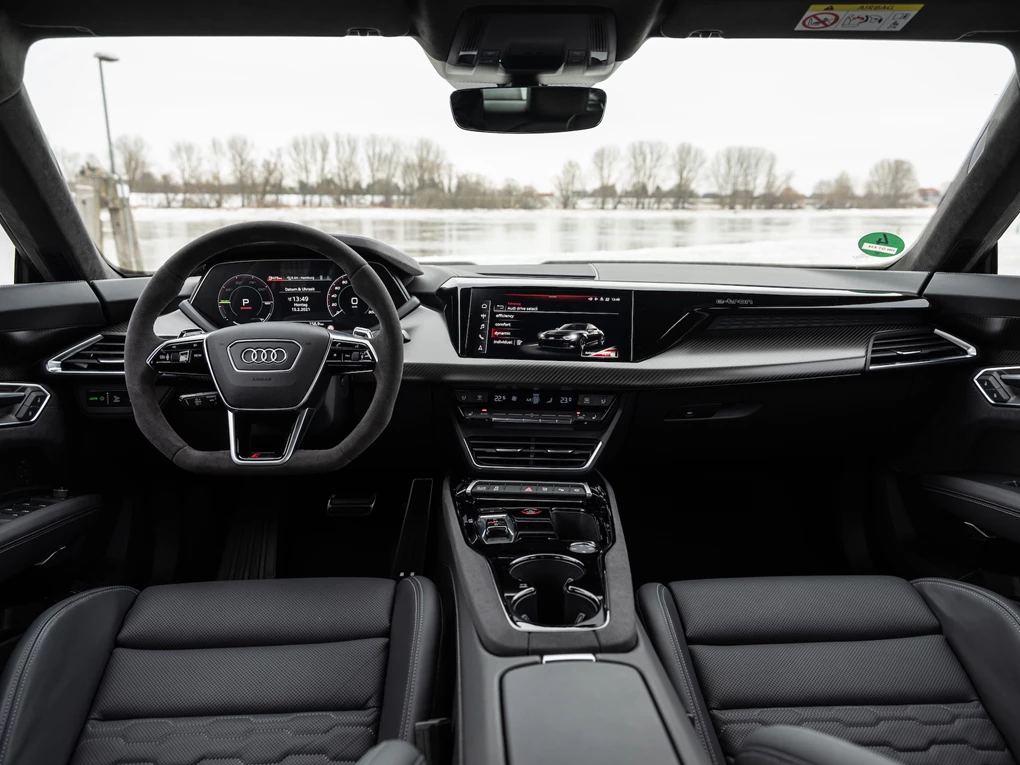 Cost
Unsurprisingly all this style and quality comes at a cost and the e-tron GT's pricing certainly lives up to its flagship status. Prices start from £79,900 for the standard GT, with the top-spec Vorsprung costing a rather steep £106,950 .
That said, it just undercuts the equivalent Porsche Taycan and Tesla Model S for price, though really there is little between them.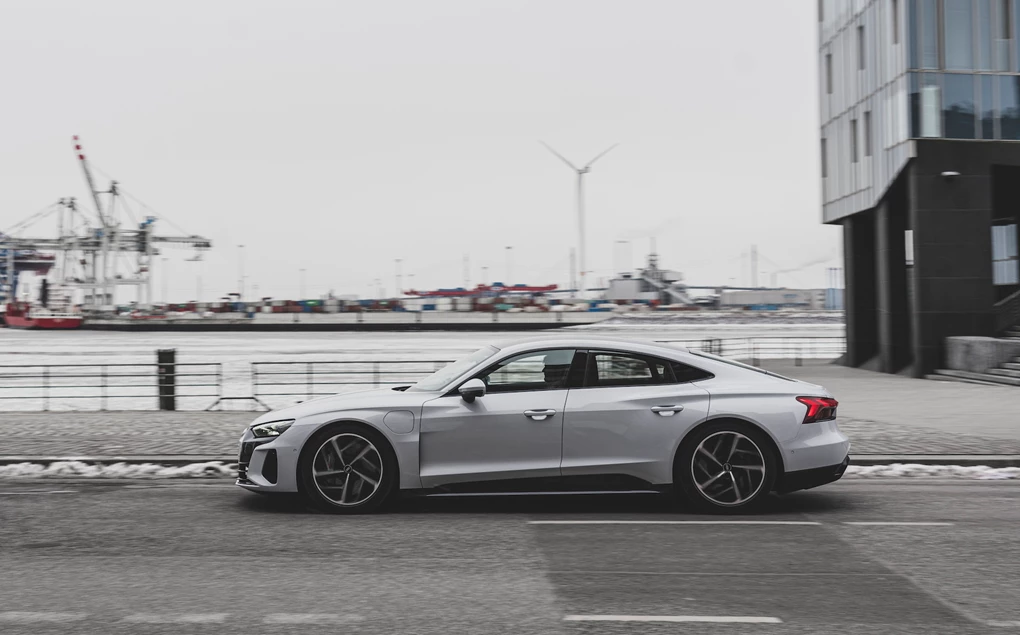 Verdict
Audi intended to make a statement with the e-tron GT and it's managed just that. With its dramatic design, brilliant powertrain and strong focus on refinement, it's a brilliant effort that paints a very positive picture for this German firm's electric future. 
Though the Porsche Taycan might be sportier to drive and the Tesla Model S able to travel further on a charge, the e-tron GT manages to be a perfect all-rounder and prove that EVs can be just as cool as desirable as anything with an engine under the bonnet.
Enquire on a new Audi e-tron GT