Introduction
Audi's electric car line-up has been expanding at quite the rate. This year alone we've seen the e-tron GT arrive, along with an RS version, and more recently there's been the Q4 e-tron. This is a brand-new model for the firm that Audi has high hopes for – next year it reckons it will be its second most popular car, for example. 
Based on the Volkswagen Group's MEB electric car platform, the Q4 e-tron brings style, quality and roominess to the electric SUV market, and at a far more attractive price than Audi's pricier e-tron SUV. 
Now Audi is expanding the range with a sleeker Sportback version, bringing coupe-like styling to enhance the way it looks. But is it worth choosing over the regular SUV? Let's find out.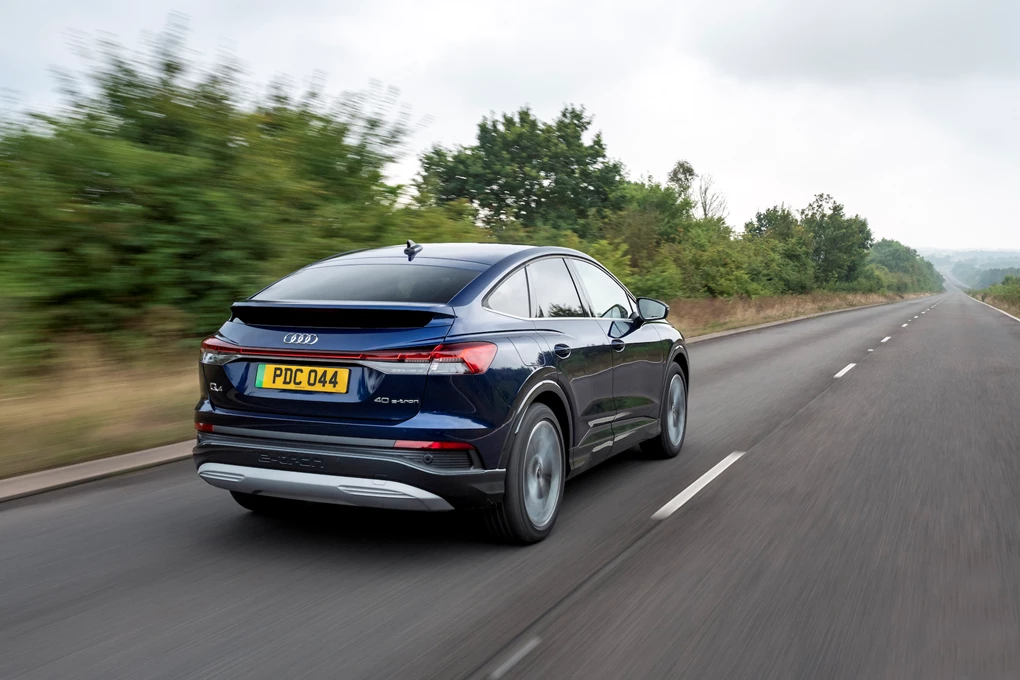 Performance
Audi offers the same choice of powertrains on the Sportback as it does on the regular Q4, with three options for buyers to choose between. It's worth noting that the sleeker design of this version has a positive effect on range, adding about seven miles over the standard model. 
The first is badged '35' and uses a smaller 52kWh battery and an electric motor producing 168bhp – offering a 208-mile electric range – followed by the popular '40', which gains a large 77kWh battery that provides 316 miles of range and uses a more powerful 201bhp electric motor. 
Both those options are rear-wheel-drive, but the top '50' version we're trying here features an additional electric motor on the front axle enabling all-wheel-drive – though the 77kWh battery is unchanged. It's the same power as you get in Volkswagen's 'sporty' ID.4 GTX, with 298bhp and 460Nm of torque on offer. That allows for a 0-60mph time of  six seconds, while the top speed is capped at 112mph. It does have an impact on range, though, as Audi claims 298 miles.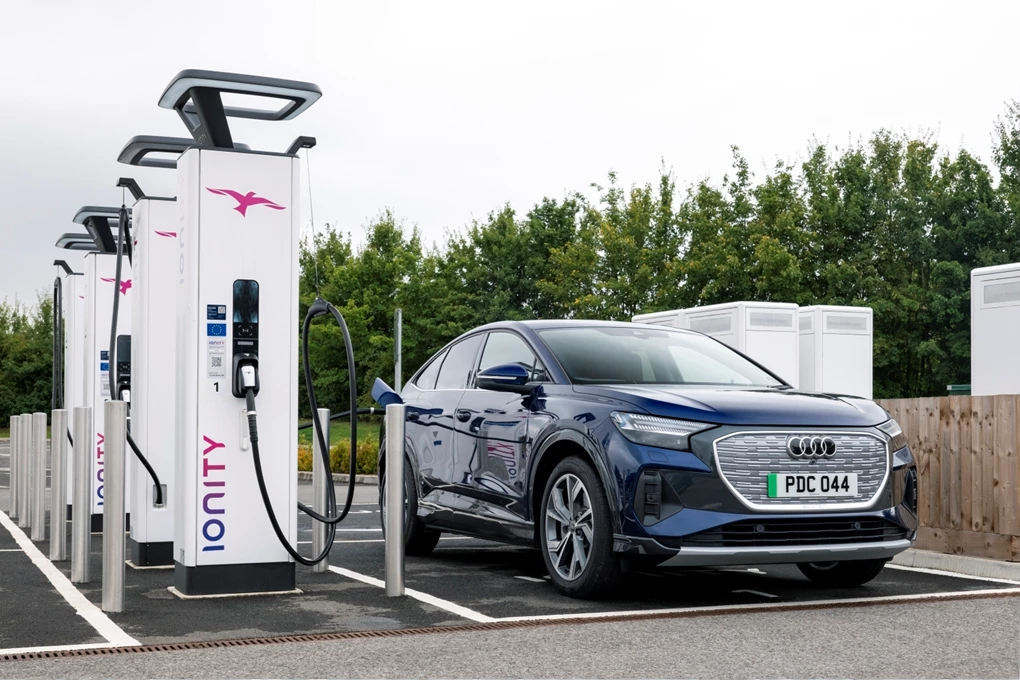 Ride and handling
The stand-out quality from the Q4 is just how refined it is. Even more so than other electric cars,  Audi has managed to isolate any of the typical wind and road noise that would normally detract from the peace. It's also quite sharp to drive for a vehicle of this class, with decent well-weighted steering making the model feel planted, it's better to drive than you might expect, while effortless power reserves will leave few asking for more in the way of performance. 
Around town, though, the Q4's large battery and relatively large alloy wheels do equate to quite a firm ride, which disappoint on rougher stretches of road, and disrupt the otherwise calm driving experience.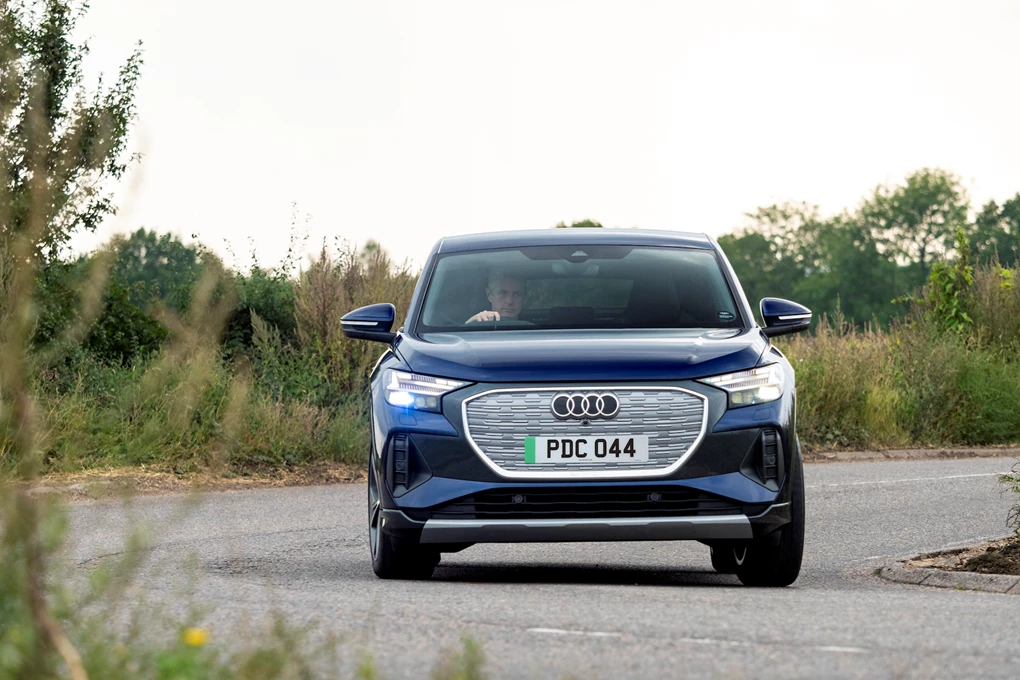 Interior and equipment
Unlike other electric cars, the Q4 e-tron was always designed to be an EV, and nothing else. That really shows inside, as the Q4's interior is impressively roomy and versatile, with plenty of space for passengers and loads of large cubby holes stored throughout. A special underfloor storage area also lets you keep the cables out of the way when they're not in use. 
While the cabin is still smart and brimmed with technology, some of the switchgear just doesn't quite hit the right level of quality that you'd usually associate with an Audi. 
In terms of equipment, there are four grades available on the Q4 – Sport, S line, Edition 1 and Vorsprung. Even the Sport gets plenty of equipment, including 19-inch alloy wheels, LED headlights and a brilliant 10.1-inch touchscreen and digital dials. Upgrade to S line to get larger 20-inch rims, a sportier styling kit and ambient interior lighting. 
Edition 1 then brings a black styling pack, Matrix LED headlights, leather sports seats and a flat-bottomed sports steering wheel. At the top of the line-up, the Vorsprung gets pretty much everything you could ask for, including an augmented reality head-up display, Sonos sound system, panoramic sunroof and a broad range of extra driver assistance technology.
Cost
By choosing the Sportback you add £1,500 to the price of the Q4 e-tron, which – in the grand scheme of things – isn't a huge amount, especially once it's split into monthly payments. 
So prices start from £41,435 for the '35' option, but if you want a bigger battery that will set you back £45,775. Prices do rise significantly for the '50' model, which starts from £52,000 and goes all the way up to £66,000. At these kinds of prices, the Q4 e-tron does become rather expensive.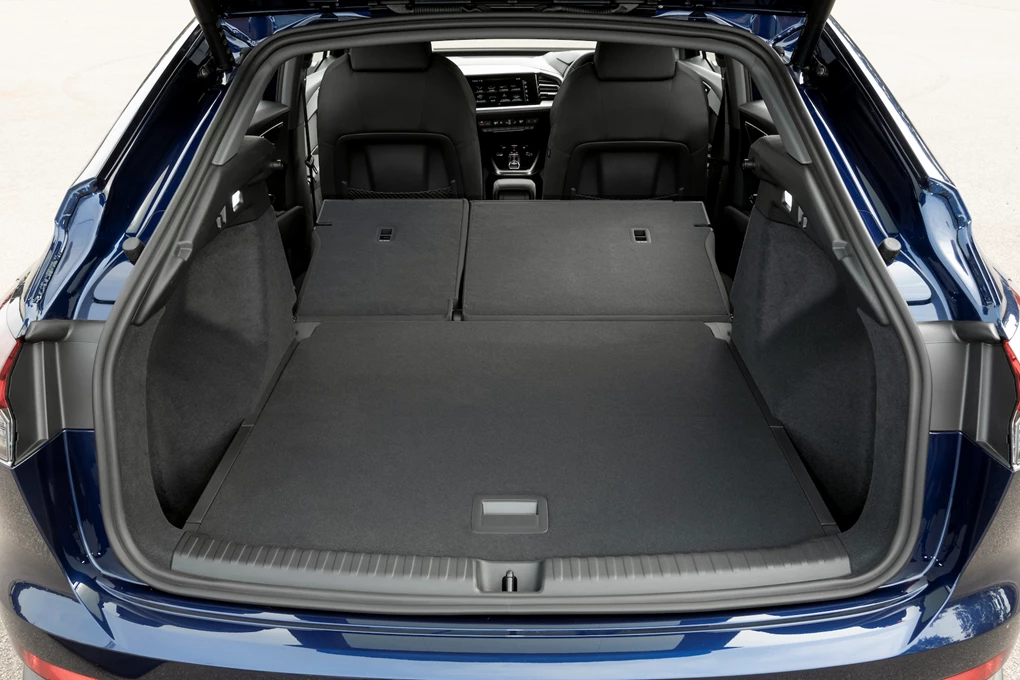 Verdict
This Sportback model brings extra style to what is already a very competent electric SUV. Managing to bring sleeker looks at a relatively mild price increase – and with no significant practicality disadvantage, it is a great option. 
Though the Q4's choppy ride is its main weakness, it can't detract from what is an otherwise very convincing package.
Enquire on a new Audi Q4 e-tron Sportback