Introduction
Just like most mainstream manufacturers, Audi is gearing up its electrified offensive – introducing a number of new electric models and plug-in hybrids. The popularity of SUVs is also hard to ignore, so it makes perfect sense to combine that with an efficient plug-in hybrid powertrain.
That's exactly what Audi has done with its popular Q5 SUV – introducing two powerful hybrid options in a bid to appeal to fleet users and those looking to cut their running costs.
But should you choose it over a regular petrol or diesel Q5? It's time to put it to the test.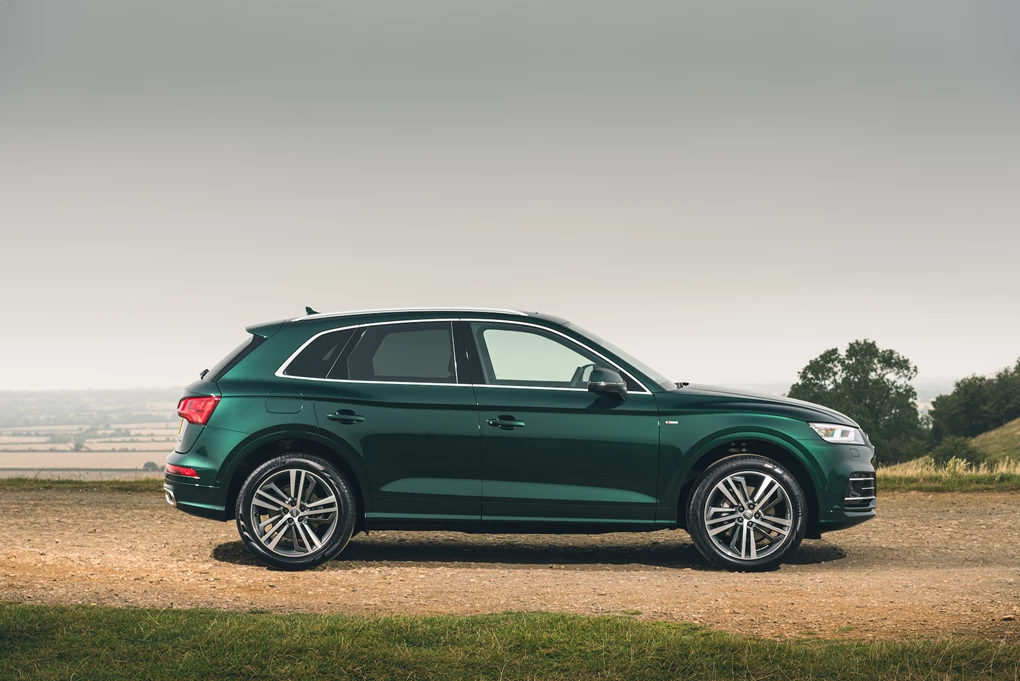 Performance
Audi offers the choice of two petrol-electric options – badged as the 50 TFSI e and the 55 TFSI e.
Both feature the same electric motor and battery, it's the only the output of the 2.0-litre petrol engine they're paired to that differs. With the '50' the total system produces 295bhp, but on the 55 tested here the power is increased to 362bhp.
This makes the latter the most powerful in the range – even more so than the SQ5. With 500Nm of torque on tap, it's certainly not slow – managing 0-60mph in just 5.1 seconds and reaching a top speed of 148mph. While the additional weight of electrification means it's not quite as quick as the SQ5, it's not far off.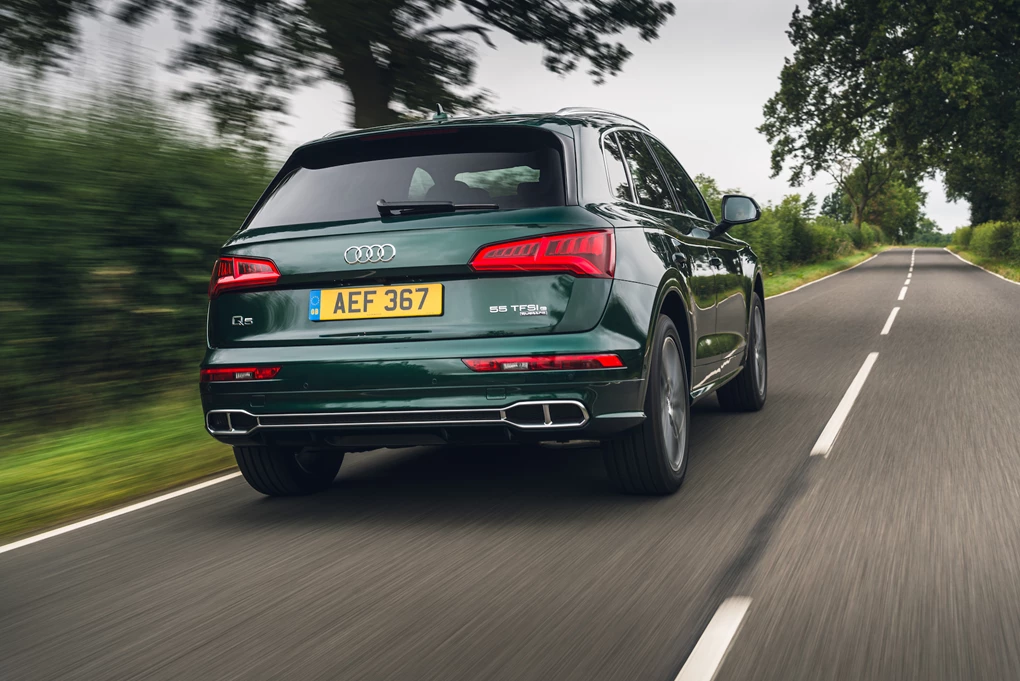 Ride and handling
Around town is where this plug-in hybrid works best – where it can quietly zip around producing no emissions if you lock it in all-electric mode. It can also surge away from sets of traffic lights, too, but it's at its best when driven serenely.
Providing you have the batteries topped up you'll always have more than enough power, but once the electricity runs out, the additional weight of the batteries just adds extra strain on the engine – making it feel somewhat blunted at times.
See Available Q5 Deals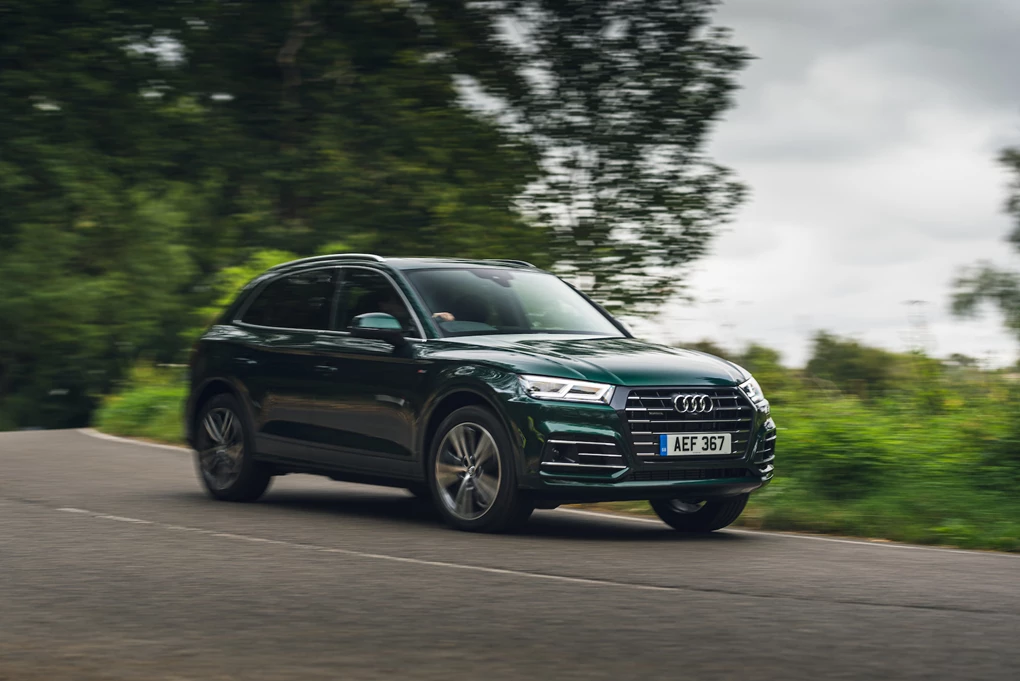 Interior and equipment
The Q5's interior is exactly what you would expect from a premium SUV – lots of space and one of the most well-built interiors in its class. It's classy, comfortable and also comes with a digital cockpit as standard.
The only penalty is that the batteries eat into boot space – reducing it by 95 litres to 450 litres. That's still very usable, though you also have to find space to fit the charging cables into the rear – as there isn't an underfloor compartment to store them in.
With five trim levels to choose from, there's certainly no shortage of options. The TFSI e misses out on the entry-level Sport version that you'll find elsewhere, meaning the model begins with LED headlights, 19-inch alloy wheels and heated leather and Alcantara sports seats. The Black Edition brings a full black styling pack and 20-inch alloy wheels. Meanwhile the S line Competition adds wireless charging, smartphone connectivity and Nappa leather upholstery.
If you really want to splash the cash opt for the Vorsprung – bringing 21-inch alloy wheels, Matrix LED headlights and a Bang & Olusfen sound system. Meanwhile flagship Vorsprung Competition adds plush massaging seats.
Cost
Bizarrely if you choose the less powerful hybrid, you're restricted to S line, Black Edition and Vorsprung models, with the most affordable version costing from £49,020, which is now decent value for money when you consider the performance and potential for low running costs.
But if you pick the powerful '55' version you're limited to two rather expensive grades – S line Competition and Vorsprung Competition. The former costs from £54,185, though the latter's expensive features bring the total up to £65,685.
We reckon the best option is sticking with the less powerful version, and with that you can still take advantage of the 26-mile electric range, as well as 108.6mpg fuel economy figure and CO2 emissions of just 59g/km.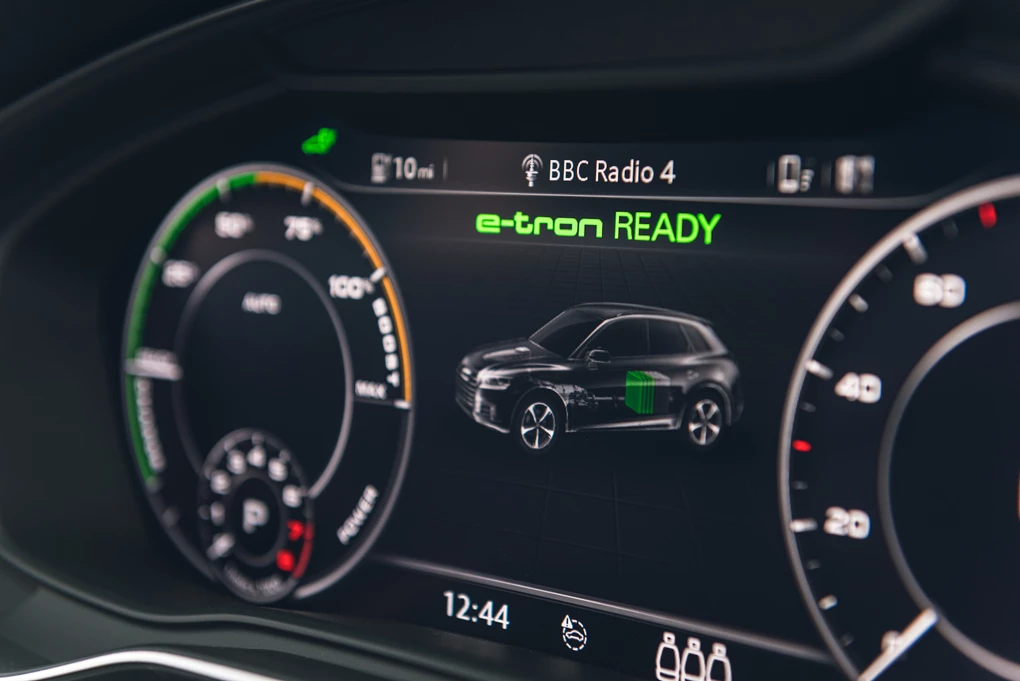 Verdict
To some the introduction of the Q5 TFSI e will be a welcome introduction, with its low CO2 emissions and affordable company car tax bringing plenty of benefits to business users. If you're able to charge at home and work and don't regularly cover long journeys, there is the possibility for some exceptionally low running costs, too.
However, if you cover a lot of miles each year (where the Q5 typically thrives), the performance and efficiency soon underwhelm once the electricity runs out, and you could be better off choosing a regular diesel Q5. Essentially, lifestyle will dictate whether this is a wise or poorly-judged choice for you.