Introduction 
Take a glimpse at Audi's range of SUVs offered today and the choices seem infinite. There are currently eight separate offerings — and that's before diving into the huge amount of variants of each.
Rollback, say, 14 years though and just one Audi 'Q' model was offered — the Q7. It remains a core part of the line-up today despite the mass expansion though, and now it's been treated to a bit of a refresh.
New here is an updated look to bring it in line with the recently-introduced Q8, as well as an overhauled cabin. Mild-hybrid technology also makes an appearance.
Performance
Powering our Audi Q7 test car is a 3.0-litre V6 '50' diesel. Here, it produces 282bhp and 600Nm of torque, sent to all four wheels via an eight-speed automatic gearbox. The result is a 0-60mph time of 6.3 seconds, with a 150mph top speed possible.
The engines itself proves impressive and smooth, and really suits the character of this car well. Performance feels decent enough, though it's let down slightly by a hesitant gearbox.
See Availabe Q7 deals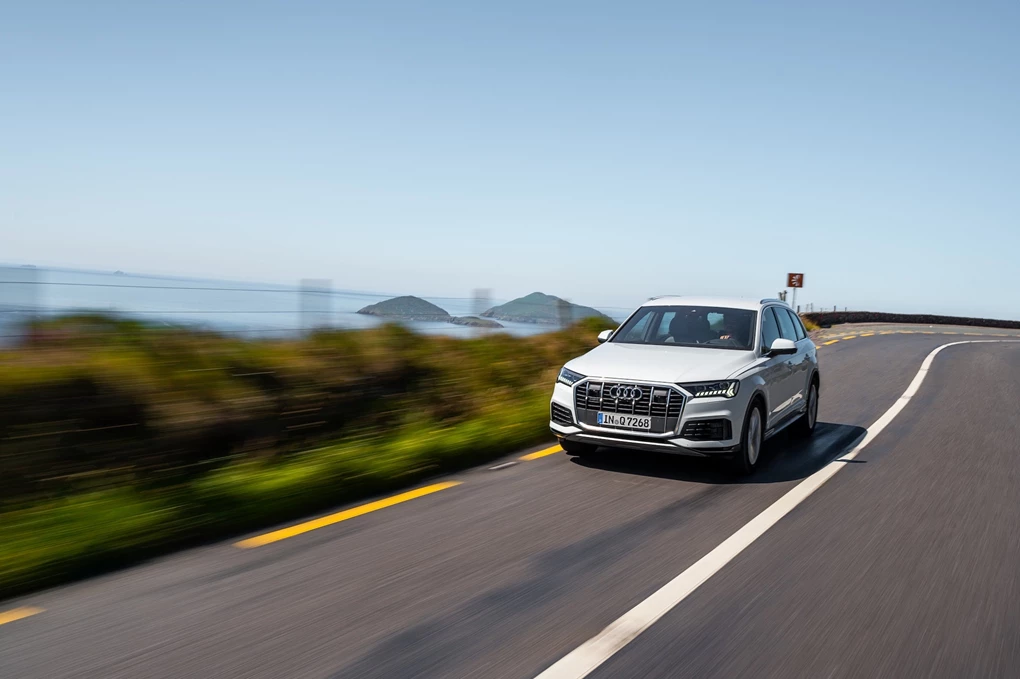 Ride & Handling
We're taken back by how the Q7 feels like a relatively small car to drive despite its sheer mass. It's easy to manoeuvre, in part thanks to the addition of four-wheel steering — making it a surprisingly usable car around town.
More impressive though is its refinement on longer journeys. Minimal noise coming from the engine and outside creates a relaxing atmosphere in the cabin, while a supple ride (aided by now-standard air suspension) makes it a comfortable all-rounder.
If there's any criticism of the way the Q7 drives, it's that rivals like the BMW X5 offer a more involving drive — though we suspect most customers aren't in the market for a real B-road terror here.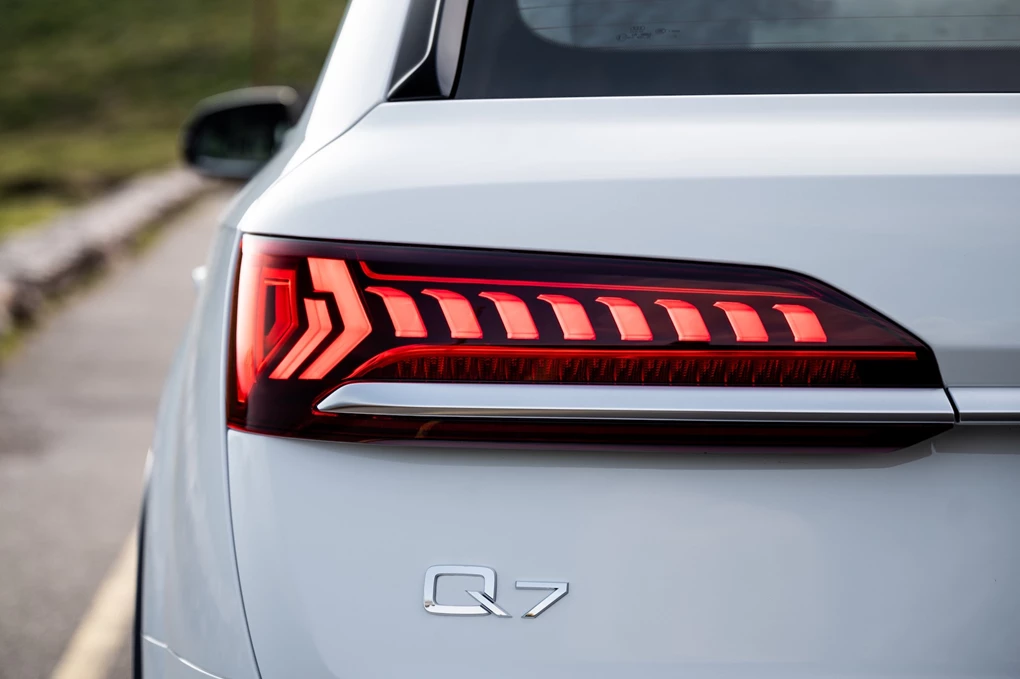 Interior & Equipment 
As to be expected of a high-end Audi, the fit and finish of the Q7's cabin is simply superb. A plethora of high-quality materials feature — not a cheap plastic in sight — and there's a real sense that attention to detail has been a big priority here.
It's the new twin-touchscreen that takes the cake here, though. Replacing a sole 8.3-inch screen is a 10-inch unit for controlling multimedia functions underlined by an 8.6-inch display for climate controls. It really brings a more modern feel to the cabin, though it does take some getting used to and can be a distraction from the road when compared with traditional buttons.
There's seating for seven as standard in the Q7, though that can be reduced to five optionally. With all seats in place, 295 litres of boot space is on offer — though this rises to 770 with the rearmost row folded flat.
Without diving into the options list, the Audi Q7 is available with 19-inch alloy wheels, adaptive air suspension and heated electric leather seats, while moving up to S line adds 20-inch alloys, Valcona leather and sports seats.
Range-topping Vorsprung kicks things up a notch with four-wheel steering, laser LED headlights, ventilated seats, a Bose sound system and safety tech such as adaptive cruise control and a 360-degree camera.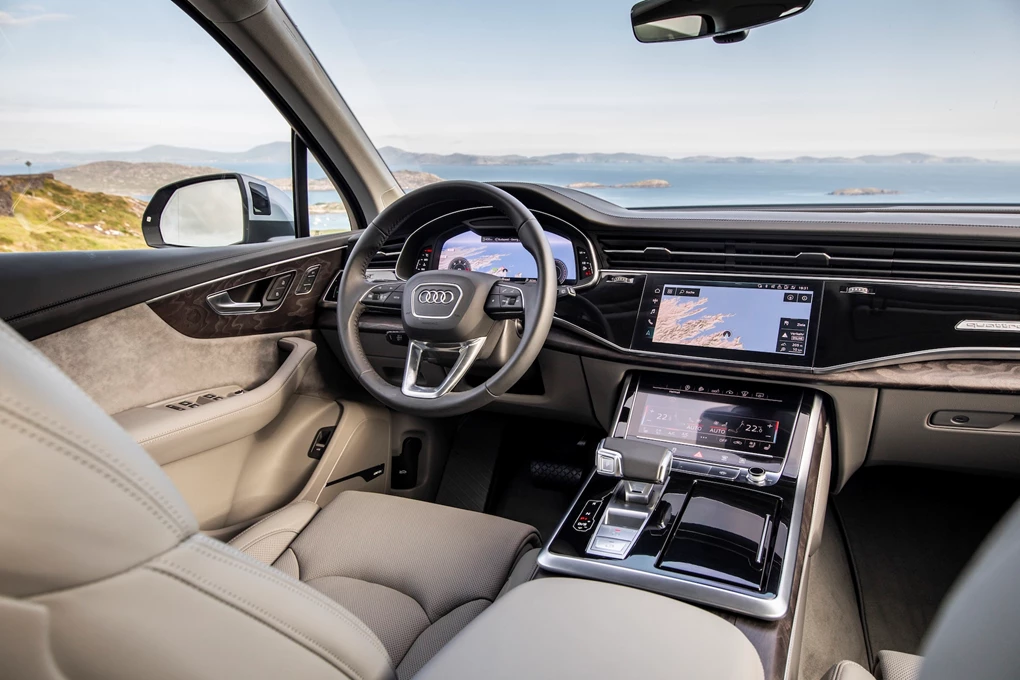 Cost
Pricing hasn't been finalised for the Audi Q7, but it's estimated to be available from approximately £56,500 — while range-topping Vorsprung is likely to kick off at a very pricey £82,500.
No word yet on official MPG or emissions figures but expect mild-hybrid technology to aid in making this Q7 the most efficient yet.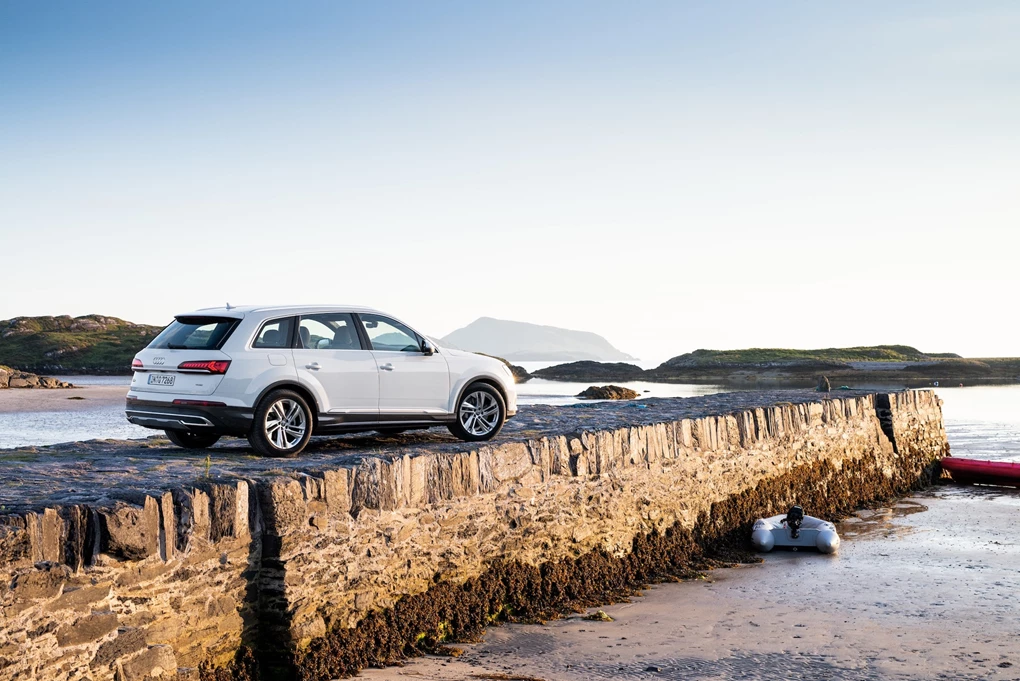 Verdict 
A refresh of the Audi Q7 has built further on a car that was already one of the best luxury SUVs on the new market.
It's fair to call this car one of most comfortable money can buy — while a luxurious cabin and impressive powertrains combine to make this a fantastic machine.
Any gripes? The hesitant gearbox can be annoying and it does look set to be very pricey in higher-spec configurations, though we'll hold off criticising too much until that figure is confirmed.