When the Audi R8 was first launched in 2007 it was intended as a rival to the Porsche 911, but with much shared with the Lamborghini Gallardo, it was actually pretty convincing as a sensible person's supercar. It had the incredible looks and made all the right noises, but could be driven every day and serviced by most Audi dealerships.
While it might look evolutionary, the 2016 car is all-new and shares its platform with the Lamborghini Huracan. There's no V8 version this time, further cementing the R8's supercar credentials, along with a heady 602bhp power output in V10 Plus guise. Not only that, but before Audi had even sold a single new R8 it had already taken its co-developed R8 LMS racing car and won the gruelling Nurburgring 24hr race, proving just how serious it is about performance.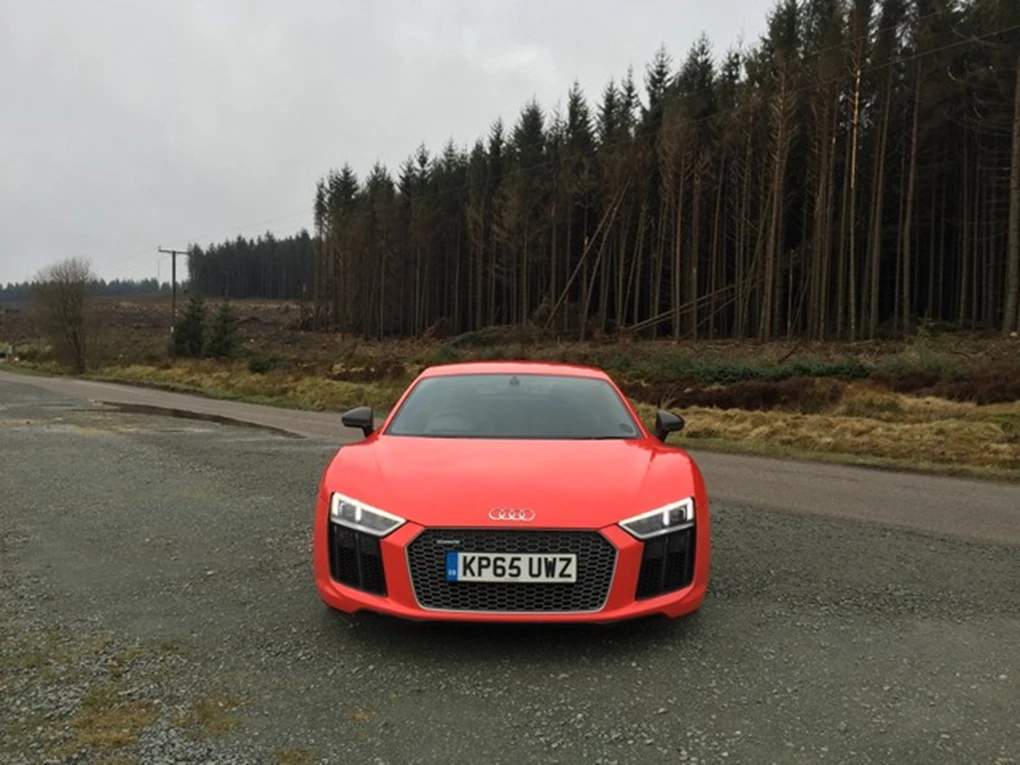 Performance
Do you want it hot or scorching? With a 5.2-litre V10 in the 'base' R8, its headline figure of 532bhp is 118bhp more than the 2007 V8 model was launched with. Zero to 62mph comes up in 3.5 seconds while its top speed is 198mph. Opt for the V10 Plus model we tested with 602bhp and the acceleration time shrinks to a McLaren 570S-matching 3.2 seconds, while the top speed passes the 200mph mark with 5mph left to come.
While most rivals have opted for smaller engines with turbochargers, the free-breathing V10 offers an incredibly visceral experience and revs to a sky high 8,700rpm. Not only is it glorious to listen to, but its layout gives the R8 nearly instantaneous responses, adding to the excitement.
Amazingly though, it isn't rabid all the time. Select 'Comfort' mode, switch the exhaust into 'Standard' (if you have the optional sports exhaust) and the R8 has a gravelly, quiet engine noise and impeccable road manners. Even its gearchanges are impressively smooth around town in car parks, areas where supercars are traditionally terrible.
With just one per cent of customers opting for the last model's manual gearbox, Audi has decided to make the R8 auto-only, which not only makes the car easier to drive, but gives consistently fast shifts. Even if you select Launch Control and submit the R8 to a flat-out acceleration run the changes are so fast the acceleration never lets up.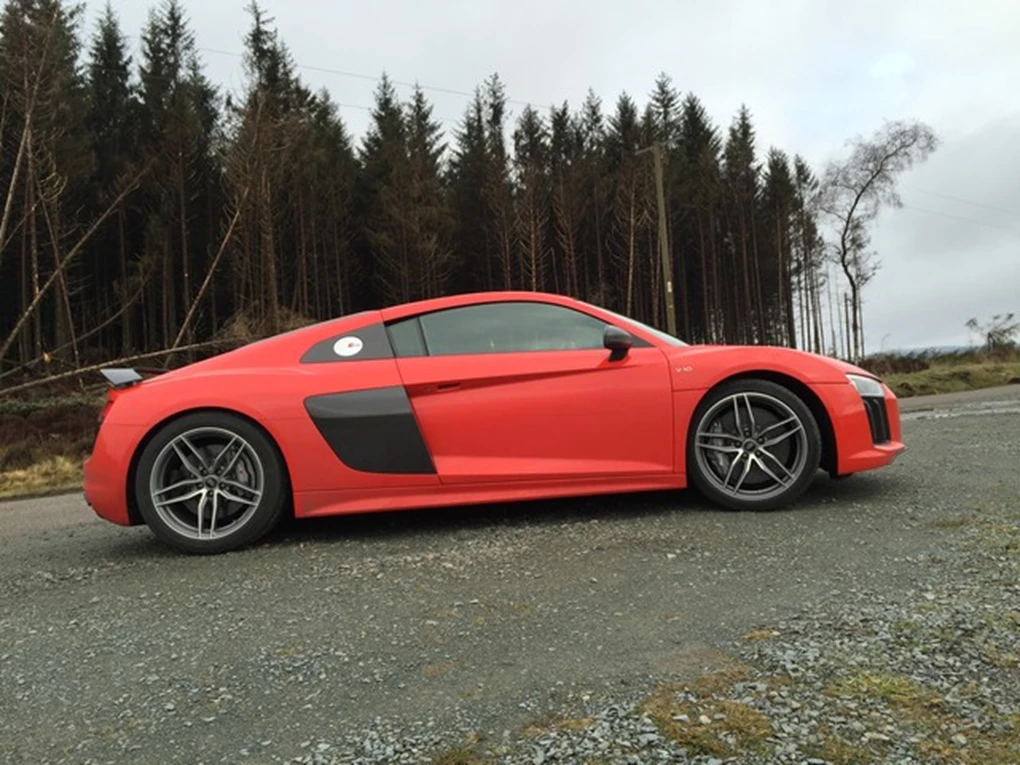 Ride and Handling
We first drove the R8 on wet and unfamiliar foreign roads, yet it was still easy to jump in and travel very quickly
In fact, this duality is a theme which permeates through the R8. With quattro four-wheel drive and wide sports tyres the R8 can generate near-limitless grip – regardless of the weather - and yet it's almost as easy to drive to your local shops as a family car. With optional magnetic ride adaptive dampers fitted, the transformation between 'Comfort' and 'Dynamic' modes is remarkable, with the former soaking up almost all bumps as if they weren't there. 'Dynamic' sharpens up everything from the throttle response to the ride and steering, as well as making the engine and gearbox scalpel sharp. Body roll is practically non-existent and in reality, it's hard to even get close to the car's limits on the public road, you really need to take it on track. Luckily, if you buy an R8, Audi does throw in some track tuition. Choose the V10 Plus and there's also a new steering-wheel mounted Performance selector, with settings for Dry, Wet and Snow, adjusting the throttle and the power distribution of the four-wheel drive, with Dry sending more power to the rear wheels. This and hugely powerful ceramic brakes are both standard for the Plus and optional with the standard V10. The latter are instantly responsive, without ever feeling grabby, and can bring a tear to your eye with their massive stopping power.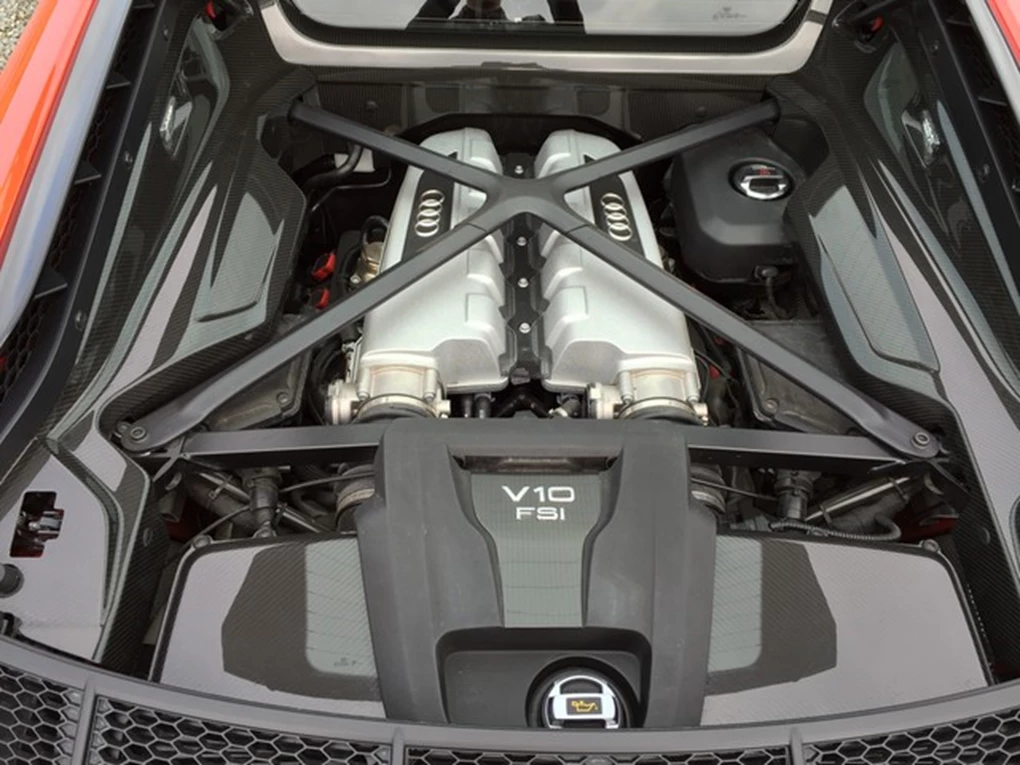 Interior and Equipment
The R8's body now includes carbon fiber-reinforced plastic for its rear panel, centre tunnel, B-pillar covers and parcel shelf. This along with extruded aluminium, make the new R8 40 per cent stiffer and 50kg lighter than its predecessor.
The outgoing R8's infotainment system was pretty outdated, but the new car boasts Audi's futuristic Virtual Cockpit, a 12.3-inch TFT display replacing traditional gauges in the instrument binnacle. This takes care of everything from the sat-nav to the rev-counter and music you are listening to. Being a screen it's also completely fluid in the information it shows, and can even flash yellow and then red as you approach maximum revs. It has been tweaked for the R8 too, with bespoke features like a huge central rev counter and information like G-forces and even a lap timer all available. If you love gadgets, Audi's Laser Light headlights will certainly be appealing, because at speeds over 37mph, laser diodes complement the LED high-beam headlamps but offer three times the range and brightness. The interior design is actually quite simple, but every control is as precise and well-finished as you'd expect and it feels bang up-to-date. There's just enough space for taller drivers, but the bucket seats aren't as adjustable as you'll find in more luxurious Audi models. Luckily the steering wheel has plenty of adjustment for both reach and rake. Despite its impressive refinement you'll be reminded of the R8's supercar layout by its small front boot, with just enough space for a couple of soft bags. For added practicality, there's also a shelf behind the seats, which can accommodate several laptop bags side-by-side.
Cost
At this level, fuel expenses are likely to pale into insignificance against depreciation and maintenance costs
While the R8's performance has become rarefied, its price has also climbed fairly steeply. Now, the entry-level model costs from £119,500 and the V10 Plus costs from £134,500, before you dip into the pricey options. If you do, you'll surely be tempted by the Sport Plus Pack with Audi Magnetic Ride, Dynamic Steering and Sports Exhaust for £3,500. Upgrading from 19-inch to 20-inch wheels costs from £1,350, while a Gloss Carbon finish for the engine bay costs £2,950. Audi's advanced LED and Laser Light headlamps costs £3,150. The R8 V10 Plus can average 23mpg, while the R8 V10 can hit 24.8mpg, thanks in part to a longer seventh gear for better motorway economy. Both cars also feature Cylinder on Demand (COD) which can run the engine on five of its ten cylinders when it's under a light load. Emissions of 272 to 287g/km of CO2 place the R8 in the highest tax band. Overall, the R8 can be expected to drink a bit more fuel than the turbocharged 911 Turbo S (with 29.1mpg and 227g/km), but at this level, fuel expenses are likely to pale into insignificance against depreciation and maintenance costs. It's also worth mentioning that the Audi R8 V10 Plus gets the same power rating as the Lamborghini Huracan, which starts from £180,720.
Our Verdict
Audi has become hugely successful in the past decade, to the point it now sells more premium cars in the UK than any other manufacturer. The R8 is its chance to show off, to create a 'halo' car which sets out its stall as a technology and performance leader. While this could easily have led to it being too contrived or overwrought, the end product is actually a stunner. It's as easy to drive as an Audi A4 on your daily trip to work, but punch a few buttons and it turns into a snarling beast capable of acceleration from zero to 124mph in 9.9 seconds.