Introduction
A few years ago, a performance SUV was a niche thing, but as the crossover and soft-roader market has boomed, so has the desire for hot and sporty models in this class. And this is now diversifying into the coupe-style SUV world, too, and one of the latest entrants into this market is the Audi SQ8 – a sportier version of Audi's flagship Q8 SUV.
It's based on the same platform as the Q7, and uses the same powertrain as the SQ7, too. It's undoubtedly the most imposing looking model in Audi's line-up, with its sharp and angular styling. In our test car's Vorsprung grade it's even more menacing with its black trim pieces and black metallic paint.
Unlike the SQ7, the SQ8 is a strict five seat model, with that sloping roofline impeding on rear space, though the SQ8 isn't meant to be bought as the world's most practical model.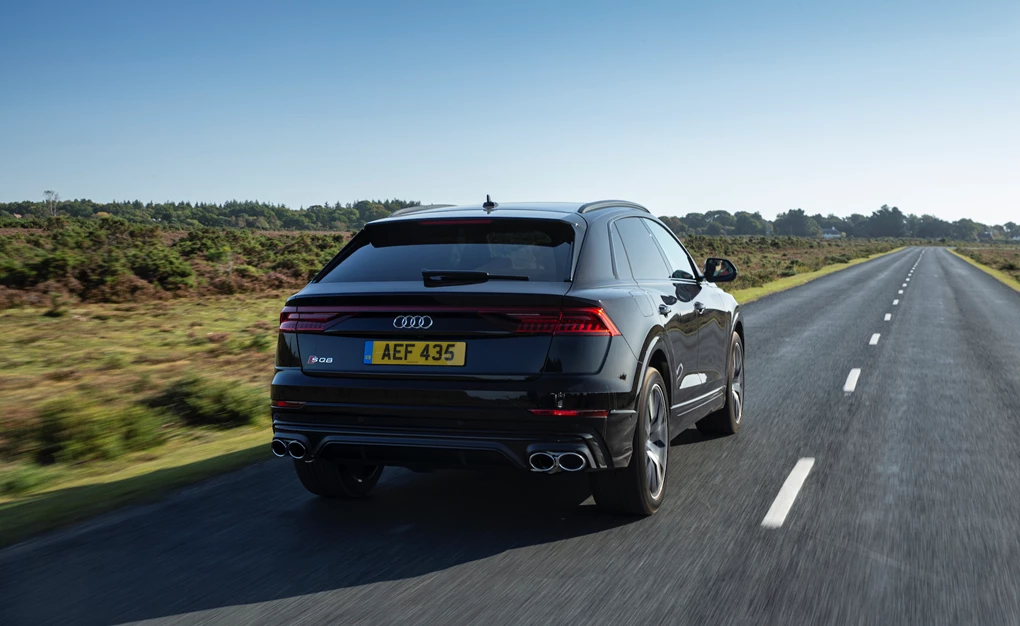 Performance
When the Q8 makes the change to the SQ8, it's really the engine that's the biggest edit, and a wonderful one at that.
It's a 4.0-litre V8 diesel which produces 429bhp and a truly incredible 900Nm of torque. Extra boost comes from a pair of turbochargers, while it also features a third electrical-powered compressor, which is driven by a 48-volt electrical system.
Also under the bonnet is a small lithium-ion battery and a belt-alternator starter – granting the SQ8 mild-hybrid status. As well as providing a bit of additional torque when pulling away off the line, it can automatically cut off the engine when coasting between 34mph and 99mph.
All these impressive figures allow for a 0-60mph time of just 4.6 seconds and a top speed limited to 155mph.
It's also more efficient than you might expect – returning a claimed 30.7mpg, with CO2 emissions of 205g/km.
Audi is soon launching an even more powerful version of the Q8 – the RSQ8. This ditches diesel power in favour of an even punchier 4.0-litre twin-turbocharged V8 petrol.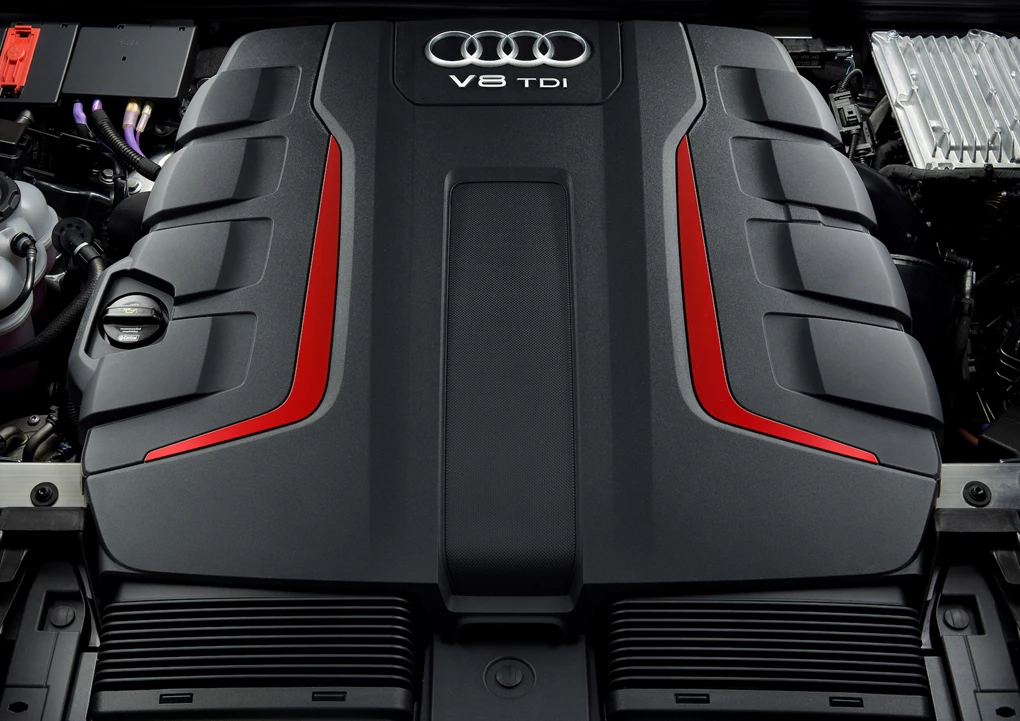 Ride and handling
Get behind the wheel of the SQ8 and what's immediately obvious about is the sheer size of it. Some SUVs are good at hiding their size, but this Audi isn't one of them. It feels just as imposing as it looks.
The engine is superb, both remarkably refined while cruising but also brutishly powerful when accelerating – especially when you consider that this SQ8 weighs well in excess of two tonnes.
The steering is also well-weighted, giving you a good idea of what the front wheels are turning, though this isn't an SUV that excels through the corners – it feels more destined for straight-line performance than anything else.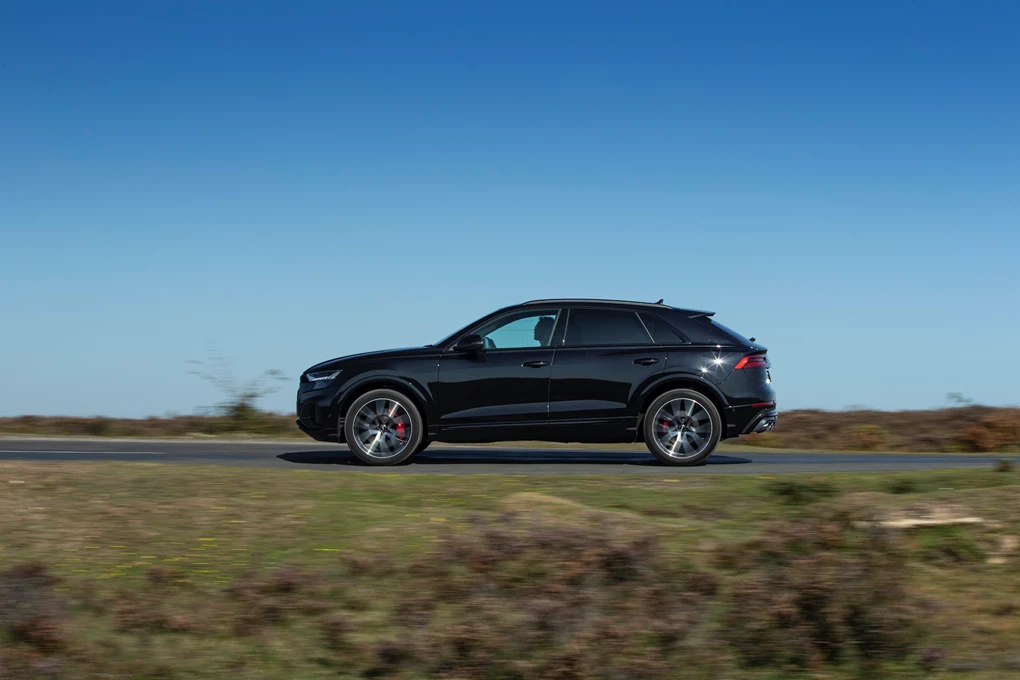 Interior and equipment
Given this is currently Audi's flagship SUV, there is a high expectation when it comes to the model's interior. It's filled with high-quality materials and the fit and finish is fantastic throughout. The cabin is dominated by a twin touchscreen setup that features in all of Audi's high-end models, with the top screen being a traditional infotainment unit, whereas the lower one looks after temperature and heated seats, among other features. It's a particularly futuristic touch, and will be appreciated by most buyers.
While the SQ8 can't offer the same seven seat practicality of the SQ7, this is still a very large SUV, which can easily seat five adults in comfort, while the 605 litre boot is huge. Fold the seats down and it increases to 1,755 litres, which certainly leaves you wanting for very little.
Just two trims are offered on the SQ8 – the base grade and the Vorsprung.
Standard equipment is seriously impressive – 22-inch alloy wheels, Matrix LED headlights, an electric tailgate, heated seats and a twin touchscreen interior to name but a few are all included. But it's the Vorsprung specification where things are really elevated, with a panoramic sunroof, carbon interior detailing, a Bang & Olusfen sound system and a panoramic parking camera all added. It certainly leaves you wanting for very little.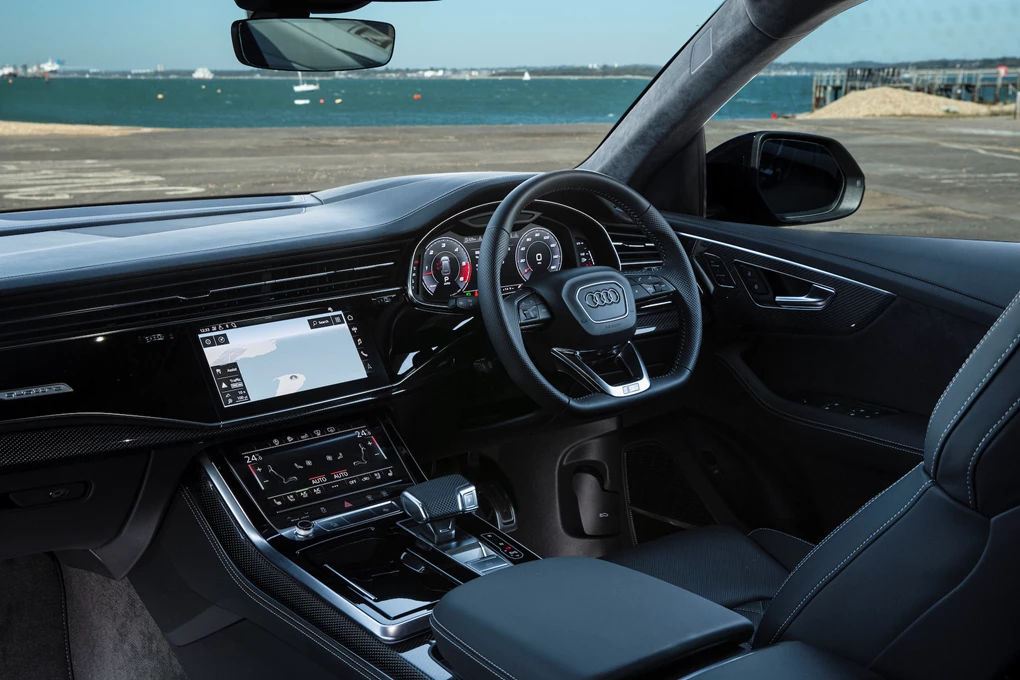 Cost
As the SQ8 is currently Audi's range-topping SUV, it's not a massive surprise to learn that this model is not exactly a bargain.
Prices start from £81,740, which makes the model similarly priced to rivals from BMW and Mercedes, though if you opt for the flagship Vorsprung, the price increases dramatically to an eye-watering £104,240. We suspect that the more powerful RSQ8 won't cost significantly more than that, too.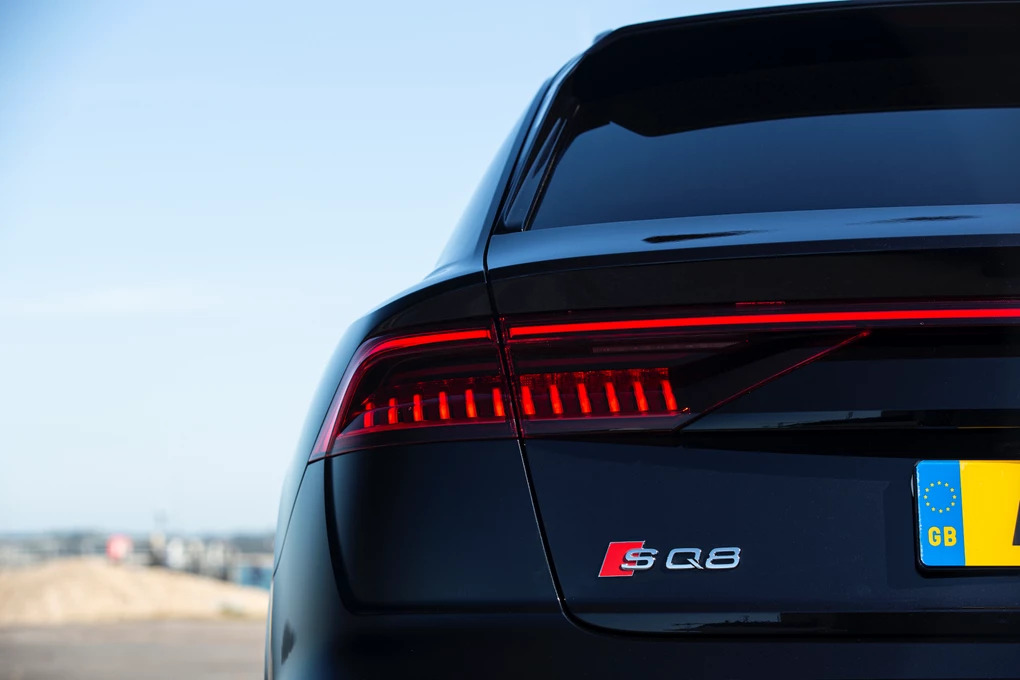 Verdict
The SQ8 is another niche-filling model from an Audi, but a successful one at that, and while a diesel engine might not be the ideal choice for a sports model, the SQ8 is a true performance SUV. It's the engine that really stands out here, though, with its seriously impressive torque. 
But add in its bold styling and luxurious interior and we think the SQ8 could be the pick of the current Q8 line-up.