Introduction
BMW is rapidly expanding its range of electric 'i' models, and in the last month alone we've been behind the wheel of the more conventional iX3 SUV, as well as BMW's flagship iX, which heads up its EV range. 
And the next piece of the puzzle is the i4 – a model that's been eagerly-awaited for some time, and is importantly BMW's first electric saloon, a bodystyle this German firm knows especially well. 
Using a platform designed from the outset for electric powertrains, it allows for an optimised layout, with the batteries put low to the floor, which helps with weight distribution, while also increasing cabin space. In terms of size, the i4 is based on the new 4 Series Gran Coupe, and is also slightly larger in size than the popular 3 Series. Here we're trying it in M50 guise, which is also important as it's the first EV to come from BMW's performance 'M' division.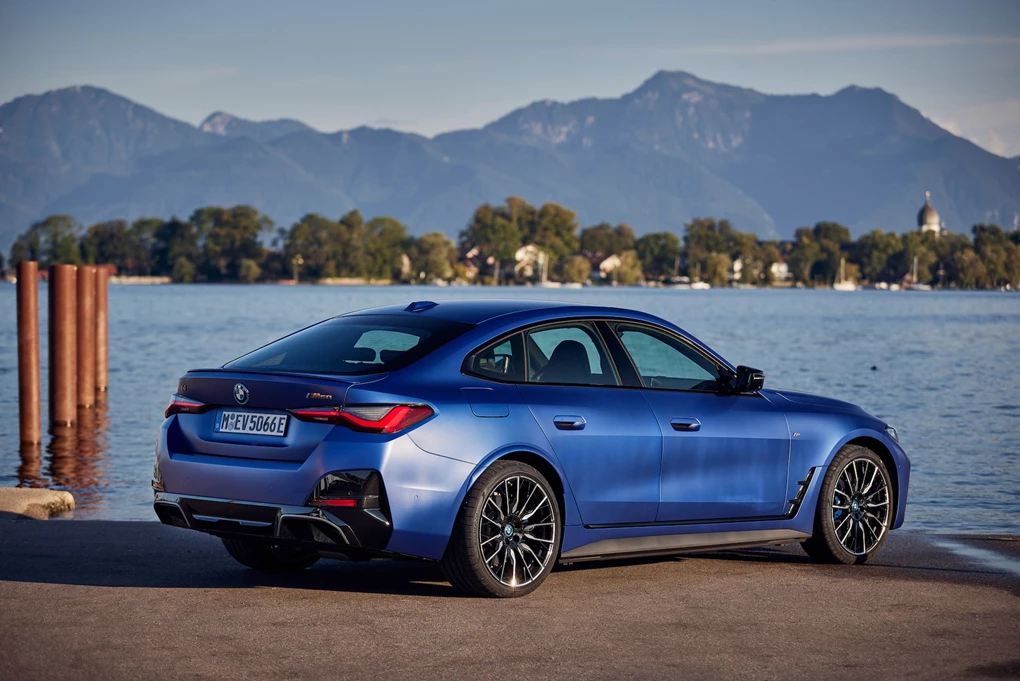 Performance
At launch the i4 is available in two guises – the M50 and a more affordable eDrive40 example. Let's start with this option first, which features BMW's classic rear-wheel-drive setup, and an electric motor producing 335bhp. An impressive range of 367 miles is also promised, which is even slightly more than you get with a Long Range Tesla Model 3. 
But the show-stopper is the M50, which gets two electric motors (one on each axle, allowing all-wheel-drive), and offers up a staggering 536bhp and 795Nm of torque, which is more than you get from BMW's M3 sports car. It can sprint from 0-60mph in under four seconds and has a top speed limited to 140mph. 
As for range, an 80.7kWh battery is used, which allows for a claimed electric range of 324 miles. More impressively, its battery can be charged at up to 200kW, and if you find a quick enough charger, it means the battery can be topped up from 10-80 per cent in as little as 31 minutes.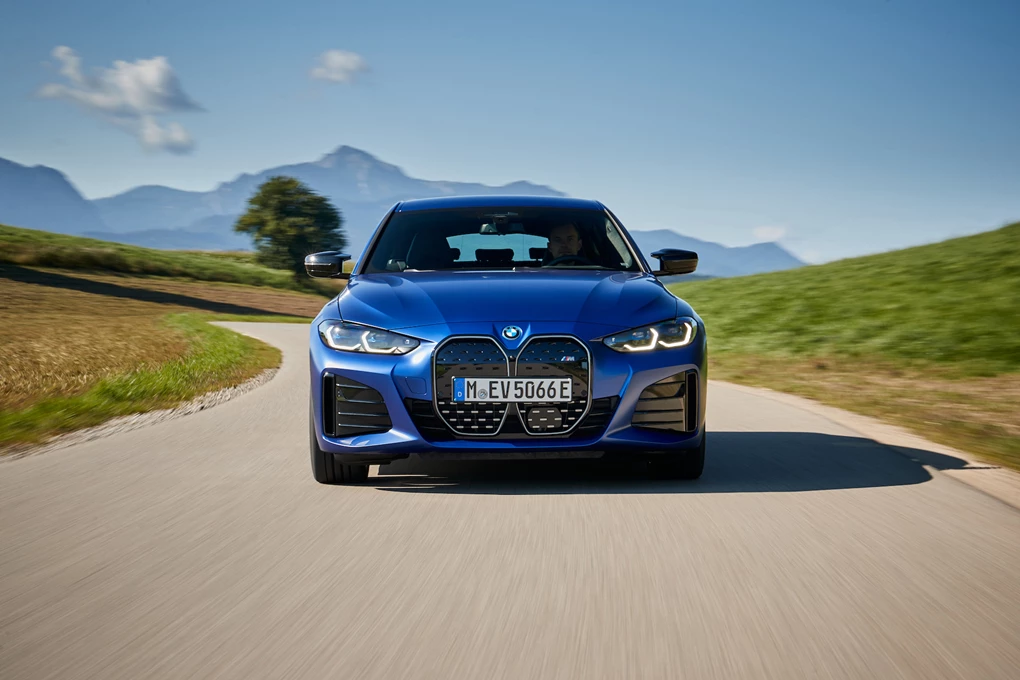 Ride and handling
There seem to be two distinct sides to the i4, the first being its impressive refinement. With standard-fit air suspension at the rear, it's seriously impressive how good the ride is, soaking up just about all bumps in the road in a way that electric cars rarely can. 
Flick the car into sport mode and the true scale of that performance is unleashed. The instantaneous power delivery from the electric motors is exhilarating and pushes you forward at quite the rate, with performance worthy of the 'M' badge. 
It's not all perfect, though, as it lacks the usual directness that you get with BMW M cars, meaning you have to be a bit more restrained on windier roads. It's still enjoyable to drive, but feels a bit heavy and lacks the urgency of other BMW M models. 
A slightly futuristic element is a new sound that's been developed for electric vehicles, which – particularly when in sport mode – offers a really futuristic noise. It can be turned off if you think it's a bit overkill, though.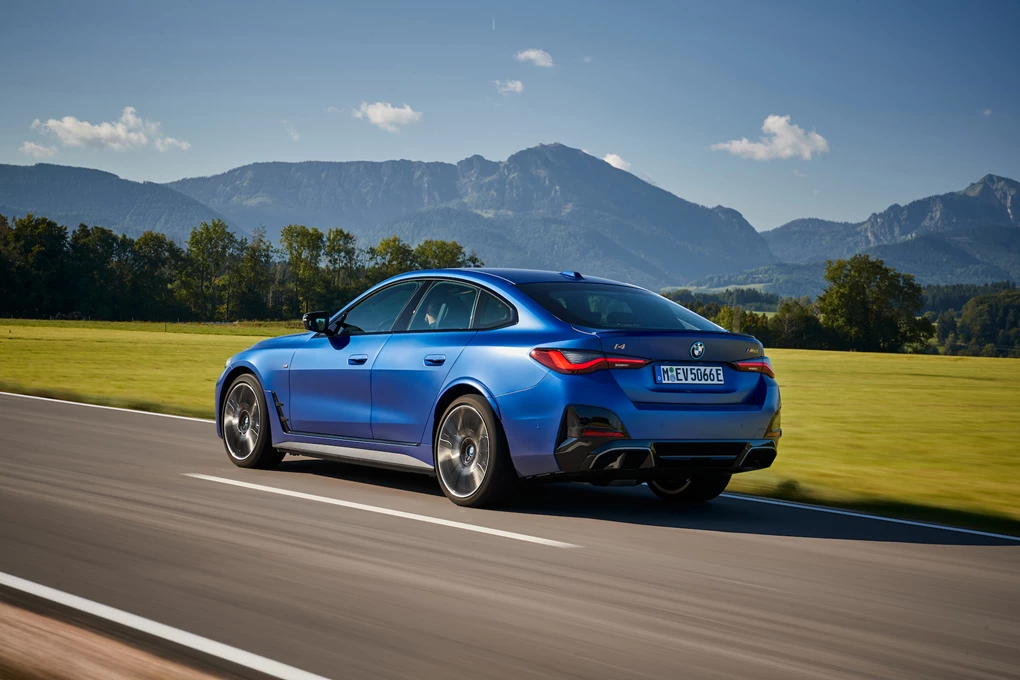 Interior and equipment
Inside, the i4 gets the latest generation of BMW's iDrive system, which appears on an excellent curved twin-screen display. It's a superb design, while also featuring clear displays and an outstanding voice control system. 
Elsewhere, the i4 is a typical BMW interior, meaning it offers perfect ergonomics and also an upmarket feel, while the driving position will allow most to get comfortable. Its 470-litre boot is also a great size, though the battery does encroach on space in the rear, and means that taller passengers might not be able to get especially comfortable. 
When it comes to equipment, there are three trims on offer – Sport, M Sport and M50. 
Sport versions get plenty of equipment, including 17- or 18-inch alloy wheels, the aforementioned curved screen, LED headlights and a reversing camera to name just a few features. M Sport models then pack a more aggressive styling kit.
With the M50, you're mainly paying for its extra performance, though it does get other tweaks, including leather upholstery, adaptive sports suspension, electric seats and a head-up display.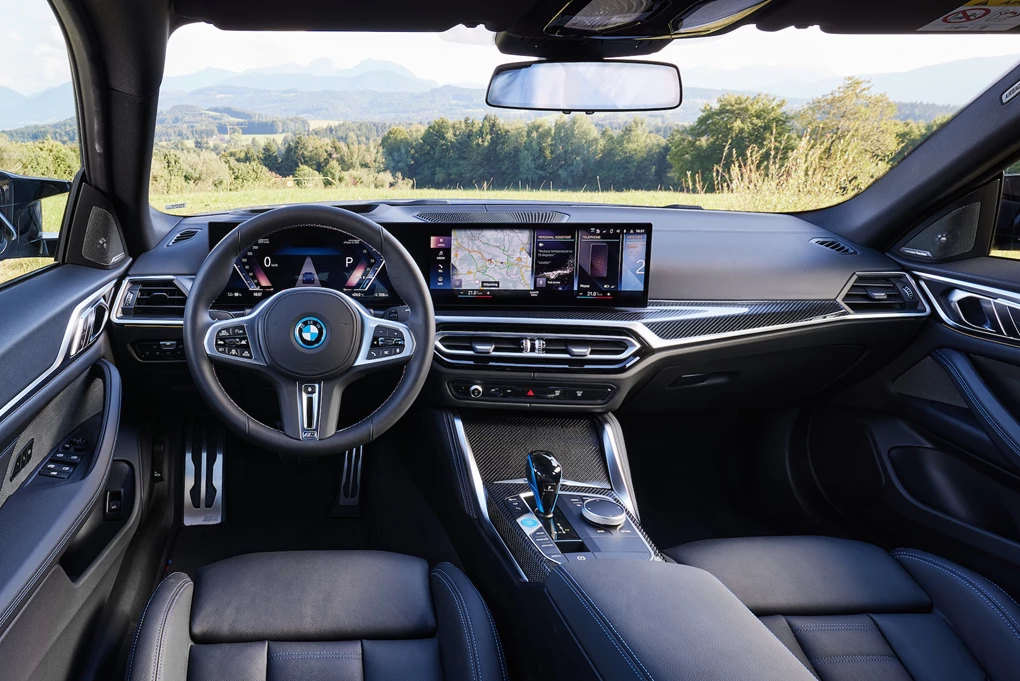 Cost
Prices for the i4 start from £51,905 for the i4 eDrive 40 in Sport grade, which is more expensive than the most affordable versions of the Tesla Model 3. 
Prices start from  £53,405 for the M Sport car, while if you want to get behind the wheel of the M50 you'll need to splash out £63,405.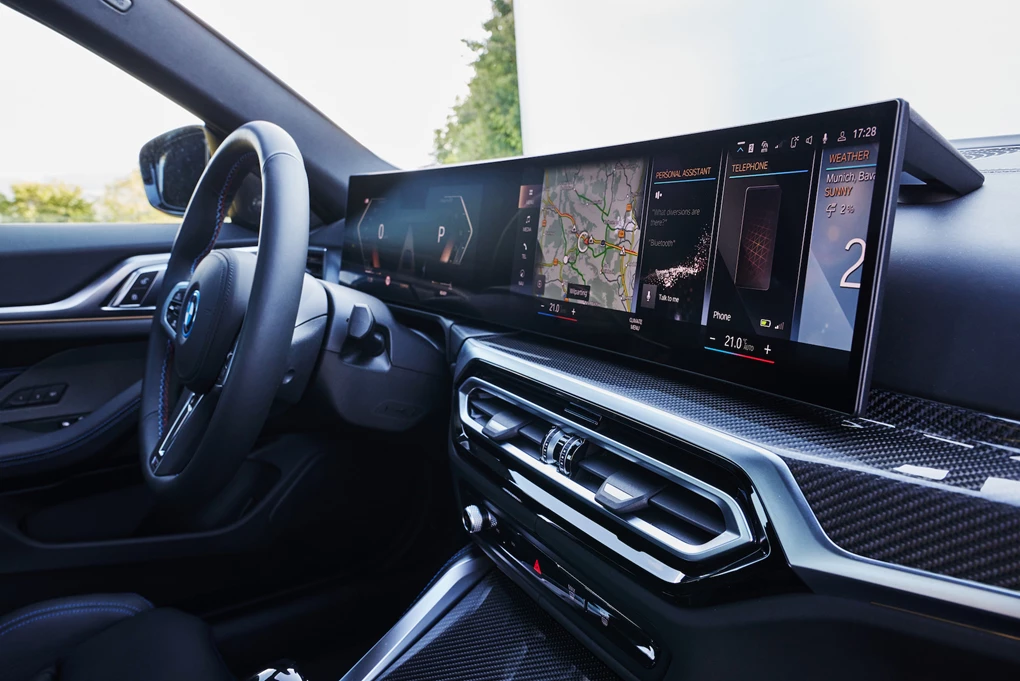 Verdict
As an electric all-rounder, the i4 is a superb option. It's got the pace, the style and the quality to make it stand out, while a long electric range and impressive rapid charging capability also adds to its appeal. 
Though perhaps not a 'true' BMW M car, it's still great to drive, while managing to be sporty and comfortable at the same time. The more affordable eDrive40 may just be the perfect i4, though we'll reserve full judgement until we drive the car later in the year. 
Enquire on a new BMW i4